In today's article I want to draw your attention to my favorite outerwear garment, yes, I am talking about white coats and best ways how to wear them this year. You are about to see stunning street style images where ladies appear in gorgeous white fur coats, draped cream-white styles, crispy-white structured versions, etc.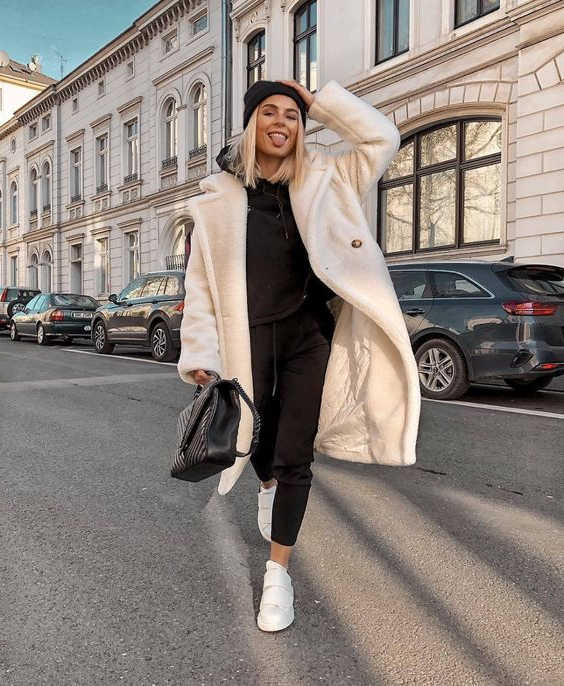 We see a teddy bear coat in white styled with a black hoodie, black joggers and white sneakers. Complete this look by adding a quilted black leather handbag and a black beanie.
How To Wear White Coats
Every single outfit showcased in this collection will undoubtedly inspire you. Believe me, these images will leave you speechless. The white coat is a classic outerwear piece that will always be a good choice to wear in our everyday lives. It does look modern, fresh, elegant and ladylike. Read on to see my favorite white coat outfit ideas to try now.
White Evening Coat
A maxi white tailored coat looks feminine teamed with a white turtleneck and cream-brown wide pants with side stripes. You can complete the look by adding modern shades and beige pumps: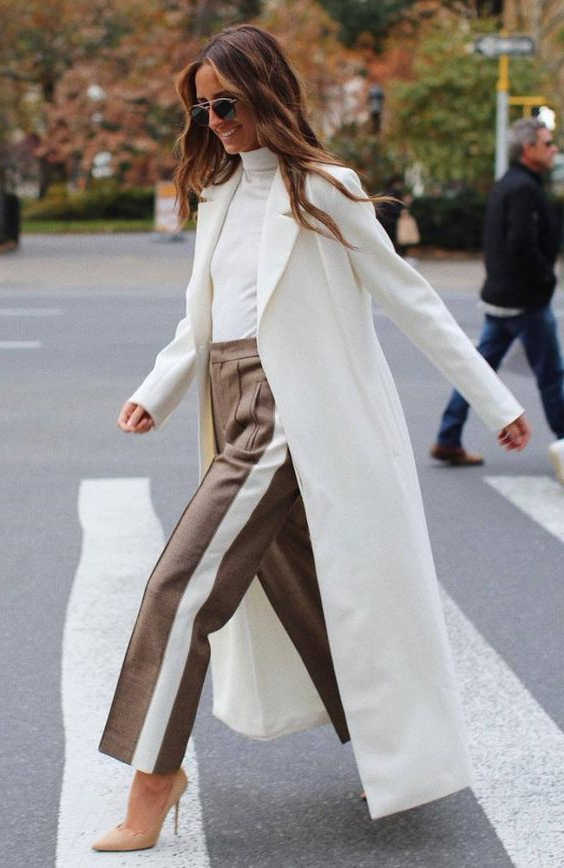 A long tailored coat is an ideal choice for evening events. Style it with an LBD and red heels: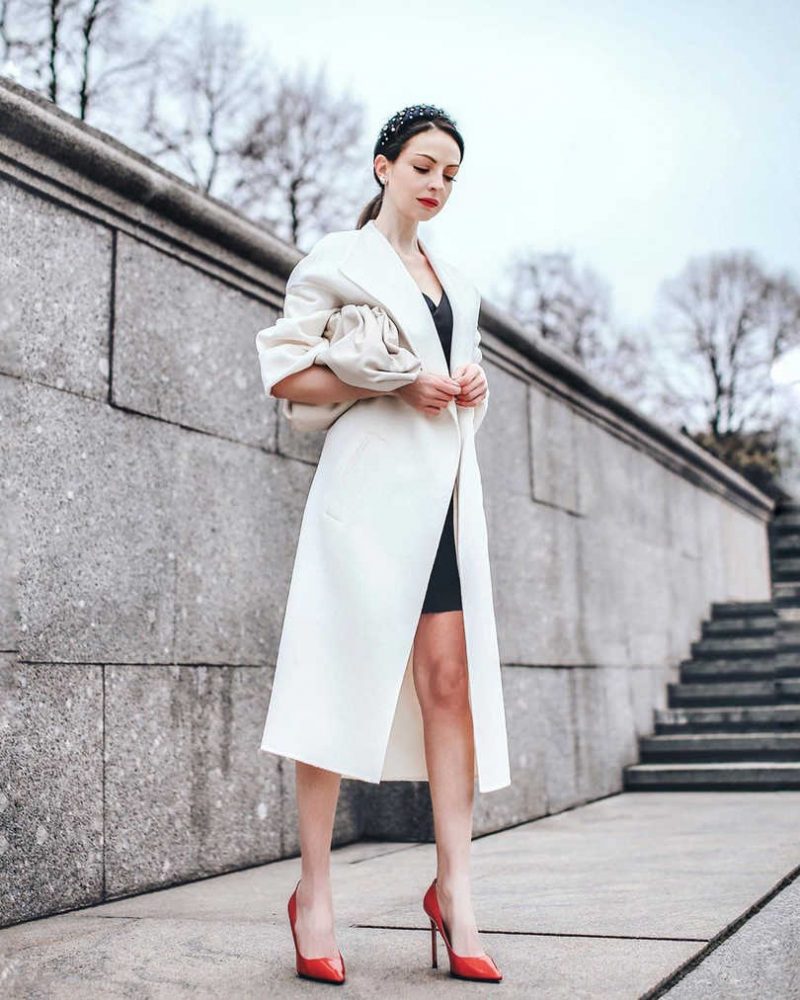 White Coat And Jeans
A white tailored coat looks simple and sweet teamed with a white dotted red blouse tucked in blue jeans completed with leopard heels: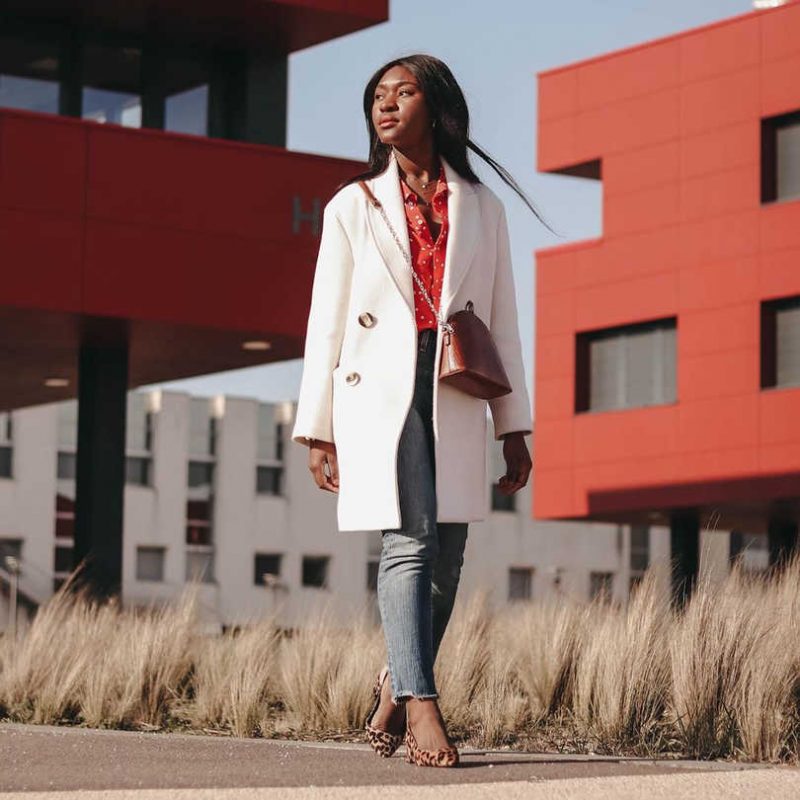 It's all because of the color. The coat gives you a very special look that makes you stand out from the crowd. I love to see ladies who appear on the streets wearing this beautiful outerwear piece styled with black clothing.
White Teddy Bear Coat
A classic teddy bear coat looks bright and ladylike completed with a plaid scarf. Add a cream white sweater and black leather skinny pants: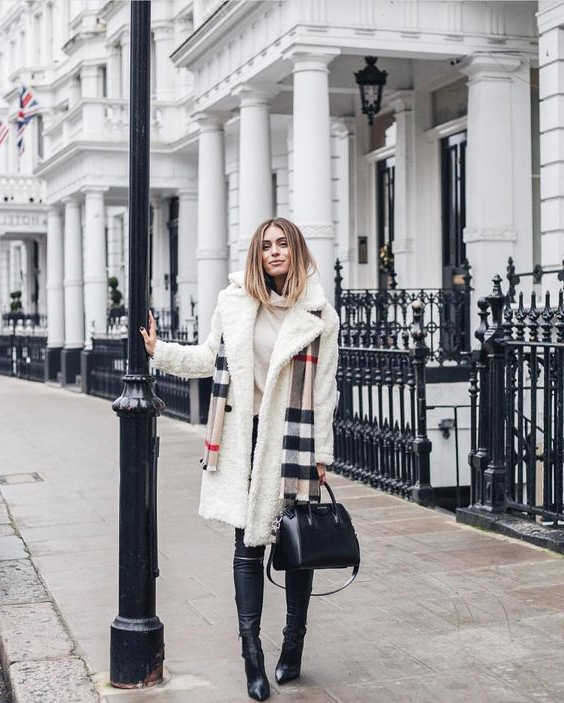 A classic teddy bear coat can be teamed with a black sweater and black leather skinny pants. Update this style with rounded sunglasses and edgy black leather boots: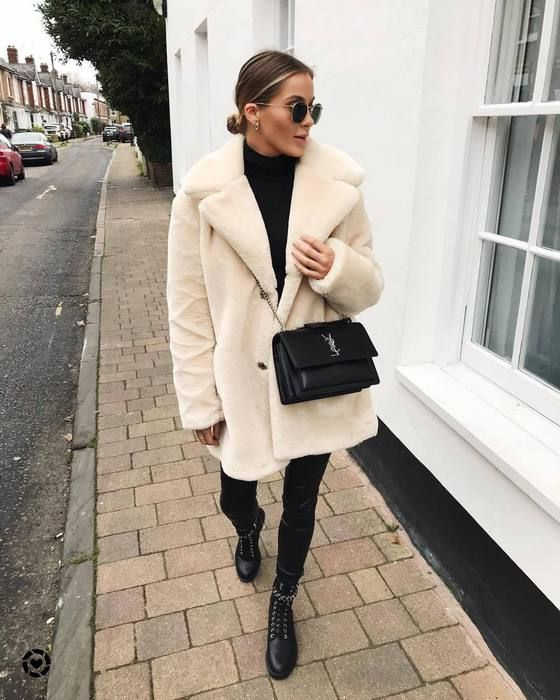 A long teddy bear coat in white looks trendy with a white pullover, white joggers and white kicks: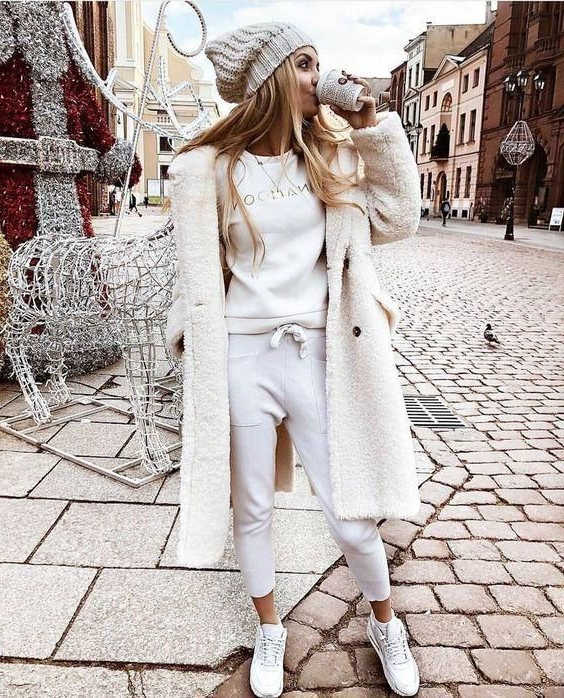 An oversized teddy bear coat in cream-white looks great with that roll-neck sweater dress in the same color. Complete this outfit by adding lace-up heeled ankle boots: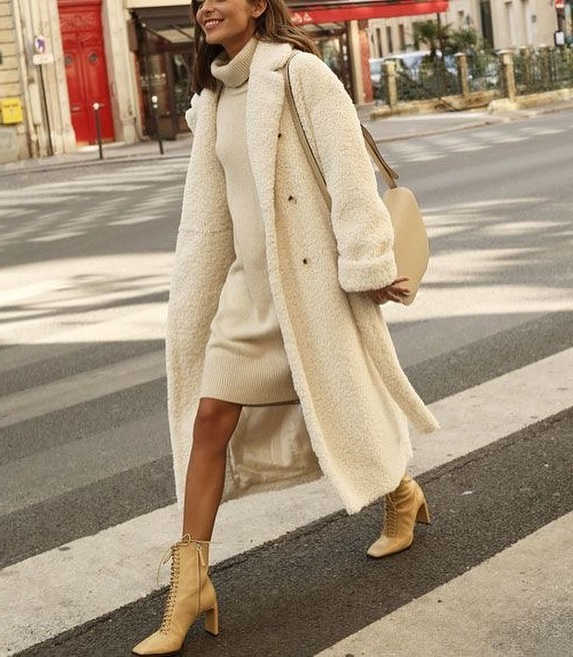 Well, you can experiment with this gorgeous clothing staple in so many various ways. In other words saying, you can wear it with everything and everywhere. If the weather is not so cold, then my suggestion to you is to find a simple shirt, skinny jeans and cover it with a draped coat for a simple walk in the town.
Belted White Coat
I love retro touches in women's outfits. Here we see a white wrap coat completed with a black leather belt and a lieutenant's cap. The black clutch with a gold chain strap looks amazing: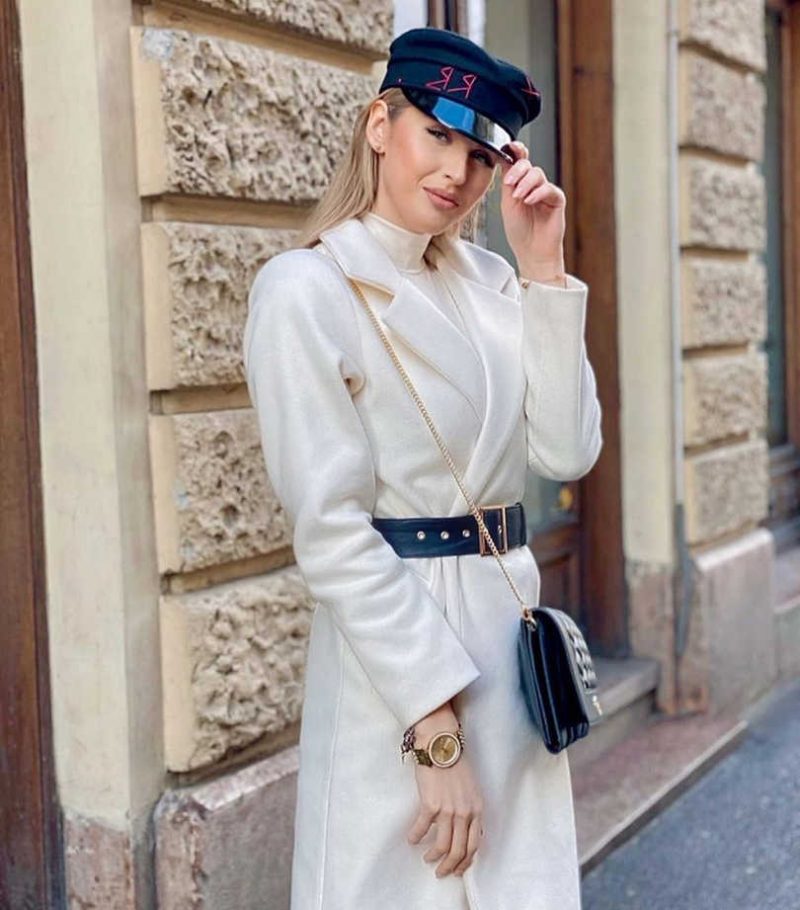 If you want to make a statement, then you better glam up things by wearing a sexy dress covered with a structured white coat. Anyway, keep on scrolling to see all my favorite ideas.
Hooded White Coat
If you are more into functionality, then go for this white hooded coat and complete it with black tights and black suede boots: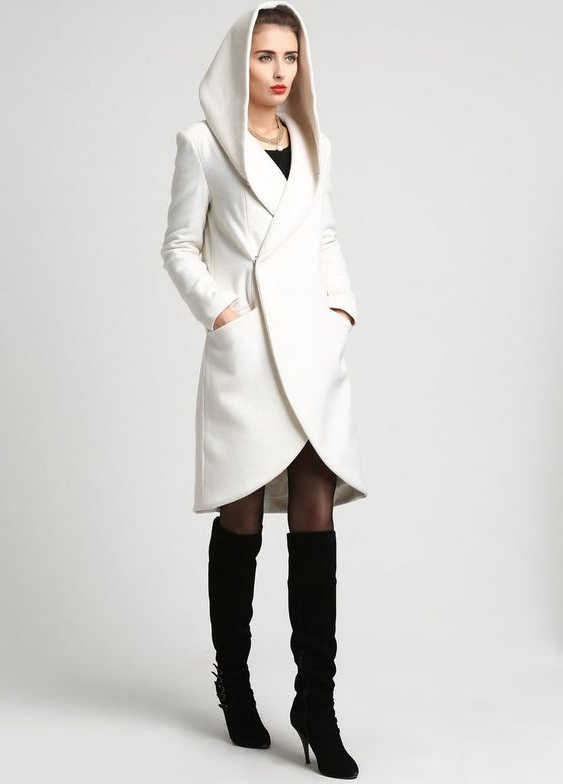 White Coat And Black Pants
A collarless white coat in bulky fit is styled with a black rollneck and black pants completed with black leather ankle boots: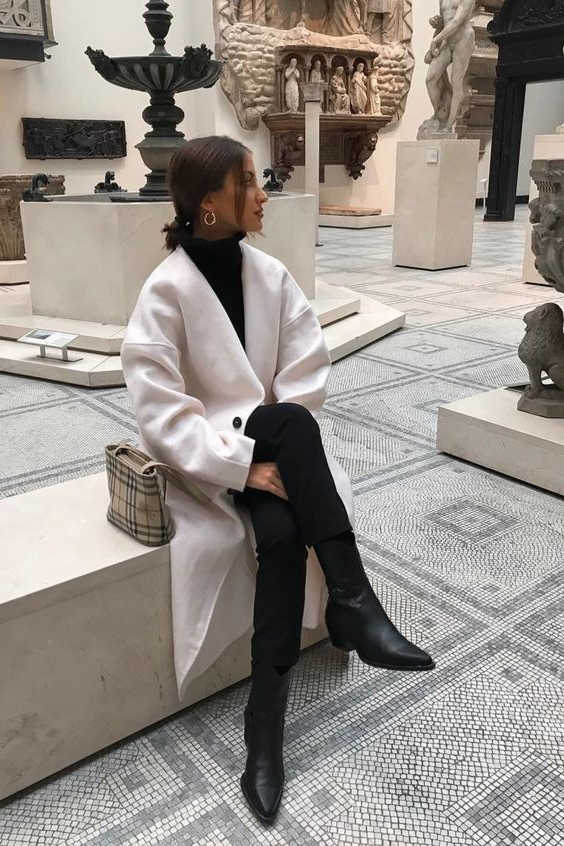 If you do like classics, then go for a white wool coat and pair it with a white shirt tucked in black tailored pants: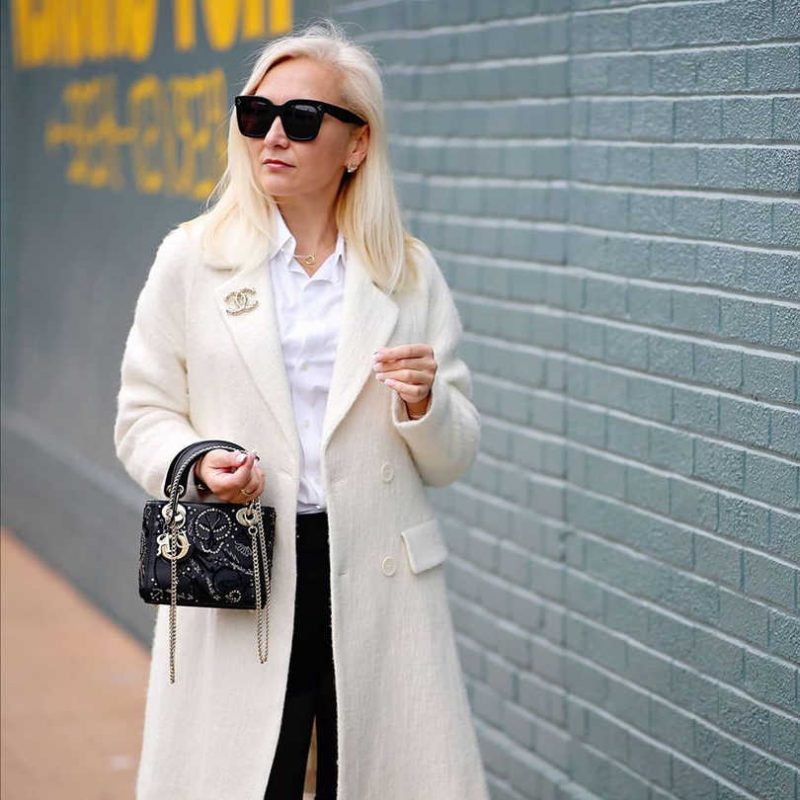 A classic white coat is layered over a black camisole tucked in black leather joggers completed with ankle-cuff heeled pumps in black: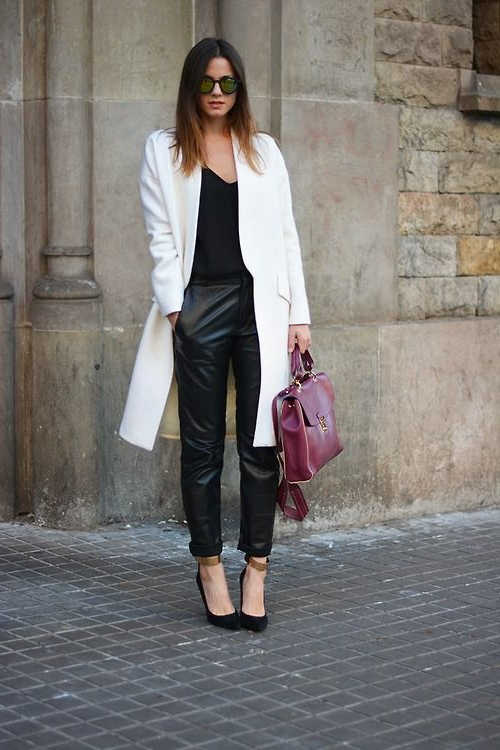 Oversized White Coat
If you do like oversized fashion, then you gonna fall in love with these two outfits. The first one comes with a double-breasted coat worn with a maxi white dress, a brown leather shoulder clutch bag, and slouchy brown leather boots. If you want to see more ideas on how to wear oversized fashion, then check out my post, I've got some cool street style looks to share with you: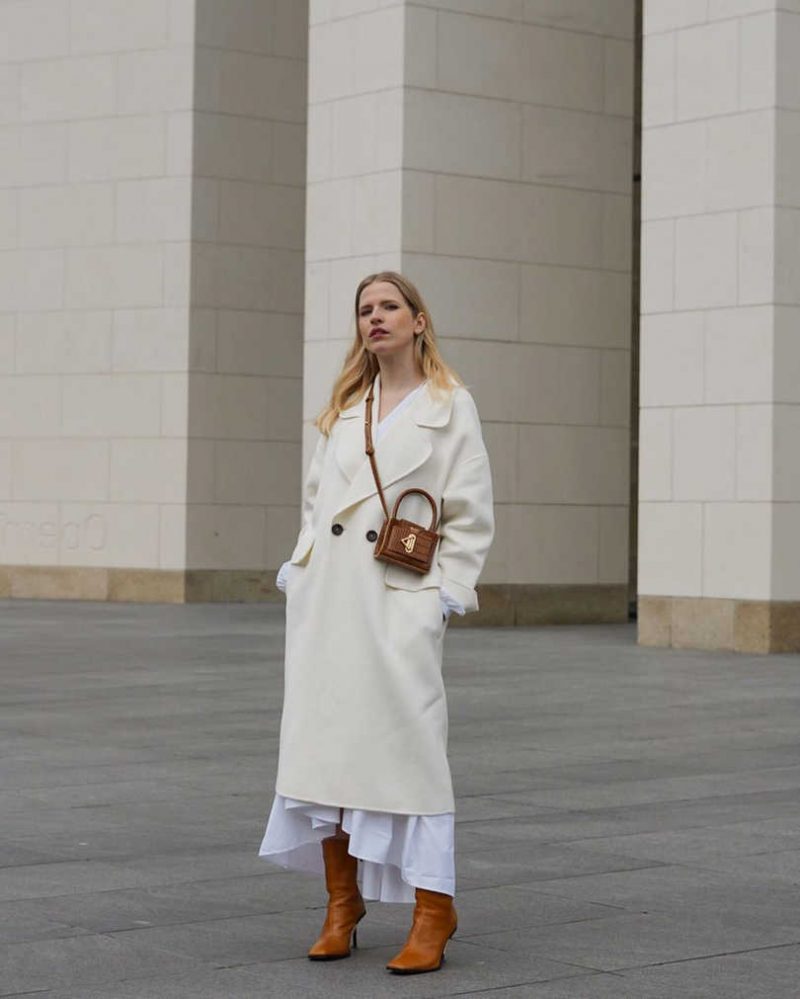 Here we see a second look consisting of an oversized white long coat teamed with a white tee tucked in white pants completed with white pumps: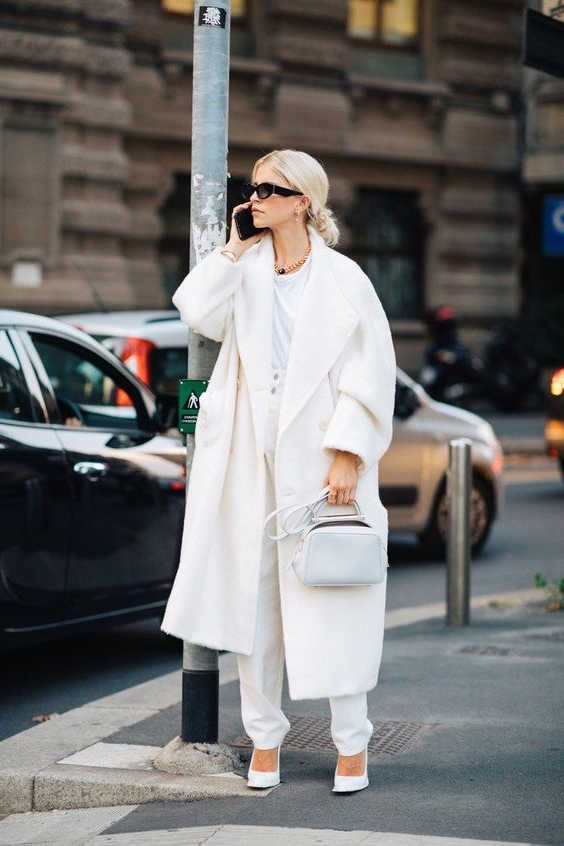 White Coat And White Pants
A relaxed-fit white coat can be a perfect match to style with silken white pants and nude heels: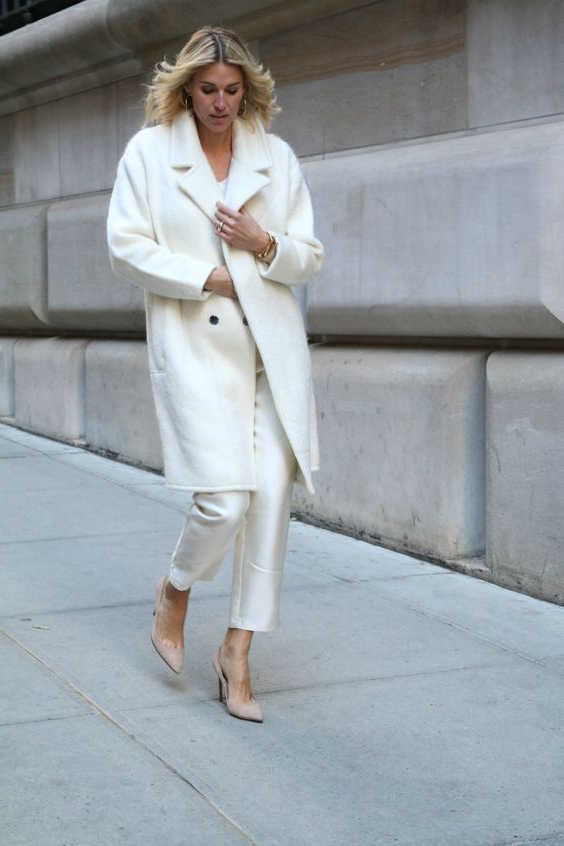 White Coat With Gold Buttons
A classic fit tailored white coat with gold buttons is worn with a black top and black skinny pants tucked in tall black leather boots: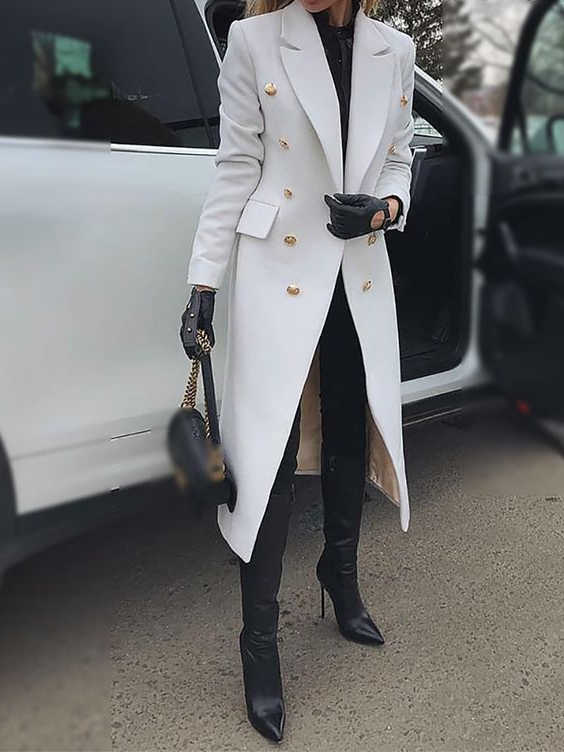 White Fur Coat
We see a heavy white fur coat worn with a black sweater, regular fit blue jeans and heeled black pumps completed with black socks. In love with modern cat-eye sunglasses: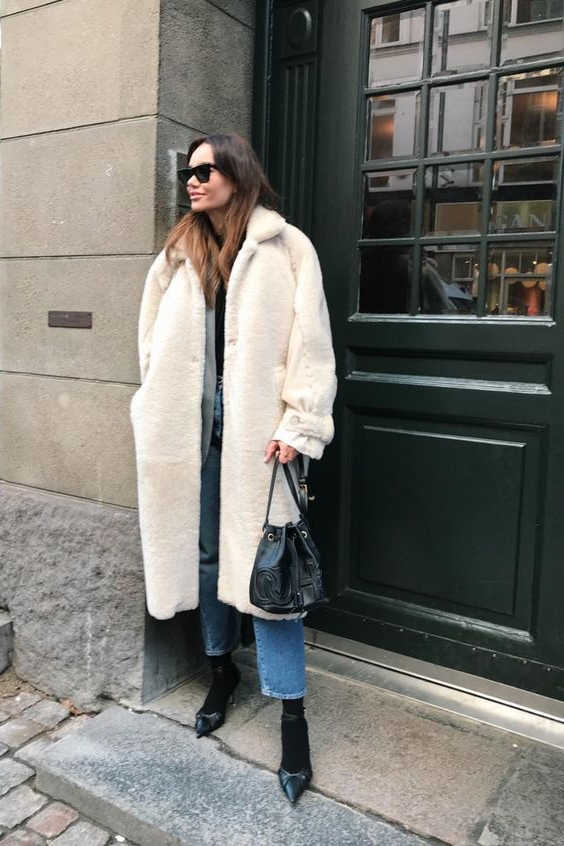 A classic white fur coat is paired with a white jumper tucked in cream-grey sweatpants completed with white sneakers Find out more ideas on how to wear sneakers for women, I will show you some trendy looks to copy this year: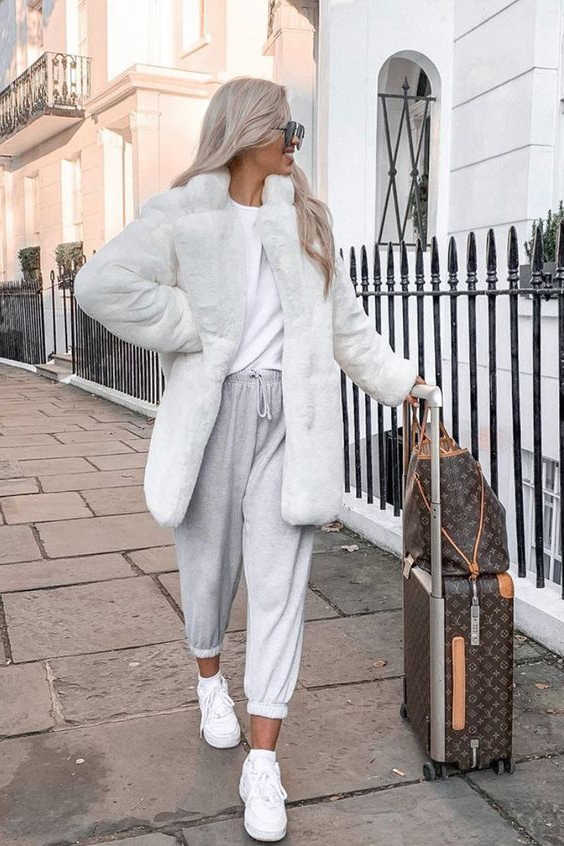 White Lace Trench Coat
We see a lightweight lace perforated white trench coat styled with a white bodysuit teamed with blue knee-ripped jeans and classic heeled pumps: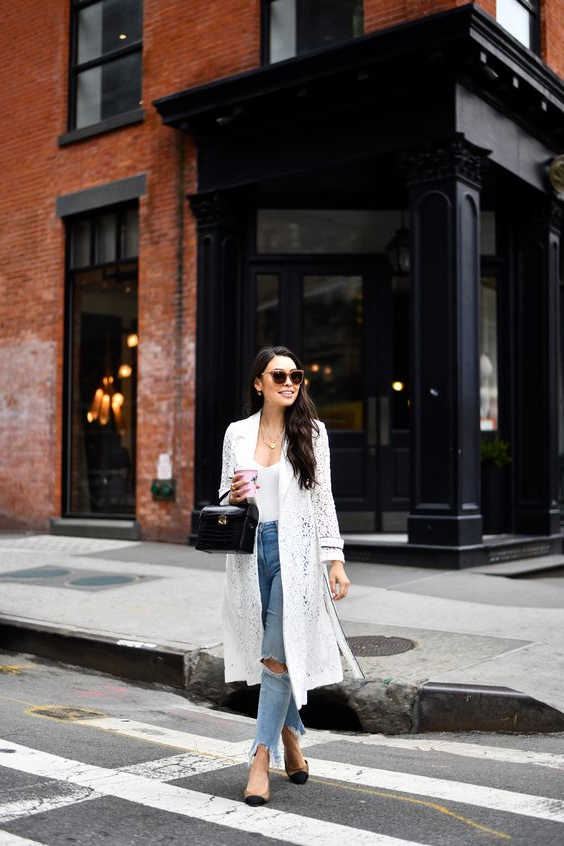 White Wrap Coat
We see a classy relaxed-fit white wrap coat completed with a black leather belt bag and white slouchy leather boots: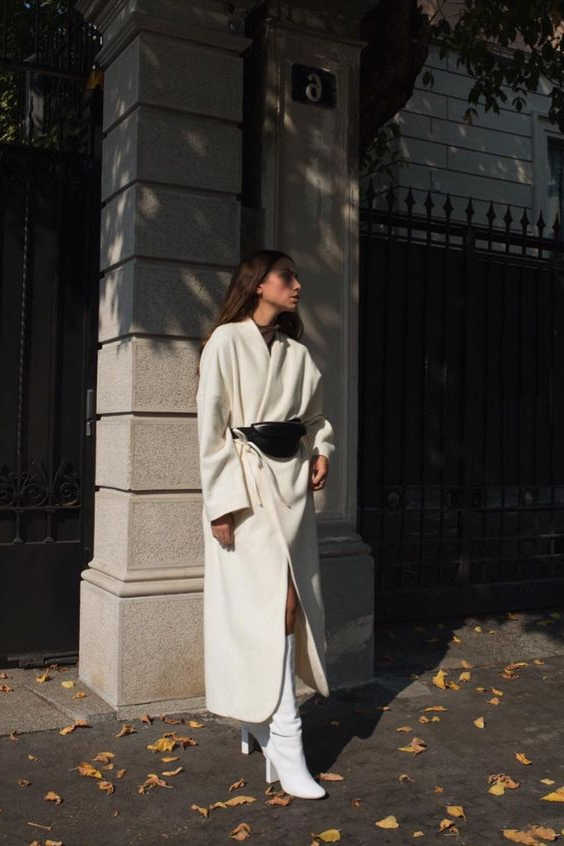 A classic wrap coat in white color is layered over a black sweater tucked in black leather skinny pants. Update this look by adding mirrored sunglasses and a spacious black leather handbag. If you want to see more ideas on how to wear sweaters for women, then I have amazing outfit ideas to share with you: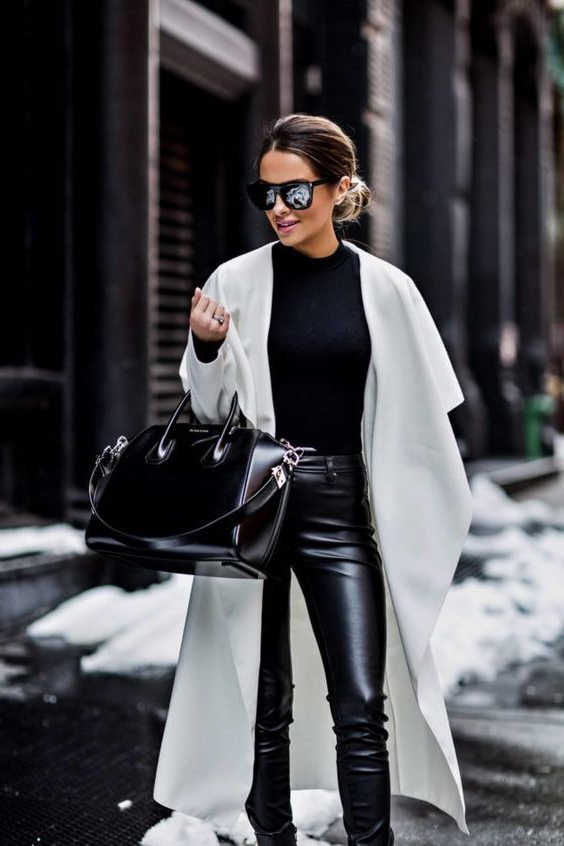 We see a classic white wrap coat styled with a white tee tucked in knee-ripped skinny jeans in white completed with nude heeled pumps with pointed toes: