A white shirt is well known for its versatility. This is a basic element of the wardrobe that will always find a proper no matter what is your style. You can combine it with a pantsuit or your favorite jeans, add a bold touch by wearing it under a bustier dress or pair it with the leather trousers. You should never be afraid to experiment. Fashionistas around the world demonstrate new ways of wearing a classic white shirt. I have collected the most interesting street style ideas.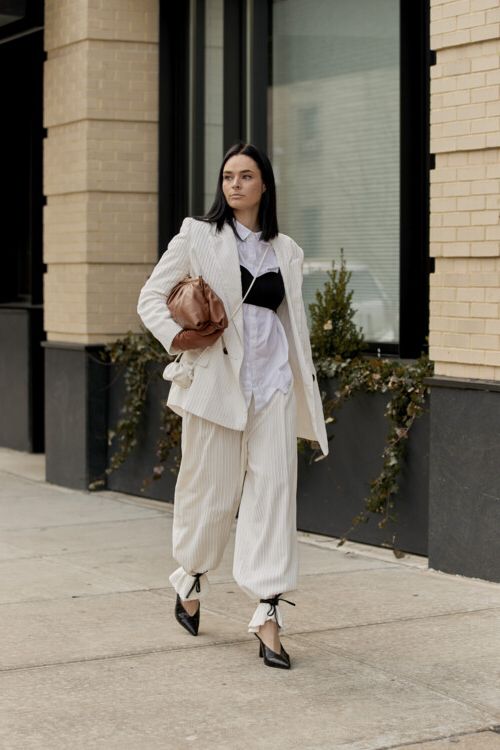 We see a trendy OOTD consisting of an oversized pinstripe white blazer, white shirt layered under black bra top teamed with loose-fit pinstripe white pants completed with tied black heeled pumps around pants.
A white shirt must be in every fashionista's wardrobe. I am about to show you how and what to wear it with, in order to look stylish and feminine.
White Shirt With jeans
The combination of white and blue is perfect. Follow this rule in the summertime. This combination creates a chic tandem that will be appropriate in almost any occasion. Depending on your plans for the day, you can either add sandals, mules, espadrilles, slides, or pumps to this white-blue look.
Platform white trainers ideally suit these slim jeans and a white shirt made of linen: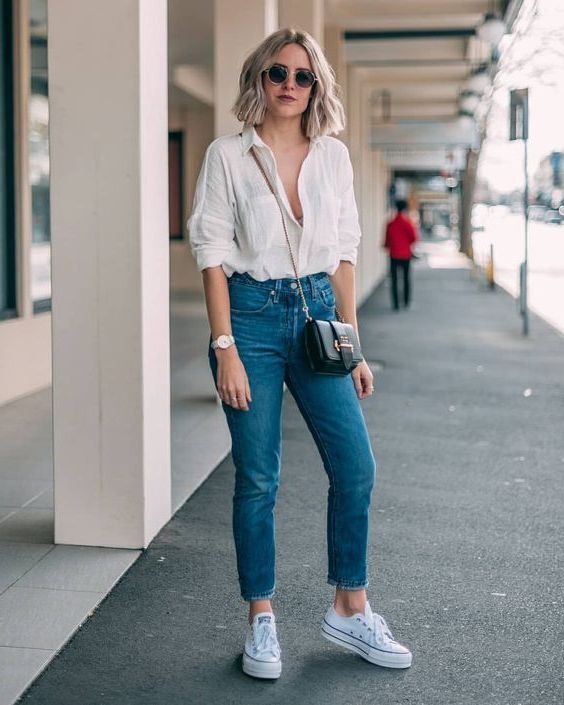 A loose-fit half-tucked white shirt looks pretty chic with knee-ripped boyfriend jeans. The look is completed with aviator sunglasses, mini beige bag and clear heeled pumps: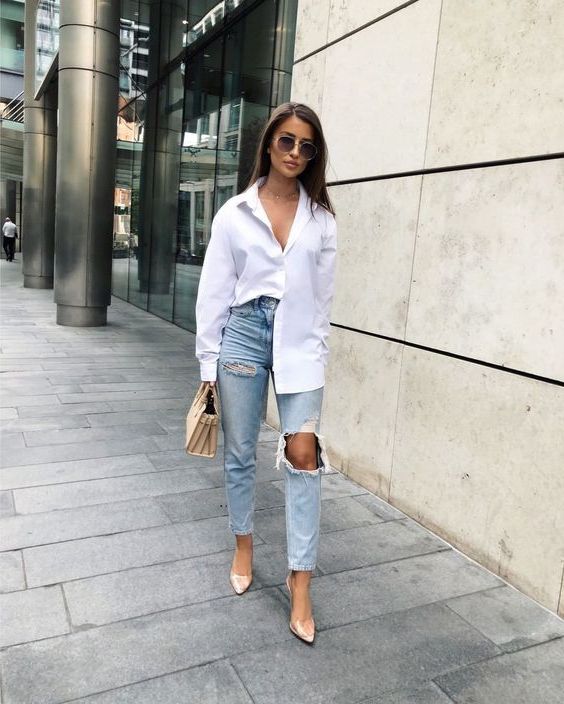 Knee-ripped slim jeans are updated with a white shirt and nude heels: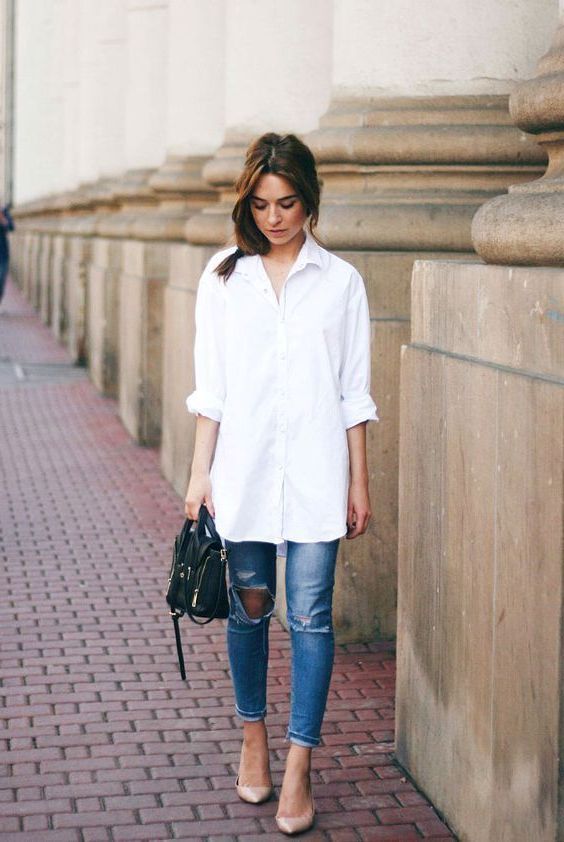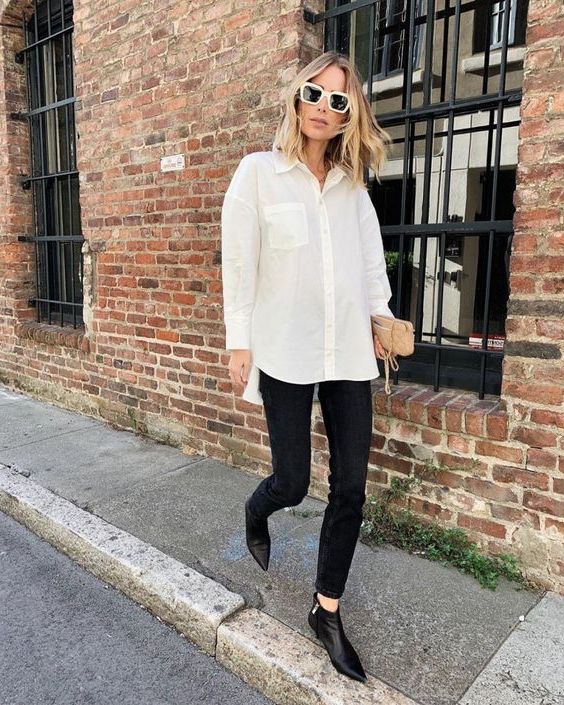 White Shirt With Colored Pants
If you have a busy day ahead, I recommend combining a white shirt with gray, beige, or brown pants. This combo is ideal for creating an office look. You can either tuck in your shirt or leave it untucked. And don't forget about stylish accessories, like trendy sunglasses and shoes.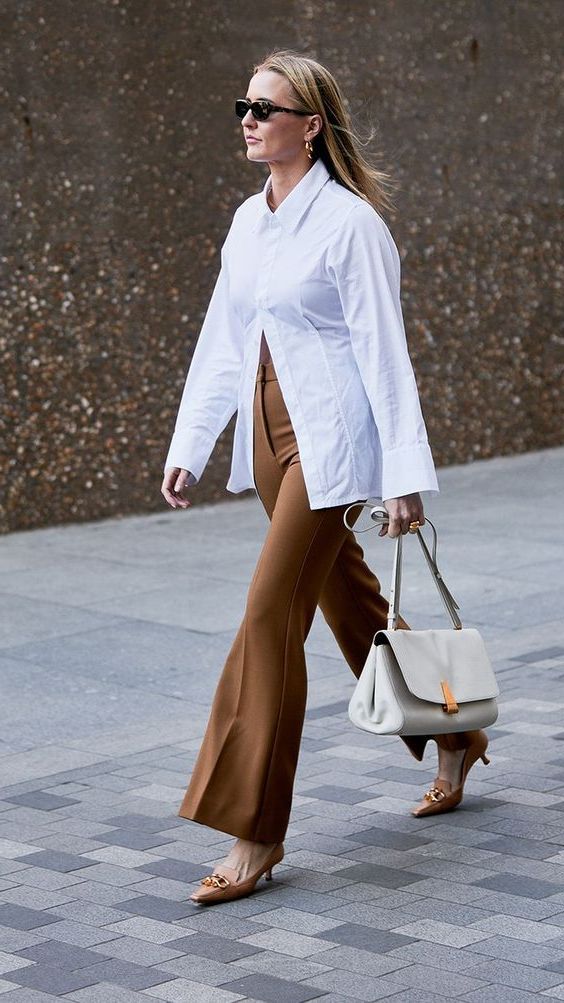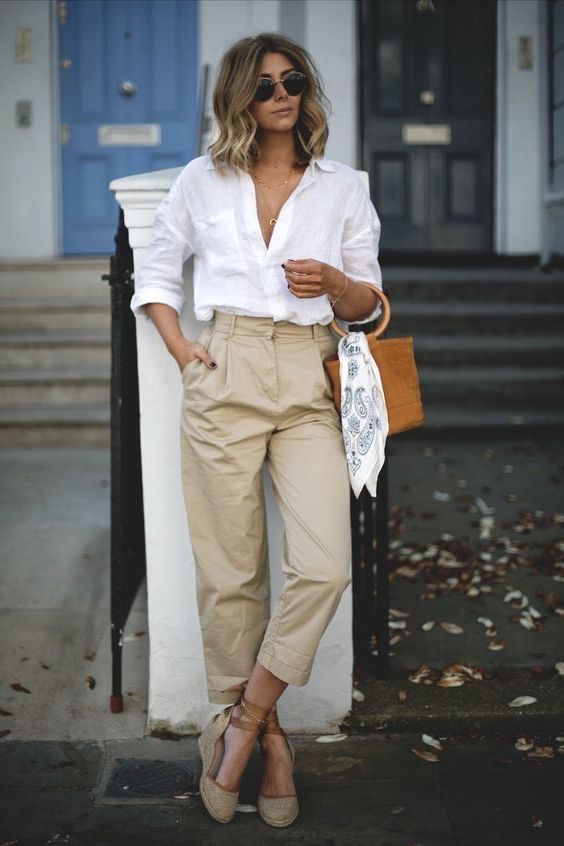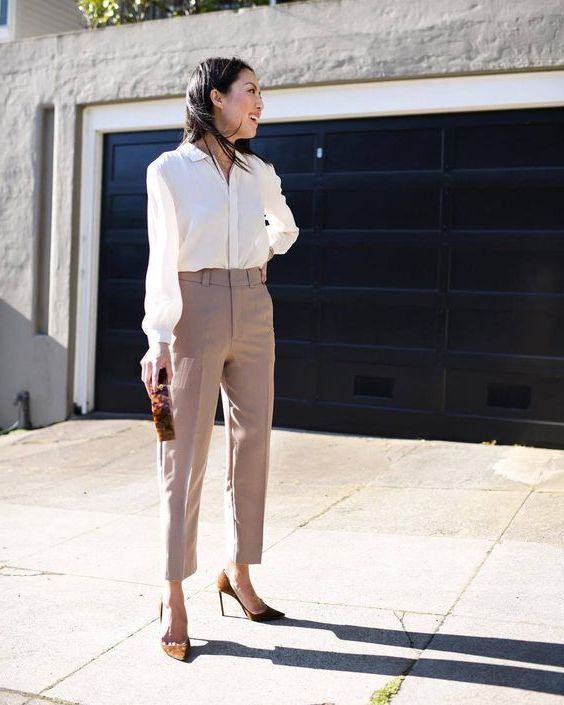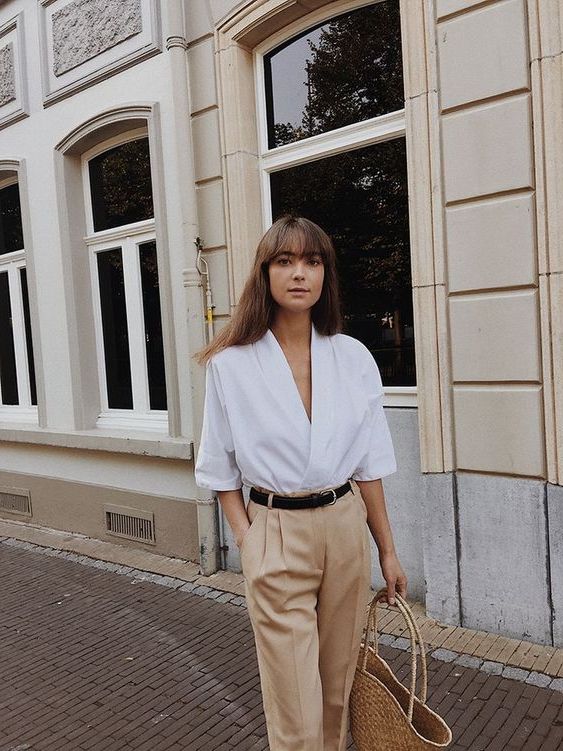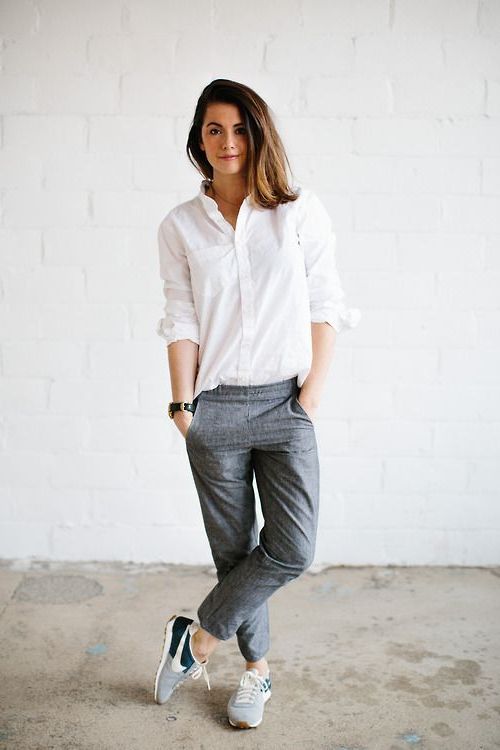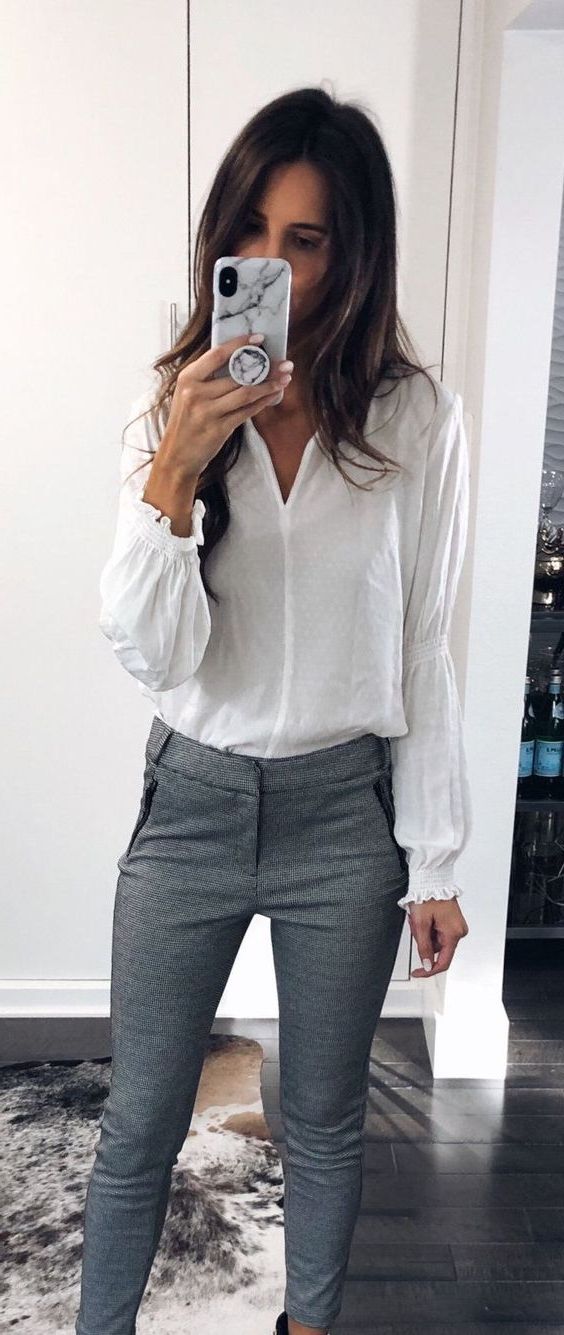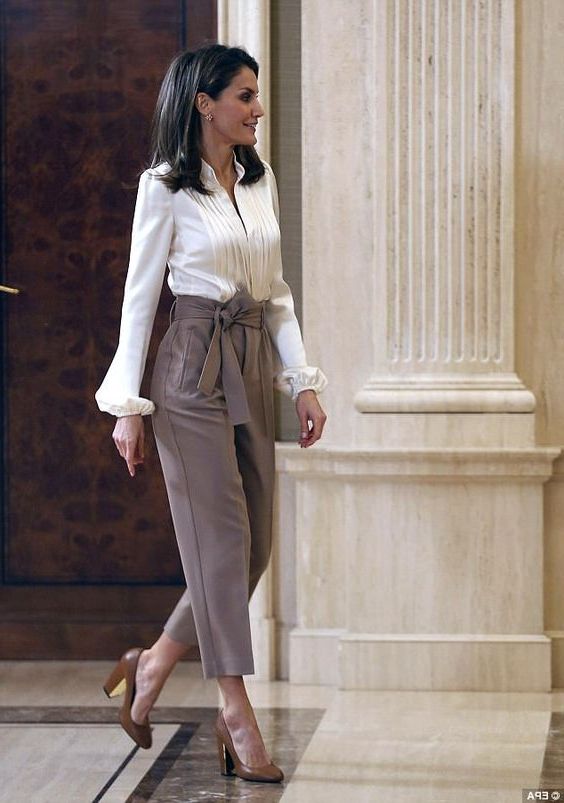 White Shirt With Midi skirt
If you don't know how to wear a white shirt? There is a simplest and coolest combination: go for a denim midi skirt, this will make you look fabulous! Tuck the shirt in or partially let it out. Complete the look, by choosing neutral shade-beige, cream, black or white shoes, and accessories.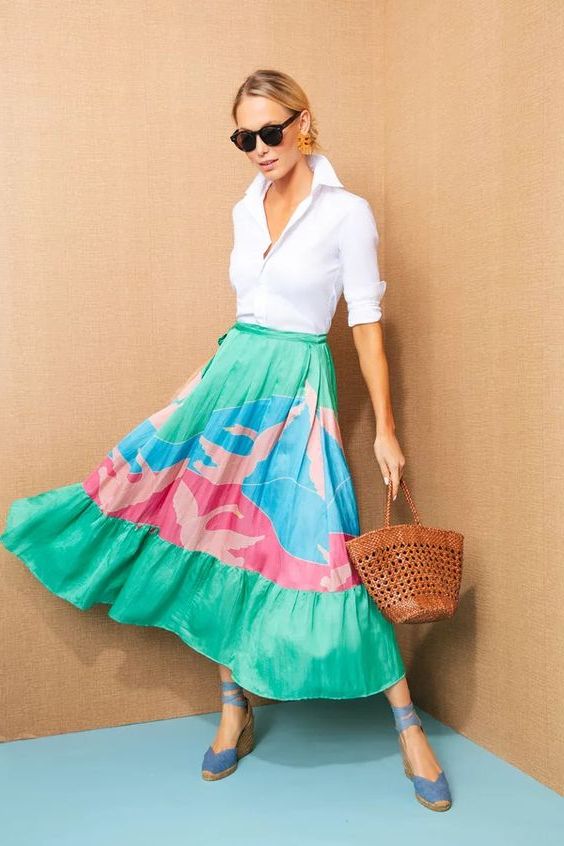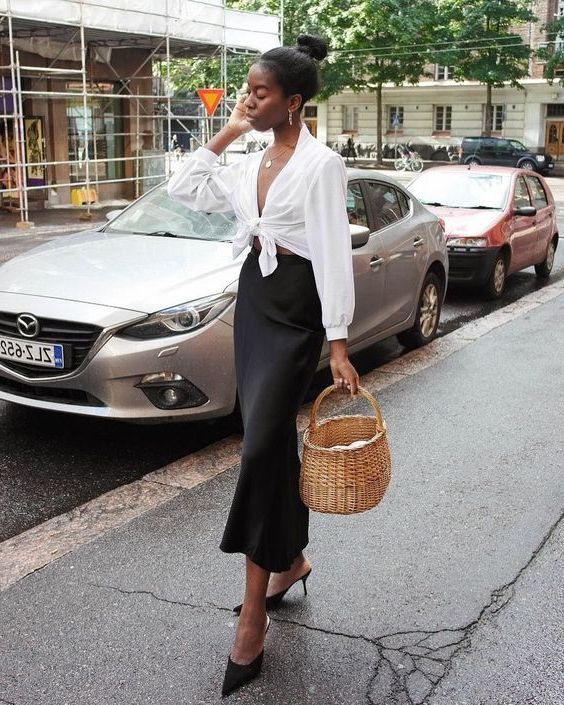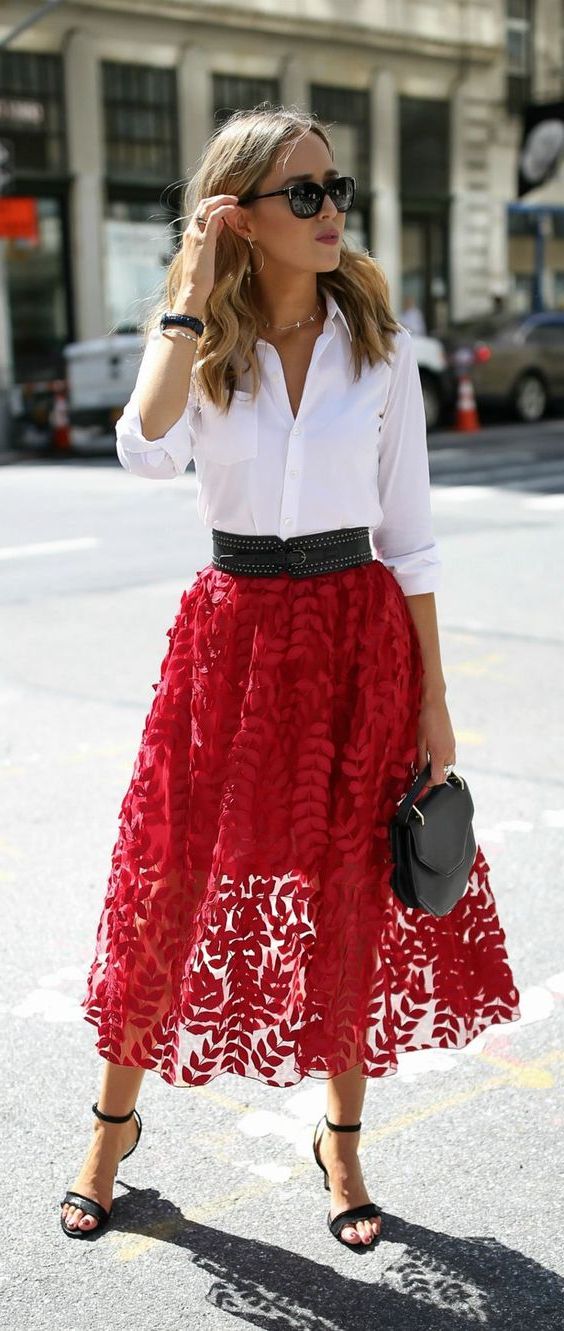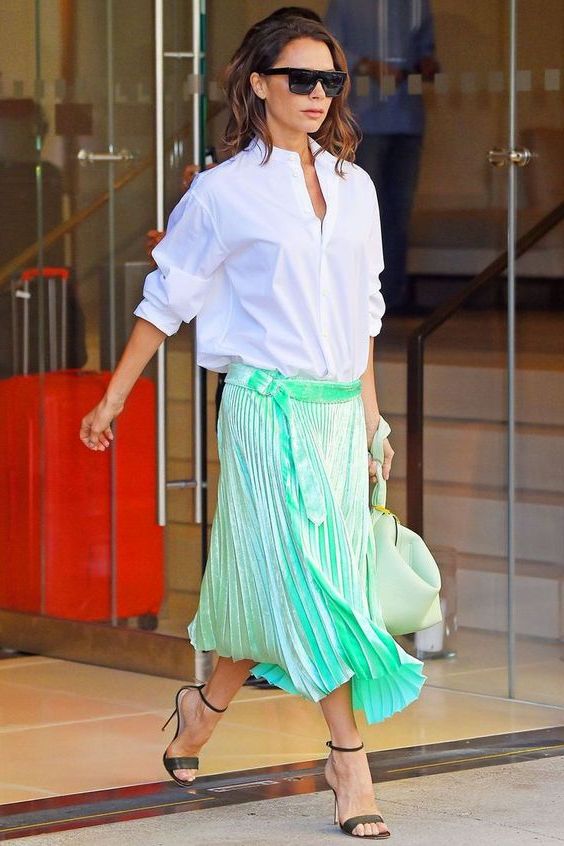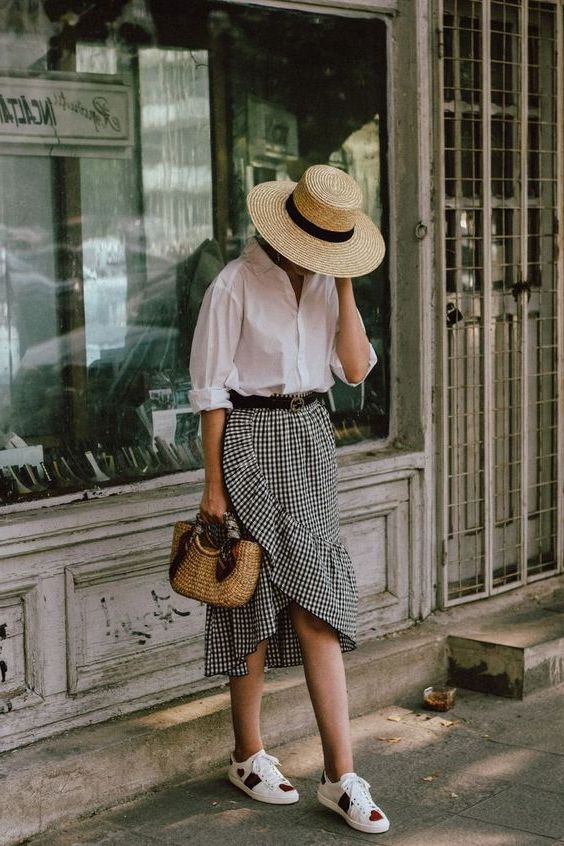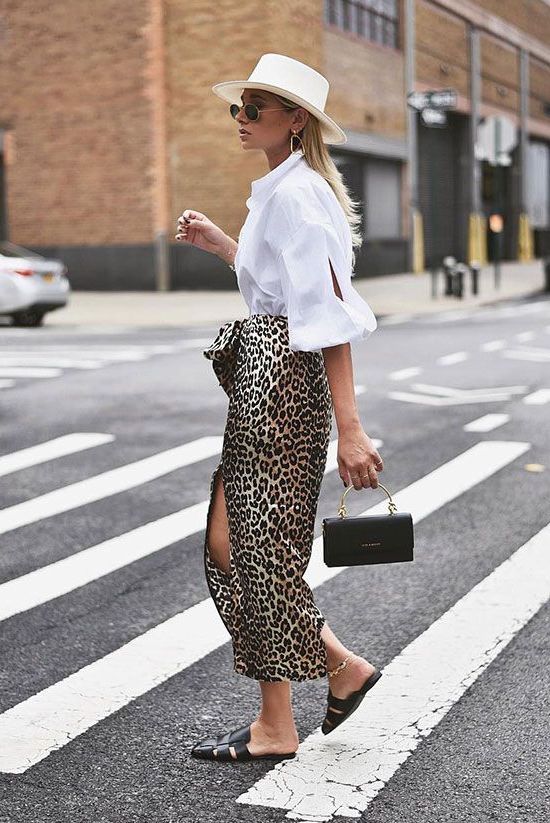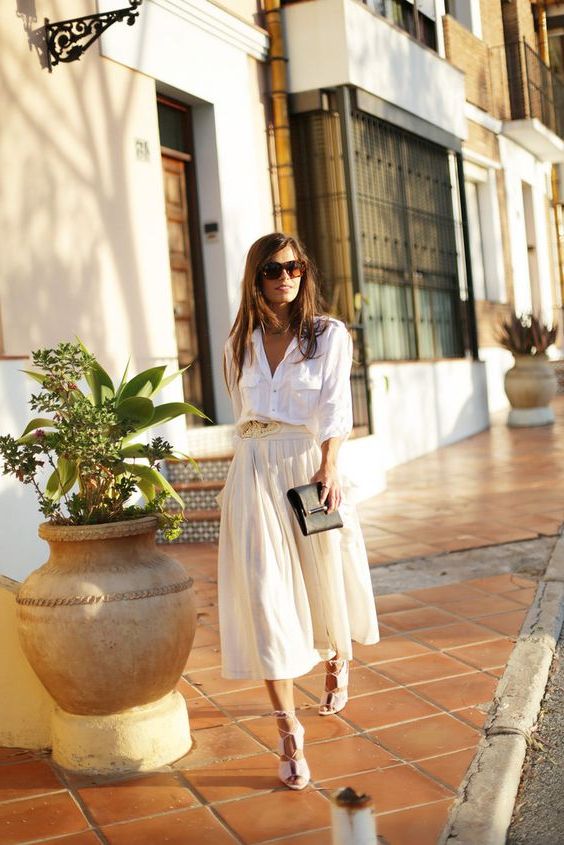 White Shirt With shorts
The white color is good by itself. Tuck the white shirt inside your favorite shorts and you are ready for summer strolls. This season we see a high peak of shorts with high-waisted design. Complete such look with sneakers, mules, sandals, or flip-flops. By the way, if you want to see a completed guide on how to wear shorts this summer, then see my post where I show cool ideas on how to wear shorts this summer. I will bring some cool combinations.
Love that front-tied white shirt updated with leopard print shorts, a lovely combo for young ladies: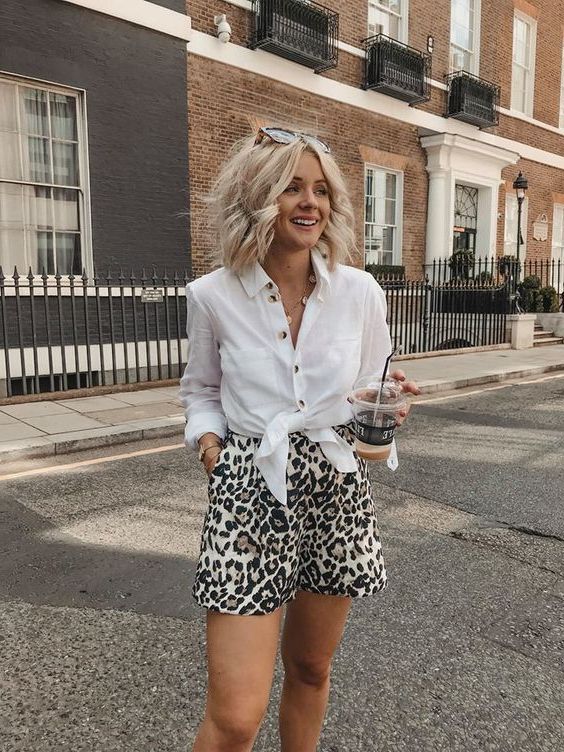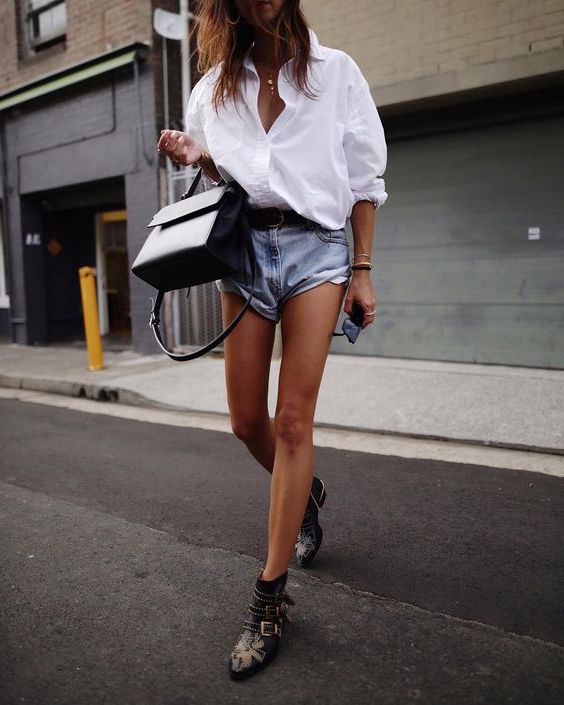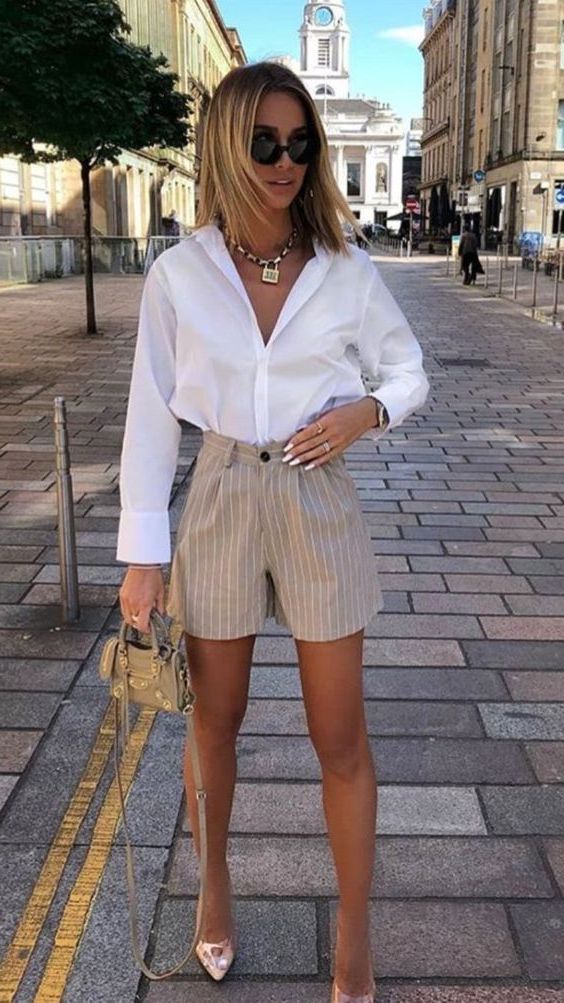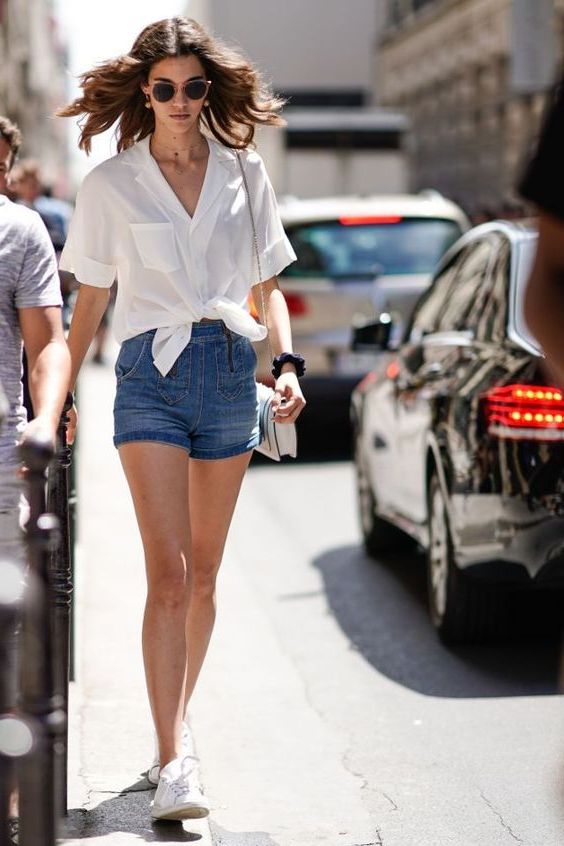 White Shirt With Black Pants
The combination of a white shirt and black pants is a classic look that will never go out of style. Just make sure you are not creating that nerdy classic schoolgirl uniform outfit, better go for creative items, like a loose-fit white shirt and trendy black pants. An ideal look for working hours, by the way, check out my post on business meeting outfit ideas, you might find some cool combos. You can also try to unbutton a couple of buttons of your white shirt creating an open cleavage look.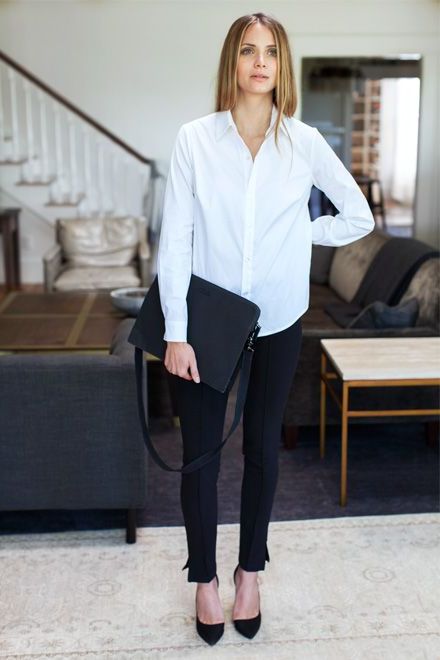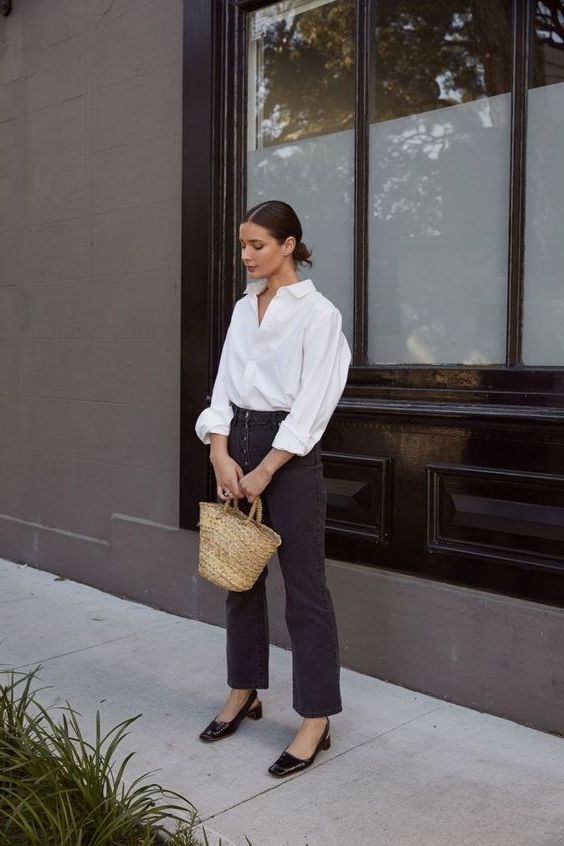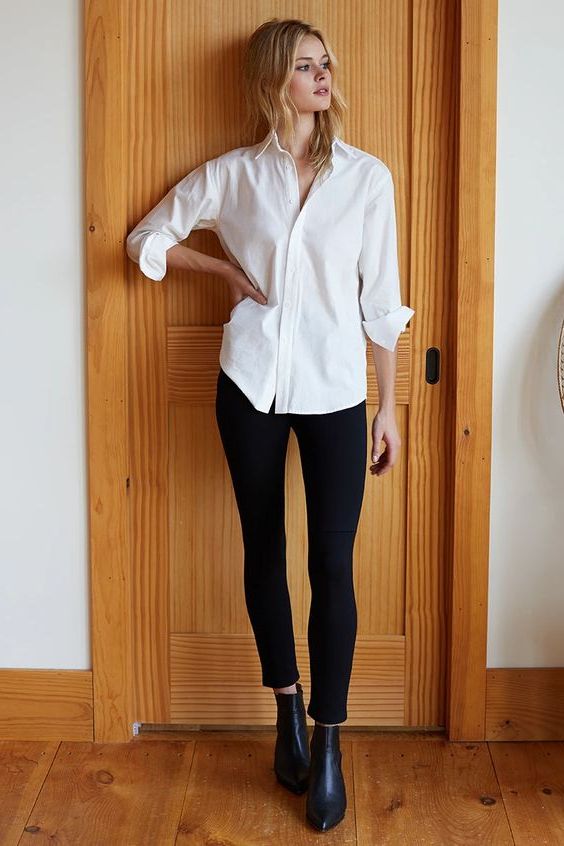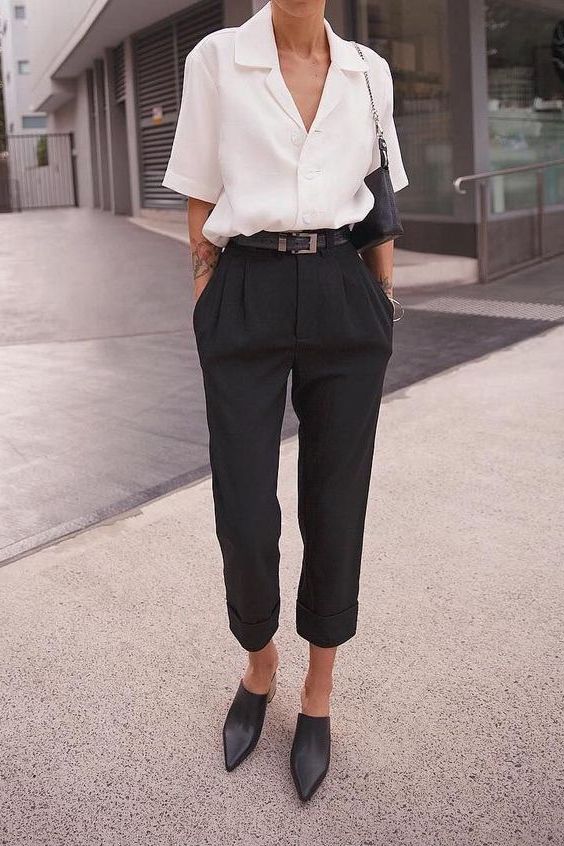 My Favorite Street Style Outfits
We see a printed pantsuit worn with a white shirt and slouchy cream-white leather boots: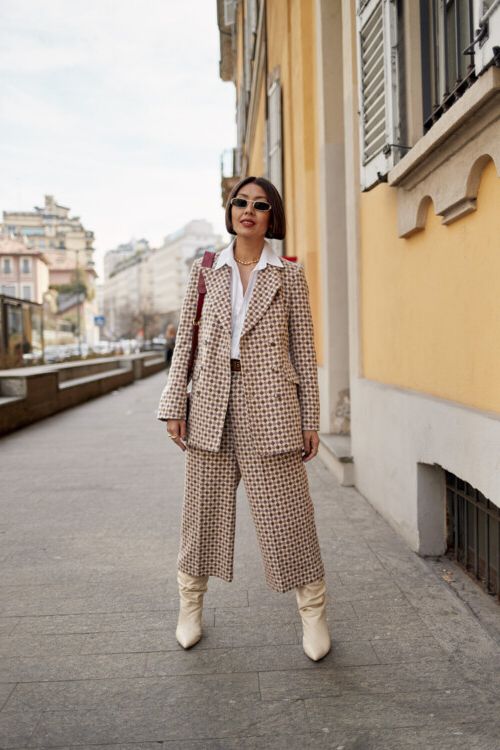 An all-white look with a white shirt, a glamour update for special ladies: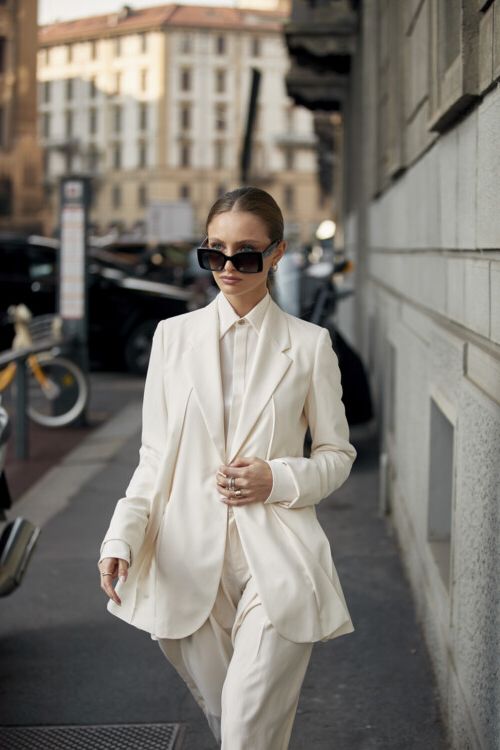 A relaxed white shirt with billowing sleeves is tucked in turquoise-navy wide pants: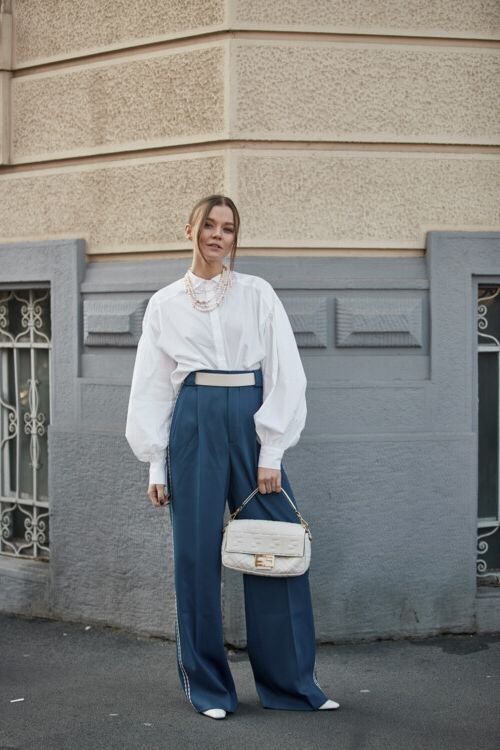 A simple white shirt can be layered under a black wool V-neck vest. Add black leather shorts and slouchy tall boots in white color: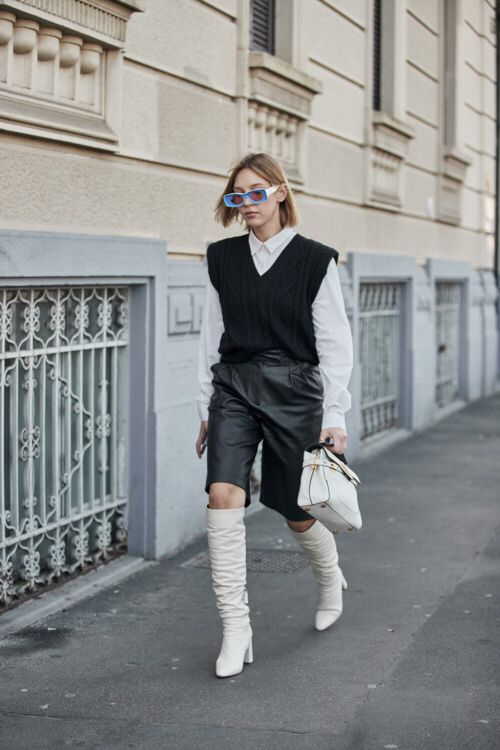 A brown leather pantsuit looks like from the seventies inspired updated with a white shirt. That leather jacket is going to stay in fashion for a long time. By the way, check out my post about trendy jackets for Spring, I've got some great designs to share with you :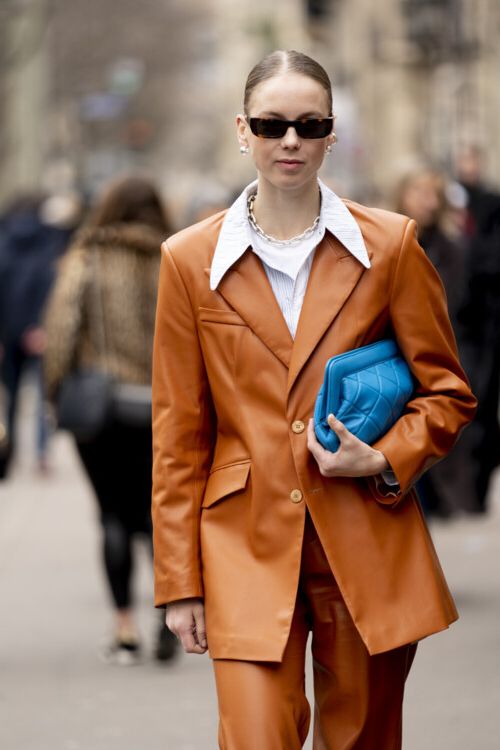 A ruffled white shirt looks glamour and ultra-chic completed with white shorts, necklace and a rope belt: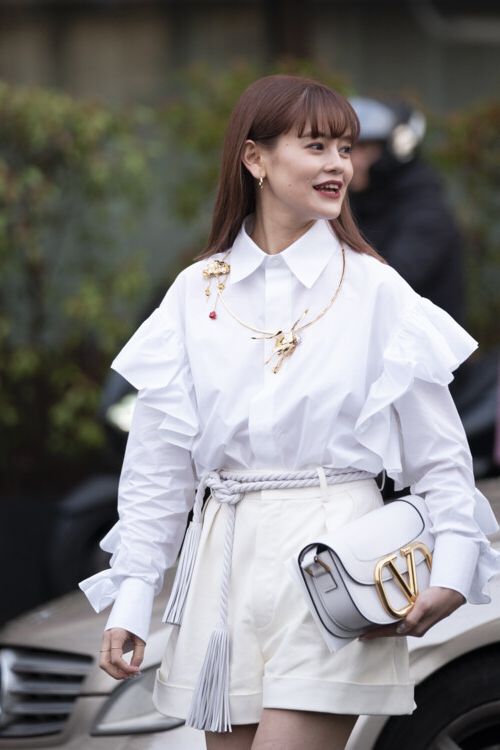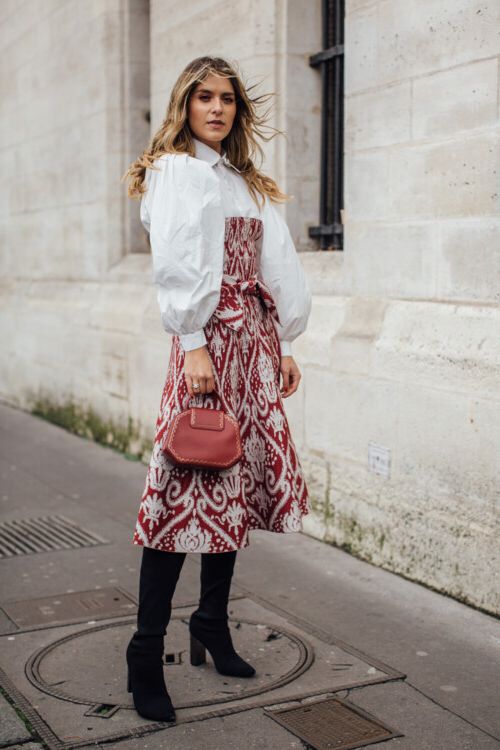 Would you dare to wear such all white look? Love that relaxed shirt, wide pants and square-toe white mules:
In love with these pastel purple shades. Go for an oversized pastel blazer and drape it over a white shirt tucked in pastel purple leather pants updated with pastel blue slides. If you want to see more cool ideas on how to wear leather pants, then check out my post, I will bring amazing street style looks to wear in real life: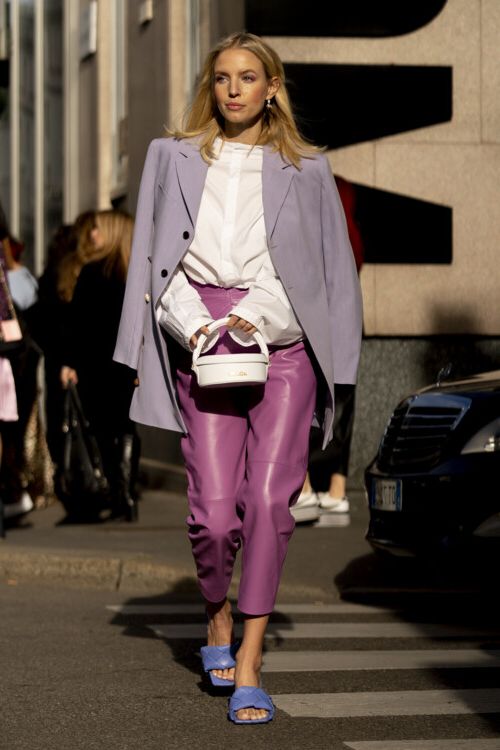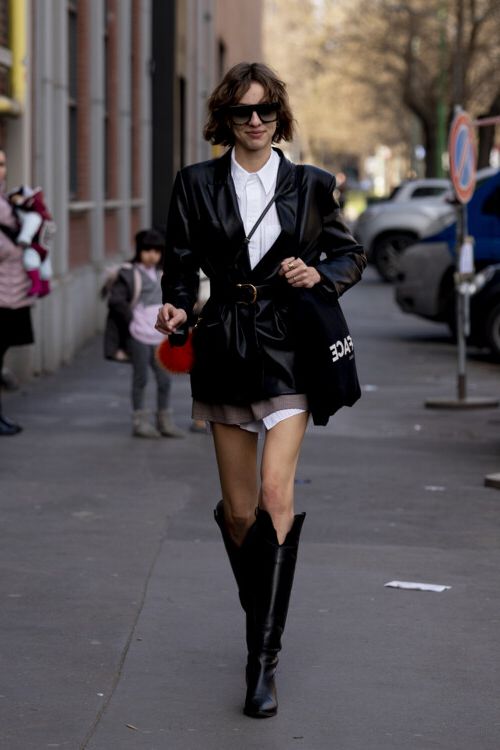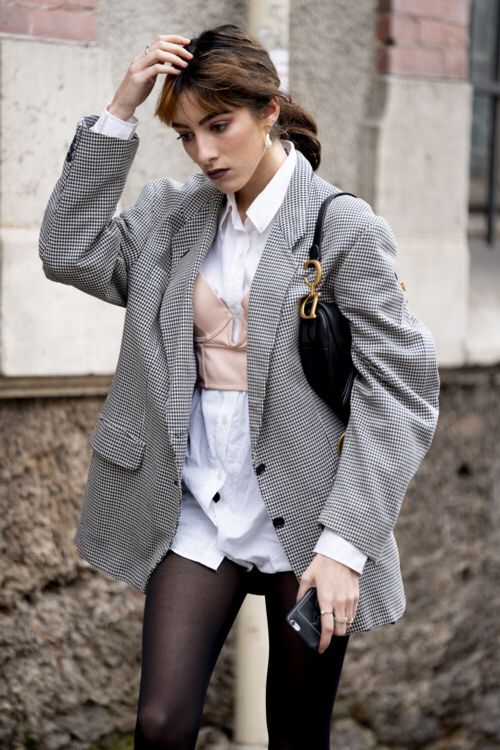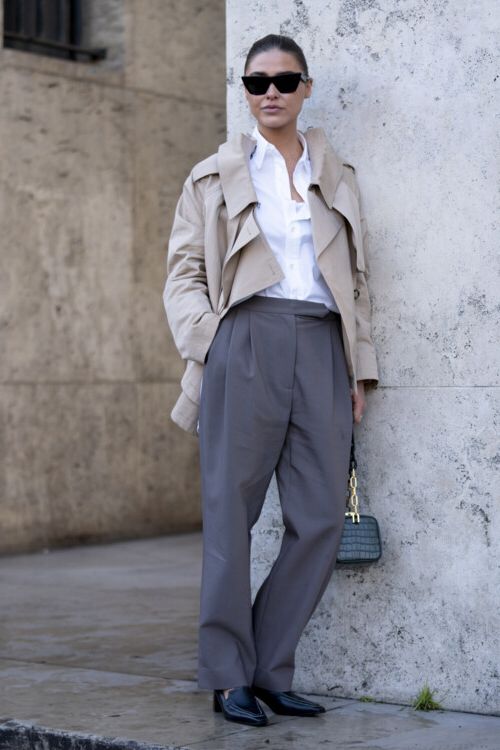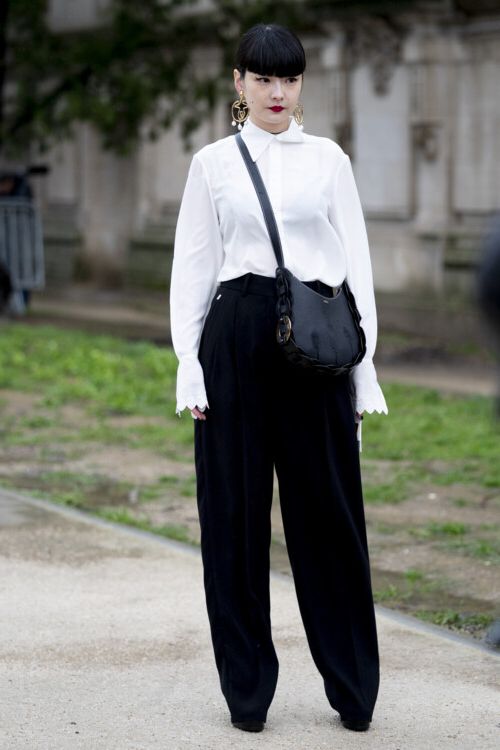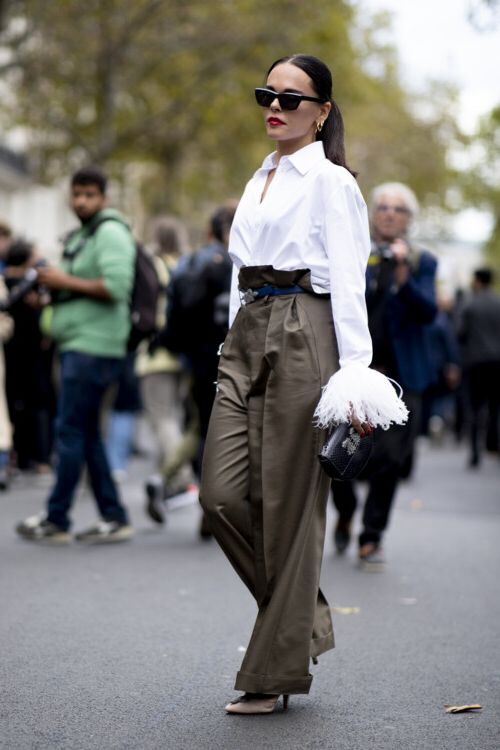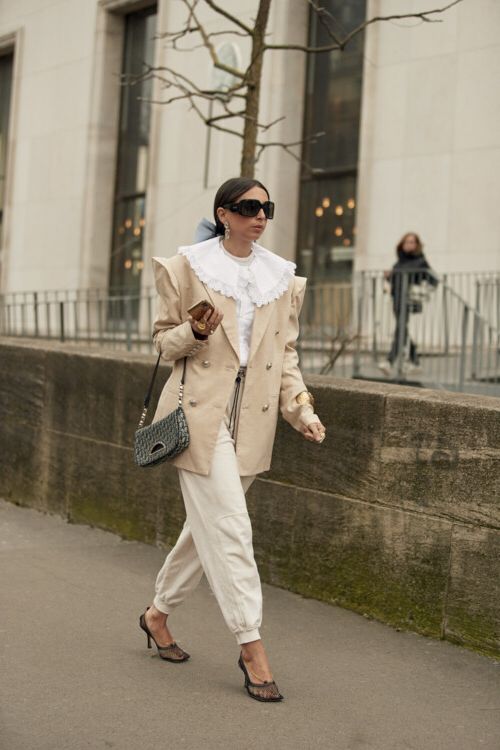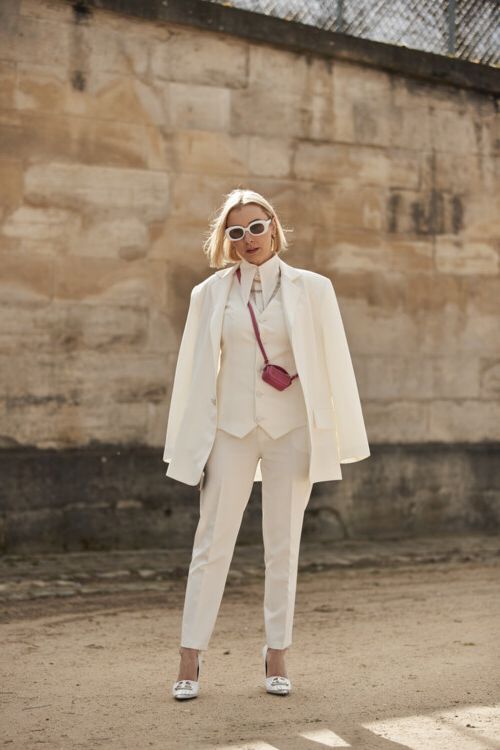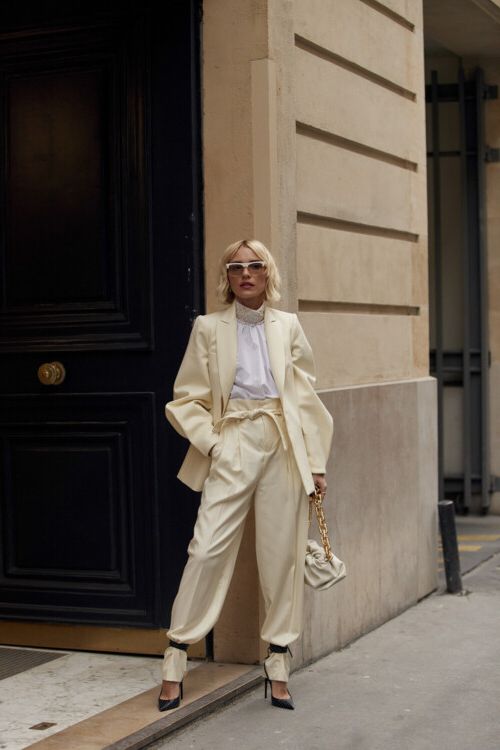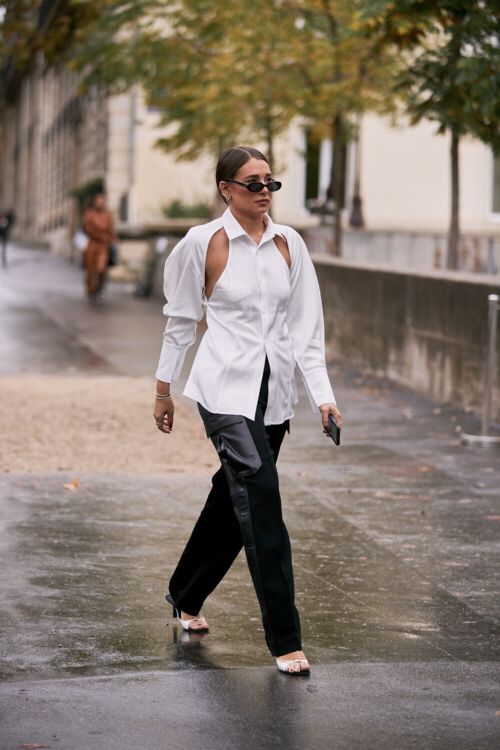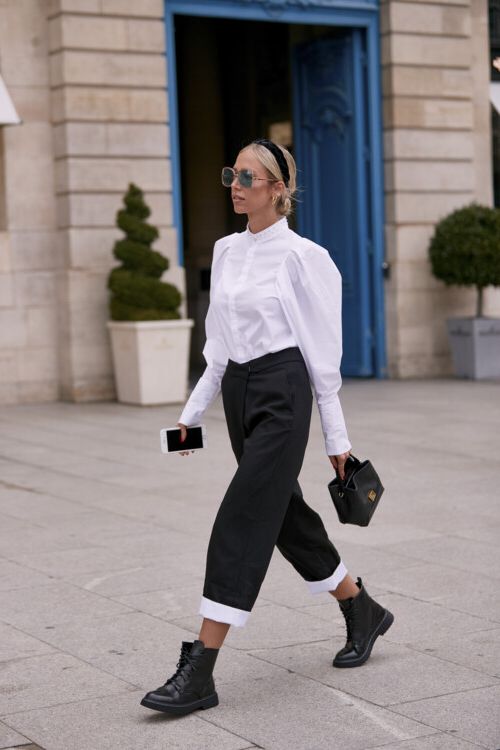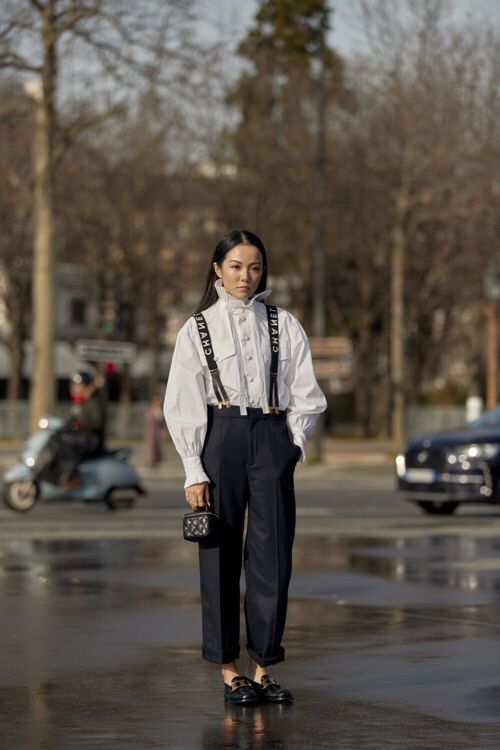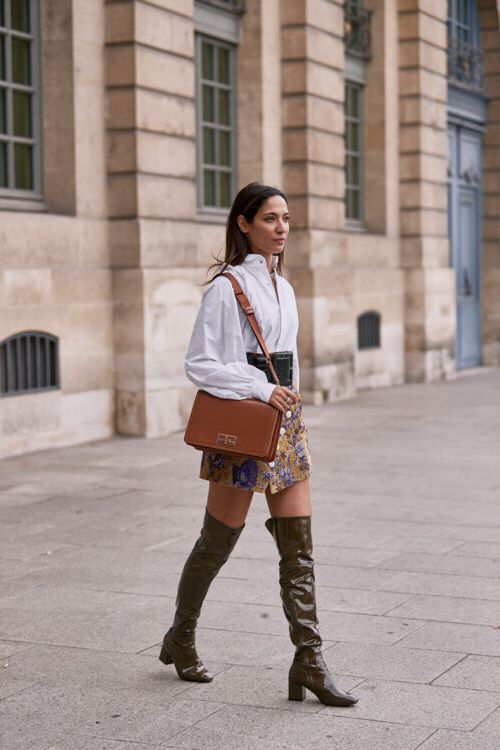 Another seventies inspired look consisting of a fringed black leather jacket in cropped fit styled with a white shirt and a wrap mini skirt. Love the flat-brow sunglasses: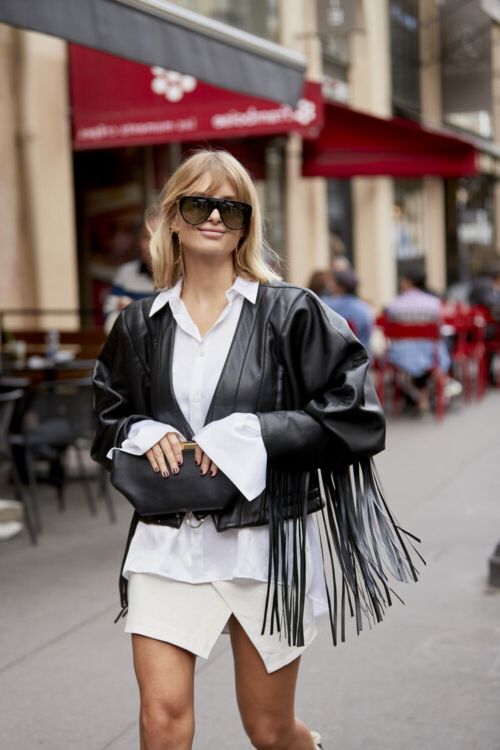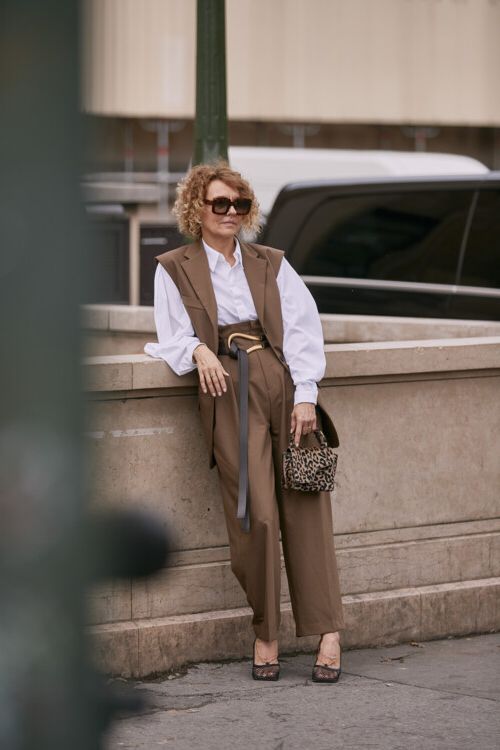 Did you have such days when you're late for work and you feel like you don't have anything to wear? In such cases, we take a white shirt and team it with whatever we find.
A white shirt is a must-have. I don't know anyone who doesn't have a snow-white, classic, collared shirt in their closet. Looking through street style images, it's fair to say that white shirts are not only meant for the office.
White Shirt With Denim Shorts And Keds
Despite the formality of the shirt, sneakers completely turn the style into a casual look: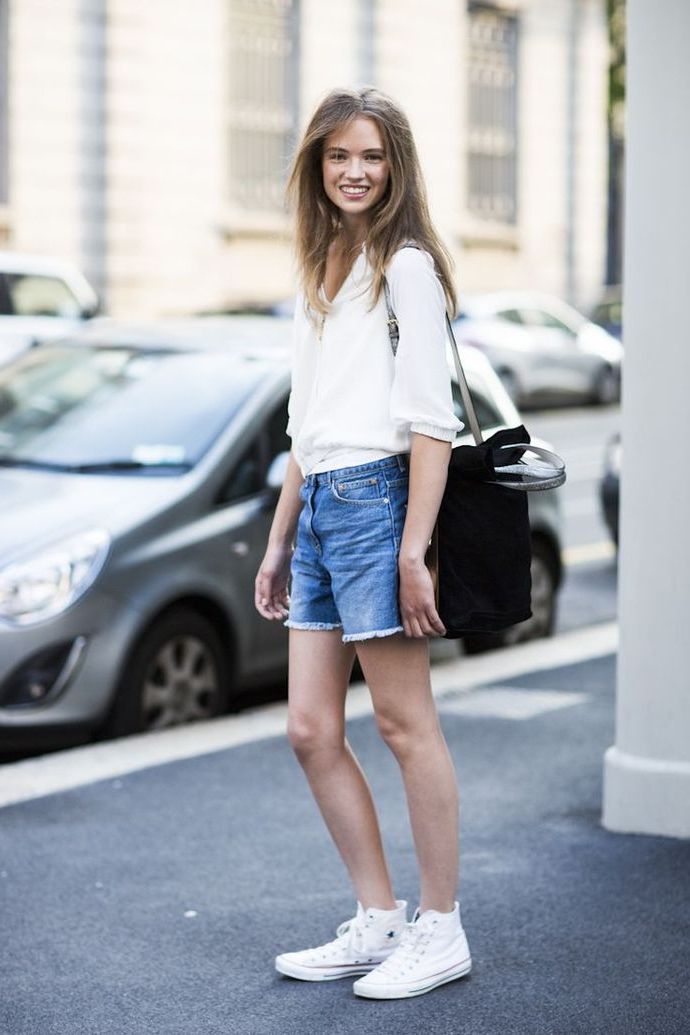 Oversized White Shirt And Ripped Boyfriend Jeans
Feel free to wear a boyfriend shirt, combining it with ripped jeans. The look is casual but I love that simplicity: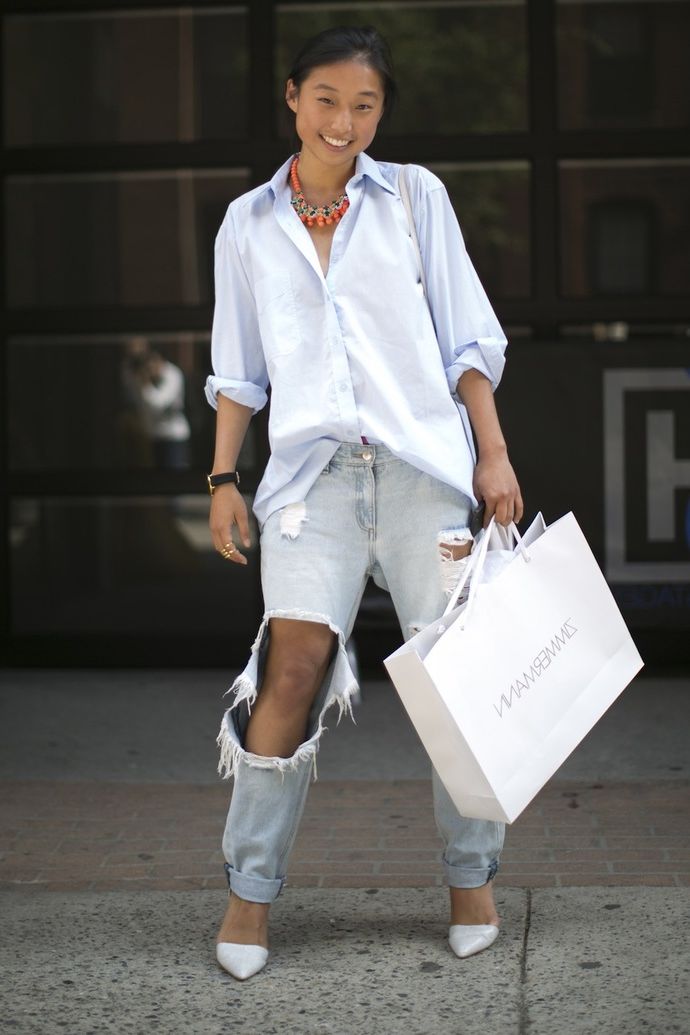 All White Look With White Shirt
The white top with a white bottom is an option for those who are not afraid to get dirty. A perfect style for any celebration, except weddings: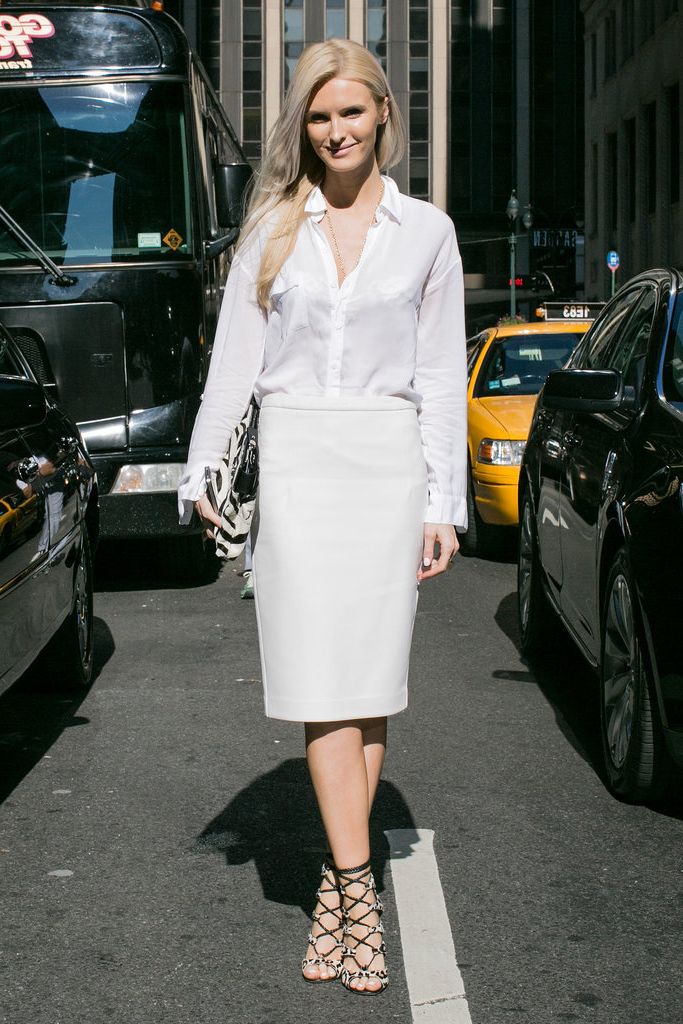 White Shirt Under Dark Color Dress
Go for a white shirt and use it as an additional layer under a dress: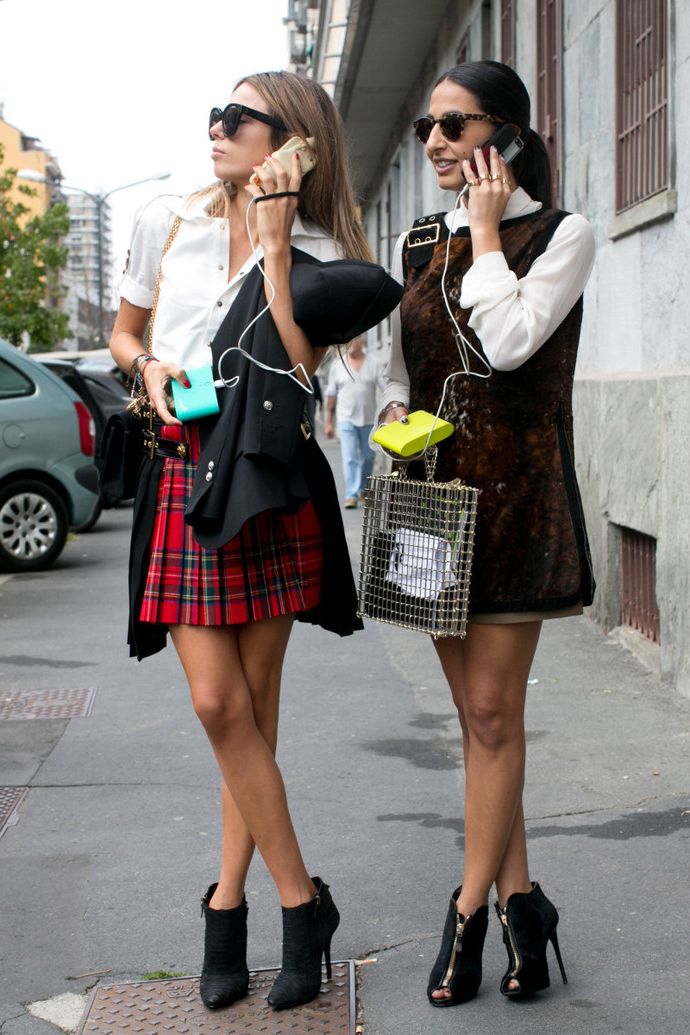 White Shirt Tucked In High Rise Skirt
Tuck your shirt inside a high-waisted skirt, complete the look by adding a wide belt:
Unbuttoned White Shirt And Trousers
Unbuttoned top buttons, rolled up sleeves with a cap, yes it's Cara Delevingne, she loves that rebellious look with a touch of urban style: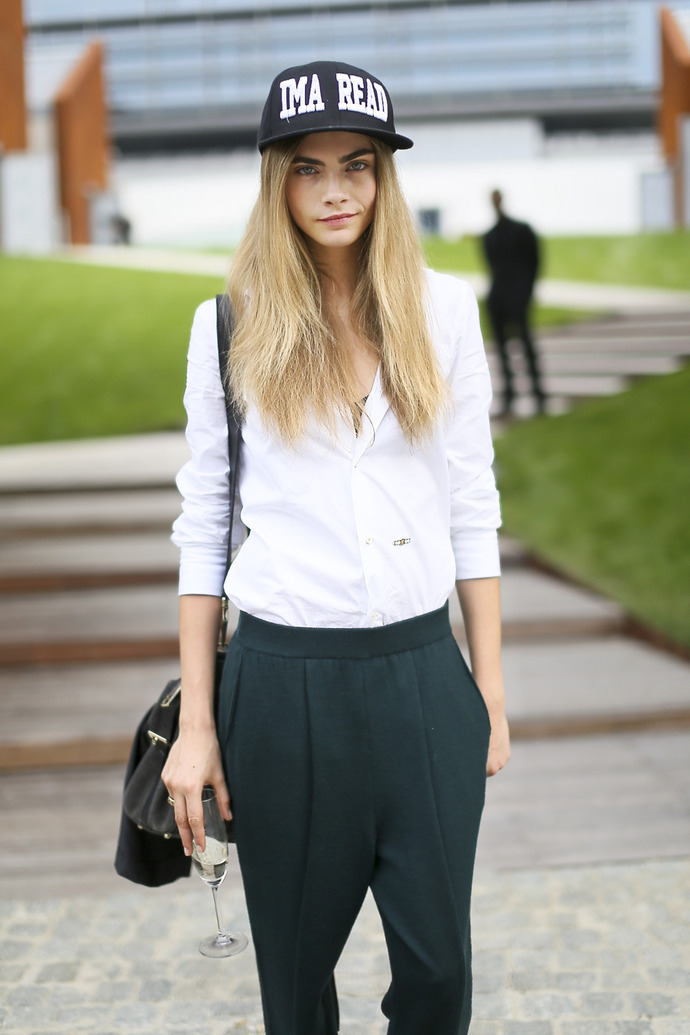 White Shirt And Floral Print Skirt
The white top allows any combination, so do not be afraid to add colors, go for a mini flared floral skirt and pumps:
White Shirt And Shorts Suit
Australian blogger Nicole Warne has chosen plaid shorts suit styled with a white shirt.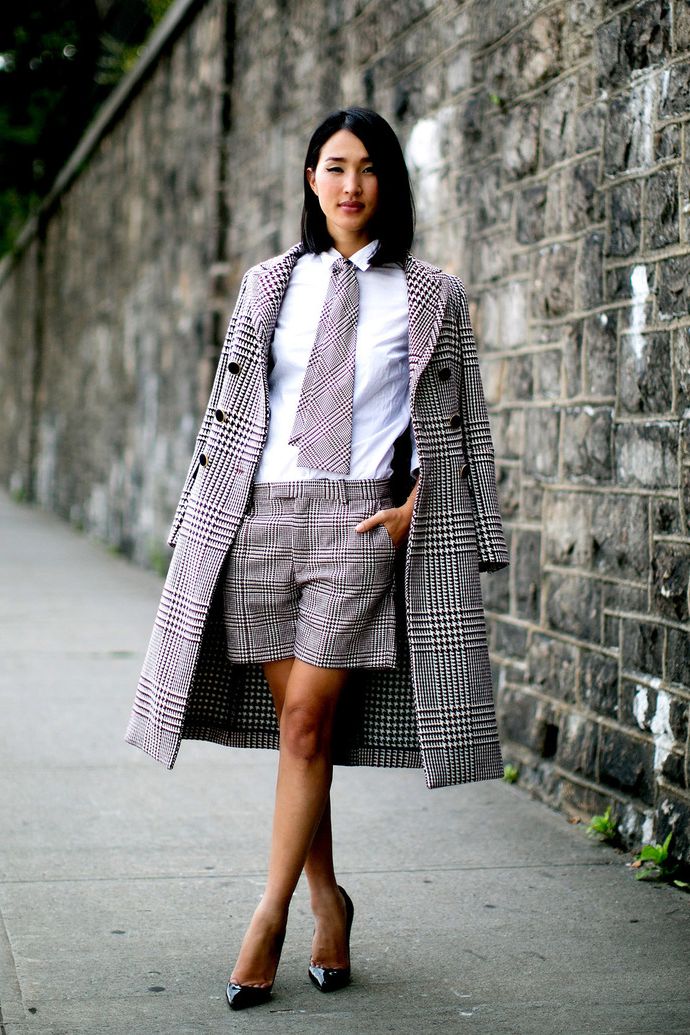 White Shirt Layered Under Dress
When it's cool outside, the shirt can be safely worn under a vest, a pullover, or even under a dress.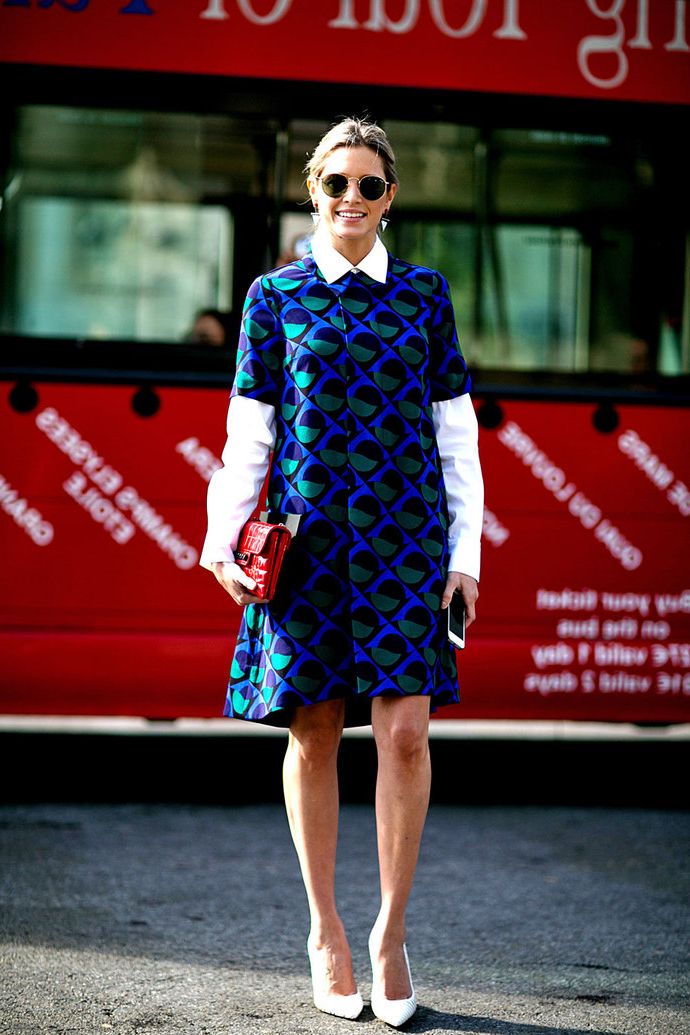 Elongated Shirt In White Worn As A Dress
The elongated shirt in a loose-fitting shape can be used as a dress: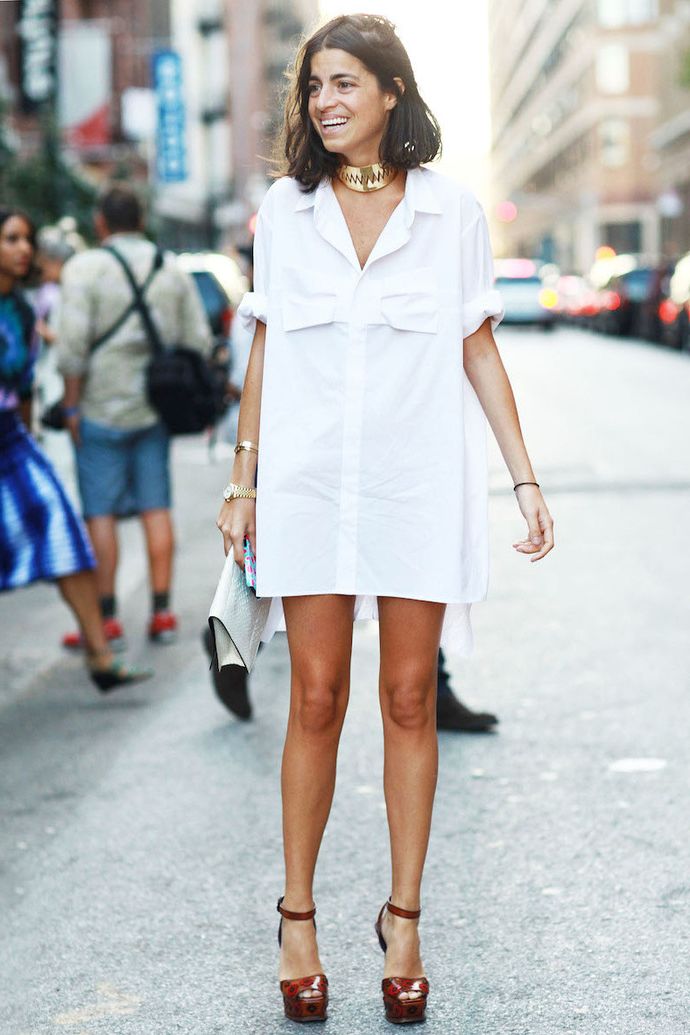 White Shirt And A Blue Pantsuit
A classic white shirt can be paired with blue polka dot slim pants, blue tweed blazer, and cream-white peep-toe heeled pumps: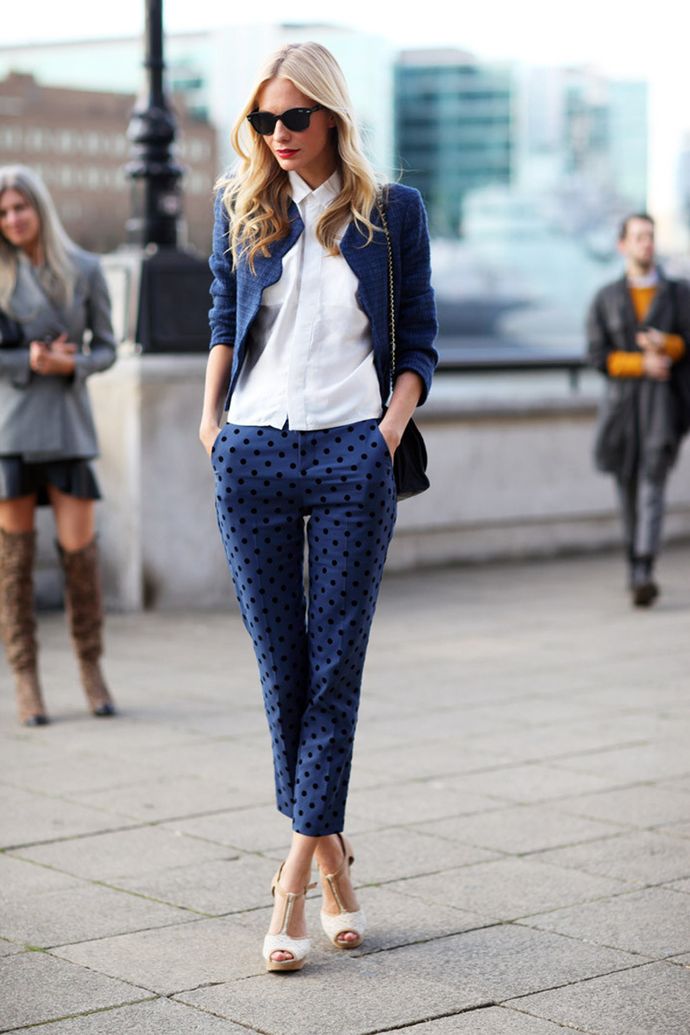 No wardrobe is complete without the humble white shirt. One of the most versatile pieces you can own, this fashion staple can be styled down for day, up for the night, and a myriad of ways in between. What with the British weather about to turn, finally we can start thinking about summery outfits. Essentially, the white shirt is a game changer — whether you style it with a suit, layer it over a sleek swimsuit, or add over cycling shorts, there are so many ways to style the wardrobe classic for summer. If you're looking for ideas on how to take the white shirt then I am pretty sure you gonna love the following street style ideas. What is your favorite combo?