As many of you know, a long grey cardigan outfit is an essential look of fall/winter fashion, but in summer it can be worn with open airy clothing such as shorts, skirts, and dresses. Here's how to wear a long cardigan this year.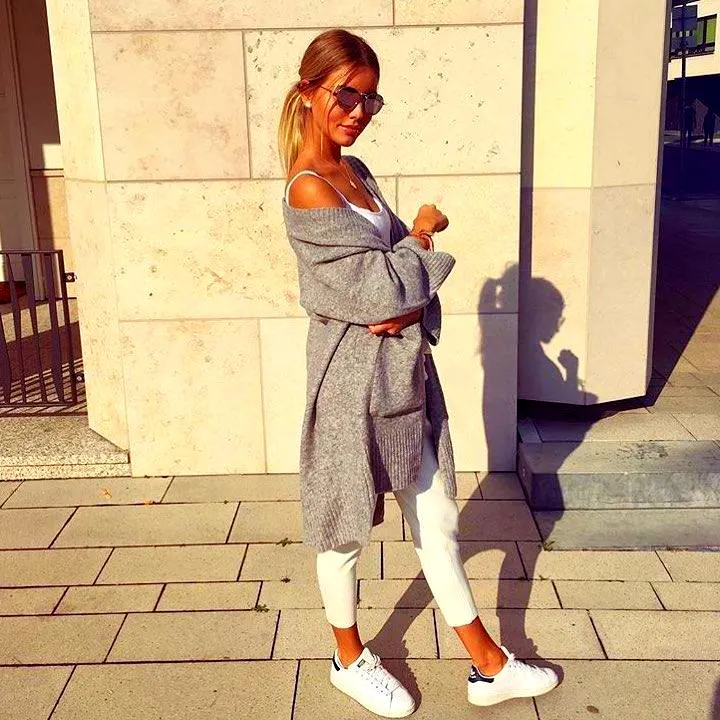 Buy Similar Here
Long Grey Cardigan Outfit
If you're like me, then you love having your closet filled with cute clothes that coordinate well with each other and look good on your body. And in addition to the cute clothes, you also love the convenience of having versatile pieces that can be worn differently with outfits. This is why I usually recommend basic neutrals essentials as staples, and if you want to go more directional and stylish while still wearing neutral pieces then great, but at least you know that your basics are versatile! In this post, I'll be highlighting how a grey long cardigan can be both grey and neutral at the same time.
What I recommend wearing:
1. The first look that you can wear is your favorite grey cardigan over a button-down shirt, t-shirt, or blouse. For example, if you are wearing a cardigan and want to pair it with simple black jeans or leggings then I do recommend wearing it open over black pants rather than putting the whole thing on like you would normally wear it.
2. When it's too hot to wear a dress or shirt open over the cardigan, then next up is creating the most casual style by pairing your cardigan and your favourite basic bottoms with some sandals or flats.
3. The last look that I want to show you is a dressier style. Here, you can wear a long cardigan with a strapless or spaghetti strap summer dress or over a button-down shirt with high-waist shorts, skirts, or pants.
4. If you are wanting to wear your grey cardigan and jeans while still looking fashionable and comfortable then I recommend wearing your cardigan open over your favorite bralette paired with some classic shorts. This will give you an extra layer of warmth so that you don't have to worry so much about the cold air conditioning in stores or restaurants.
With Oversized Sunglasses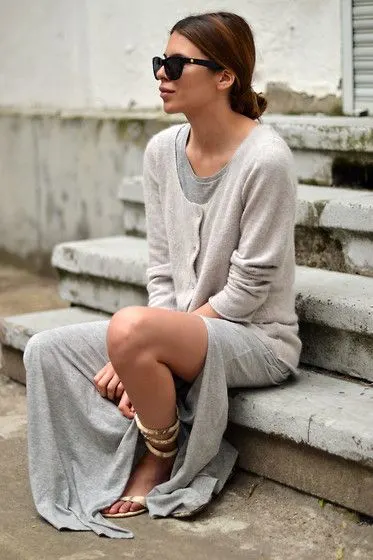 Buy Similar Here
If a long cardigan is your go-to piece for a simple everyday look, then here are three ways you can wear it with tops, bottoms, and accessories.
With Black Jeans And White Sneakers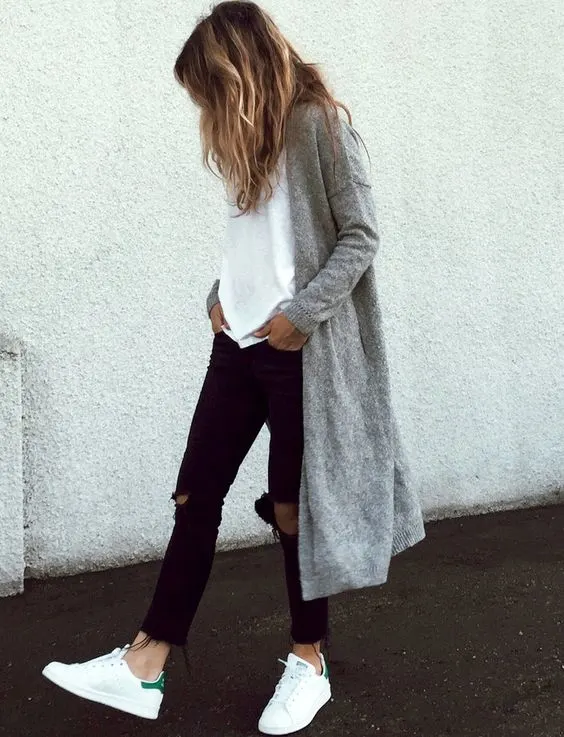 Buy Similar Here
With Ripped Jeans And Black Pumps
These looks are perfect for the warmer days when it's too hot to wear just a basic grey dress or shirt.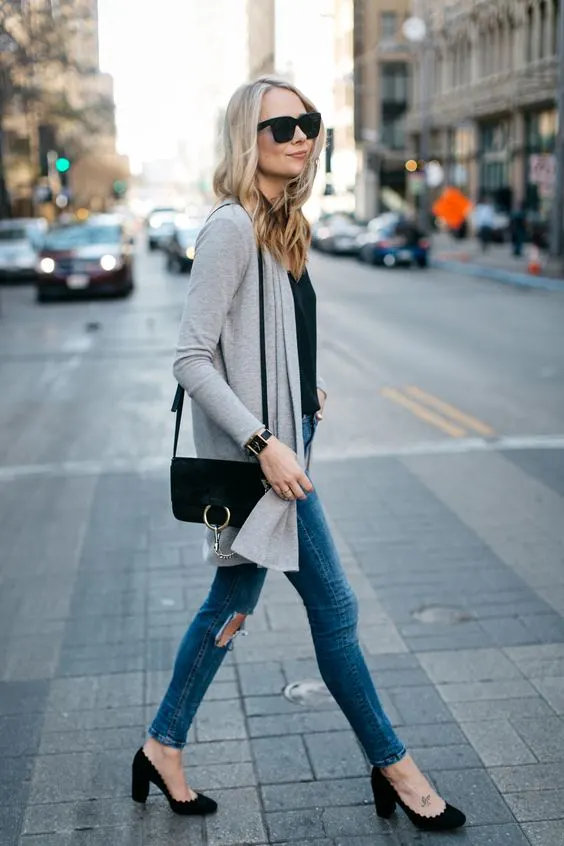 Buy Similar Here
With Grey Fedora And Denim Shorts
To get started, start with finding some of your favorite dresses or shirts that you would like to pair with your cardigan. Sometimes simple pieces such as a cardigan will look great worn open over dresses and shirts so that you don't feel like you're wearing a bulky oversized sweater.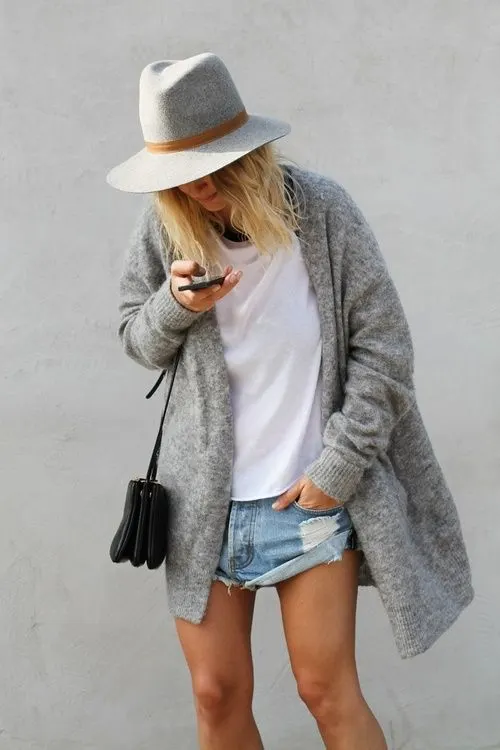 Buy Similar Here
With White Dress
Long grey cardigan has never been a bad choice to wear on a summer day, you can make it sexier by adding some high heels or by using some red lipstick.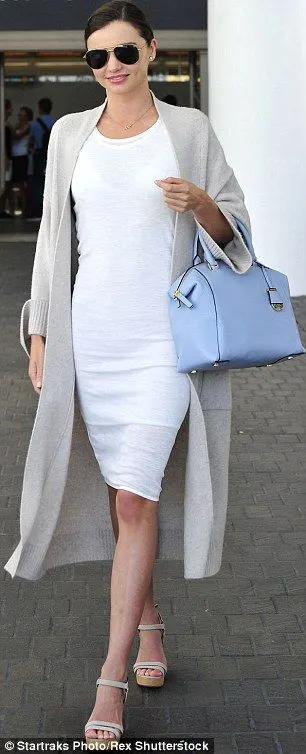 Buy Similar Here
With Striped Tee and Denim
I definitely recommend styling grey with white. White is one of the best colors for summer and it's always stylish, white shirt and trousers with a navy blue belt will be perfect for a nice long time in the sun.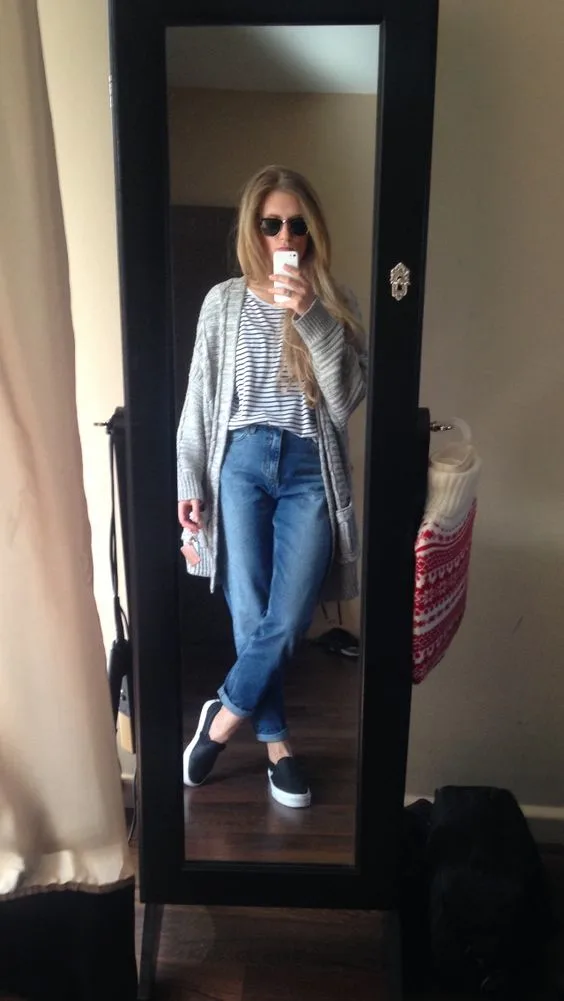 Buy Similar Here
With Black Wide Brim Hat
Of course, there are some who are against wearing such kind of clothes, saying that it is not convenient for women to wear them. But the truth is that everything has its own charm. In fact, what matters more than the outfit is the care one has in how she dresses up.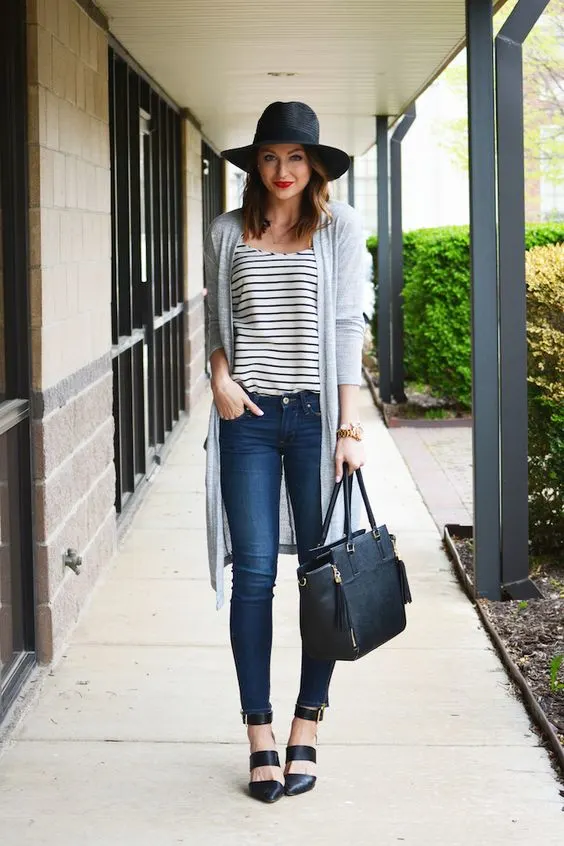 Buy Similar Here
With White Top And Black Skinnies
This type of cardigan is both stylish and classy. As a woman who loves to possess certain personality traits such as fashion sense, self-confidence, and femininity, it would only make sense to follow the trends that interest you the most. Fashion is something that plays an important role in how people are perceived. It's not only about how you look, but also how you feel. This can be seen in the fashion above: whether it be a denim jacket and grey cardigan, or two pairs of shades atop a leather jacket and denim jeans at the weekend.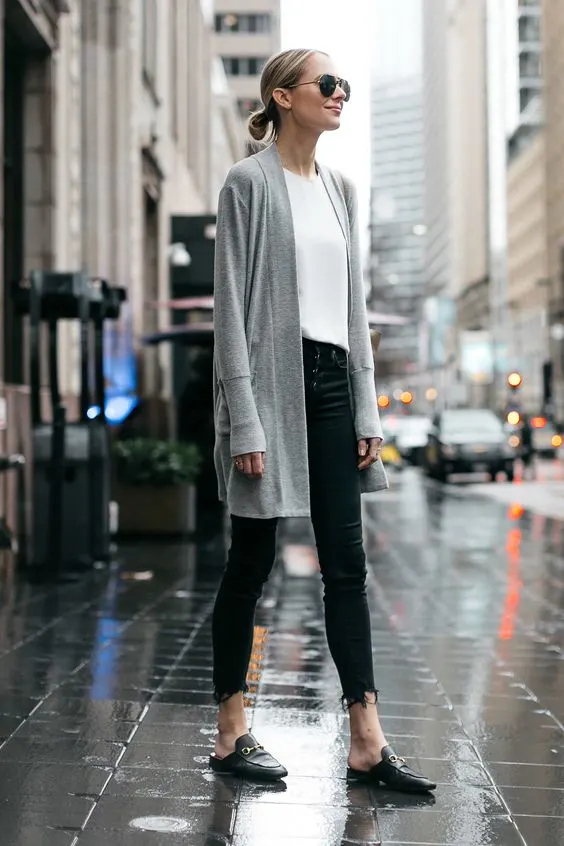 Buy Similar Here
With Block Heel Pumps
Grey cardigan is a good choice for summer. It is fashionable and comfortable. When you are going on a shopping trip in the summer, you can wear grey cardigan over white tops and white pants, which can create a cool but stylish look.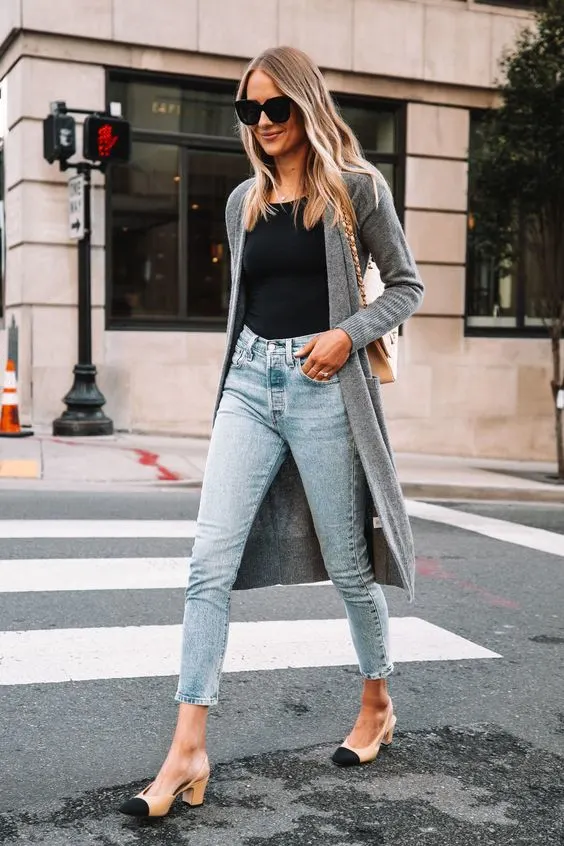 Buy Similar Here
With Slipdress And Sneakers
If you go to the beach, you can carry cardigan, which will not only keep you from getting burnt but also provides fashionable protection from the wind and sun. The appearance of your body will be pleasing to others when wearing it.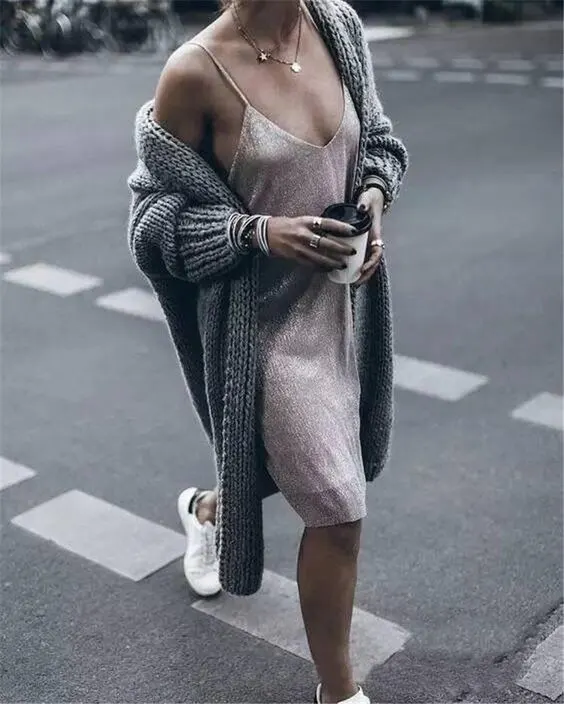 Buy Similar Here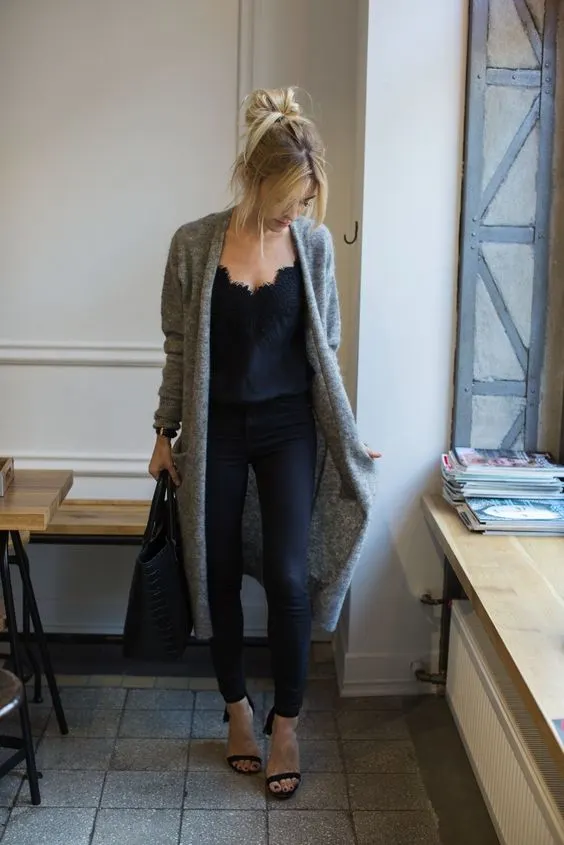 Buy Similar Here
With Mini Skirt And Boots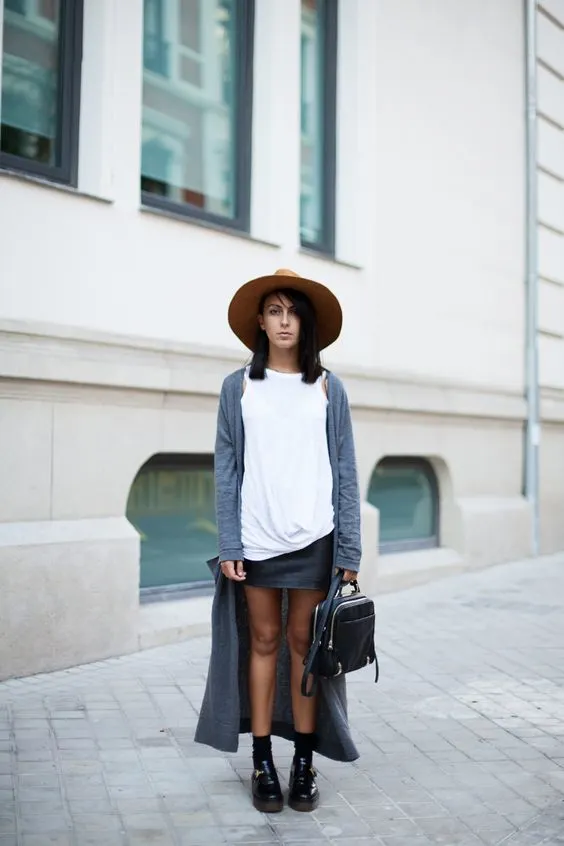 Buy Similar Here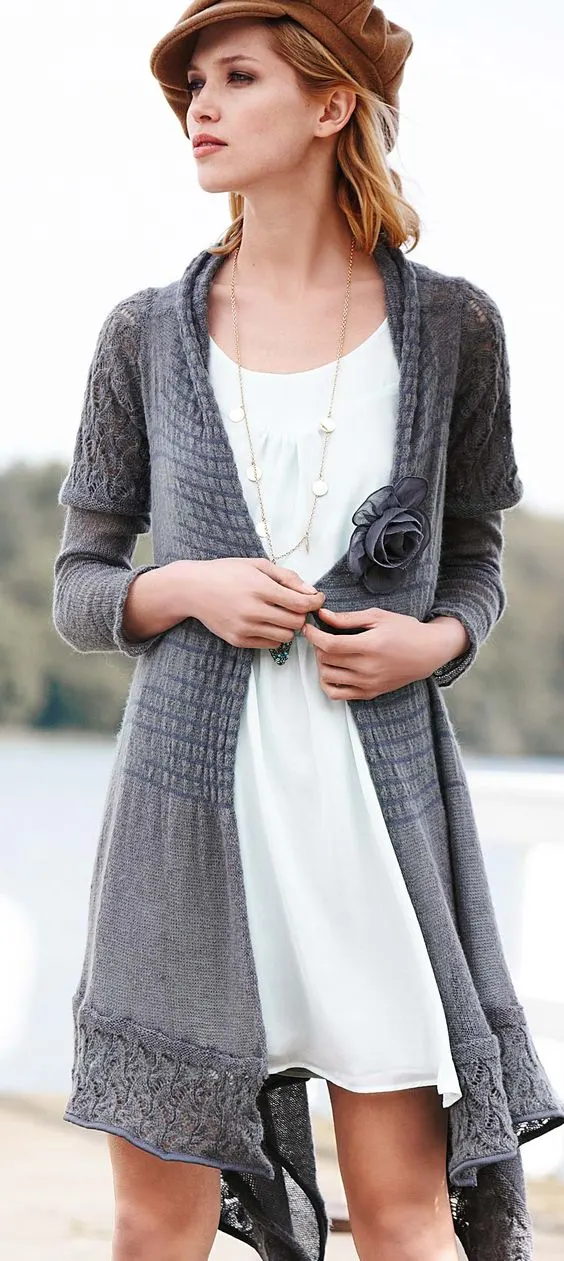 Buy Similar Here
With White Jeans And White Converse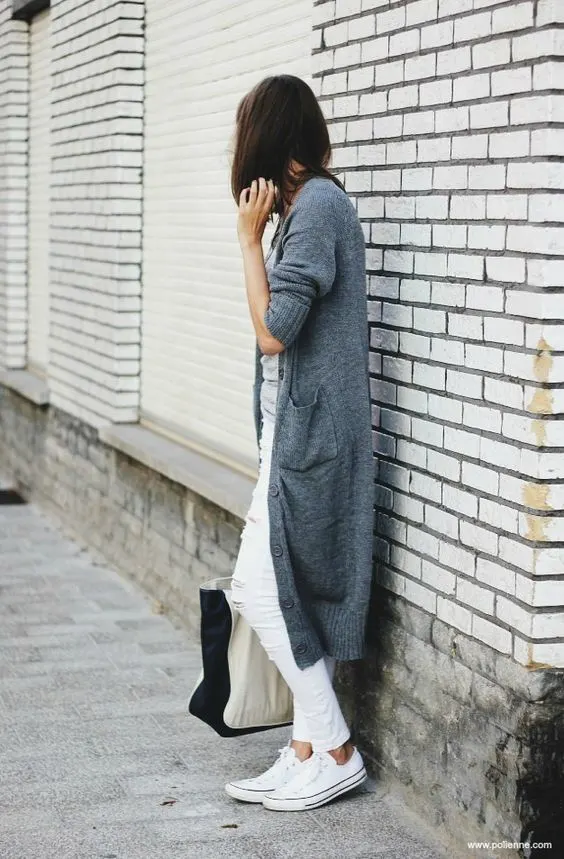 Buy Similar Here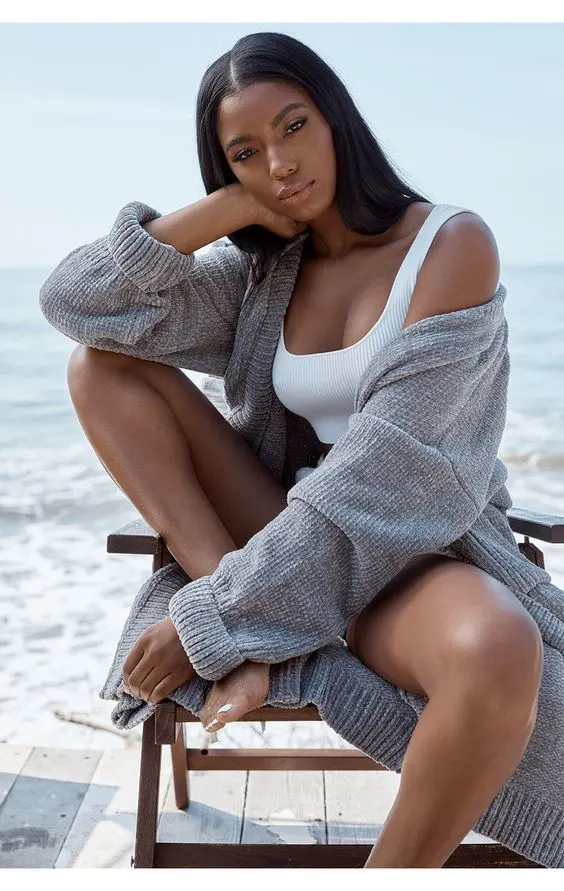 Buy Similar Here
Conclusion
Just like these women in the picture above, you don't need to spend an enormous amount of money on clothing from the runway or high-end boutiques. What's important is that you wear clothes that really make you feel good so you can grab any chance to show your true colors with confidence. That's why grey long cardigan and white separates for summer are so nice for young women, because this kind of fashion allows them to be passionate and stand out at the same time.