Looking for new ideas on ways how to wear vests this spring? I've got some great inspiration, on how to wear a vest this warm season.

We see a navy long vest styled with a white long sleeve top tucked in black skinny pants completed with ankle-cuff heeled sandals.
Women's vest is a must-have in the transitional seasons. The temperature is warm enough to open our coats, but it's still cold to wear t-shirts. That's when we use to wear vests.
How To Wear Vests For Ladies
This outerwear piece adds an interesting flair to the outfit, making you look creative and individual. I decided to show you several options on ways how to combine vests in real life. You are free to wear them to the office, to date, a casual meeting with friends, or for a simple walk around the city. I will cover my favorite designs, starting from the ones made of denim and leather to long vests and oversized pieces.
Long Vests
You can call them whatever you like: elongated vests, sleeveless coats, maxi vests. I call them: long vests. The elongated vest is loved by millions of fashionistas. We are free to wear them with jeans, midi dresses, and skirts, or shorts. I love to see them combined with high boots or sneakers. This spring a must-try is a combination of a long tailored vest combined with tailored pants, classic blouse, and heels. A cool option to go to a social event or wear to the office. By the way, check out my post on ways how to wear fur vests, they are ideal for Winter and Fall season months.
A khaki green long vest looks casual. Style it wit ha black-white striped top half-tucked in white skinny jeans completed with black loafer slides. Find out more ideas on how to wear white jeans, as I've got some cool and inspiring looks to share with you: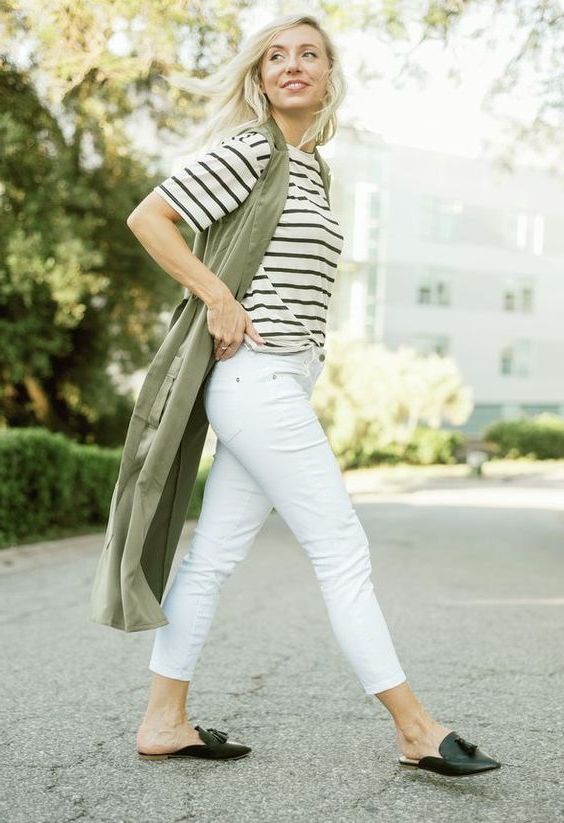 A navy tailored long vest is combined with a khaki green top tucked in navy tailored pants completed with beige heels: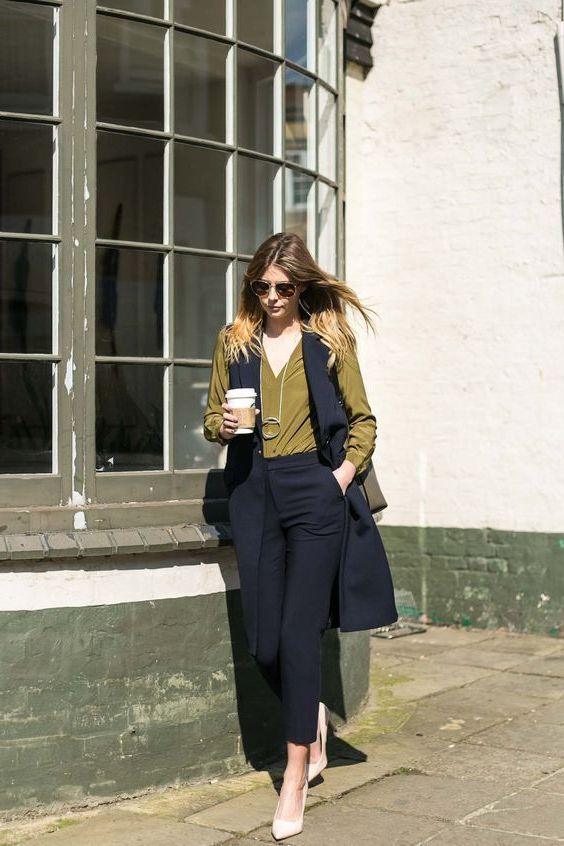 A floral blouse looks fresh and feminine teamed with a pink long vest, black skinny pants and black leather loafers. Update this look by adding a black wide-brim hat: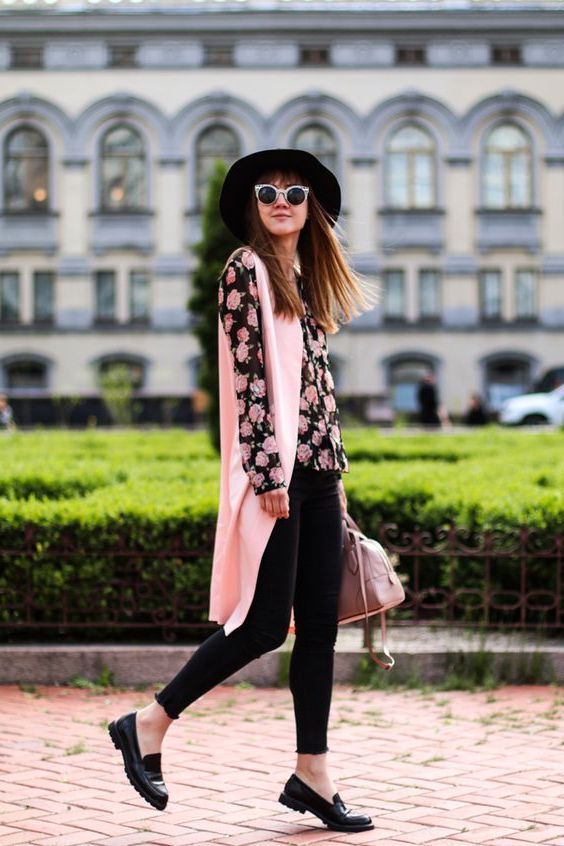 All in black! Go for a long tailored black vest and pair it with classic black pants: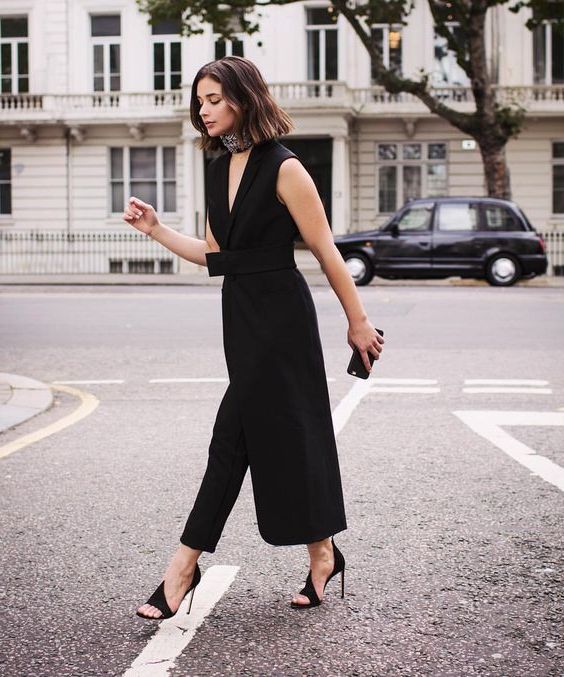 A camel belted long vest is styled with a white shirt and white skinny pants completed with studded pumps: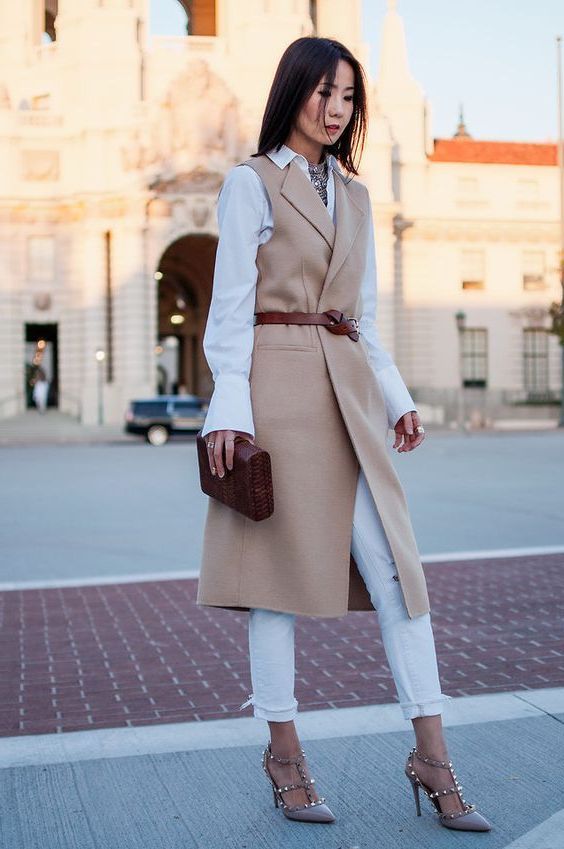 A perfect layering style. We see a cream-grey tailored vest layered over a black leather jacket teamed with black pants and caged peep-toe boots: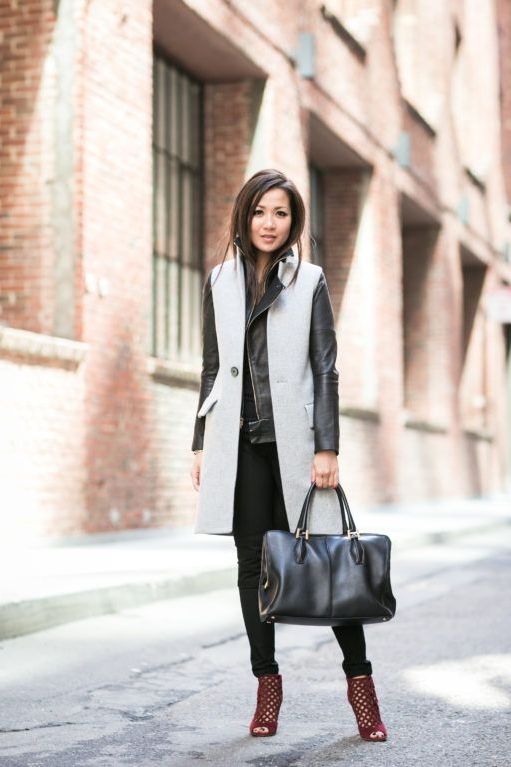 Camel long vest is worn with a cargo shirt in white paired with skinny jeans and buckled heeled pumps: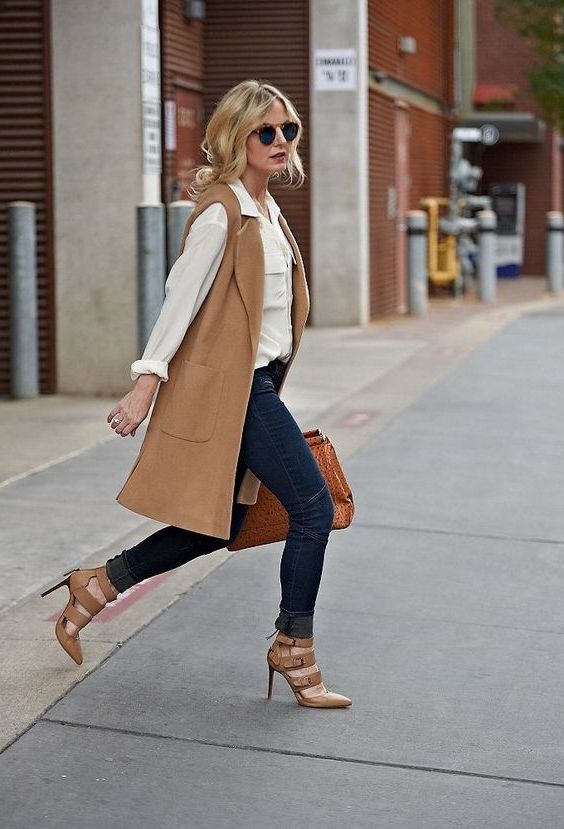 Oversized Vests
I know women who love oversized vests. Why? They simply feel secured, as they just have taken that vest from the man's shoulder. Trust me, this is a perfect investment for Spring days, it will complement your street style looks, no matter if you go for jeans, mini skirts or dresses.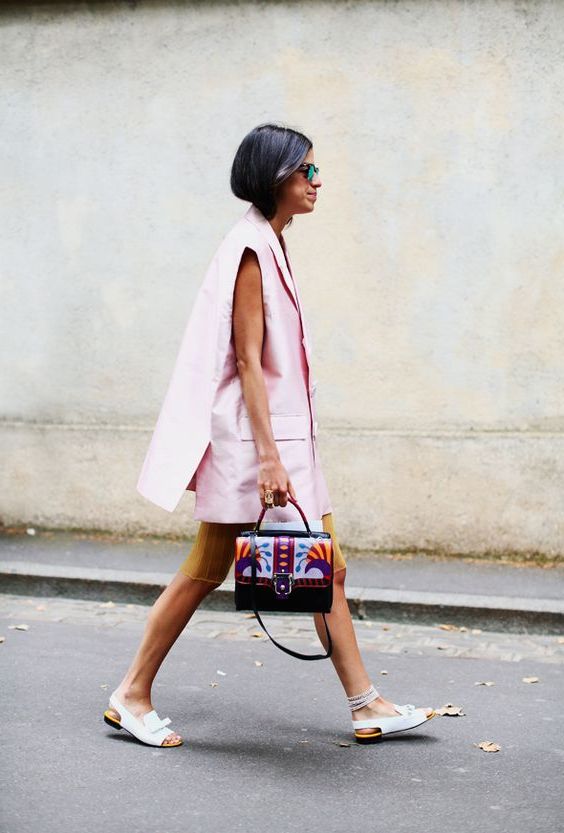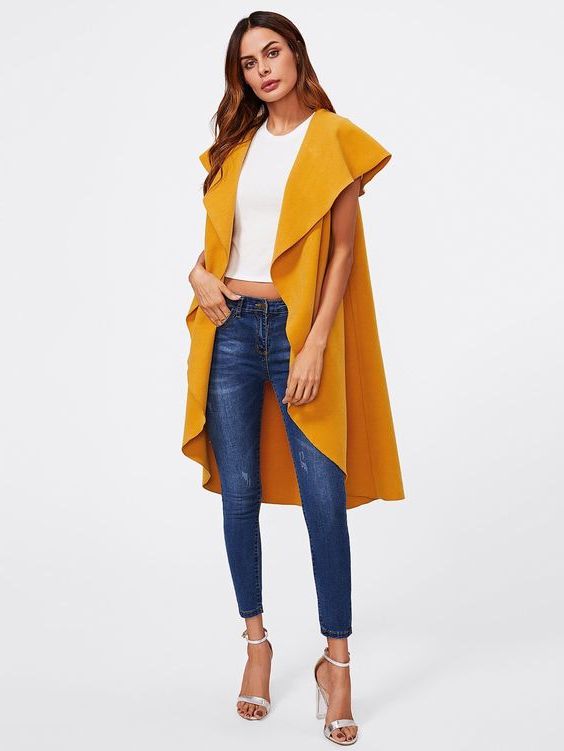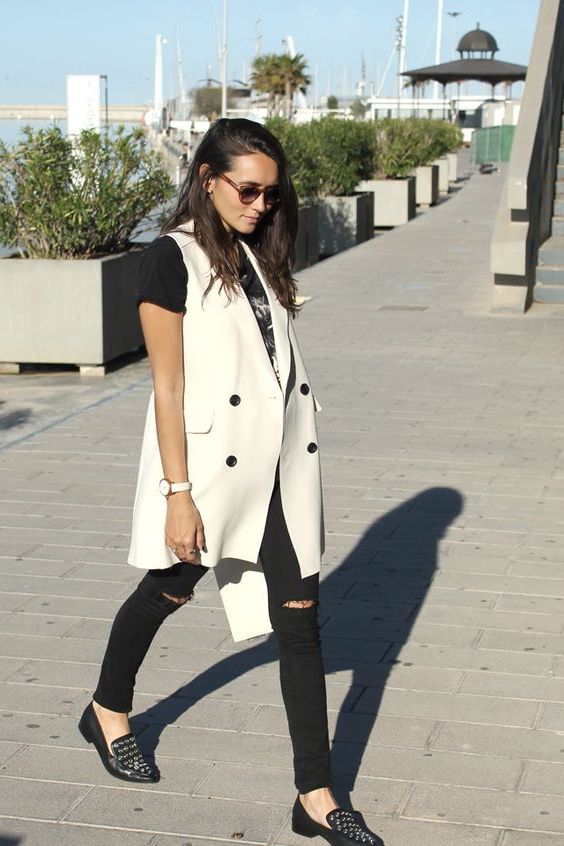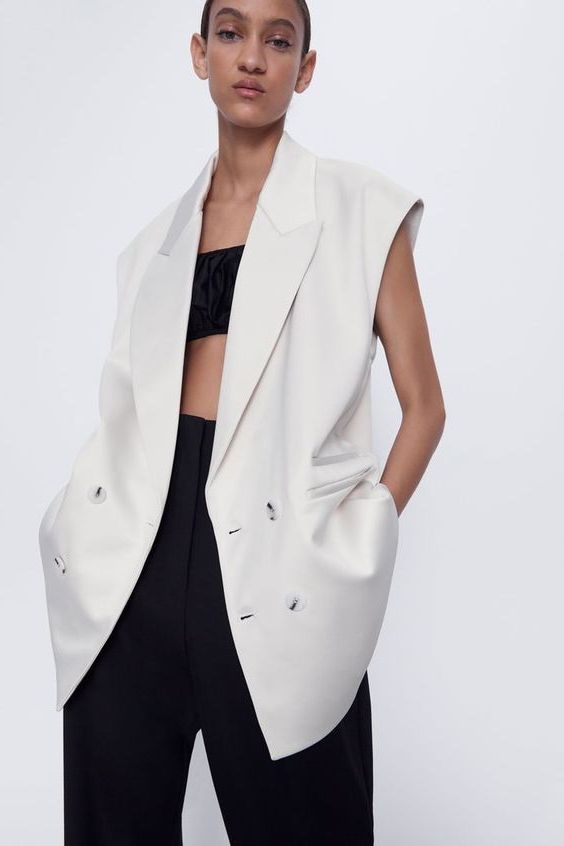 Denim Vests
You have two options, either go for a classic denim jacket or keep things cool like today's fashionistas and wear a denim vest. You can have fun by wearing this layering piece with anything you like, starting from classic jeans and tees to jumpsuits and dresses.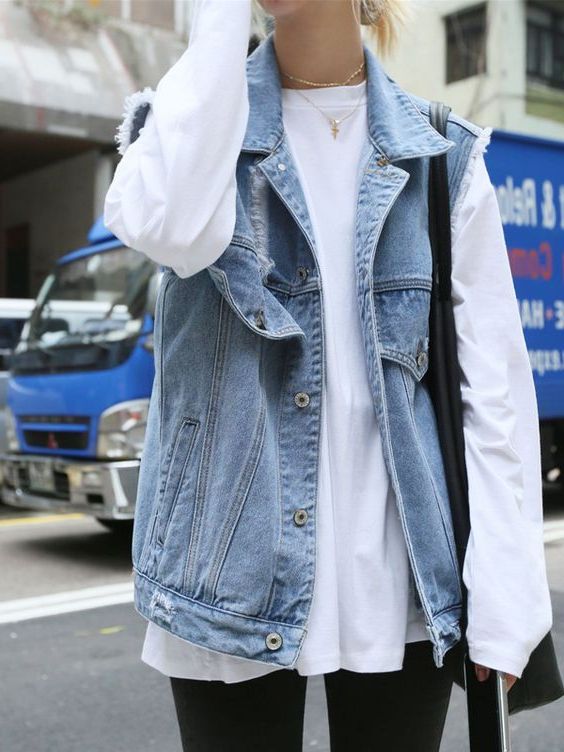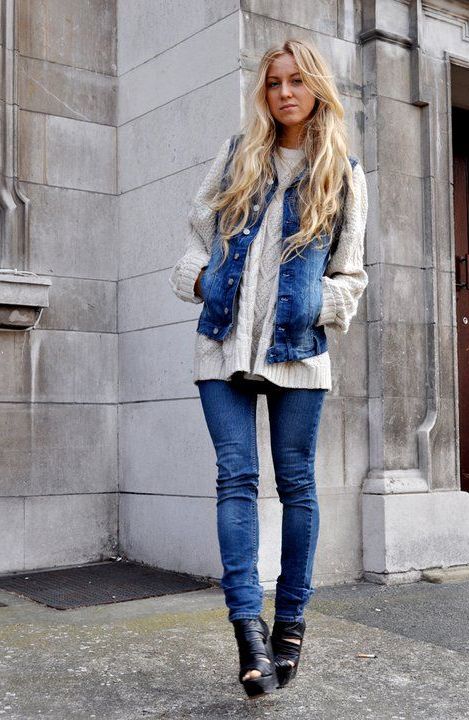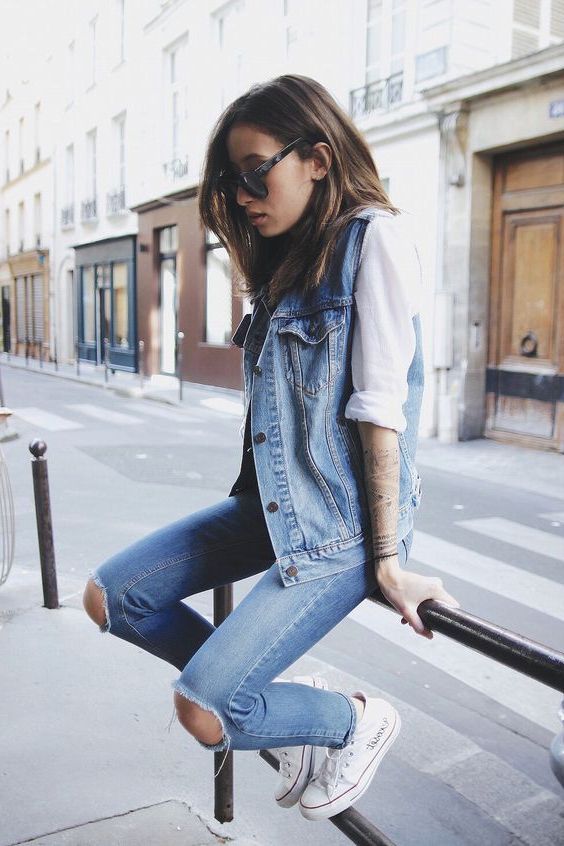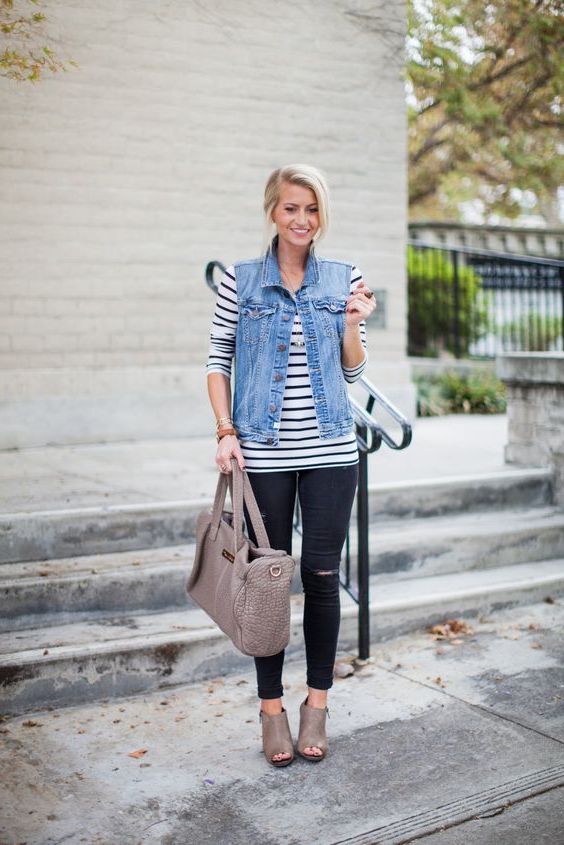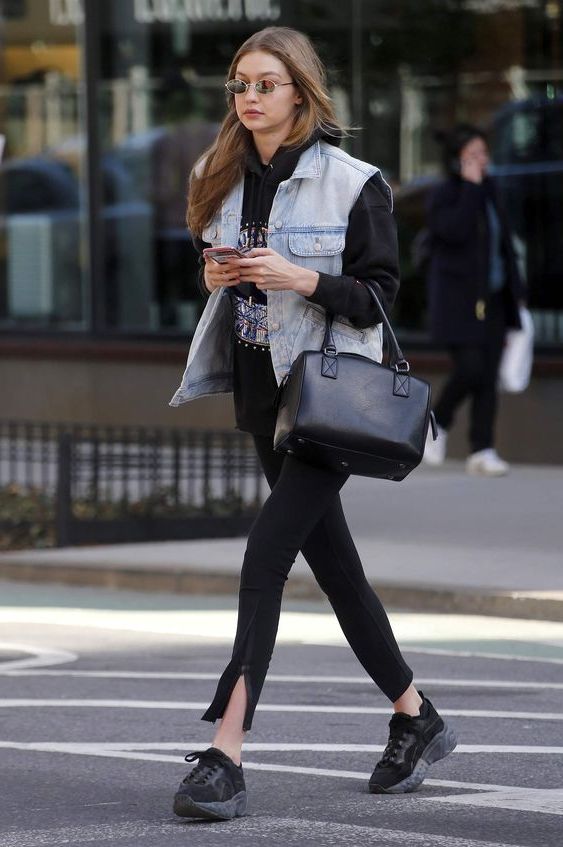 Leather Vests
An eco-leather vest is another trend of the spring season. This layering staple will be a great addition to a midi dress, midi skirt, or a maxi skirt. The vest can be updated with cool details and embellishments, either you can try on an oversized shape and style it with skinny jeans.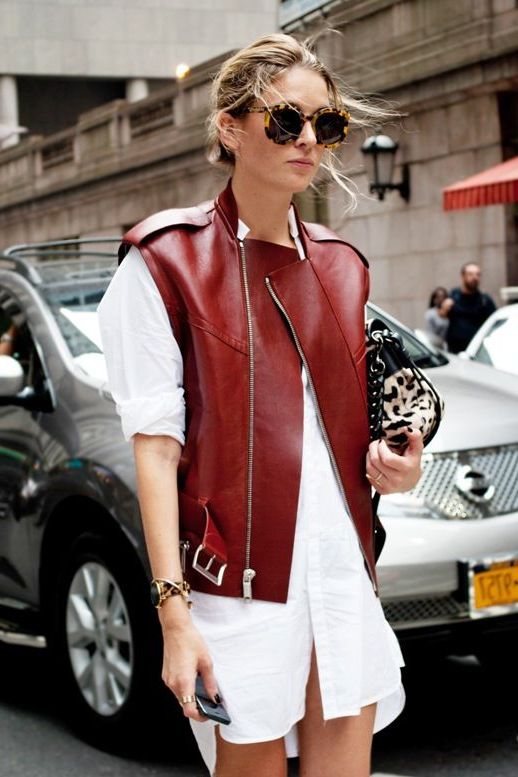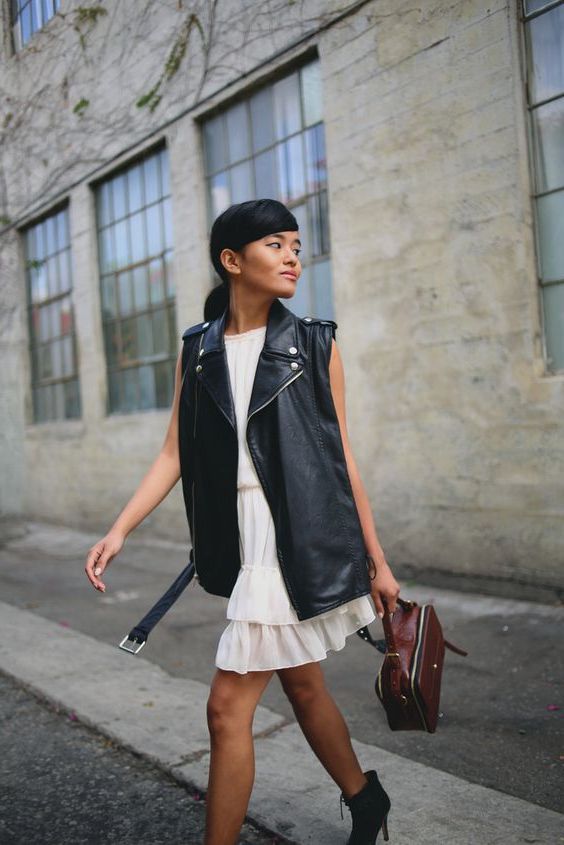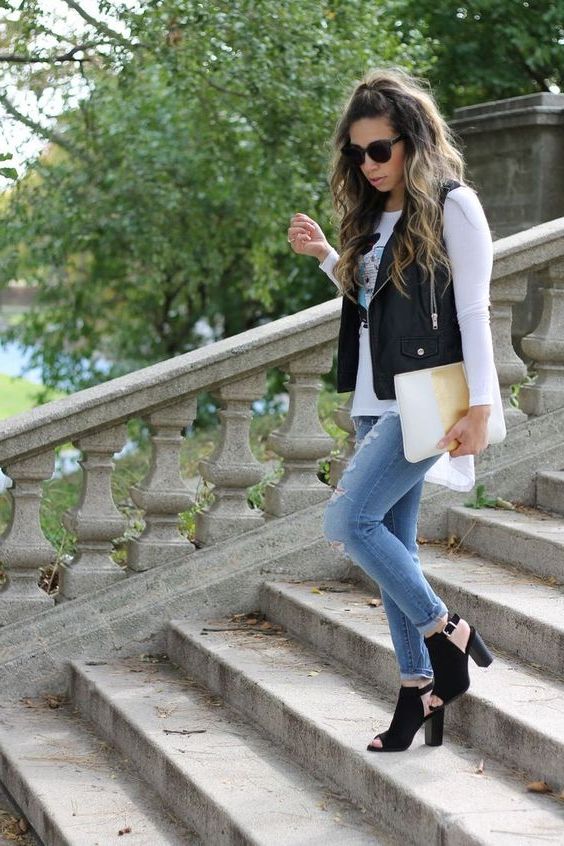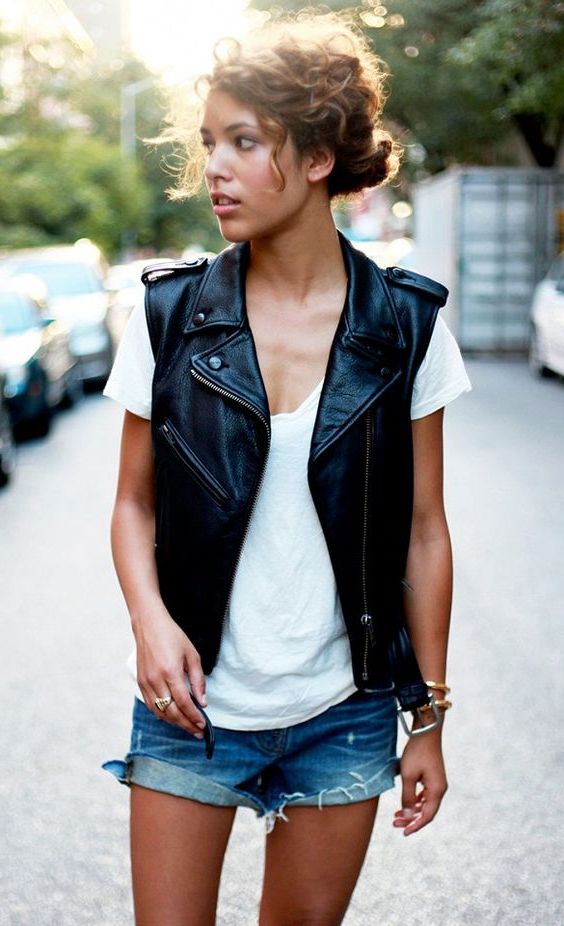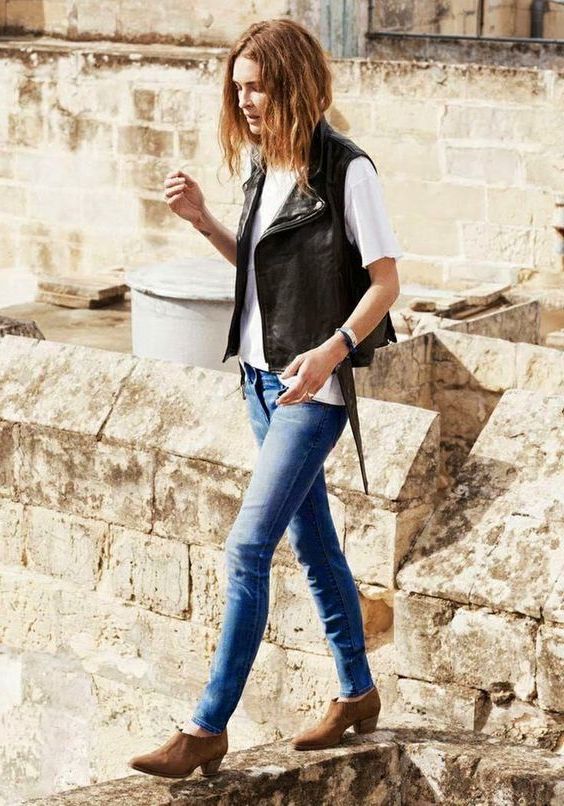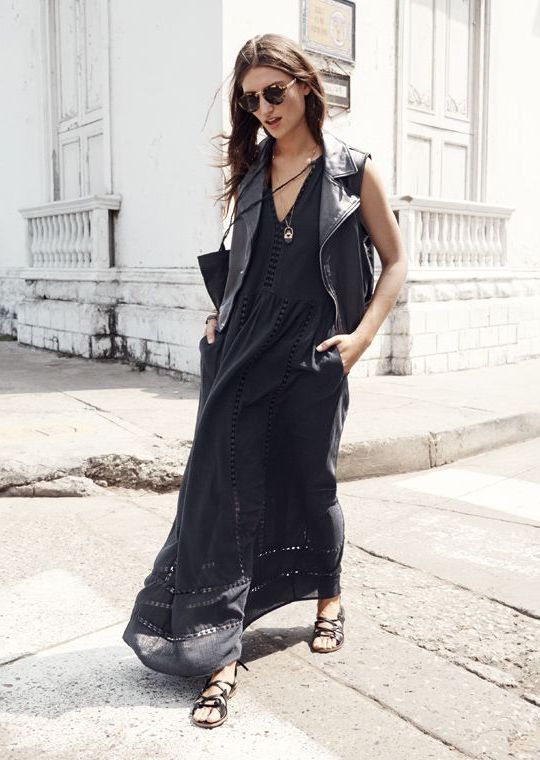 A classic biker vest in black color is styled with a white shirt and black culottes: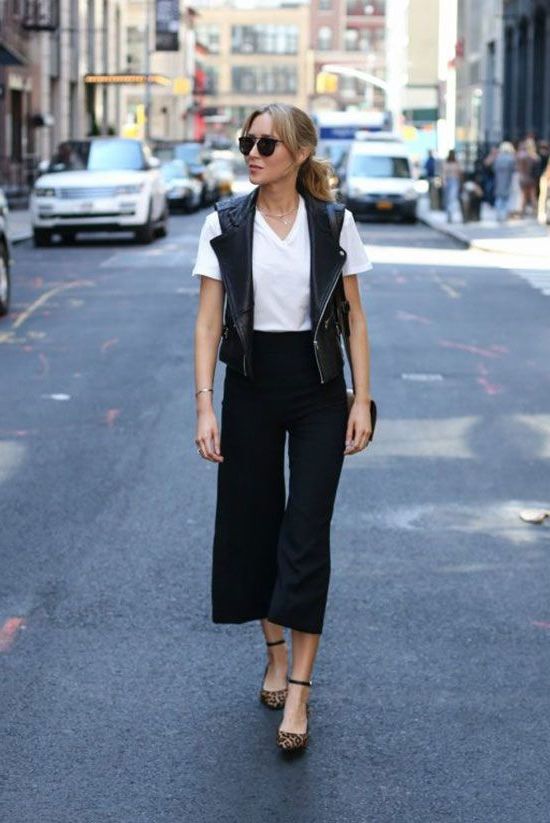 Love this black leather biker vest updated with a black leather belt styled with a maxi white dress in floral print: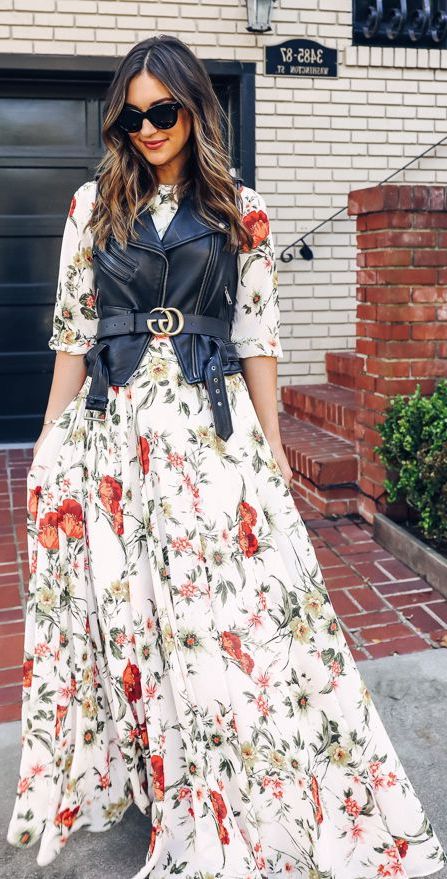 Classic Tailored Vests
If you are looking for an office style look that can be perfect for warm days, then skip the blazer and layer yourself in a tailored vest. It can be a classic solid color design, either a checkered double-breasted version. It can have an elongated silhouette or a classic sleeveless blazer. Love to see women who combine them with knife-pleated midi skirts and white shirts, the result s amazing.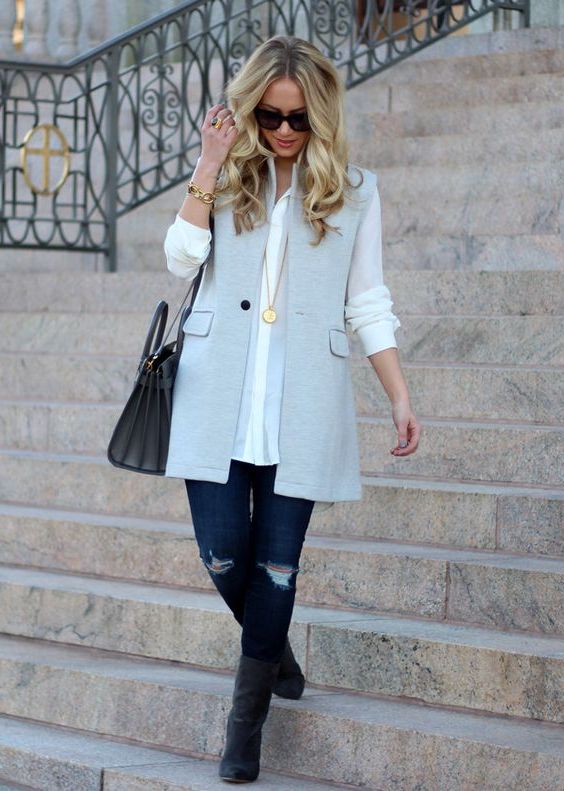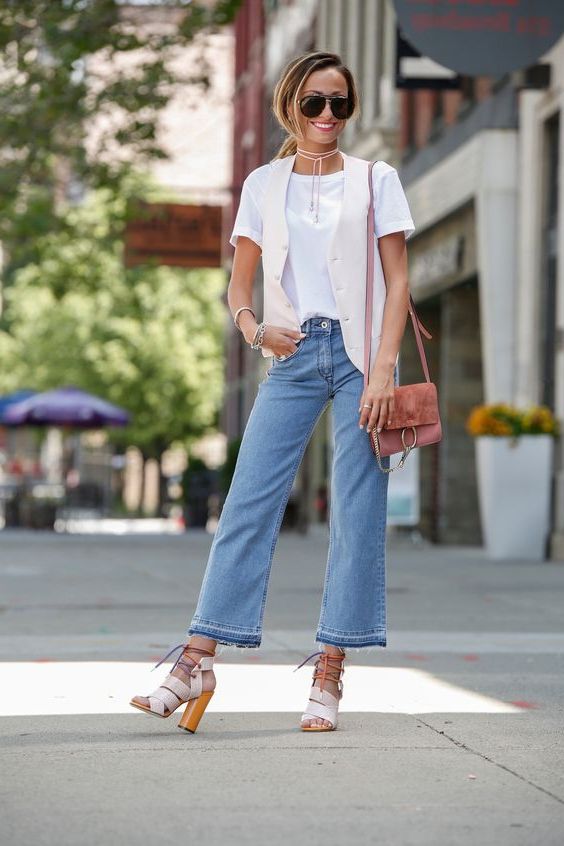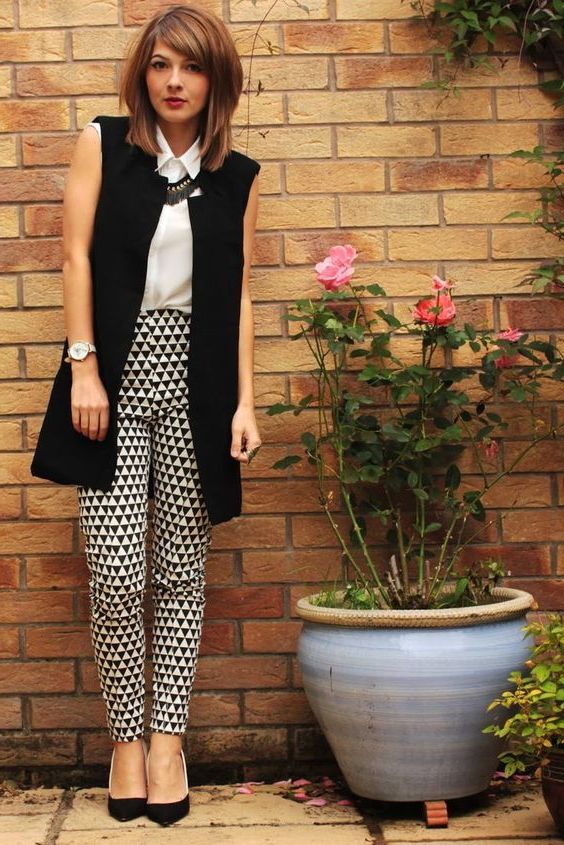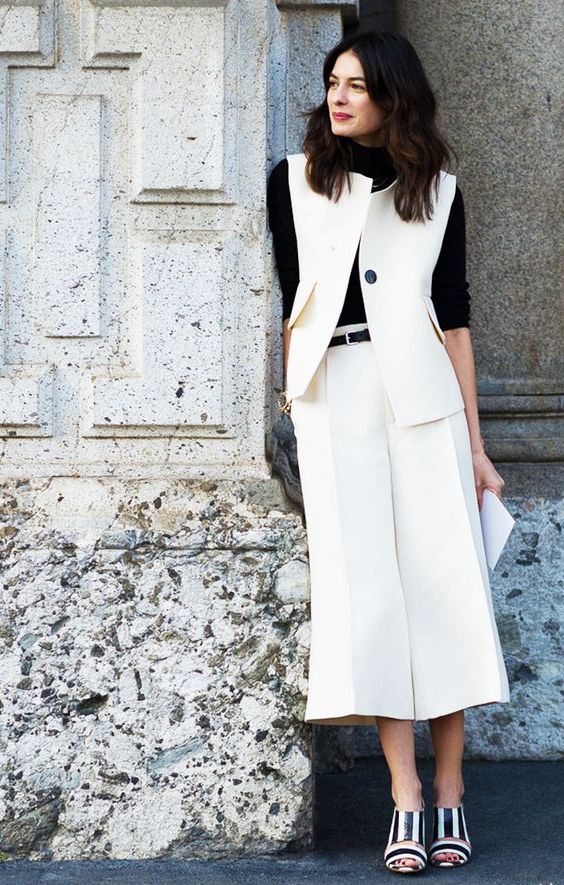 A white tailored vest is paired with a black tank top tucked in navy tailored pants: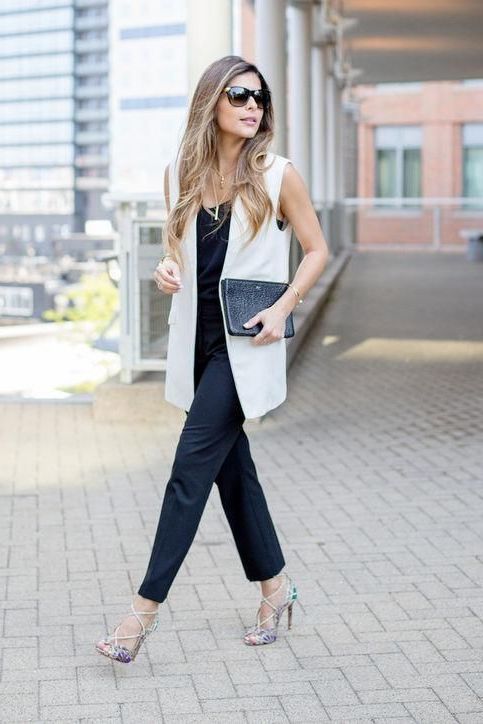 We see a plaid long tailored vest styled with a black top and slim jeans completed with peep-toe black boots: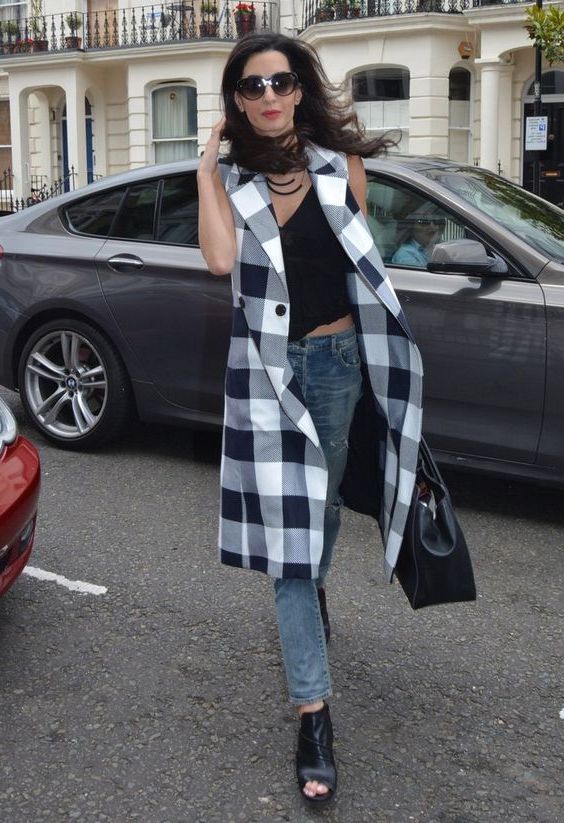 In-between seasons, it's nearly impossible to predict what to wear. The best way to look your best  — without overheating or freezing — is to wear a vest. Believe it or not, vests go well with everything. Cute dress? Check. Jeans and T-shirt? Check. Pant suits? Check. Plus, they can easily be thrown into your bag if the sun decides to shine bright.
Source: BrokeAndChic