Another day, another victory! Hello, my dearest fashion readers! My next post is devoted to fringes. In this street-style collection are gathered my favorite pieces embellished with fringes, including skirts, tops, jackets, bags, and footwear.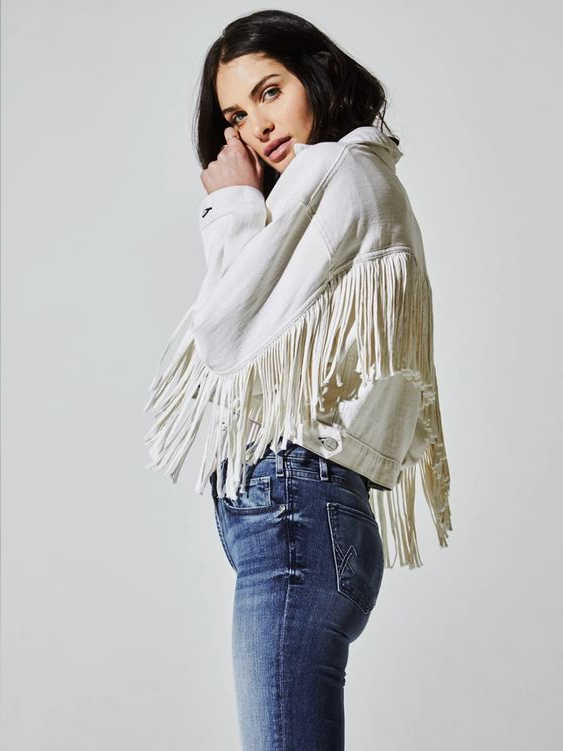 We see a western-inspired white denim jacket with fringes on its back styled with blue skinny jeans. A perfect outfit idea for young ladies who want to draw attention to their style.
You are about to see awesome ideas that are going to make you look awesome this year. Fringe is definitely a must-have for those ladies who want to underline their individuality and make a real statement on the streets. Anyway, you are welcome to look through these trendy looks and let me know your thoughts in the comments below.
Fringe Skirt Outfit Ideas
The first piece is a fringed skirt. If you want to look fun and feminine, then the fringe skirt is a must-have for you. There are lots of awesome combos that feature this fringed bottom garment. All you need is a stylish fringed midi skirt, fitted blazer, and a solid color top.
We see a purple tiered fringe midi skirt is paired with a white peasant blouse. Complete this combo by adding gold ankle-cuff heeled sandals: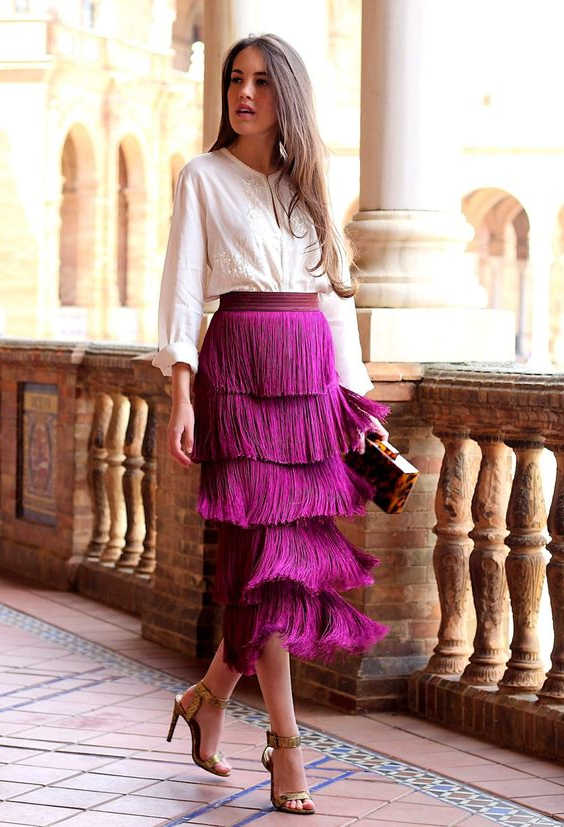 A suede extra-long fringed skirt in brown color is styled with a cowl-neck light-brown sweater teamed with a khaki-green jacket (a kind of army-inspired look). Update this look by adding rounded sunglasses, brown suede shoulder clutch bag and metallic gold heeled sandals: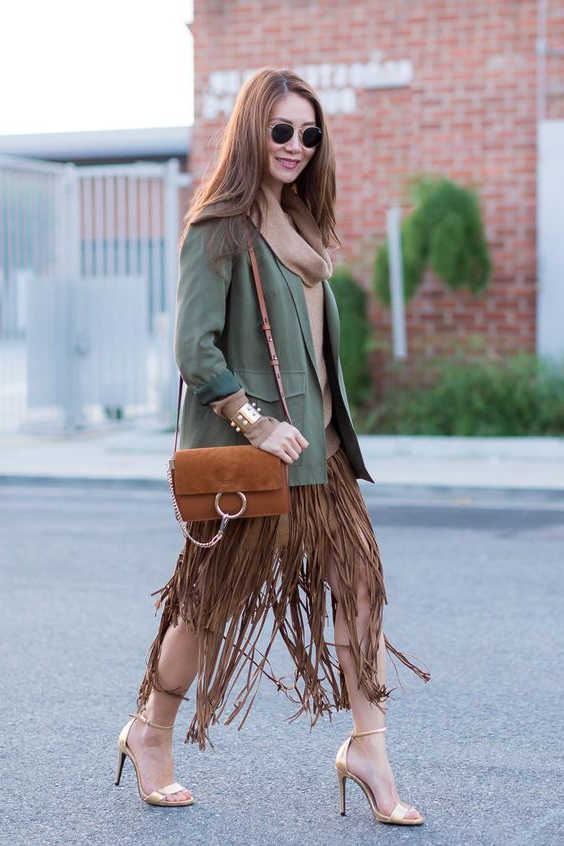 A dark purple fringed mini skirt looks easy to style and wear. Pair it with a white sweater, printed scarf, and OTK beige-grey suede boots. Update it with tortoise sunglasses and a mini shoulder clutch bag: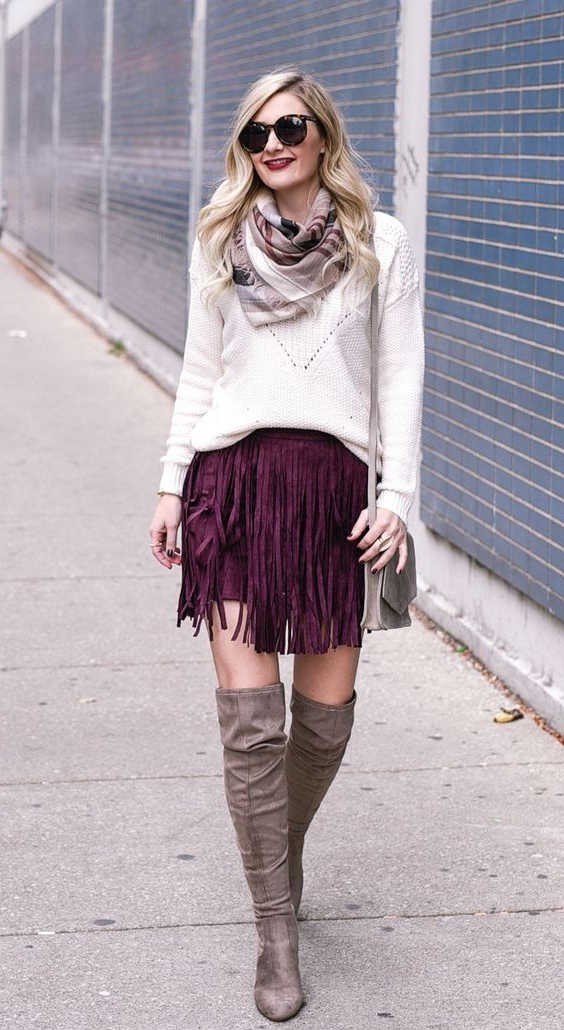 Keep it country-inspired and go for western style look. We see a denim shirt tucked in a red suede wrap fringed skirt. Update it with an embroidered belt and light brown leather booties. In love with that cowboy hat. I recommend checking out my post on cowgirl style outfit ideas you can copy this year, trust me, there are some nice ideas to wear in real life: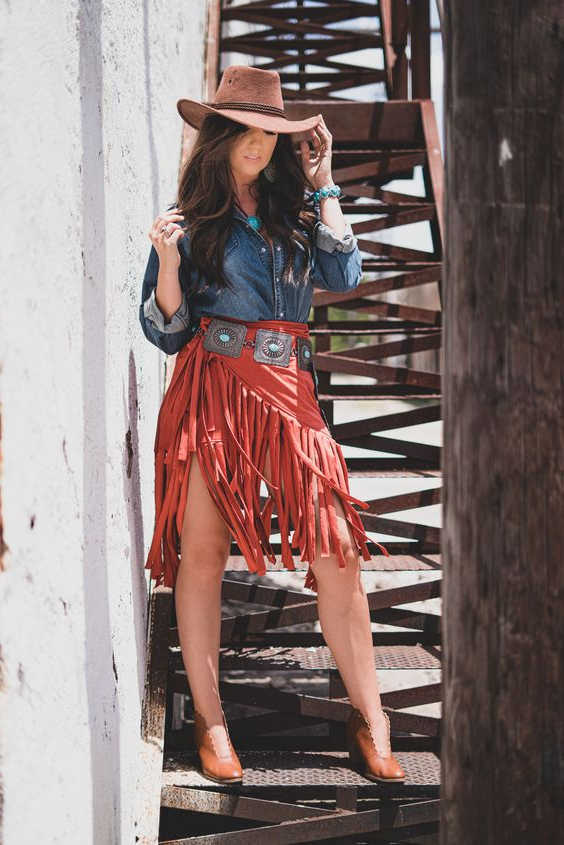 A semi-sheer white wrap blouse can be tucked in a velvet cream fringed skirt, update this look by adding heeled sandals: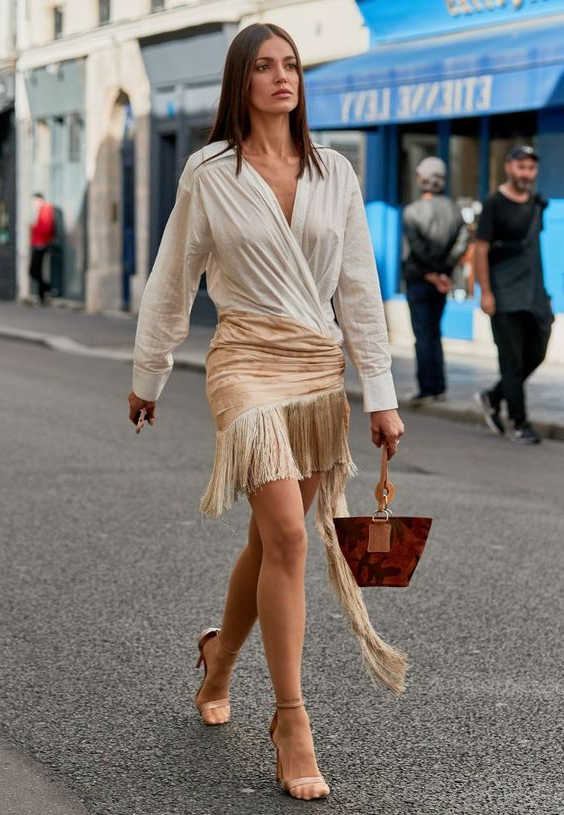 A cream-beige suede skirt embellished with fringes is styled with a crispy white blouse: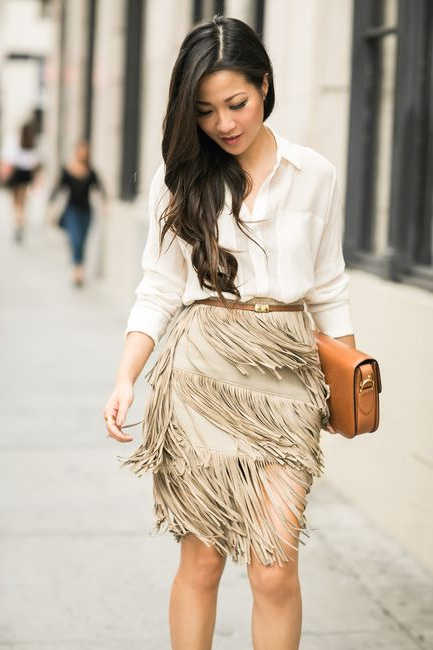 Fringed Top Outfit Ideas
Another great piece that features fringes is a basic top. Yes, you heard me right, the fringed top. All you need is a basic top that will feature fringes on its front side, sleeves or backside. This is an ideal way to draw more attention to your outfit.
We see a white fringed sweater ideally suits these dark-blue slim jeans: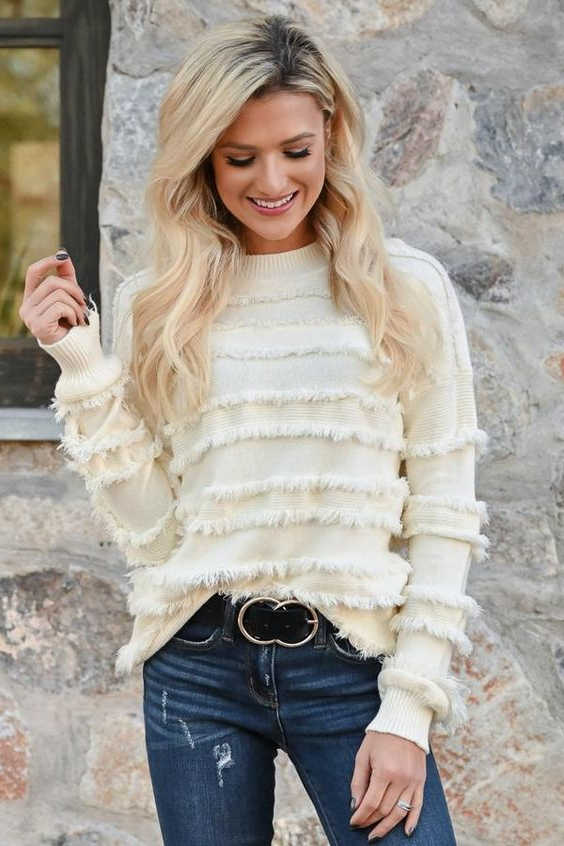 A silken metalized blouse in floral print is embellished with fringes, complete it with tucking in light-wash skinny jeans:
Another western-inspired OOTD, go for a white sweater with fringed sleeves and tuck it inside the light brown leather mini skirt. Complete the look by adding a black suede cowboy hat: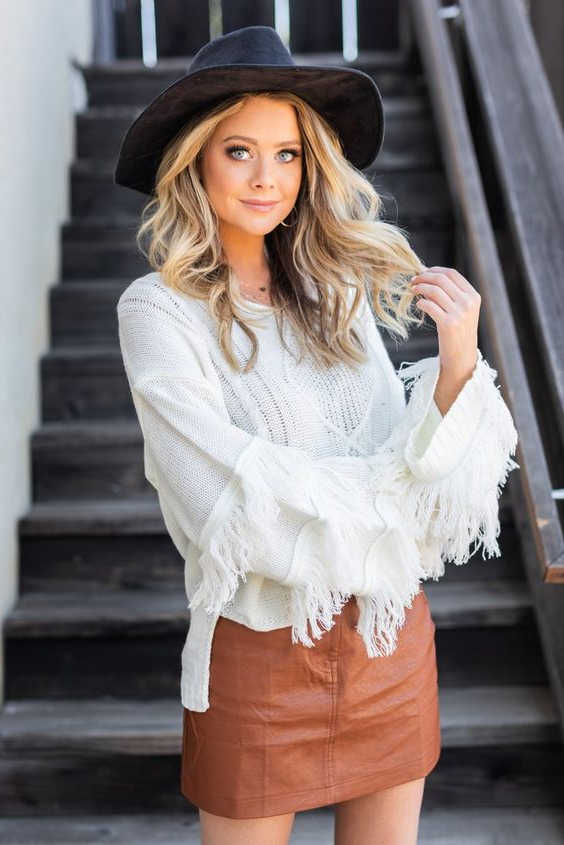 An off-shoulder white sweater with fringes looks amazing teamed with blue wash skinny jeans, update this combo by adding aviator sunglasses: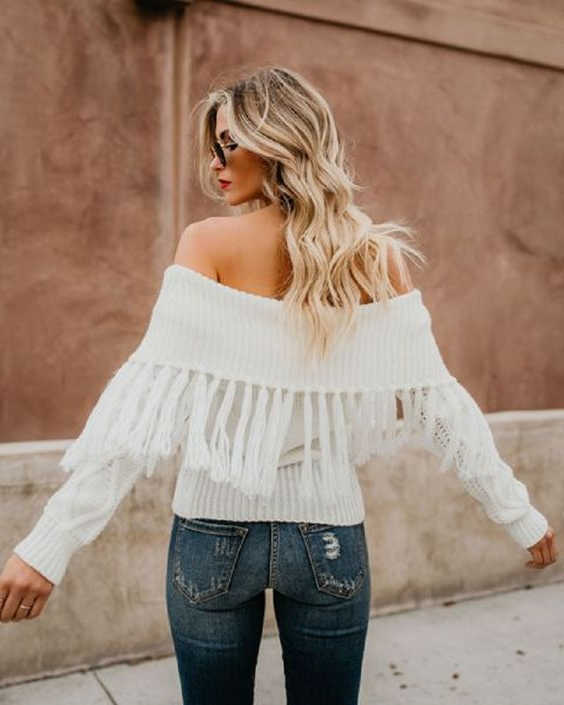 Fringed Jacket Outfit Ideas
Personally, I recommend you to try on the iconic fringed jacket. This is a chic investment that can easily make you look fresh, ladylike and bohemian-inspired. Go for black, brown or red-colored style. All you need is to wear it with your basic everyday separates or dresses.
A yellow leather jacket with fringes is paired with knee-length blue denim shorts and white ankle-cuff heeled sandals with square toes, complete it with red Wayfarer sunglasses: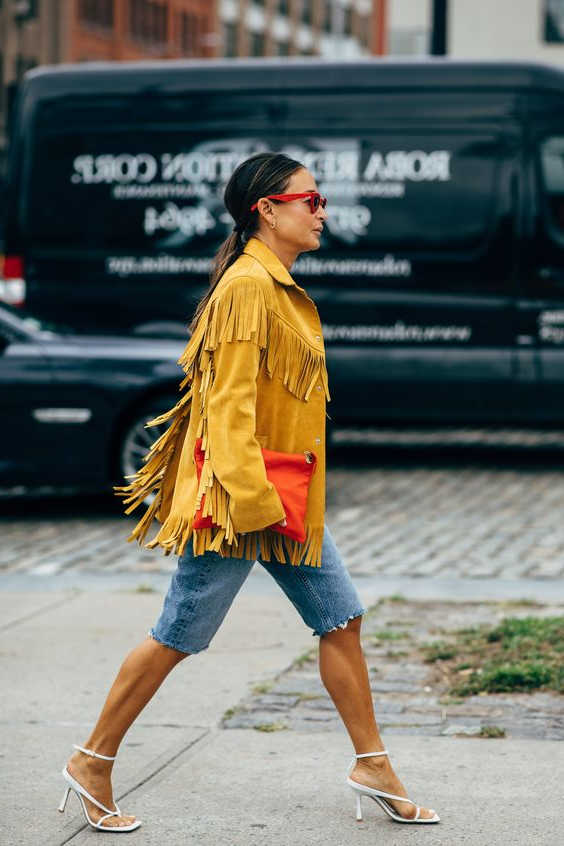 A black leather biker jacket with fringes on the sleeves is styled with a basic V-neck white tee tucked in black skinny jeans and light brown leather pointed-toe boots. Love these flat brow sunglasses: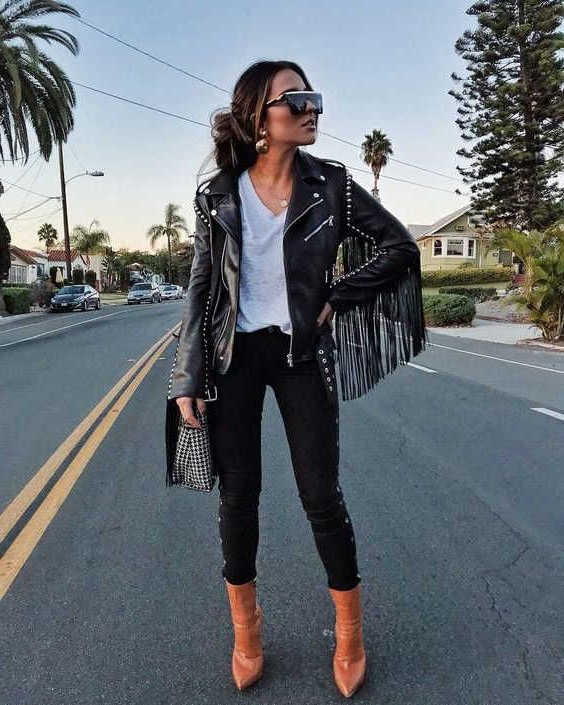 A classic white leather jacket with fringes is layered over a black lace bodysuit styled with denim shorts and cool 1990 style sunglasses: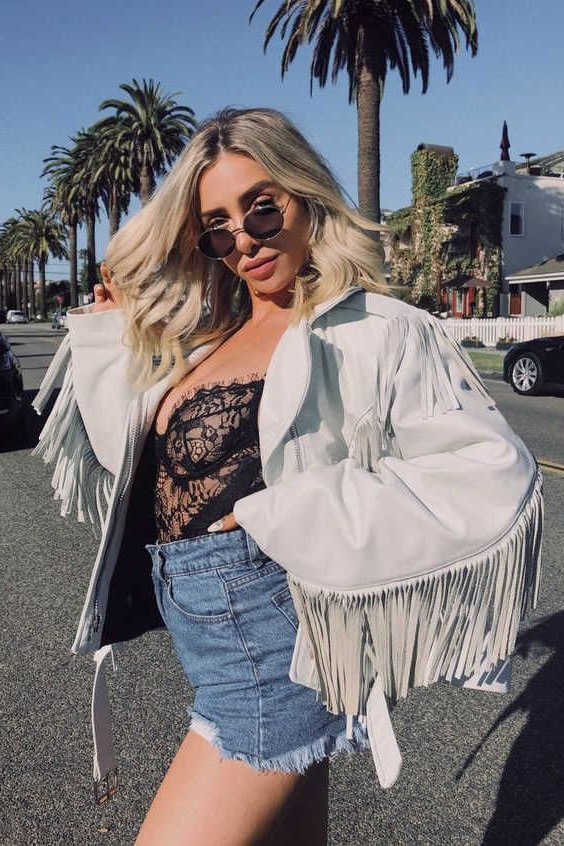 Red suede fringed jacket ideally suits that white tee tucked in a black denim mini skirt. Complete this combo by adding aviator sunglasses and a stylish black leather shoulder bag: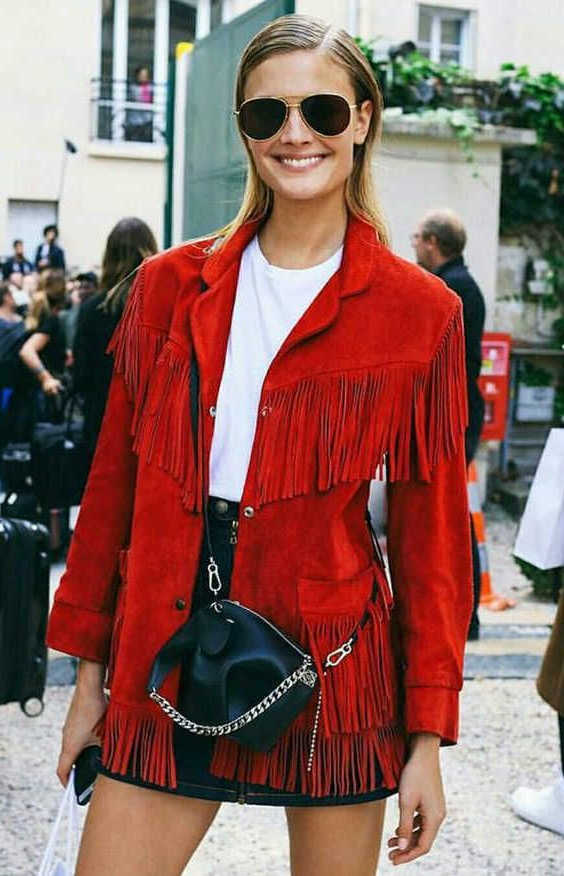 Fringed Accessories Outfit Ideas
If you don't feel like wearing fringed clothes, then I recommend to try on fringed accessories, like a fringed bag or shoes. Go for a spacious tote bag or cool heeled sandals or boots completed with fringes.
We see a black leather handbag with suede fringes. Style it with a black tunic dress and black suede heeled sandals: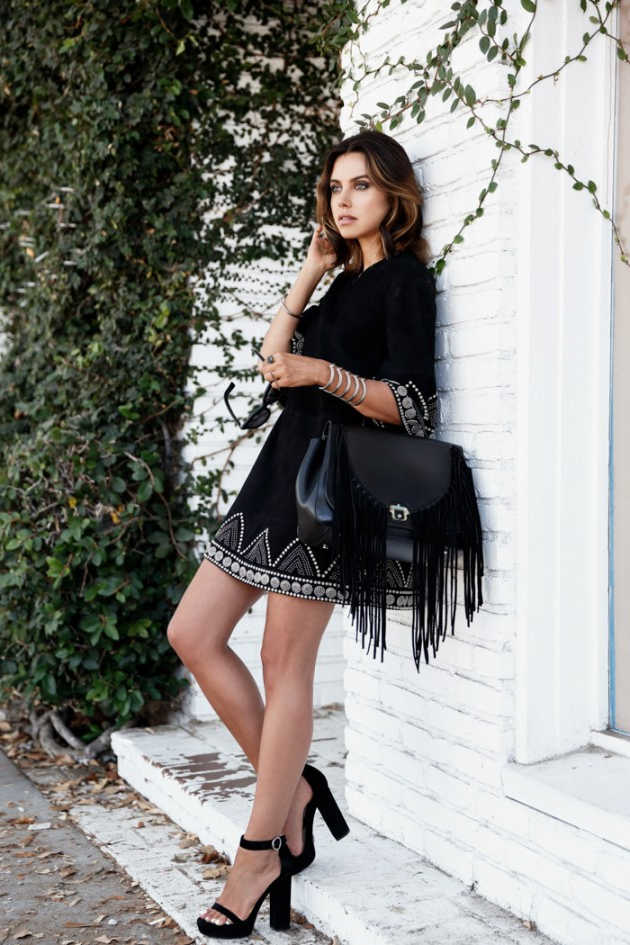 A dark grey suede shoulder bag with fringes is styled with a peasant dark blue floral dress completed with light brown suede ankle boots: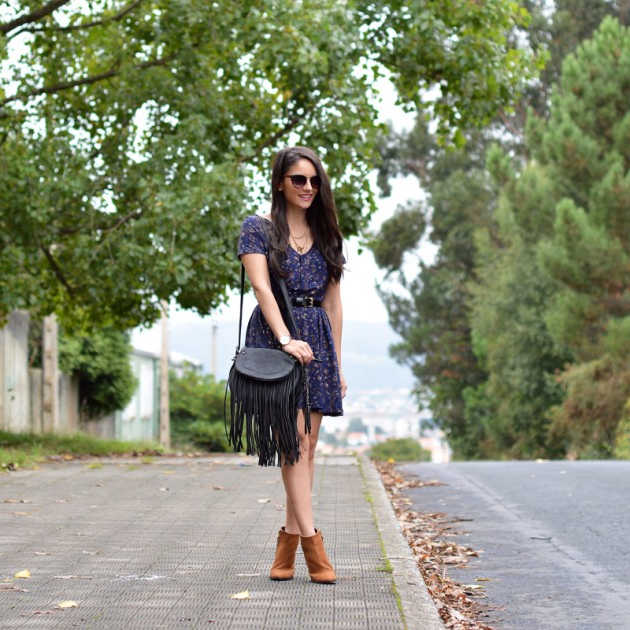 A fringed brown leather bucket backpack is worn with a white tank top and white skinny jeans completed with white Converse trainers: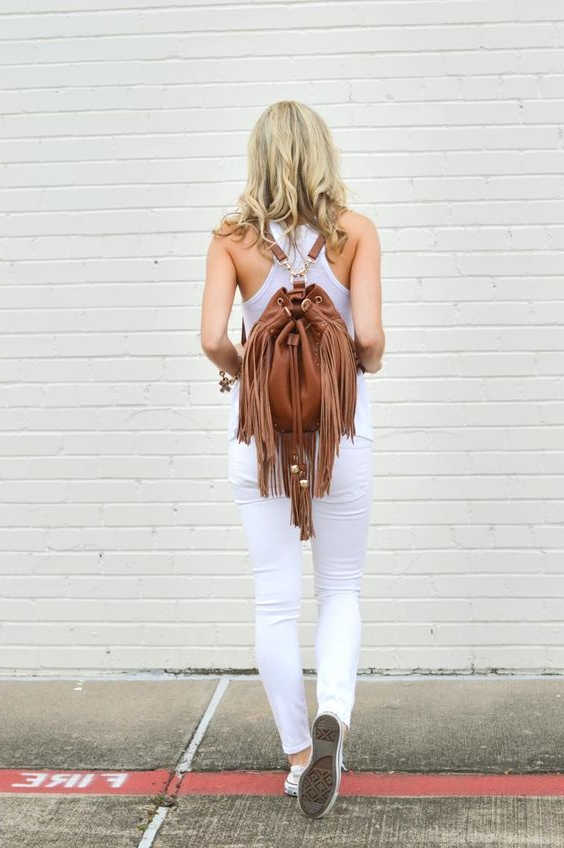 A salmon pink shoulder clutch bag with fringes can be worn with a beige-pastel sweater layered over a plaid shirt teamed with knee-ripped white jeans and nude heeled pointed-toe pumps: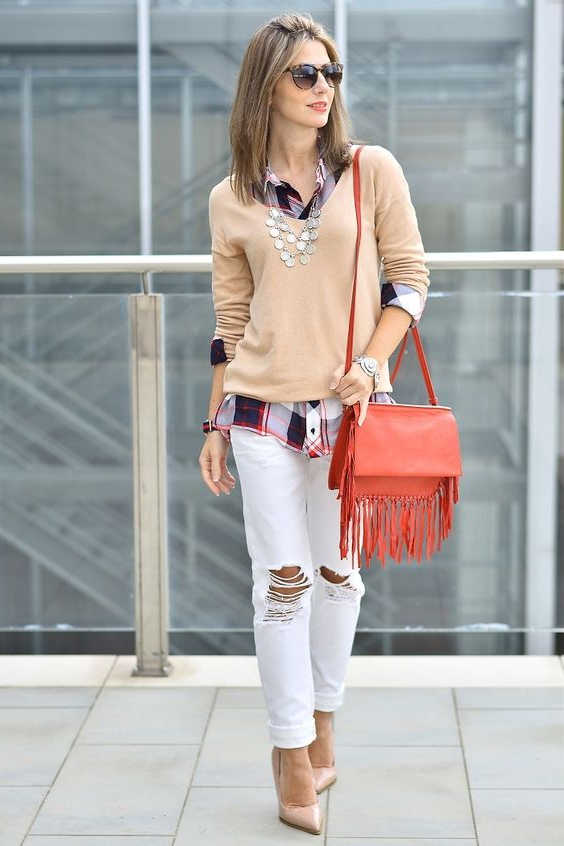 A fringed cozy scarf looks awesome with a black leather jacket, white sweater, and black skinny jeans tucked in black leather ankle boots: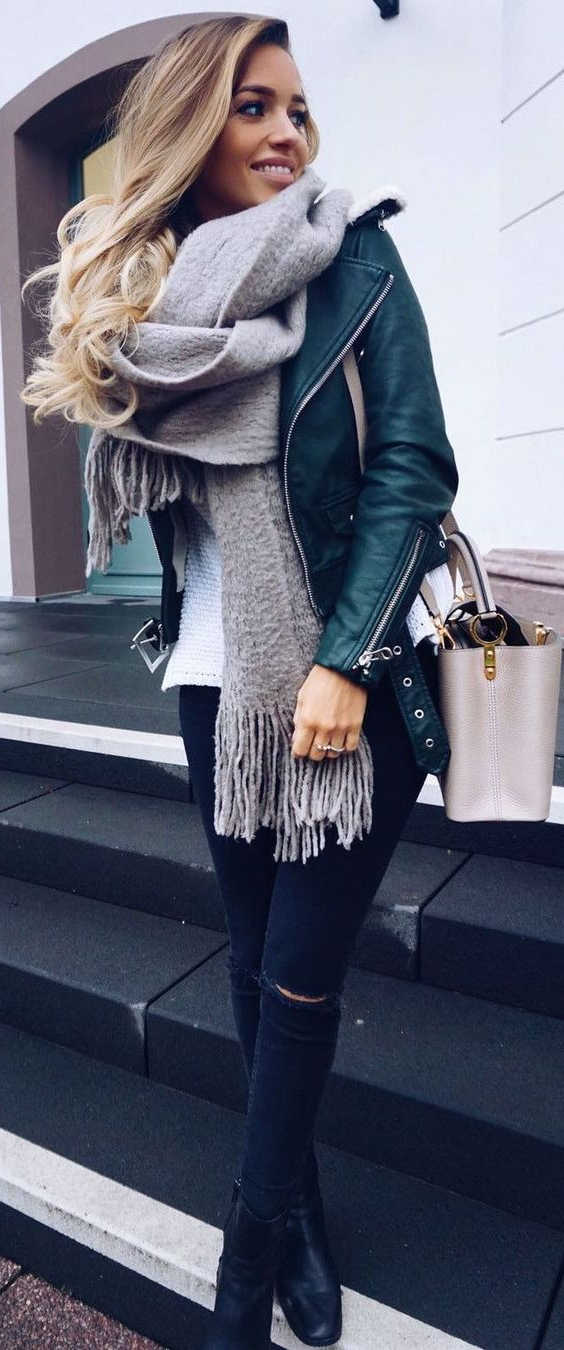 Red fringed heeled sandals look awesome with light blue ripped jeans, white tank top and black leather jacket, update it with mirrored sunglasses and spacious black leather bag: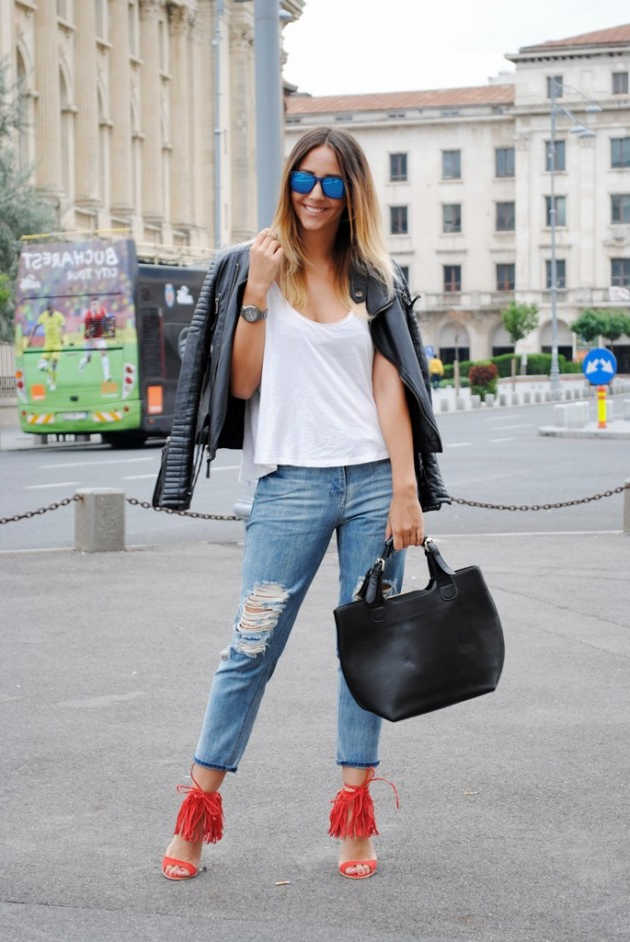 Fringed suede light-brown boots are styled with a pastel-red short-sleeve pleated dress, rounded sunglasses and a beige long scarf: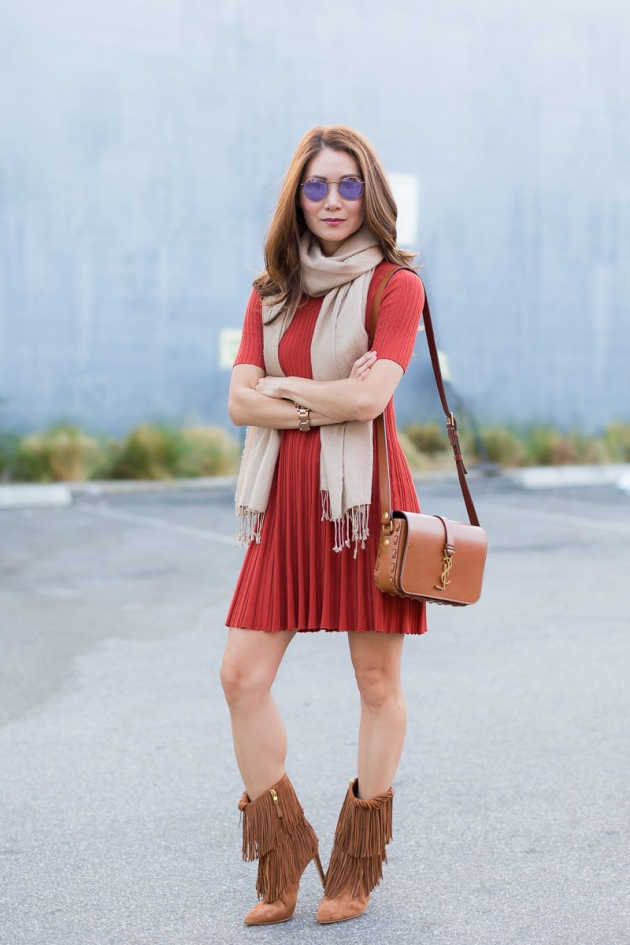 Tall brown suede boots with fringes are paired with dark blue skinny jeans, cable-knit sweater in cream-grey and brown leather jacket: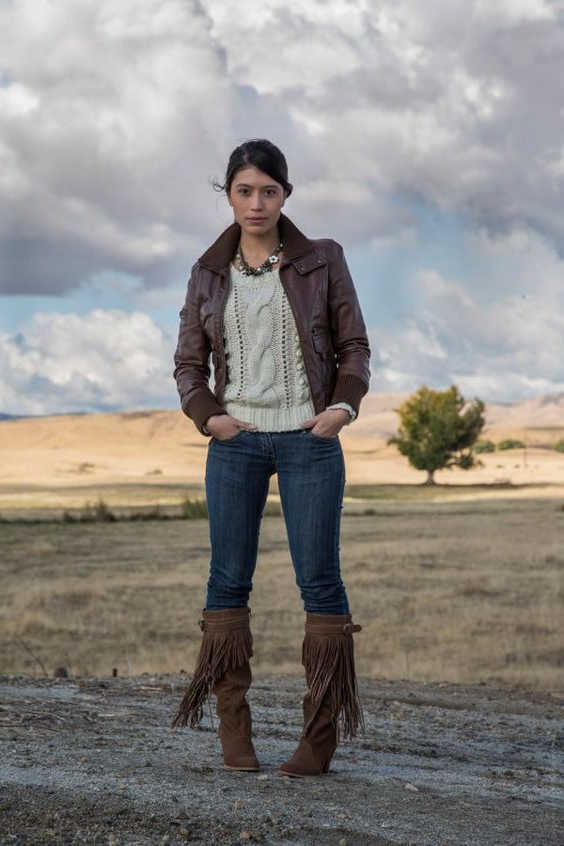 In real life, though, fringe can be tricky to pull off. Too much can look like a costume, and too thick can look a bit too western. My advice: take a cue from street style and incorporate it into your wardrobe in the form of a pencil skirt that playfully reveals some skin from the knees down. Fringe-accented tops and accessories are also easy to wear with simple pants.
Source: Fashionista