It feels like you need some Parisian chic style inspiration, right? In today's article, we are about to see a beautiful collection of amazing French woman outfit ideas that are easy to wear and style.
A lovely autumn look for French ladies. We see a rich red belted coat styled with black heeled pumps and a red umbrella. An ideal woman in red, right?
We all know France for its love, fashion, and elegance. That's why many designers and brands are inspired by this country. We are here to have a real Parisian style inspiration and find out the best ideas on how to dress like a French woman. I am about to show you a perfect collection of gorgeous clothing combinations. I've compiled these easy tips and tricks you can use in your everyday routine life.
Now, we all want to have a perfectly unique style, while feeling good in what you are wearing. Believe me, just because you aren't French doesn't mean you can't dress like you are.
What French women would never do and wear:
No sky-high heels;
No push-up bra;
No flashy logos;
No over-accessorize;
No trying too hard;
Never wear nude pantyhose.
What French women would do and wear:
Develop a Signature Look;
Yes, to Perfect Tousled Bed-Head Look;
Wear Breton Striped Shirt;
Wear-With-Anything Trench Coat;
Go for a Comfortable Fit;
Wear Neutral Palette;
Wear a Signature Pair of Shoes;
Invest In Basics;
Wear a Menswear Inspired Tuxedo or Blazer;
Wear the Perfect Red Lip;
Dress for Yourself.
I have been in Paris for a couple of years, and I have noticed that lots of French ladies wear neutral color clothes. Of course, you might say that everything is individual, but trust me, most of Parisienne ladies choose grey and soft colors. Forget about sparkling clothes and glittering dresses with high heels, go for athleisure, smart-casual and normcore style.
Parisian Chic Outfit Ideas For Women
One thing you gonna love is layering. Yes, you got me right, the layering is the key for Parisian women. Think of double-layer jackets, adding scarves, light pullovers over blouses, etc. Another thing that I've noticed is the effortless undone style. So, do you want to see some of the best looks you can try on this year to look like a real French chic? Get inspired:
Chic Parisian White Dress And Black Blazer
We see a cute outfit idea for young ladies who want to look like a French chic, go for a white short dress and style it with a black blazer and flat sandals: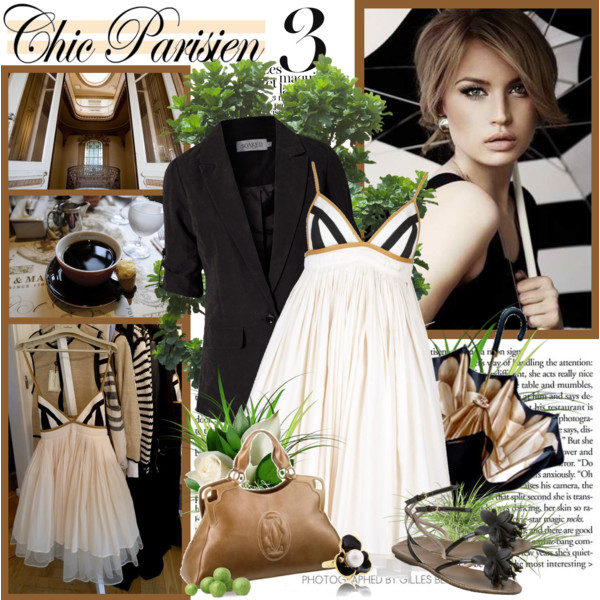 A Date Look For Paris Ladies
We see a black sleeveless fit-and-flare dress styled with a poncho crop coat and black heeled sandals, a lovely all-in-black look for young ladies: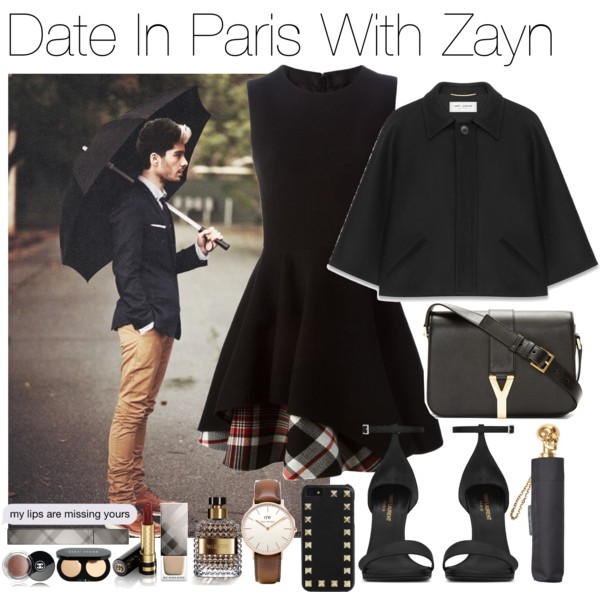 NightClub Style For French Ladies
We see an embroidered black top worn with black brocade pants in slim-fit, complete this combo by adding oversized sunglasses and black heeled pumps: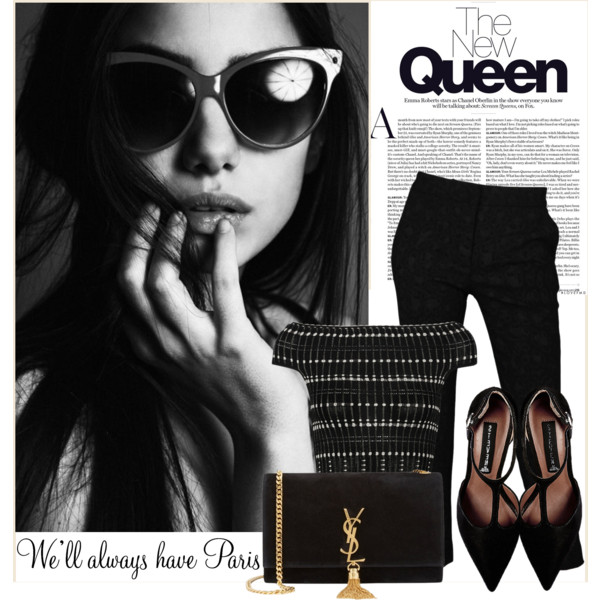 Tomboy Style For French Ladies: Blazer, Shirt And Pants
Keep things tomboy inspired and go for a black blazer and style it with a white shirt and dark pants with suspenders. Complete the look by adding heeled Oxfords and a turquoise shoulder bag: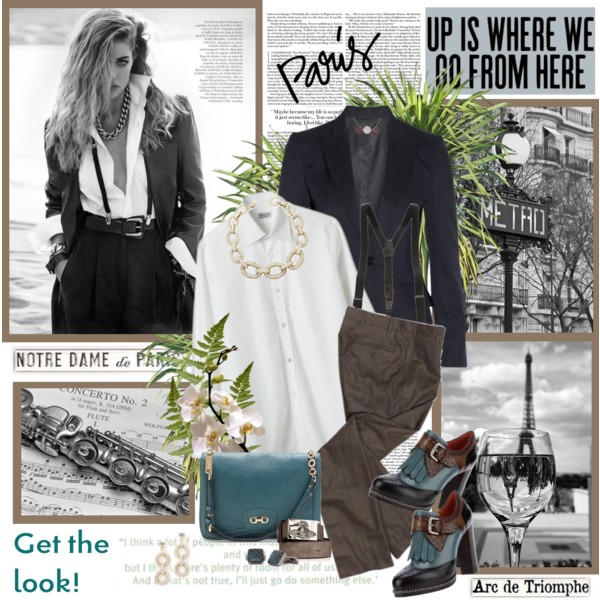 A Preppy Style For Paris Chic: Cardigan And Khaki Shorts
Another chic investment for young French ladies, go for a beige cardigan and add a light grey shirt paired with khaki shorts. Complete this combo by adding espadrilles and a straw tote bag. By the way, I do recommend checking out my full guide on how to wear khaki shorts, you will see great ideas to copy this year: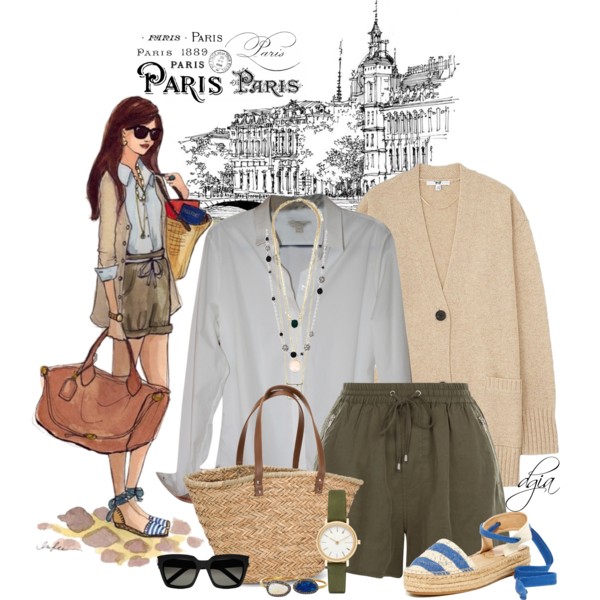 Cold Season Outfit For Paris Ladies
A double-breasted camel coat ideally suits that black-white tartan dress completed with black pumps and a quilted cream-beige clutch bag: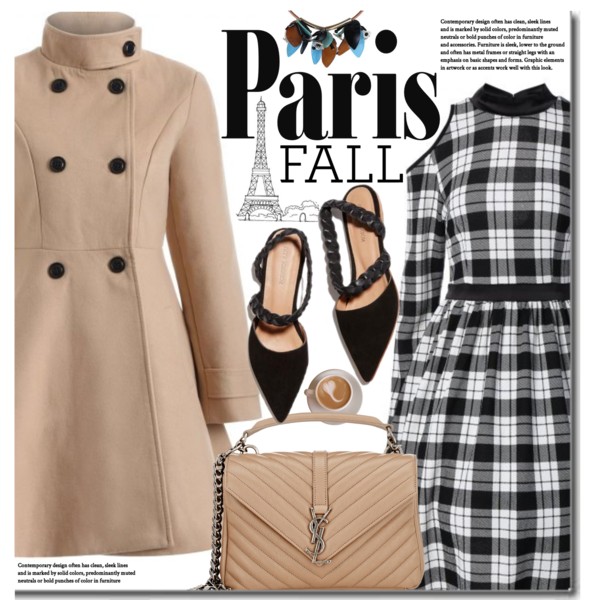 Fall French Outfit With Pinstripe Blouse & Navy Pants
We see a lovely Paris day look for office ladies. It consists of a navy pinstripe peplum blouse, navy pants and lace-up ankle boots in black suede:
Grey Wrap Dress With Belt For Underlining You Paris Look
I know many ladies in Paris who love wearing grey dresses. Here we see a 3/4 sleeve midi wrap dress updated with a red skinny belt, red bag, and red pumps: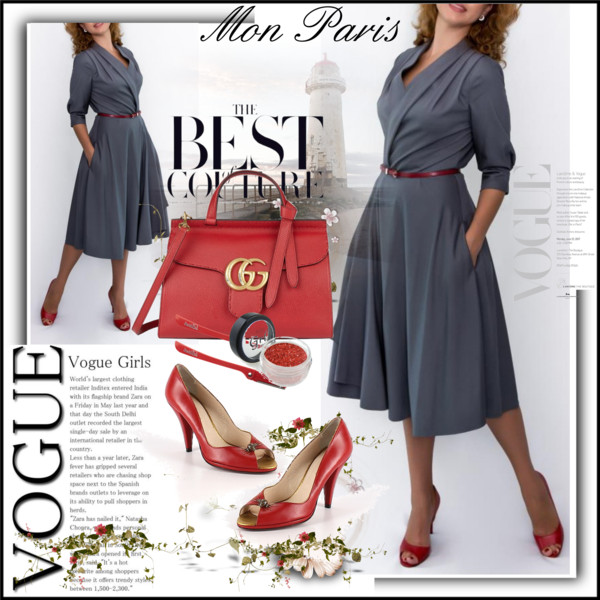 French Ladies Blue Dress And Red Heels
If you are not into grey, then you can go for a lovely alternative, like this blue wrap dress. Complete it with bright red accessories: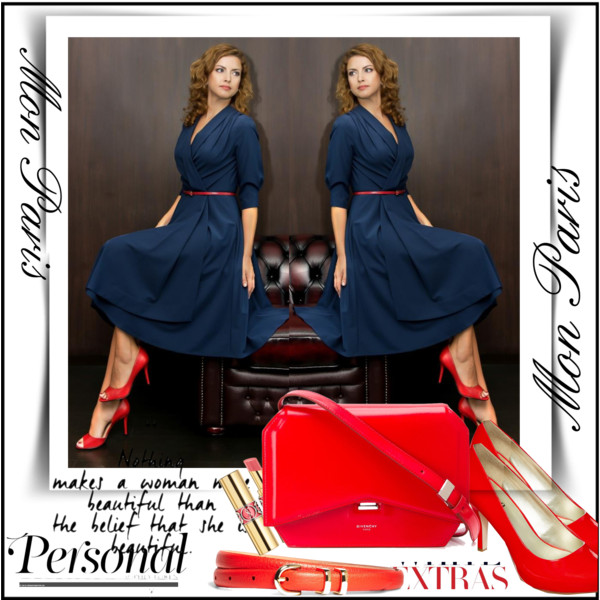 Paris Casual Style Sweater And Denim Shorts
If you are into a casual look, then you can try on a lovely sweater in white and team it with a white fur vest and denim shorts. Update this combo by adding white high-top Converse: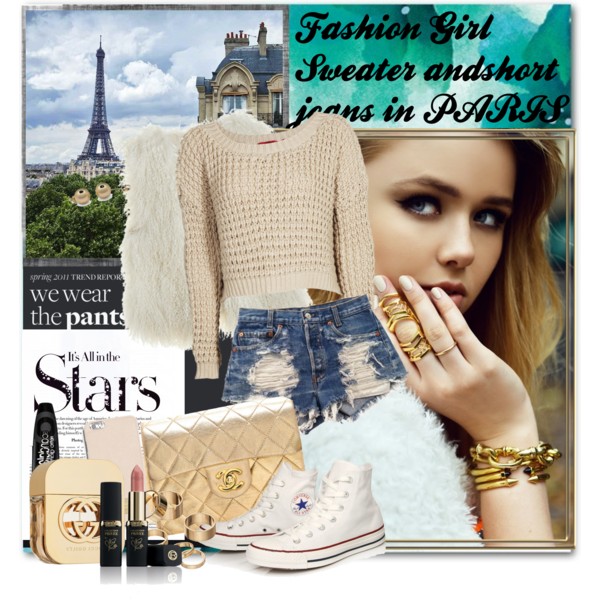 French Ladies Red Dress
If you are going to attend a very special event during the evening time, then you might give a try to this one-shoulder red dress and red heels. Complete this combo by adding a black leather clutch bag: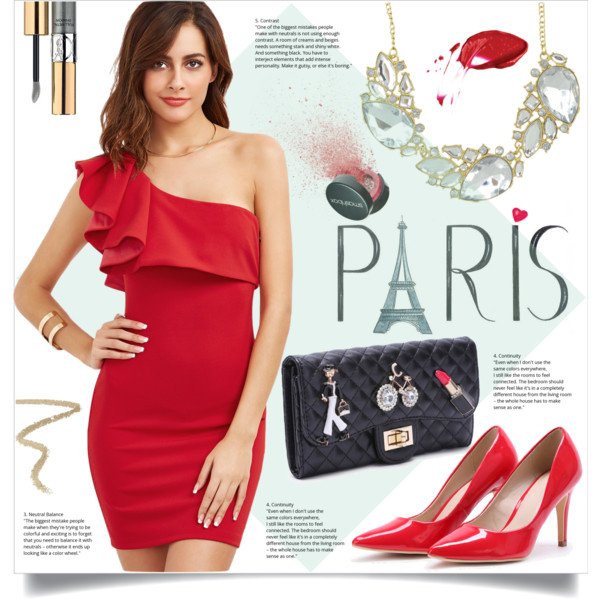 Can Paris Ladies Wear Leather Pants
Yes, now I see many women choosing leather pants, instead of classic tailored pants. You can go for these burgundy leather pants and add a simple pullover and layer it under a cream-blush tailored coat: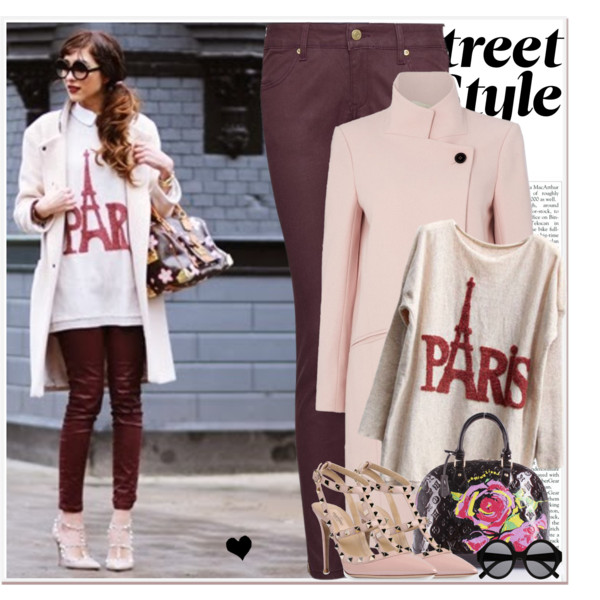 Fur Jacket And Grey Dress For French Women
If you want to add a boho touch to your French style, then you can think of wearing a grey kimono-inspired dress with a fur black jacket, wedge boots, and a black fedora hat: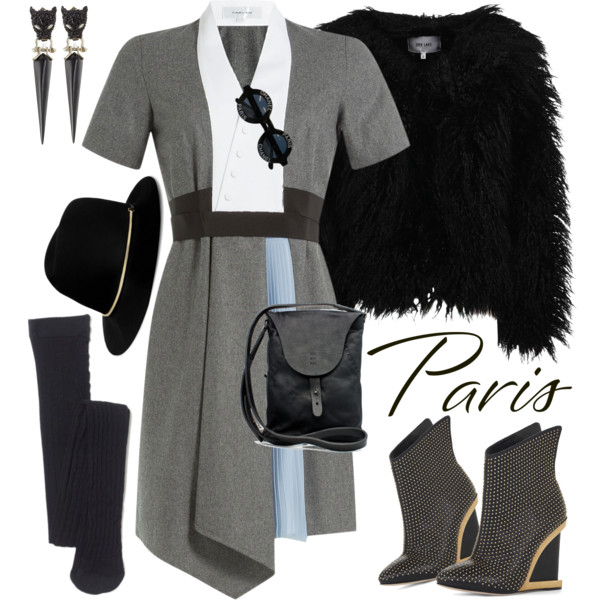 Black Leather Jacket And Grey Shift Dress For Paris
Keep things simple and sophisticated. Go for a black leather wrap jacket and team it with a sleeveless jersey shift dress, a perfect Fall season look: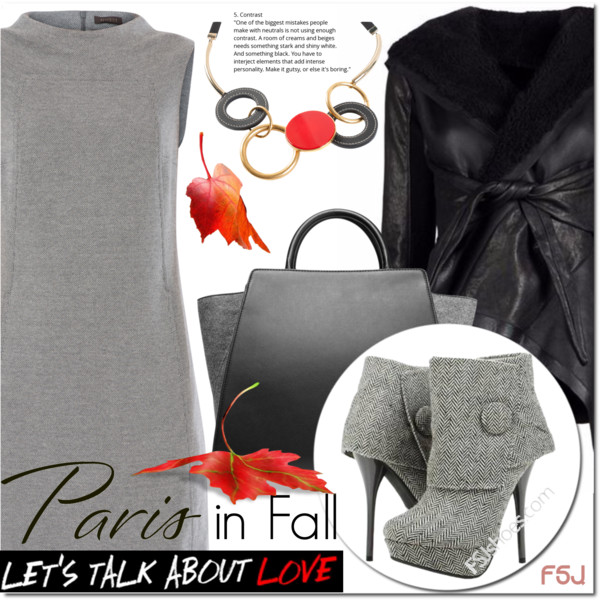 Camel Coat And Grey Blouse With Jacquard Skirt
A double-breasted camel coat is styled with a comfy grey blouse made of cotton paired with a jacquard skirt. Update this boho look with cute beige flats: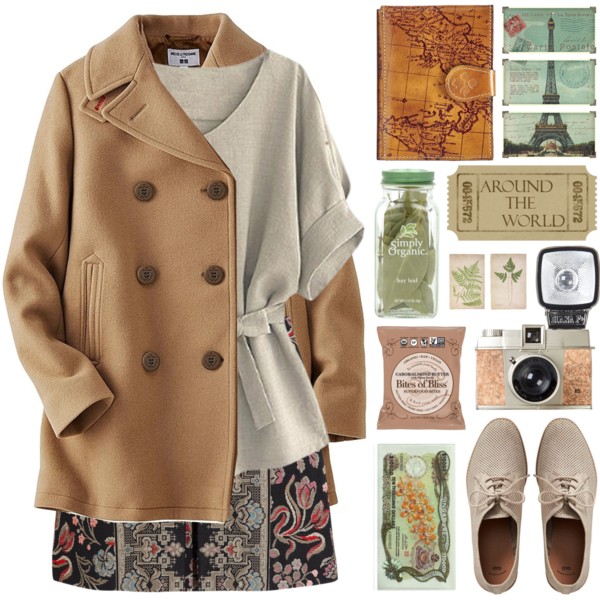 Black And White French Style For Women
A perfect black and white outfit idea, we see a white T-shirt with a black bow styled with pleated wide pants in black color. Complete this look by adding a cute brimmed hat and lace-up heeled ankle boots:
What are the mysterious qualities that make French women so stylish? Words like "effortless" and "undone" come to mind, but we suspect it's partly the things French women don't do that make them so fashionable. And because French women are truly in a sartorial league of their own, the rest of the world is on a constant quest to emulate them. Knowing the set of guidelines they follow is the first step in achieving that effortless quality that they're known for.
Source: StyleCaster, WhoWhatWear