Okay, so you've been invited to a baby shower and you have no idea what should you wear, right? No worries, I am here to help you out. Such events are always fun and special, that's why it's important to keep your look unique and cute.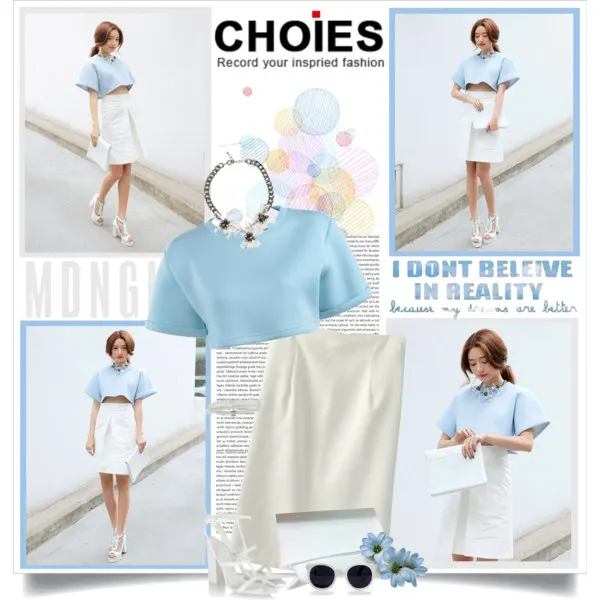 Buy Similar Here
So, what should I wear for a baby shower? You can try on the following look consisting of a scuba style pastel blue crop sweatshirt, white skirt, and white heeled sandals. Update this combo by adding a statement neckpiece and rounded sunglasses.
Frankly speaking, there are no hard rules, but for most ladies, it can still be tricky to find a perfect dress.
Thanks to these collections, you will see some easy-to-wear ideas whether you are heading to a festive garden party, a brunch or having a baby shower at home.
Of course, there can be chances for having a kind of very special theme during this event, but in most cases, a printed dress will do the trick. So, if the details are not specified, then you are opened to think of your own look. Before getting started, make clear some points: if the upcoming baby shower event is going to be formal or casual, where will the event be held (outdoors, indoors), will it be held during the day or evening.
The women in attendance will most likely be somewhere between stylishly dressed and very fancy, depending on the host and attendees. Plus, they are going to be scrutinizing your personal style sense too! So you'll want to ramp up your look with a variety of outfits: casual-yet-stylish, dressed down but chic, and even a little high fashion. This guide will give you some key insight into how to dress for this occasion — without feeling like you're just trying too hard. Check out our handy guide to all the baby shower outfit ideas for guests.
What's important here is that whatever you wear on that day as a guest, you can also dress up for the rest of the day. A cute top and leggings are a great combination because it's not too warm, but still comfortable. So what if we say that you could just wear this outfit?
Chic casual outfit for a baby shower: jeans, a cute top, and a pair of heels (or flats for comfort). A dress is an option, but the style should be more tailored than usual and better to stick to black or dark colors. If you're going to wear a dress try to update the whole look by wearing knee high boots with it! Opt for pointed-toe shoes (if you can pull them off) — they look fabulous with dresses in any color combo.
Stylish casual outfit for a baby shower: Okay, so you're not going to be expecting formal, but a chic look will come across classier than you might think. Stripes are in this season, so go with something in those colors and earth tones to make it feel warm and inviting. A patterned blouse with a blazer and slim pants is the ideal combination; trust us! This is perfect for a spring baby shower because it's not too cold yet but still filled with nice and interesting clothing items.
High Fashion Baby Shower Outfit Idea For Guests: We won't tell if you want to go all out here — but it may end up being a bit overwhelming. If the baby shower is hosted by a fashion icon, you might try a splash of sophistication in black and white; but, if you want to be more toned down stick to cream, white, or earth tones for your wardrobe. No matter what, always stick with an off-the-shoulder neckline dress. If you're going to wear a dress make sure the length hits just below the knee.
Easy and Comfortable Baby Shower Outfit For Guests: This is an option for those who have multiple baby showers to attend in one day (or like to be able to change clothes easily). Yoga pants, leggings, or a skirt with a nice blouse or top will give you a look that is stylish but still comfortable for all-day wear. This is also great for when you have to drive back and forth between gift opening and party games! The key here is comfort; make sure that whatever you choose looks good on your body and hides any problem areas.
Outdoor Baby Showers: they are usually held during spring and summer season in the park or at the backyard. You are free to choose a casual style, go for comfy shoes and stay away from stilettos. Use layering outfits, completed with cardigans or sweaters. I would recommend choosing pants or jeans, instead of dresses or fancy skirts, it will be more practical, believe me.
Indoors (In a Private Home): another casual setting, where you should wear pantyhose, as in most cases you will be asked to remove your footwear. In most houses we have soft couches, that's why go for something relaxed, smart and with loose fabric.
For a Winter/Fall Baby Shower: go for cozy knitwear, tights underneath, warm boots, leggings beneath the dress, chunky scarf, and a leather jacket.
For Spring: A light sweater, long draped cardigan with built-in layers, like a sundress, or a jumpsuit. Think of simple tops in neutral colors completed with statement jewelry and dress pants. I personally recommend giving a try to maxi dresses.
I love it when the baby shower has a pre-planned theme. This makes things easier for everyone. But, in most cases, your mom-to-be friend can be not very helpful. That's why I decided to show you the best outfit choices that are versatile and easy to copy.
If you still can't decide what to wear, then here is a little cheat-sheet for you:
A simple floral dress is always the safest choice for baby showers;
Never wear uncomfortable shoes, even if they are from a luxe brand;
Know what is the place for the upcoming celebration, before thinking over your look;
Better go for the feminine and light color outfit;
Never overdo with accessories.
What To Wear To Baby Shower
Blue Dress
We see a pastel blue pussy-bow sleeveless shirtdress updated with chambray slip-on shoes. A lovely idea for summer garden baby shower party: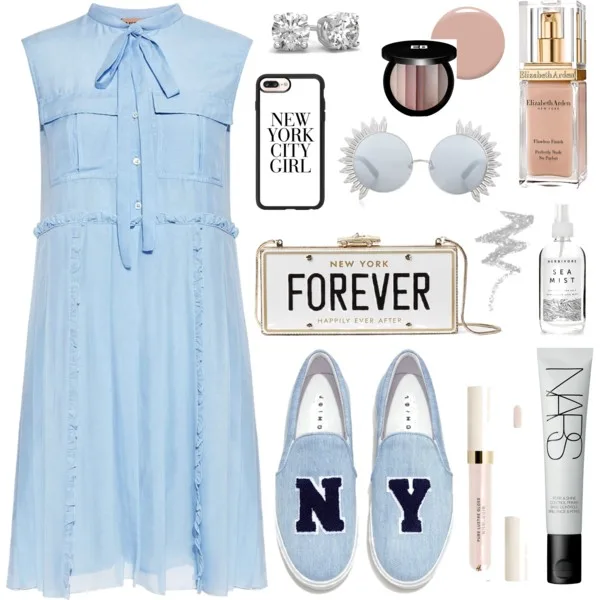 Buy Similar Here
Rose Gold Dress And Black Blazer
If you are about to attend a glamour baby shower party, then check out this beautiful rose gold flared dress updated with a black blazer snd printed heeled pumps. A gorgeous look for restaurants: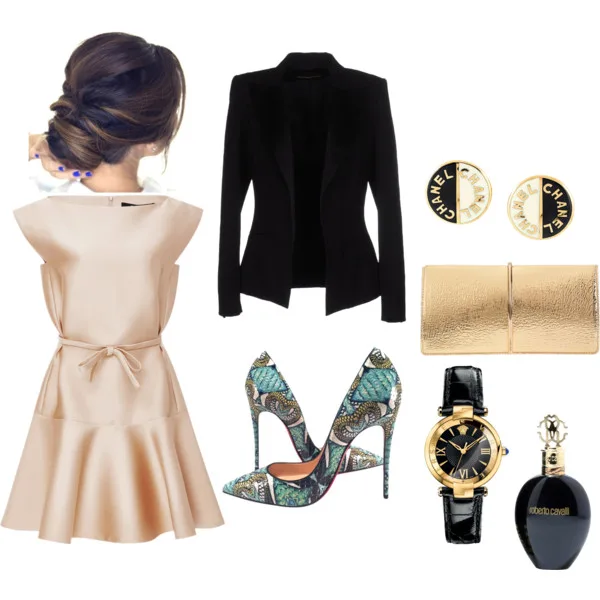 Buy Similar Here
Red Dress And Red Pumps
If you are about to visit your friend at home, then I recommend choosing this cute red printed dress with no sleeves completed with dark red pumps: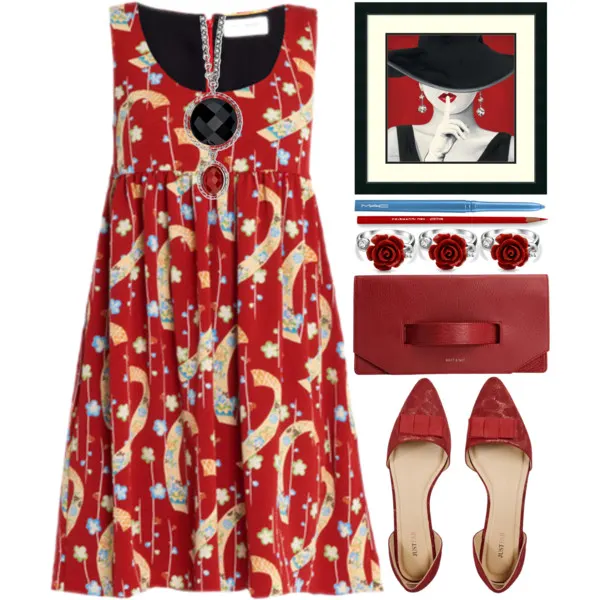 Buy Similar Here
Bohemian Inspired Outfit For Baby Shower Party
If the party's theme is boho, then choose this simple bohemian style look consisting of a white tee, floral short skirt and slouchy flat T-strap bootie sandals: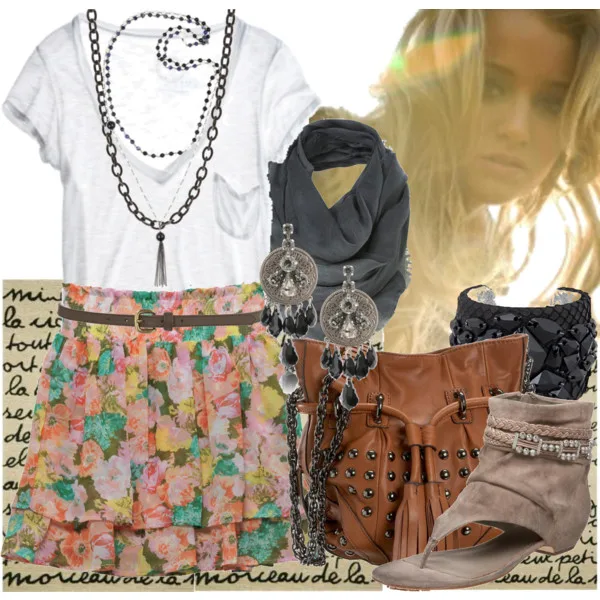 Buy Similar Here
Metallic purple Dress And Pink Heels
A metallic purple sleeveless dress is great for fancy parties, complete it with pink heeled sandals:
Buy Similar Here
Royal Blue Dress And Printed Blazer
A marvelous blue dress with short sleeves can be updated with a floral print blue blazer and red pumps. A kind of retro touch is felt in this combination: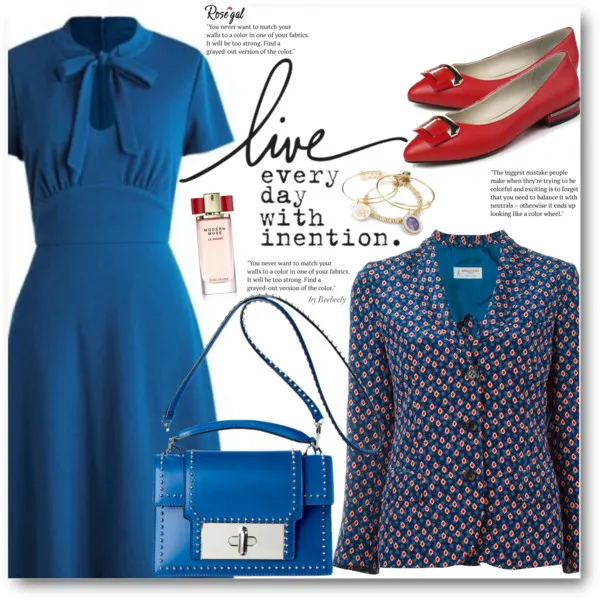 Buy Similar Here
Slim Jeans And Double Blouse For Summer Baby Shower
Another cool casual style for summer baby shower parties can be this simple combo consisting of slim blue jeans and double blouse with a mesh overlay printed with daisies: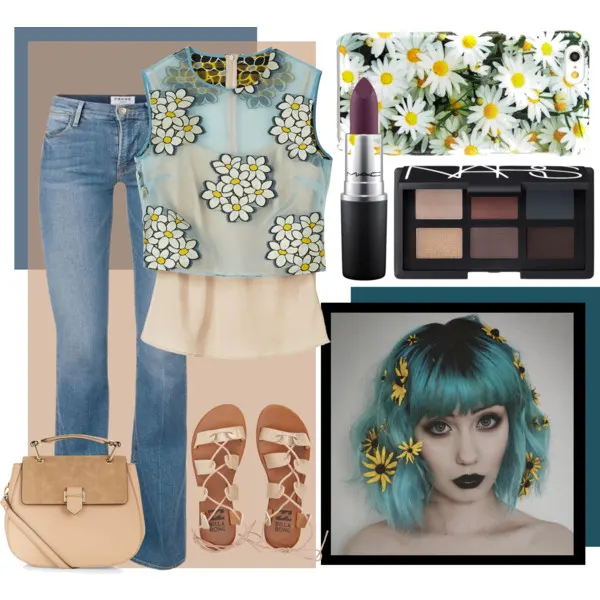 Buy Similar Here
Smart-Casual Baby Shower Style
If you are more into a party look, then go for this biker style jacket, striped tank top and jeans updated with nude heeled pumps: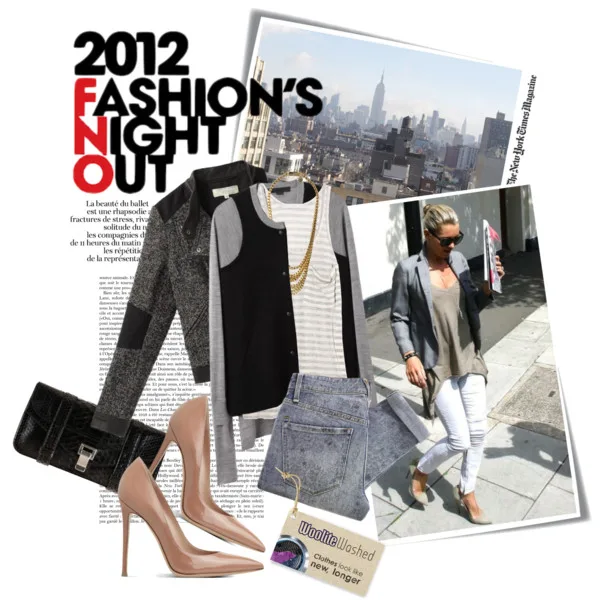 Buy Similar Here
Printed Blouse And Navy Skirt
An abstract print blouse looks perfect teamed with a navy pleated skirt and orange heeled sandals: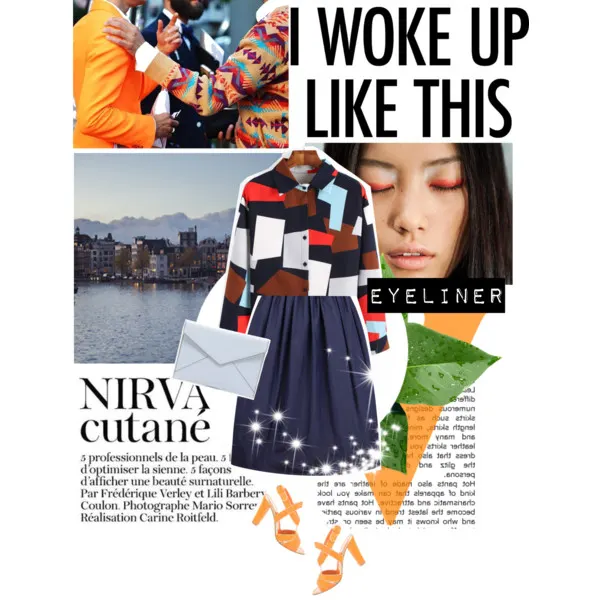 Buy Similar Here
Pink Baby Shower Party Outfit Idea
A windowpane pink bodycon dress looks glamour and ladylike, style it with matching color pumps and clutch bag: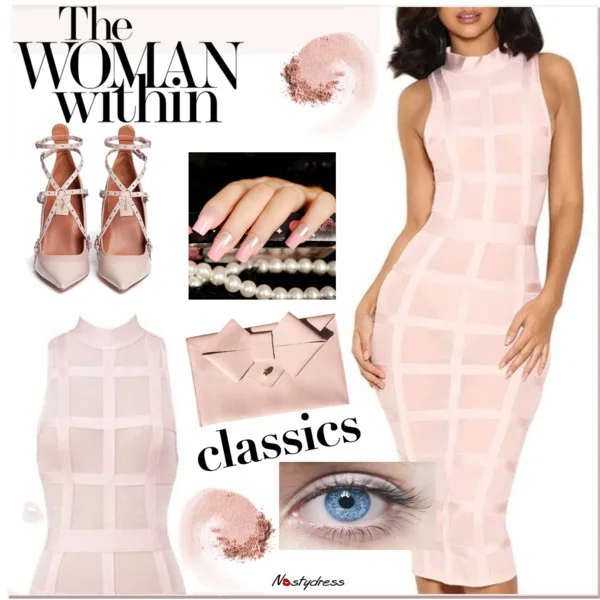 Buy Similar Here
Floral white Dress And Light Blue Blazer
If you are into flowers, then you gonna love this white floral dress and the way it's styled with a light blue blazer and pastel pumps. A great shower baby outfit idea: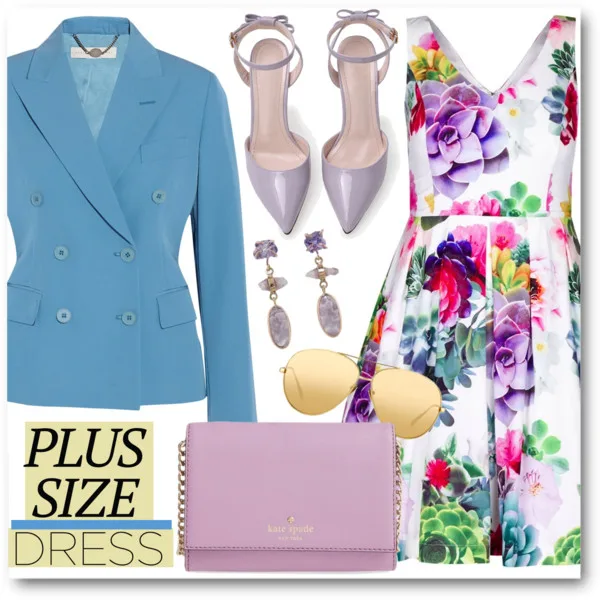 Buy Similar Here
Red Dress With Denim Jacket For Casual Party
If you do want to keep things casual, yet dressy, go for this red dress and pair it with a blue denim jacket, black leather backpack and black Converse: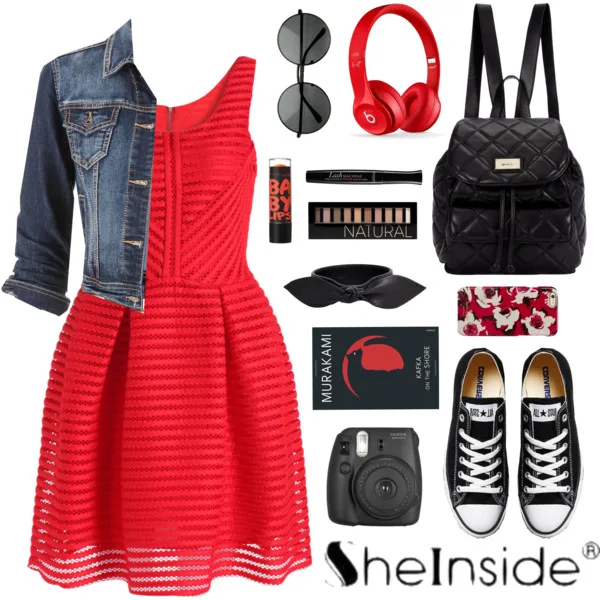 Buy Similar Here
Plus Size Baby Shower Outfit Idea
We see a plaid black-red coat worn with a white blouse and black leather skirt. A lovely look for plus size women: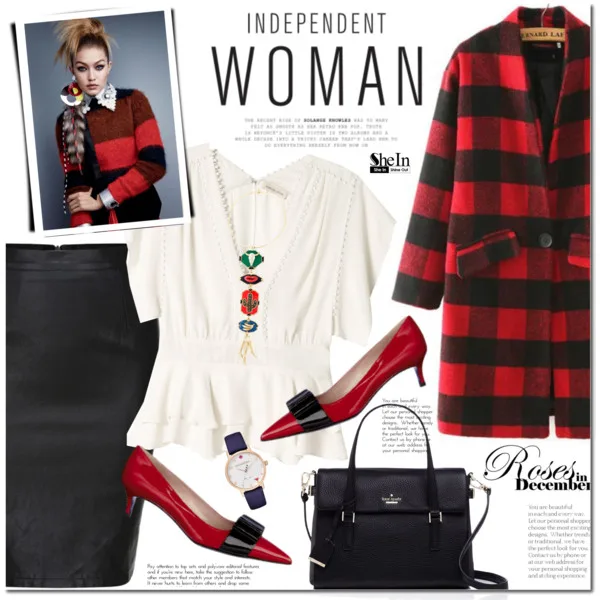 Buy Similar Here
Baby Shower Outfit For Cold Weather
If it's a cold-weather outside, then you better go for warm layers. We see a black trench coat layered over a camel blazer paired with a white top and black leather pants. Complete this Winter look by adding flat pumps and brown leather bag. If you want to see more ideas on how to wear black trench coats, check out my blog post, where I cover all my favorite street looks: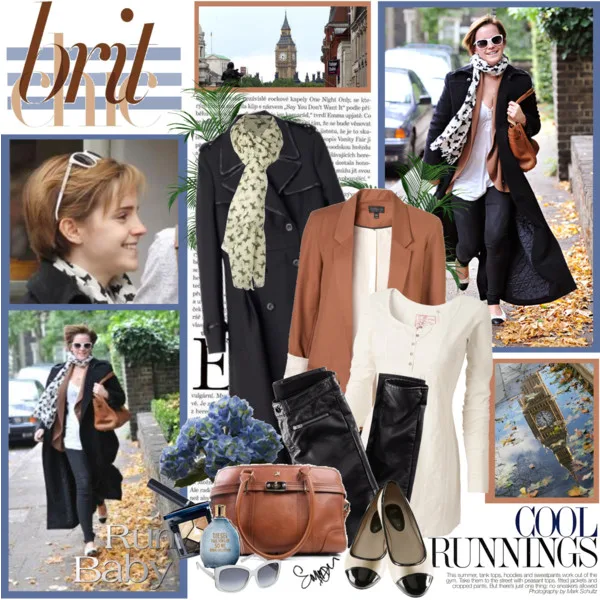 Buy Similar Here
Black White Look For baby Shower
A black lace mesh shirt looks outstanding with white pants and that cocoon coat in black color. Complete this trendy baby shower black-white outfit with dark silver metallic Oxfords: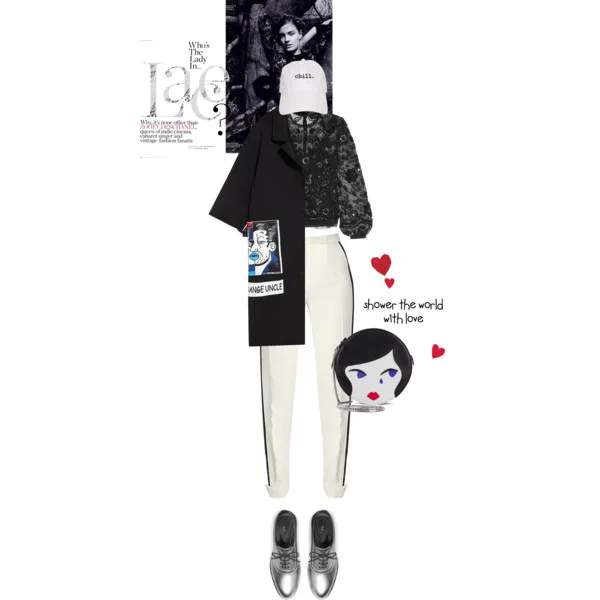 Buy Similar Here
Floral Dress In Blush For Baby Shower Guests
A floral sleeveless flared dress can be layered under this cute white bolero jacket. Complete this look with a maroon clutch bag and maroon pumps: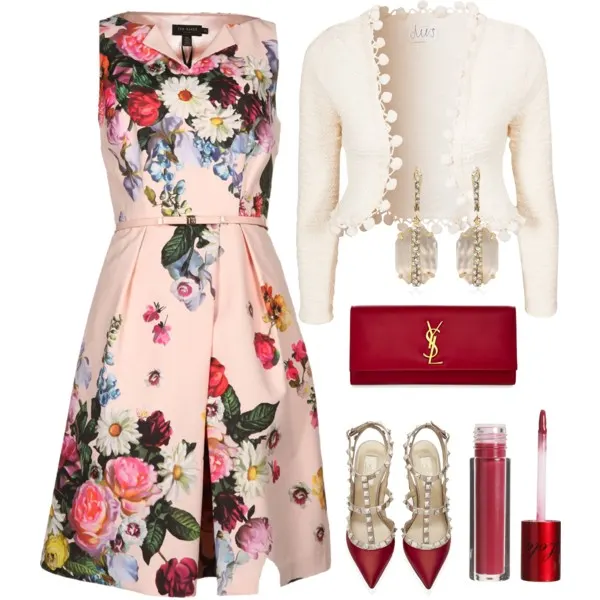 Buy Similar Here
Are you supposed to dress up for a baby shower?
We see a multi-striped lace dress that looks very Italian inspired. Update it with block heel sandals in black and a cute black bag. A perfect style for those who want to dress up. There is nothing wrong to look at your best during baby shower parties. If you want to see more ideas on how to dress like Italian, check out my blog post, I've got some really nice ideas to show you: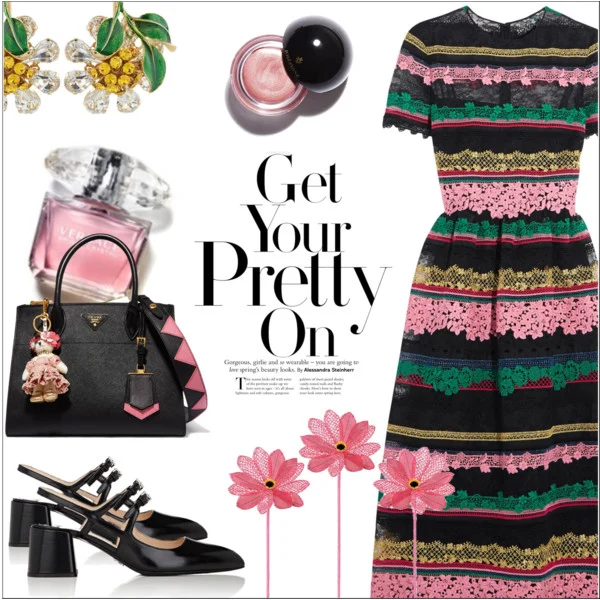 Buy Similar Here
Baby shower outfit for mom winter
This one is for moms to be. Yes, a kind of casual style for a baby shower, but I like it a lot. It consists of a bright blue coat, loose-fit black sweater, and some comfy mom jeans. Update this look by adding Clubmaster sunglasses and a plaid blue scarf: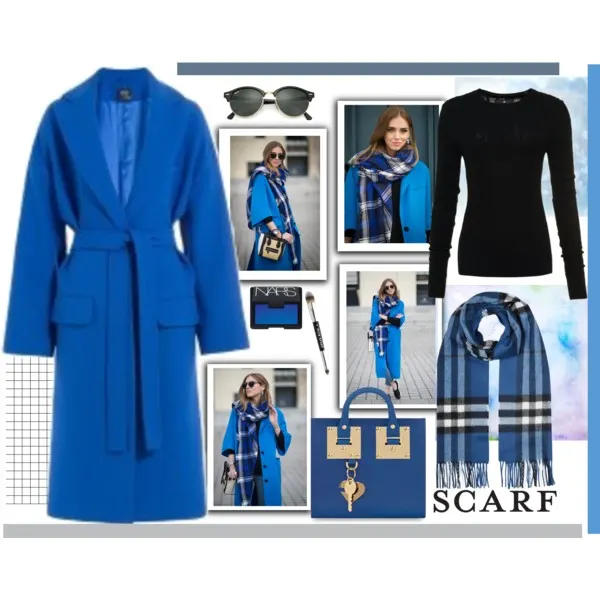 Buy Similar Here
Can you wear jeans to a baby shower as a guest?
As we have already seen, jeans are okay to wear to a baby shower party. We see a light grey pair of jeans styled with a ribbed knit blush sweater, pastel turquoise cardigan, and light pink Timberland boots. Complete this Winter style by adding pastel turquoise backpack and stylish Wayfarer sunglasses: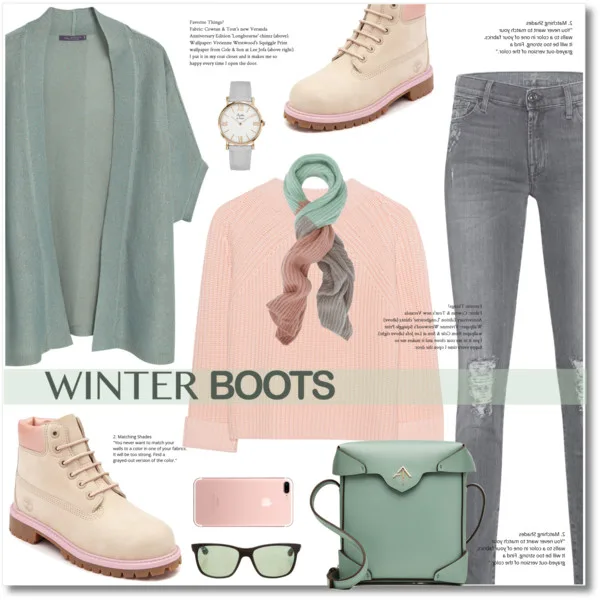 Buy Similar Here
Baby shower outfit winter idea for guests
Yes, another winter idea for guests, we see a black coat draped over a white pullover teamed with a tweed pink mini skirt and suede black ankle boots: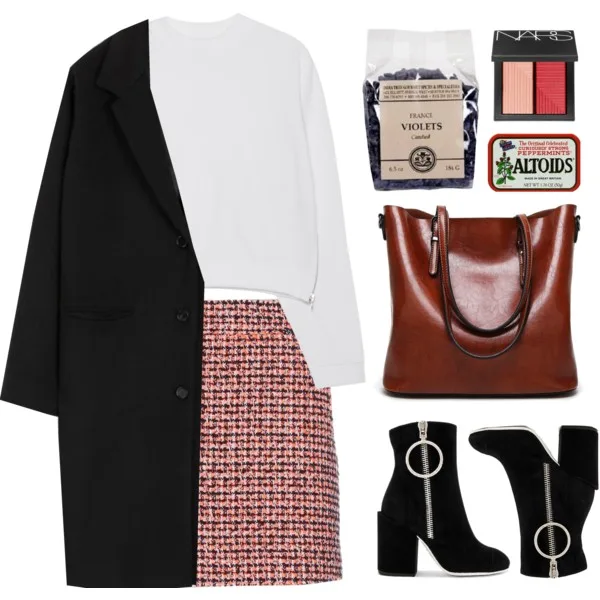 Buy Similar Here
If you've received an invite in the mail covered with pastel-colored farm animals, a baby shower is likely in your future. If you're heading to one anytime soon, you're probably wondering what to wear. There are no hard rules like there are for weddings, where white is off-limits, but it can still be tricky to find the perfect dress. Everything from striped shirtdresses to floral off-the-shoulder silhouettes made the cut—and even jumpsuits for the dress averse. Whether you're headed to a festive garden party or a brunch, you're sure to find some outfit inspiration.
Source: TheWifeChoice, WhoWhatWear