Flowers on my Mind! This time I want to talk about my favorite floral dresses that are must-haves for wearing this year. There are lots of beautiful styles to choose from.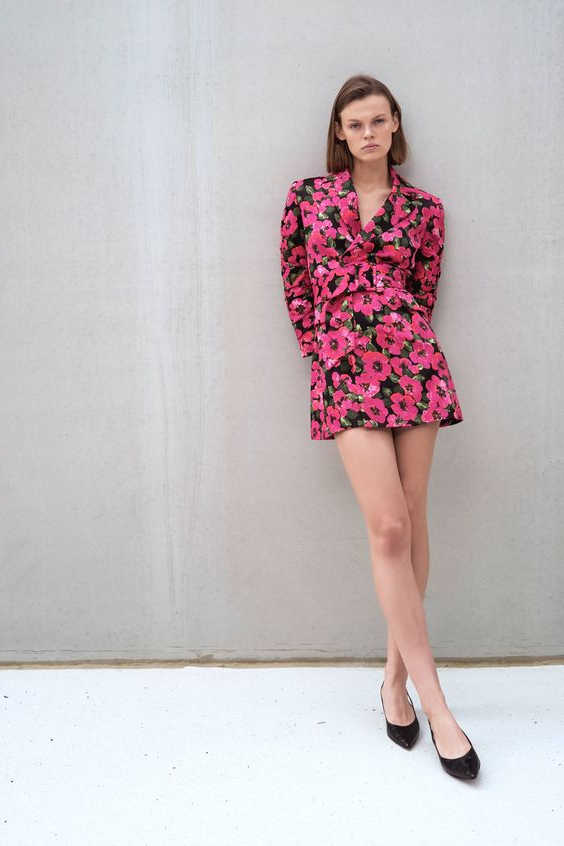 We see a cute floral print belted blazer-dress styled with black leather patent flat pumps. A lovely outfit idea for those who are into simple, yet feminine clothes.
Best Floral Dresses For Ladies
This year, we see florals everywhere, starting from clothes to accessories. In this post, I want to draw your attention to my favorite blooming frocks. Why is it so popular to wear florals? Well, they look romantic, feminine and easy to style. Check out these outfit ideas and let me know your thoughts in the comments below.
A high-neck long-sleeve floral print dress in dark turquoise with a pleated long skirt is completed with clear heeled sandals: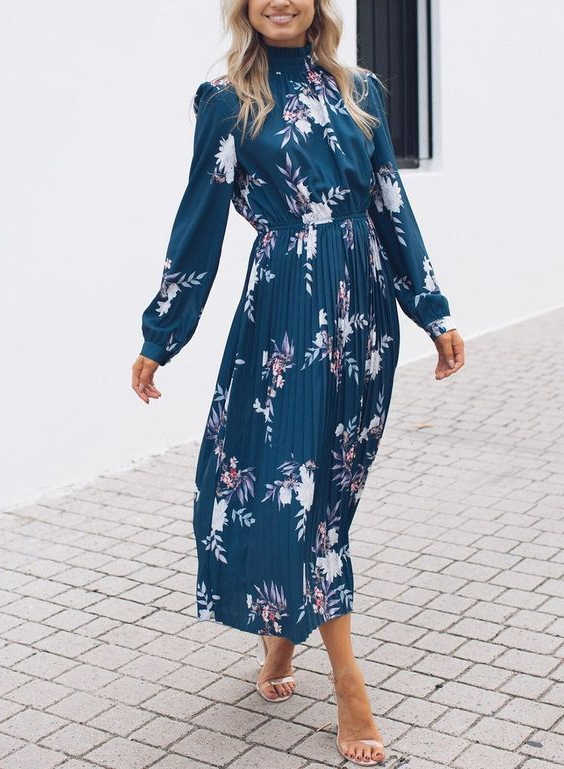 I have selected only the best styles that will easily inspire you to buy a new frock next week. It's no secret that every single dress has to be completed with footwear. You should carefully choose appropriate footwear: let it be sandals, mid heel shoes, sexy high-heels or any other design.
Cold Shoulder Floral Printed Dress In Green
A cold-shoulder green floral print midi knife-pleated dress is completed with ankle-strap heeled black sandals, love the creative design of this dress: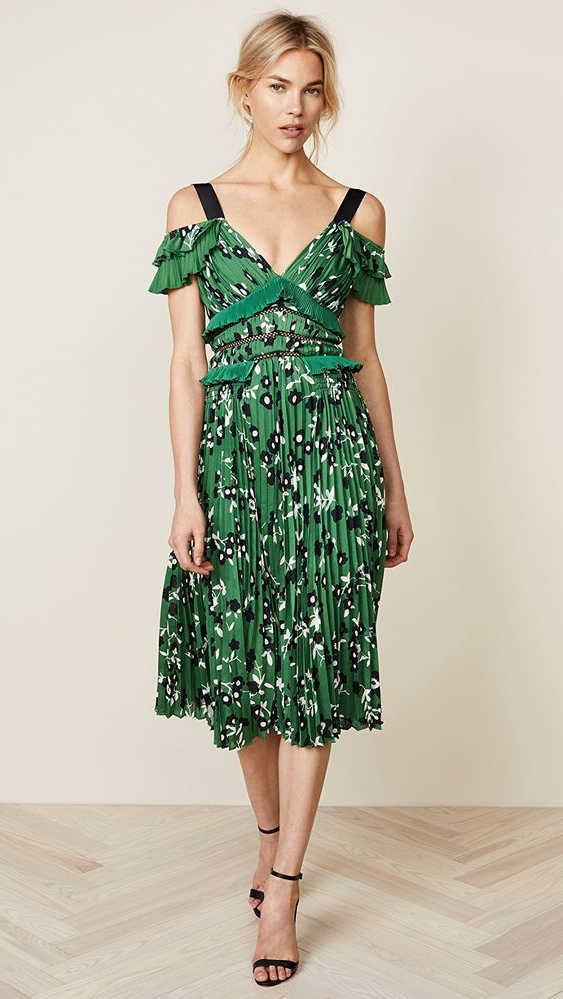 There are lots of styles you can create thanks to your floral dress, as you can make it look casual or formal. I love to see ladies who top their floral frocks with fitted jackets and add office-friendly heels. Speaking of jewelry, then you should keep it minimal, as floral is a strong pattern that will easily make you stand out from the crowd.
Dark Floral Print Dress
Black floral print dress in maxi length made of lightweight fabric is a perfect choice for those who want to make a real statement on the streets. Love the V-neck cut of this outfit. Style it with lace-up heeled sandals in black: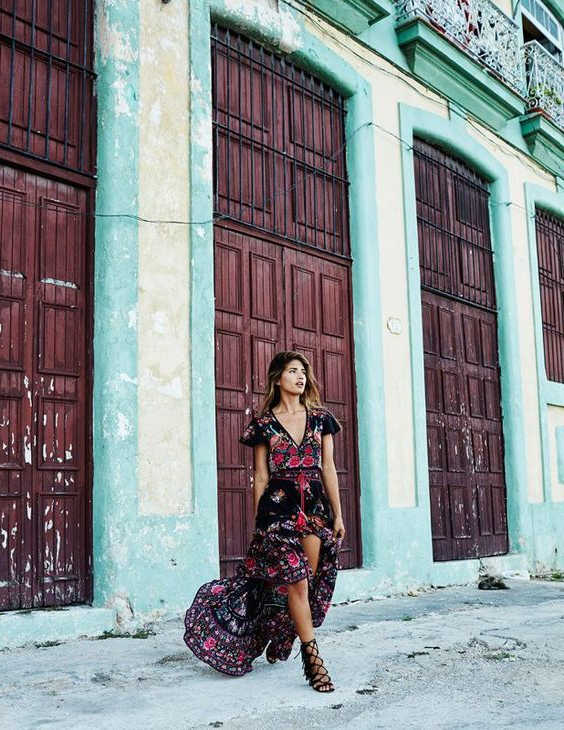 Floral Print Asymmetrical Dress
A perfect evening choice. We see a short-sleeve silken blush asymmetrical dress in floral print. Complete this outfit with gold drop earrings and classy sandals: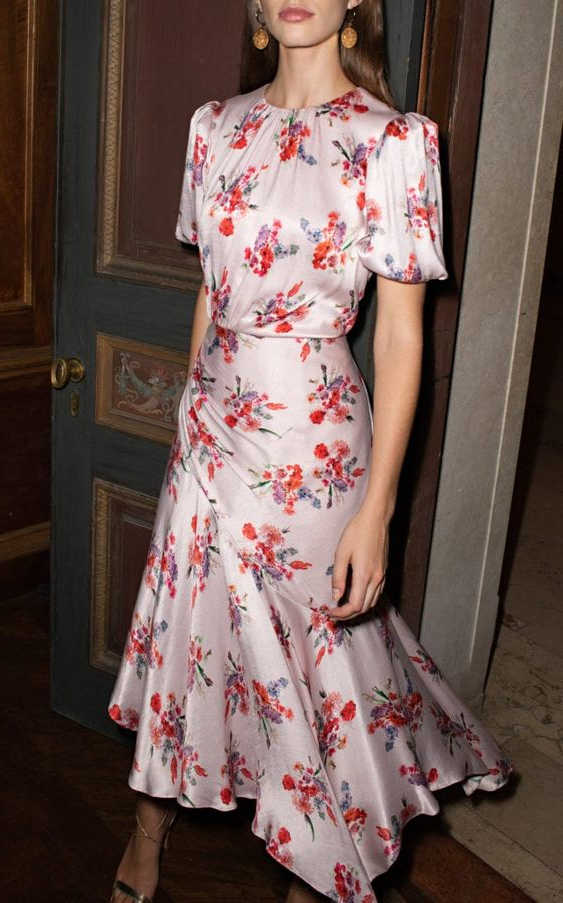 Floral Print Button Down Dress
Button-down midi dress in floral print with short sleeves is completed with brown suede boots: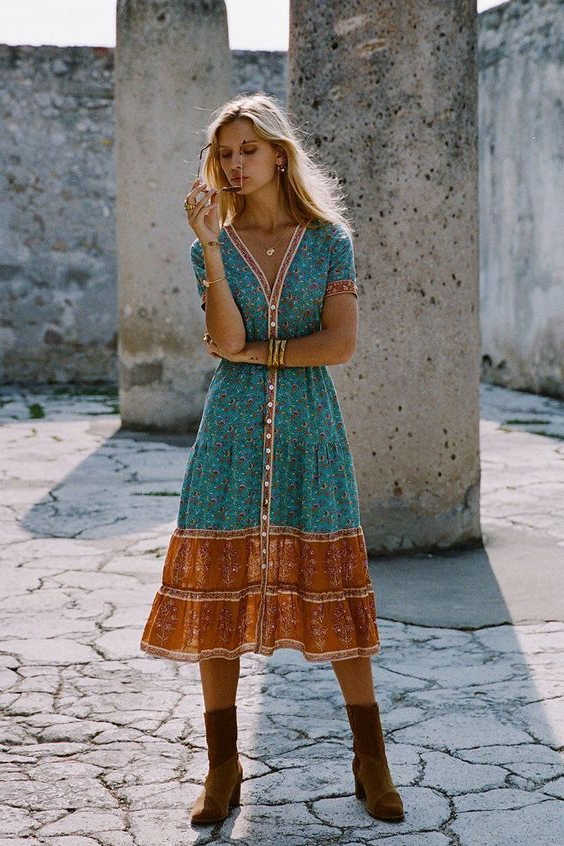 Floral Print Cami Dress
A floral print short cami dress with spaghetti straps looks summery chic. Update it with oversized vintage sunglasses and hoop earrings. If you want to see cool summer trends on women sunglasses, check out my post, where I share all my favorite shades you can wear in real life: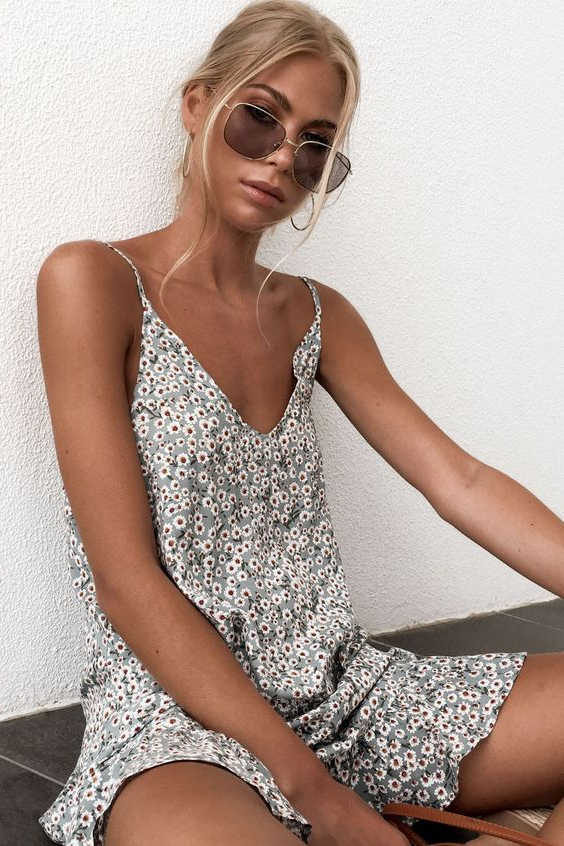 Floral Print Blazer Dress
If you want to mix up various styles, then try on this floral print blazer dress with short sleeves. Love the white color and that cute flower print. Would you give it a try: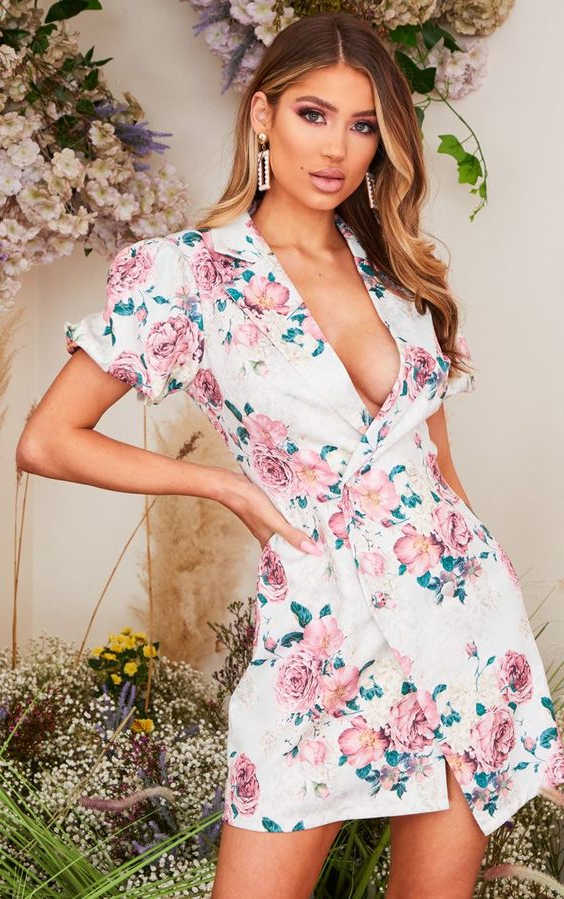 Floral Print Bodycon Dress
I am so into this floral print bodycon dress. We see a black sleeveless bodycon dress in cute floral print in mini length: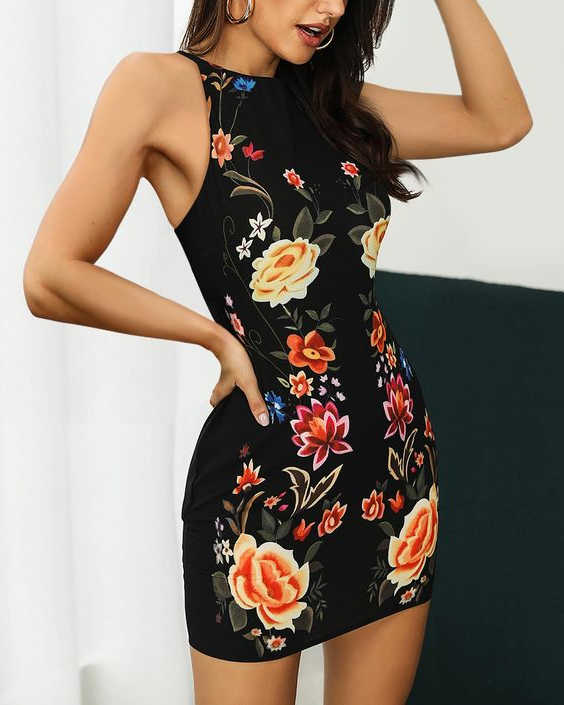 Floral Print Dress For Wedding Guests
If you are in love with a bohemian style and you were invited to your friend's wedding, then I've got a lovely outfit idea for you! Here we see a dark maroon maxi dress with short peplum sleeves in beautiful floral print and high slit: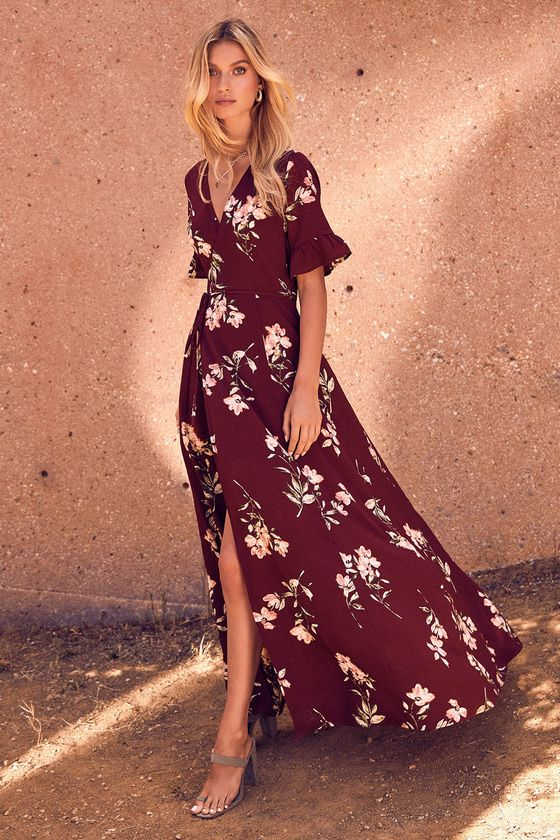 Floral Print Maxi Dress
A green 1/2 sleeve floral maxi dress is completed with a brown leather belt bag and tortoise sunglasses, a lovely combination for city walks: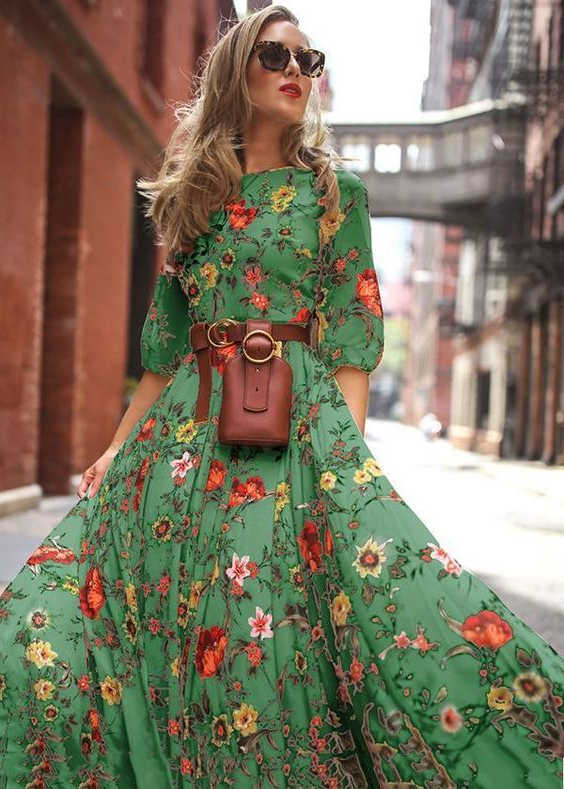 Floral Print Midi Dress
A v-neck floral midi dress with short sleeves and ruffled skirt looks amazing and vintage-inspired. Style this design with beige block-heel sandals and gold earrings: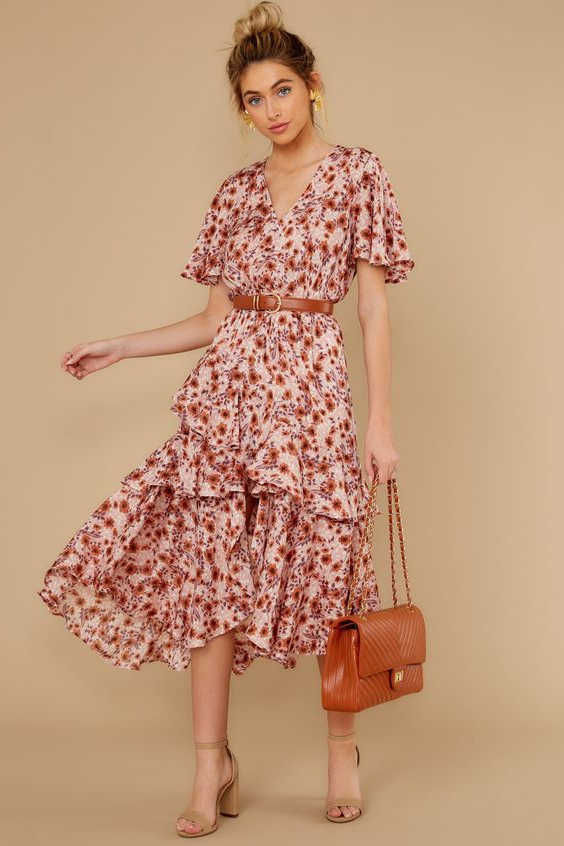 Floral Print Mini Dress
If you want to show off your beautiful legs, then go for this cute white mini shirtdress in pastel floral print. Complete it with a light brown leather handbag and platform heeled sandals in beige color: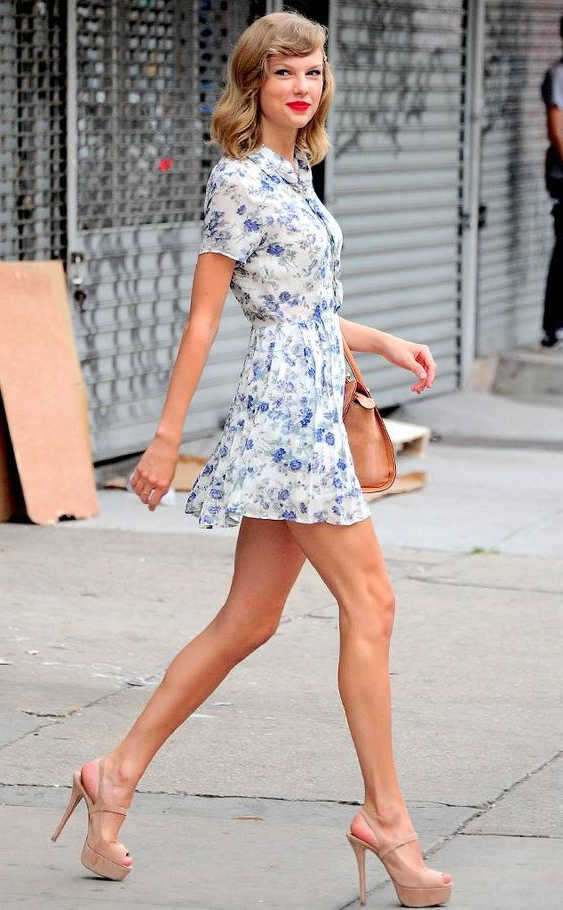 Floral Print Dress In Pink
A light pink wrap mini dress in vintage floral print looks feminine and sweet. Love the beauty of this outfit: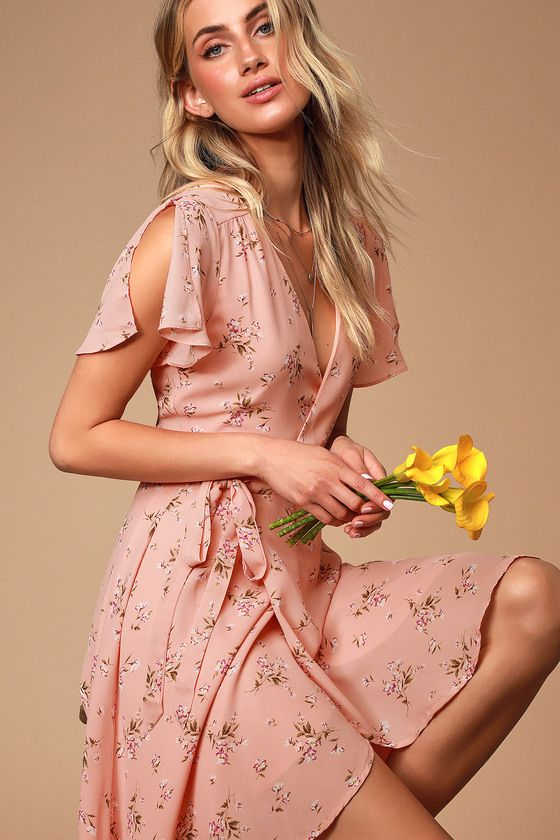 Floral Print Dress For Prom
Another stunning outfit idea for prom night. We see an open-back sleeveless white maxi dress in colorful florals with a pleated skirt. Complete it with gold hoop earrings: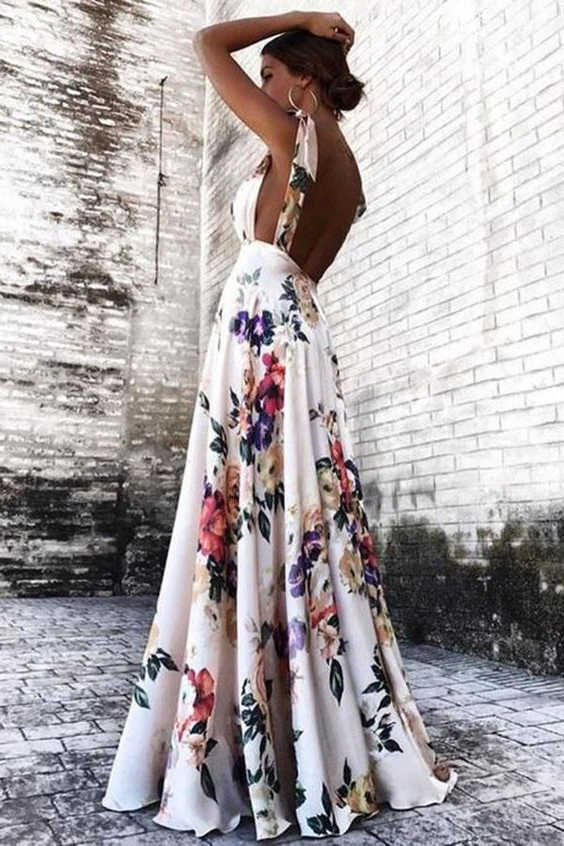 Floral Print Dress With Bow
A white short-sleeve dress in orange floral print and a bow tie looks amazing with a peplum hem skirt: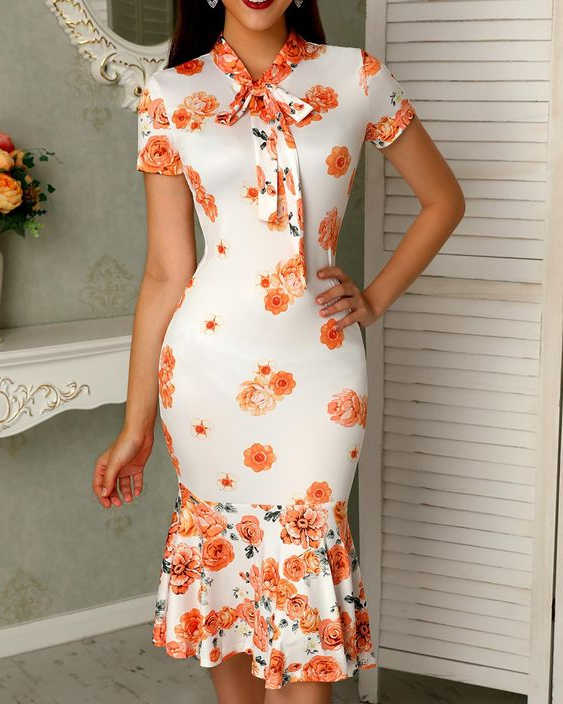 Floral Print Dress With Long Sleeves
A kind of country style touch is felt in this look. We see a green V-neck long dress in white florals and long sleeves. Complete it with light brown leather block heel ankle boots: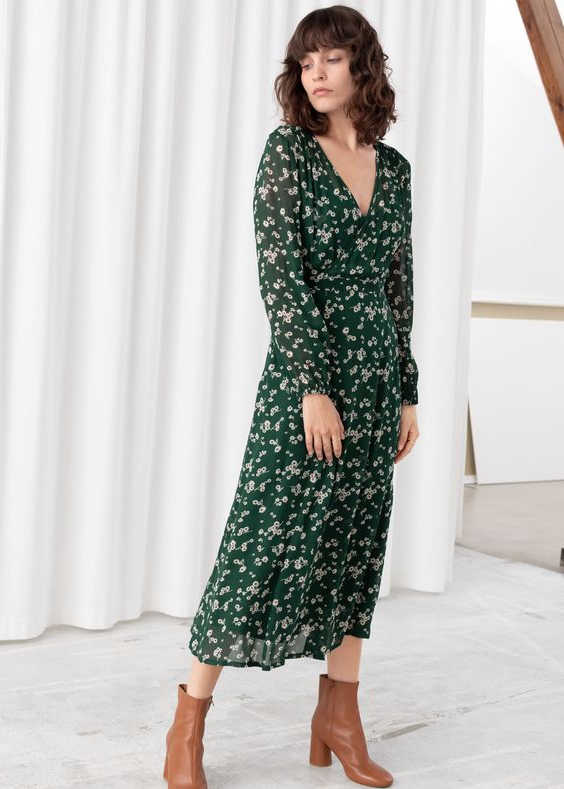 Floral Print Dress With Puff Sleeves
If you have a big bust, then you gonna fall in love with this design. We see a black floral print dress with puff sleeves in mini length. Complete it with a black leather clutch bag and heeled pumps in nude or black color: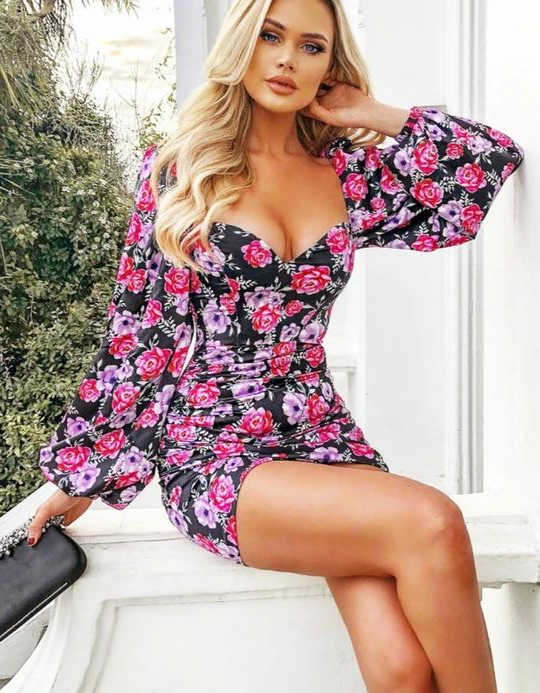 Floral Print Dress In Yellow
A cute sleeveless pastel-yellow wrap mini dress in white florals looks chic and simple. Wear it with golden jewelry, like drop earrings and a choker: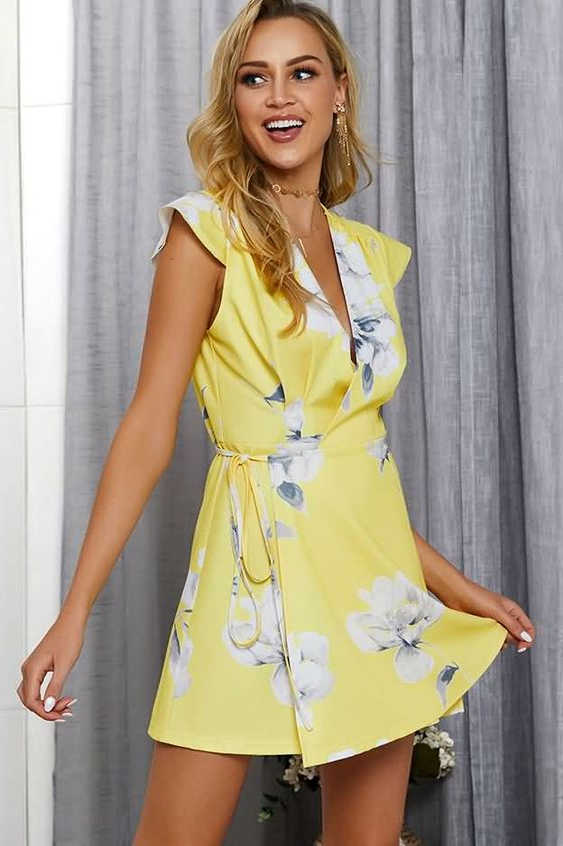 Floral Print Halter Neck Dress
A halter neck sleeveless white maxi dress in floral-print looks sweet and summer chic. Wear it on your next summer vacation: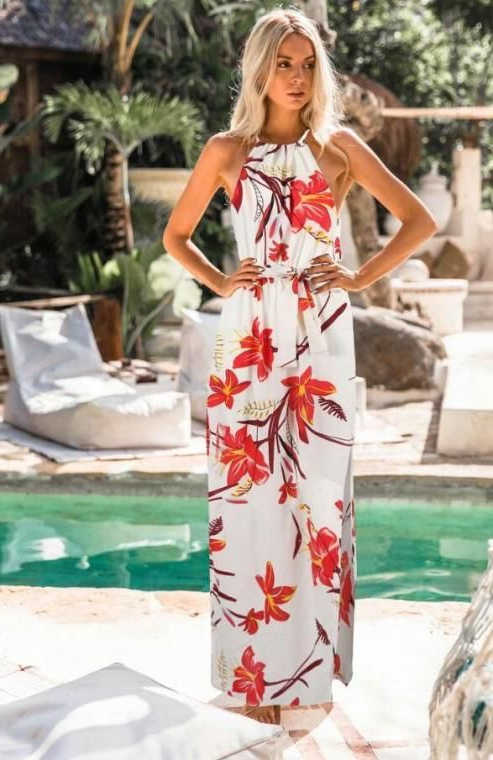 Floral Print Kimono Dress
If you feel relaxed and want to keep things simple, then go for this floral print kimono dress and layer it over your favorite lounge wear: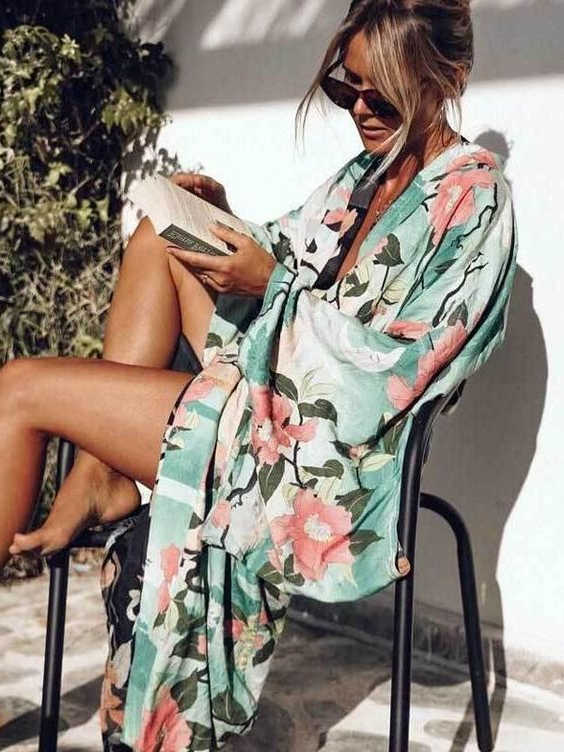 Floral Print Pencil Dress
Short-sleeve floral print knee-length pencil dress in maroon color looks feminine and ladylike, complete it with a black leather clutch bag and embroidered black heeled sandals: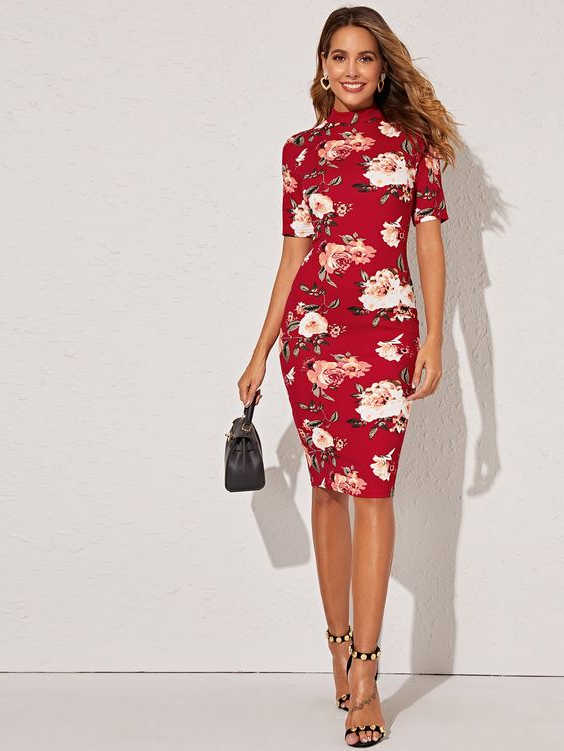 Floral Print Pleated Dress
A white sleeveless wrap dress with a knife-pleated maxi skirt looks amazing printed in blue florals: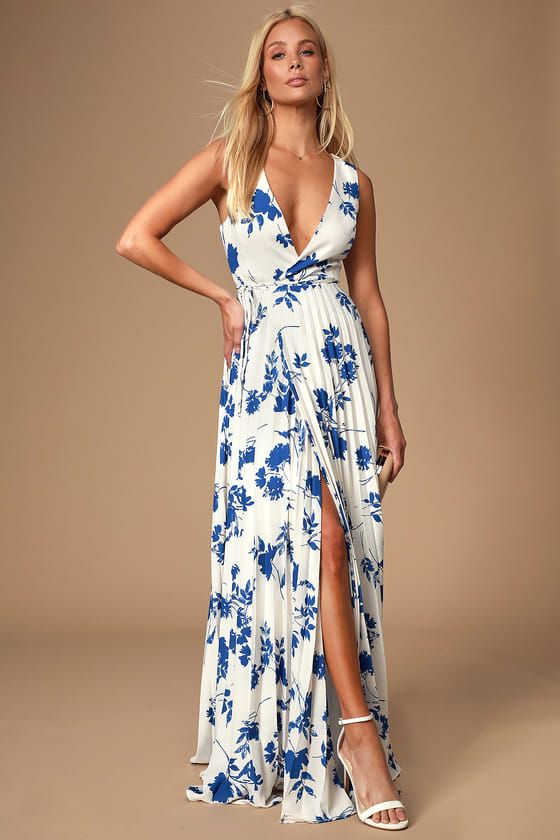 Tropical Floral Print Dress
Yes, I am a big fan of tropics. We see a spaghetti strap tropical floral print long dress with side slits. Update this look by adding drop earrings and clear heeled sandals: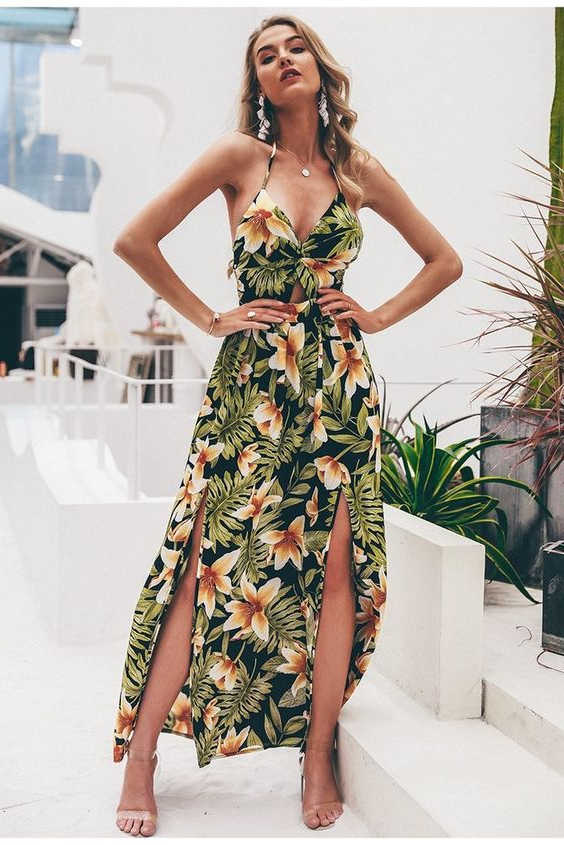 Floral Print Wrap Dress In Navy
A navy floral print wrap-dress with long sleeves looks amazing for young ladies. Try it on with ankle-strap heeled beige sandals: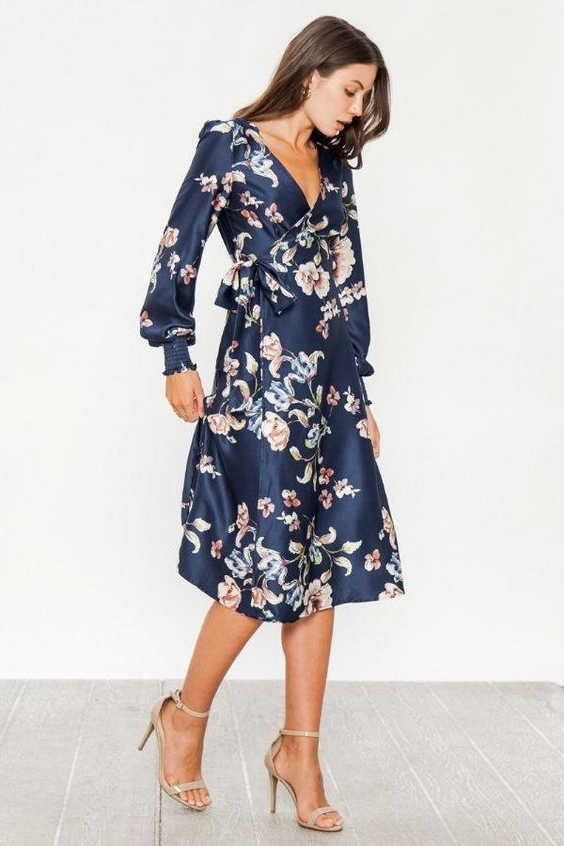 Off Shoulder Floral Print Maxi Dress
An off-shoulder maxi dress in floral print with a high-slit looks stunning with peep-toe heeled mules in cream-brown color, love the aviator sunglasses: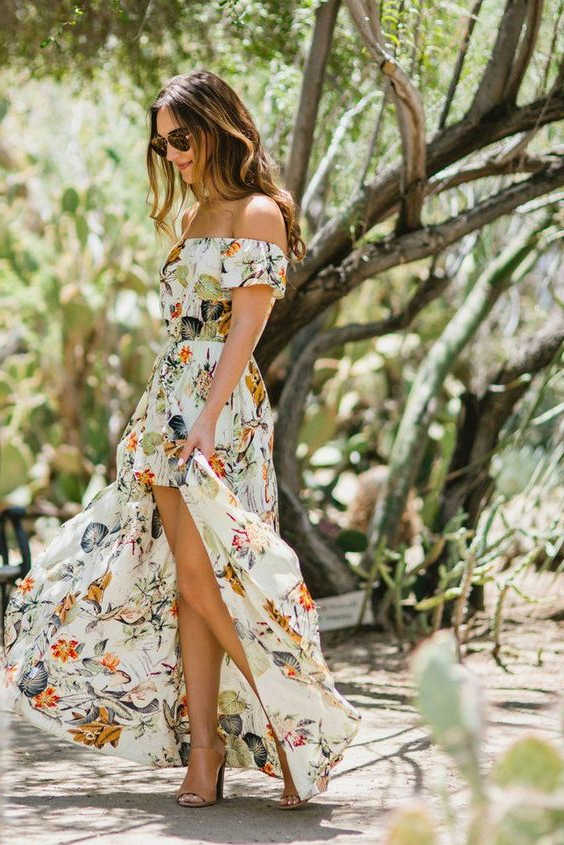 Pale Blue Floral Print Batwing Dress
A pastel blue floral print batwing dress with a belt in lightweight fabric looks sweet and feminine. Complete it with ankle-strap heeled sandals in blush color:
Red Floral Print Dress
An off-shoulder sleeveless red floral dress in slim-fit looks chic and feminine. Complete this mini design with heeled sandals: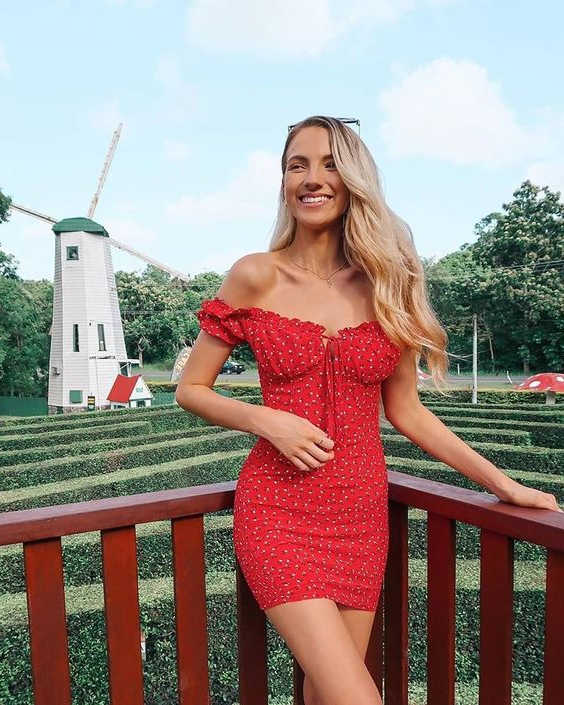 Source: TheKewlShop, Bewakoof