Today's topic is dedicated to my favorite scarf colors you can wear with camel coats. I am about to show you some of the best street style looks where ladies appear in fascinating outfits featuring stylish scarves and trendy camel coats.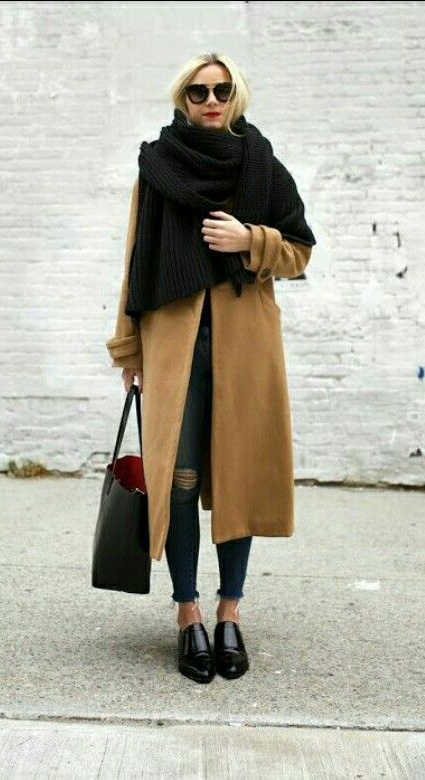 We see a bulky black scarf worn with a camel coat completed with blue skinny jeans and black loafer slides.
What Scarves Go With Camel Coats
Now, for most times we use to wear camel coats without scarves, but sometimes it can get windy, so you better know what kind of scarf will suit you best. Trust me, the scarf will underline your individuality, that's why you better check out these ideas and choose your favorites.
The camel coat on its own is a pretty trendy outerwear piece, but we see lots of women wearing it on the streets. So, how to make this coat stand out from the rest? Exactly, you need to accessorize it, so it looks unique. The easiest way to do so is by adding a scarf.
Trust me, even a black or a grey scarf can easily make you stand out from the crowd. Just make sure to follow these tips and ideas.
Black Scarf
A classic black scarf made of wool is worn with a camel coat and a black-white striped top teamed with black skinny jeans and camel suede ankle boots: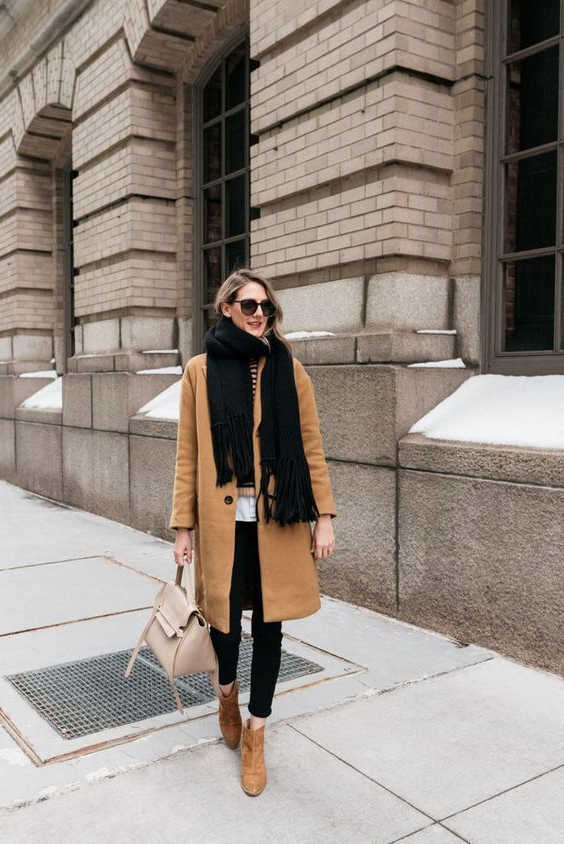 Camel Scarf
Keep it monochrome! Go for a camel coat and style it with a camel scarf. Update this look by adding a black sweater, grey jeans and snakeskin print boots: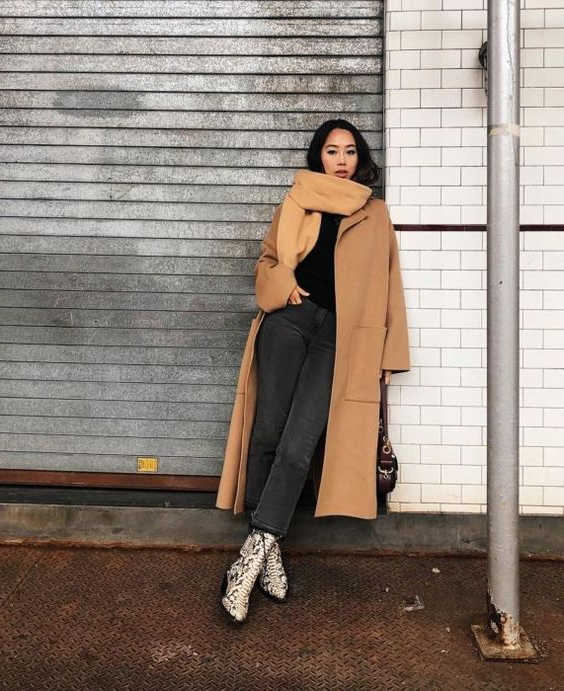 Dark Beige Scarf
A dark beige scarf will ideally complement this camel coat completed with regular jeans in blue completed with white sneakers: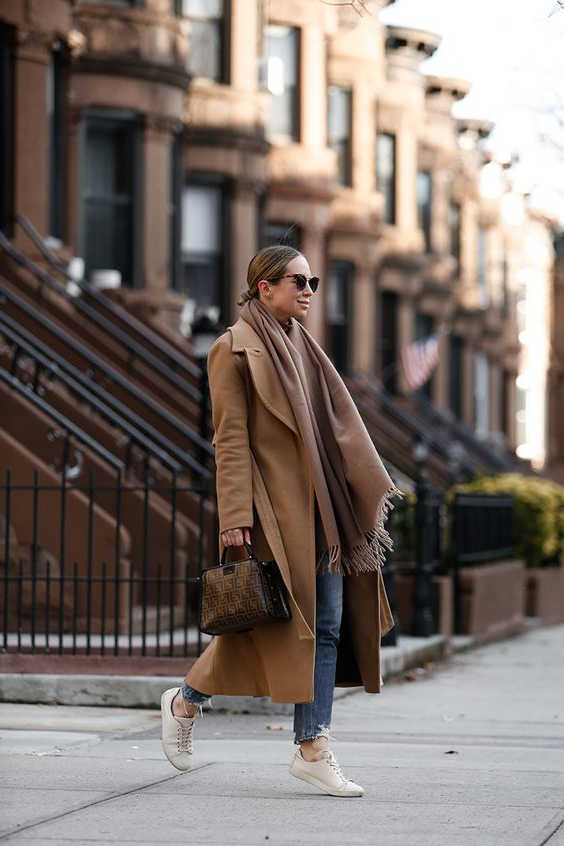 Green Scarf
A dark green scarf ideally matches this camel coat worn atop white sweater paired with dark blue slim jeans and patent brown leather ankle boots: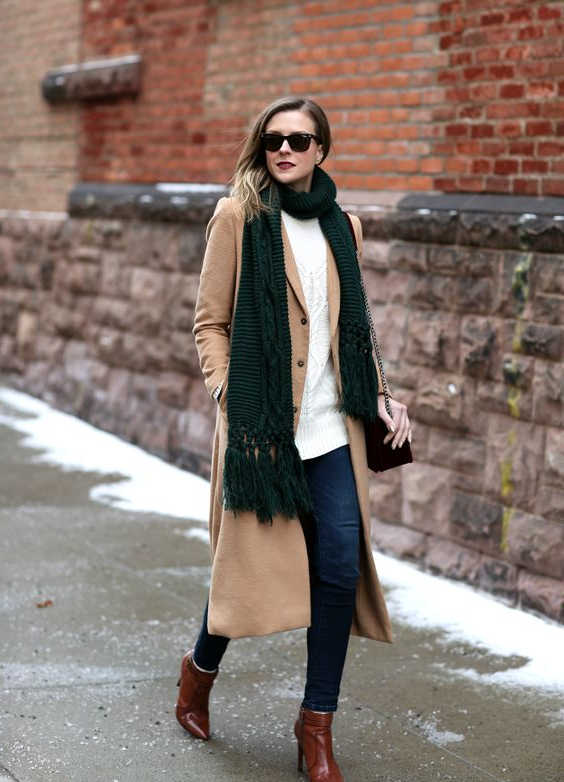 Grey Scarf
We see a grey knitted pom pom beanie worn with a grey scarf, tailored camel coat, and black skinnies. You are free to update this outfit with a pair of aviator sunglasses: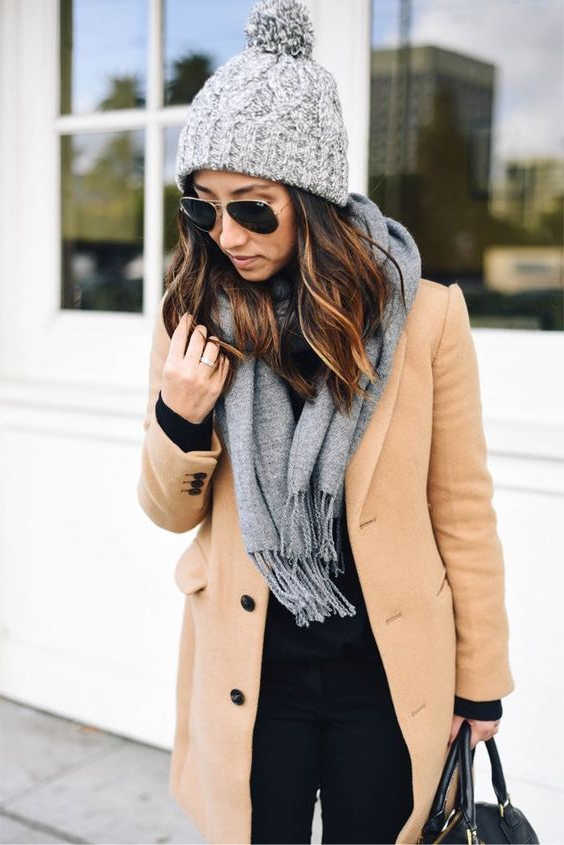 An oversized grey scarf looks fantastic paired with this tailored camel coat, black skinny jeans, and white sneakers. By the way, check out my favorite ways how to wear black jeans with white sneakers, I have some cool ideas that are easy to copy in real life: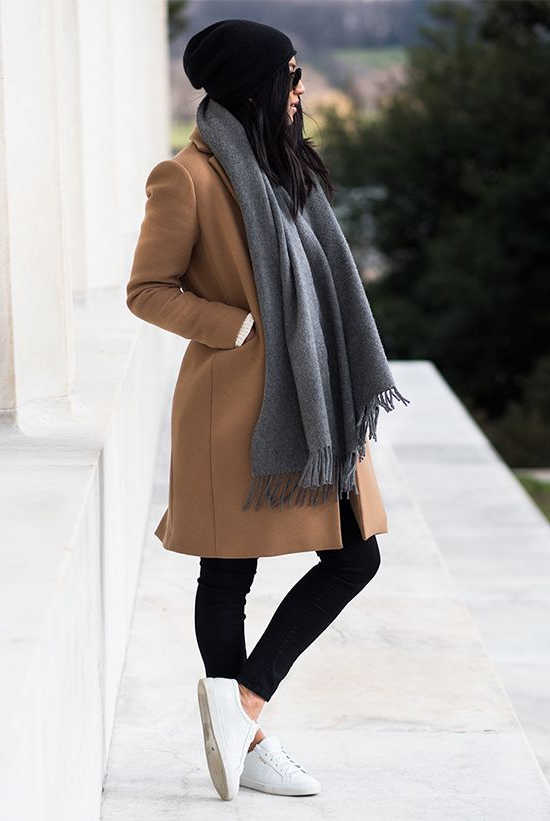 Pastel Scarf
A pastel blue scarf will create a fabulous update to this camel coat completed with blue slim jeans and brown suede loafers. Complete this smart-casual combo by adding tortoise sunglasses and a cream brown leather shoulder bag: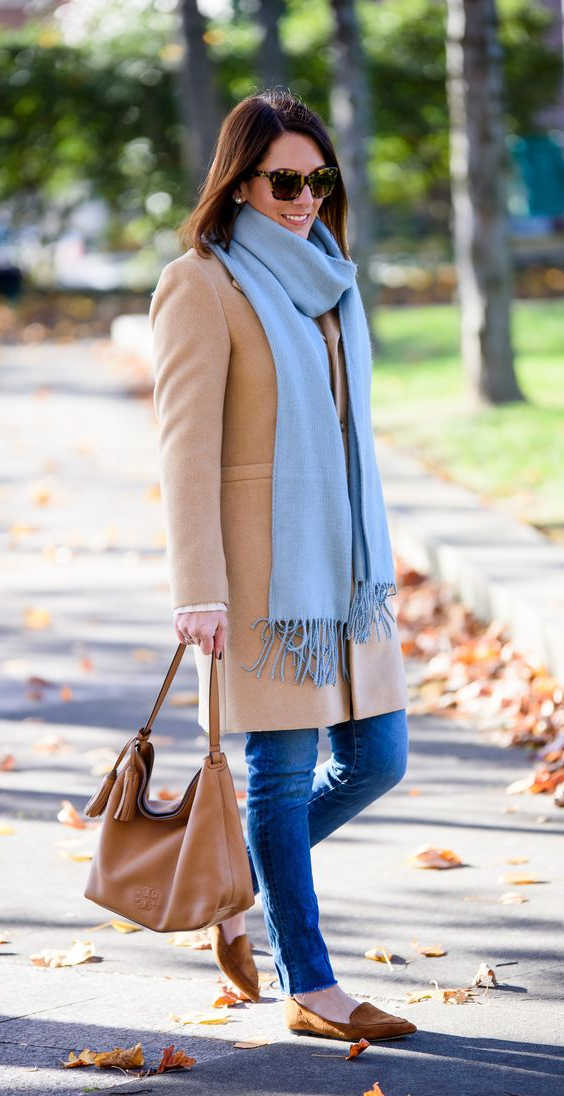 Printed Scarf
A printed red scarf ideally matches this tailored camel coat worn with smart-casual basics, like a black top, white skinny jeans and blue low-heel pumps: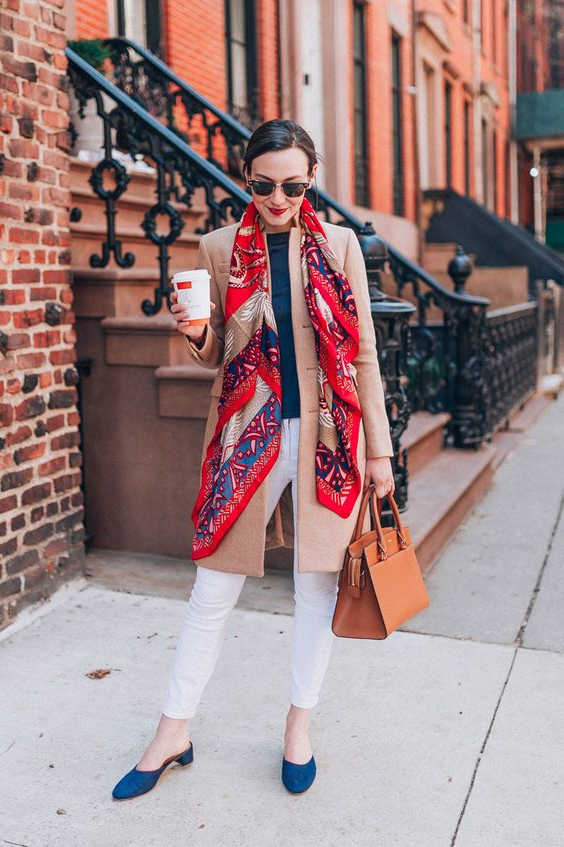 A silken printed neck scarf is worn with a camel coat draped over a beige sweater tucked in black tailored pants updated with nude heels, love these retro sunglasses: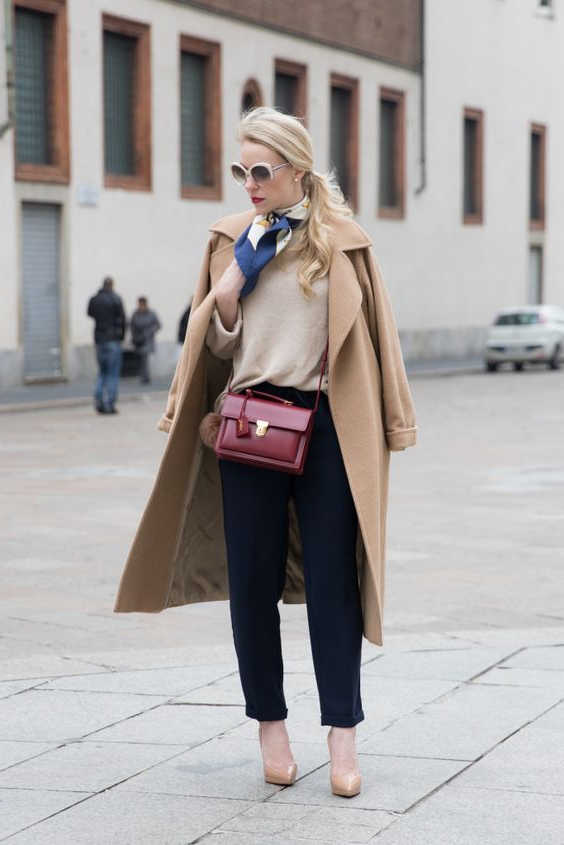 A multicolored blue silk scarf is worn with a camel coat, bright blue turtleneck, and black leather mini skirt. Complete this French chic inspired combo by adding a bright blue beret hat, tights, and black booties: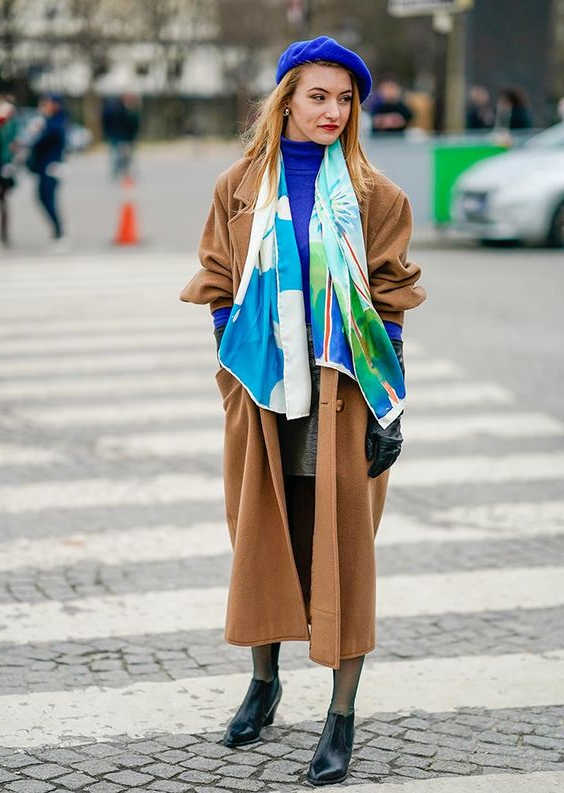 Leopard Print Scarf
A leopard print scarf ideally fits this belted oversized camel coat completed with black skinny jeans and leopard print heeled pumps: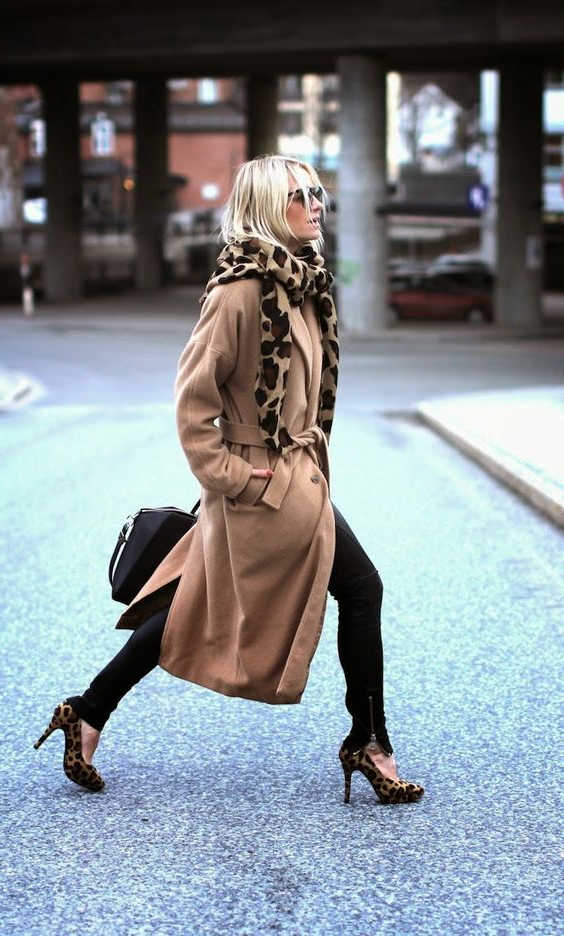 Plaid Scarf
A plaid scarf can be a perfect match to wear with classic outerwear. Style it with a camel coat, turtleneck cable-knit sweater in red completed with black skinnies tucked in suede ankle boots: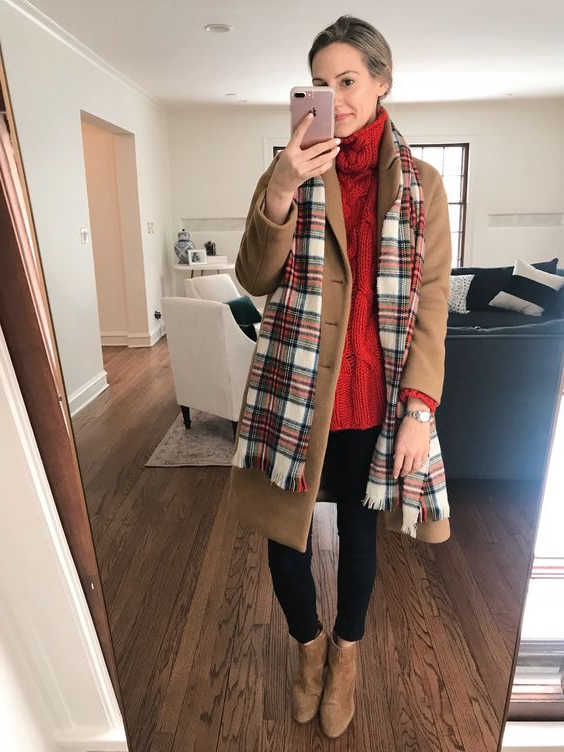 Prince of Wales scarf is worn with a tailored camel coat updated with a white sweater and blue skinny jeans. Complete this combo with a pair of white sneakers: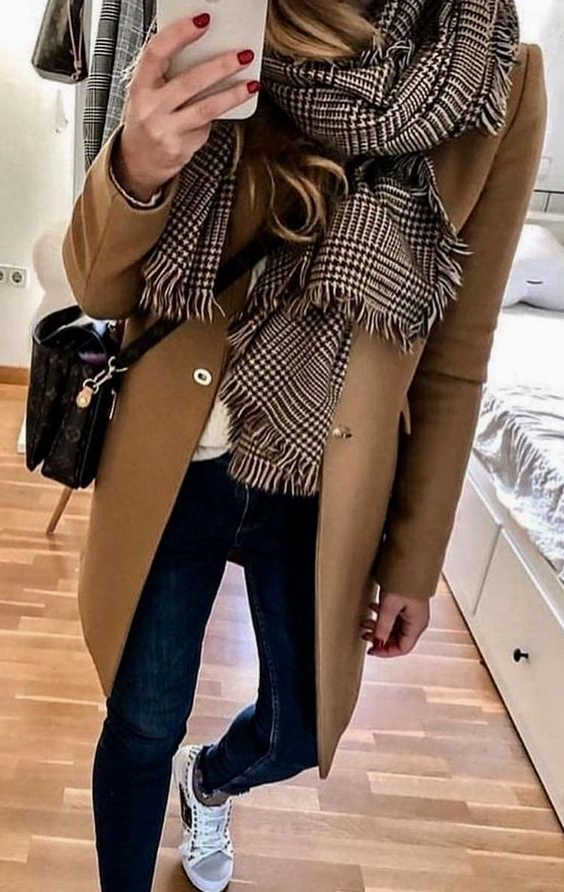 Windowpane Scarf
A black-white windowpane scarf looks fresh and individual with this camel coat, black sweater and black leggings tucked in OTK boots in black suede: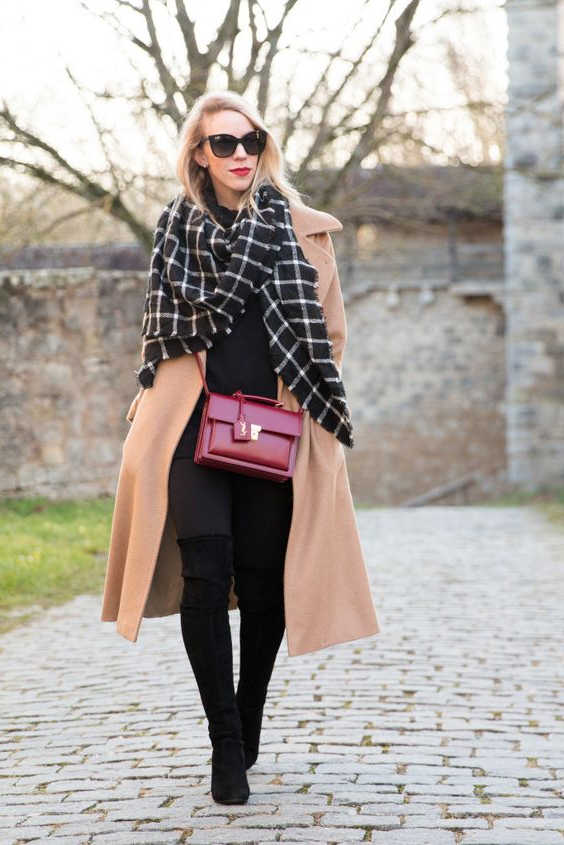 Despite their annual appearance on fall / winter runways, there are some fabulous silhouette offerings to try this year if you are looking for something different from the classic structured or tailored cuts. With the rise of the athleisure trend, more comfy and easygoing shapes have been wonderfully expressed in coat layering: oversize or boyfriend, waterfall and robe style coats are at the top of our wish list.  Camel coats are flooding the streets this fall / winter, offering lots of stylish ideas to incorporate into your lookbook. Hope these street style outfits with camel coat and cool scarves can inspire you.
Source: Bedazelive