Love them or hate them, but we are here to know how to wear a sheer white top. But wearing one in the heat of the day is no easy feat – how to maintain your modesty while staying cool? Here are our suggestions for how to wear semi-sheer white blouses this summer! A crisp white blouse is a fashion classic and shouldn't be left at home this summer. But with hot temperatures and showing just a bit too much in the wrong light, how do you tackle this summer's hottest trend?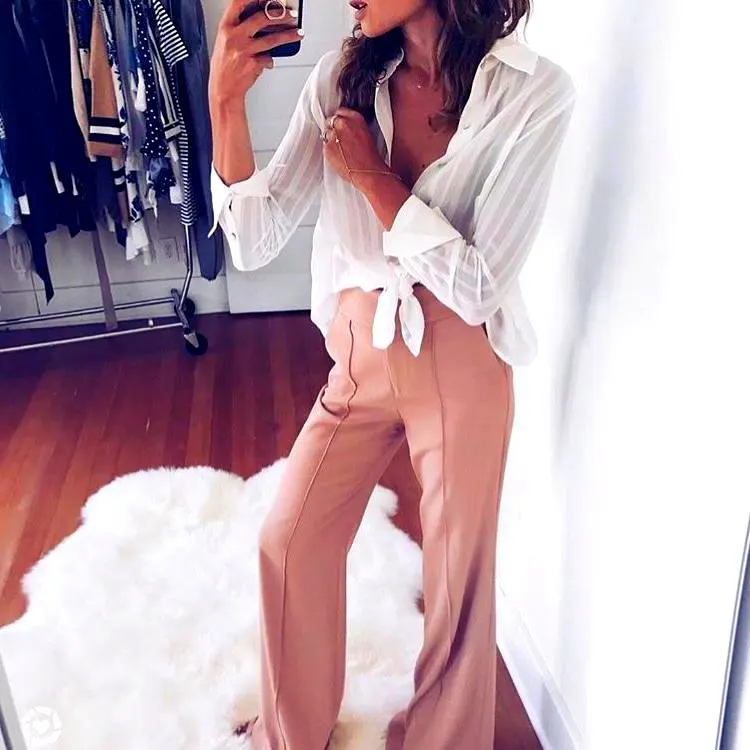 Buy Similar Here
We see a semi-sheer white blouse tucked in these loose-fit pleated pants.
How To Wear A Sheer White Top
We've got the perfect solution with the right combination of clothing pieces and accessories to wear semi-sheer white top this summer! You'll be able to stay covered while staying cool at the same time!
If you're going to rock a white top this season, it might as well be sheer. It's exciting, fresh, and flatters all different body shapes. We've got all the top tips for how to wear a semi-sheer white top this summer!
Anyway, answering this question, I have a question for you, are you ready to reveal your inner fashionista? If yes, then don't question me about it, just do it!
With Denim Shorts
A peasant white blouse is tucked in denim shorts, a perfect summer look: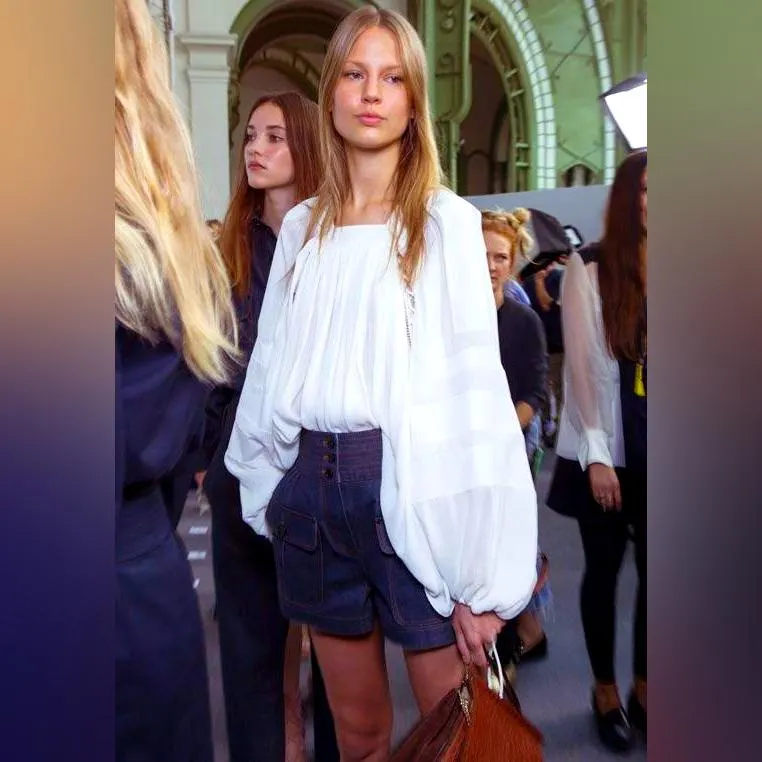 Buy Similar Here
With Black Skort And Thigh High Boots
A sexy long-sleeve white blouse is tucked in black skort completed with sexy OTK boots: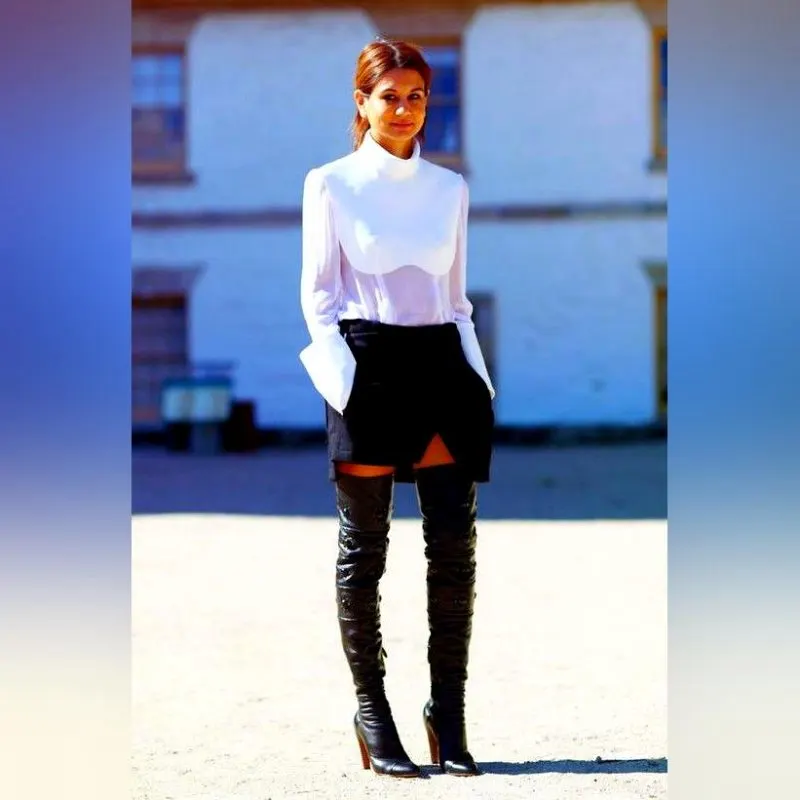 Buy Similar Here
With Ripped Jeans
A sexy floral semi-sheer white blouse is paired with ripped skinny jeans: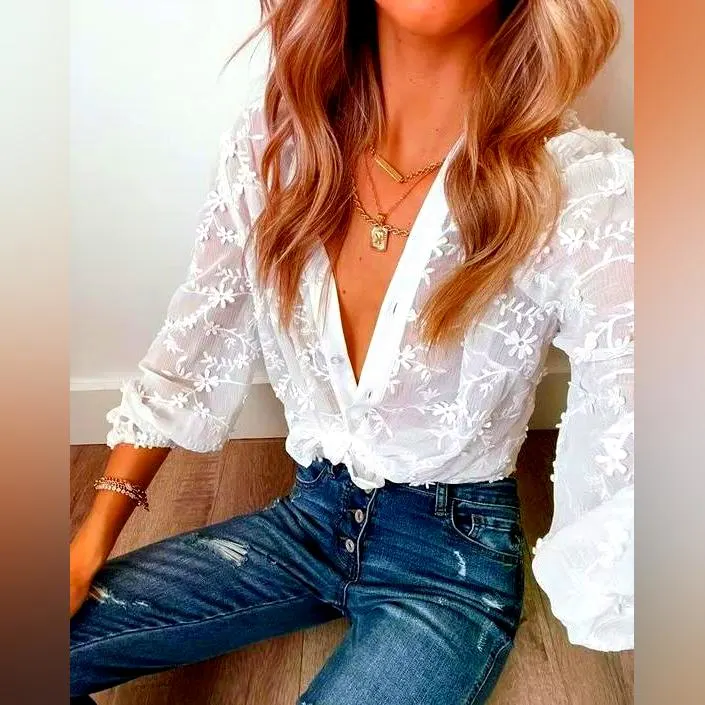 Buy Similar Here
With Black Skinnies
Go for a black lace bra-top and style it with a sheer white blouse tucked in black skinny pants: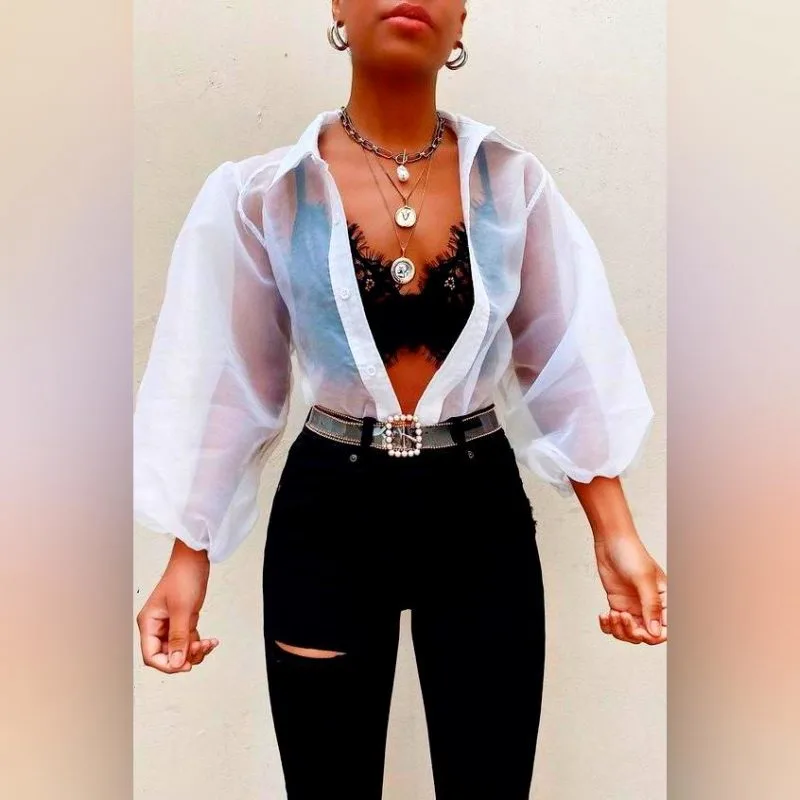 Buy Similar Here
With Black Mini Skirt
Sheer white blouse with a black bra and a black leather mini skirt: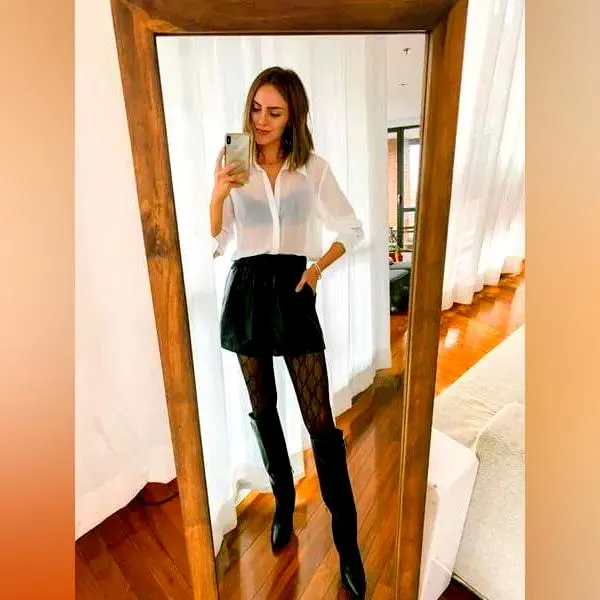 Buy Similar Here
How Not To Show Your Skin Under White Blouse
The key to pulling off semi-sheer white tops is playing around with how you style them. Check out these tips for dressing when it's hot outside and you're rocking that semi-sheer look:
-Wear a camisole underneath. Camisoles are a great way to provide coverage without looking tacked on or bulky. They're available at any price point, from well-known stores down the street like Target and H&M to high-end boutiques, and come in solid color designs.
– Wear them under an office dress or over a loose-fitting tank top to help keep you cool in air-conditioned offices.
– Wear with a cute bolero or vest. (Look for one that is lined and will help keep you cool). For an added layer, pair it with a denim jacket.
– Wear over a simple tank top in the morning for a show-stopping look. Or pair with racerback tank tops for a cool casual look!
-The boot-cut pants are a great casual item to wear throughout the year. They're simple and stylish. You can wear them with almost any outfit and they will still look good. They're also comfortable, which helps you feel relaxed while you're out on the town or running errands.
-It can be worn with a pair of jeans or leggings and a great pair of heels to give you a nice sense of comfort. The beautiful button trim adds an elegant touch to this outfit without sacrificing the comfort level at all! Pair with skinny jeans, leggings, or shorts, and tuck in a blouse to help stay modest throughout the day.
– Wear with a statement necklace.
Long sleeve white blouse looks stunning with black garments and some black accessories, like this neckscarf: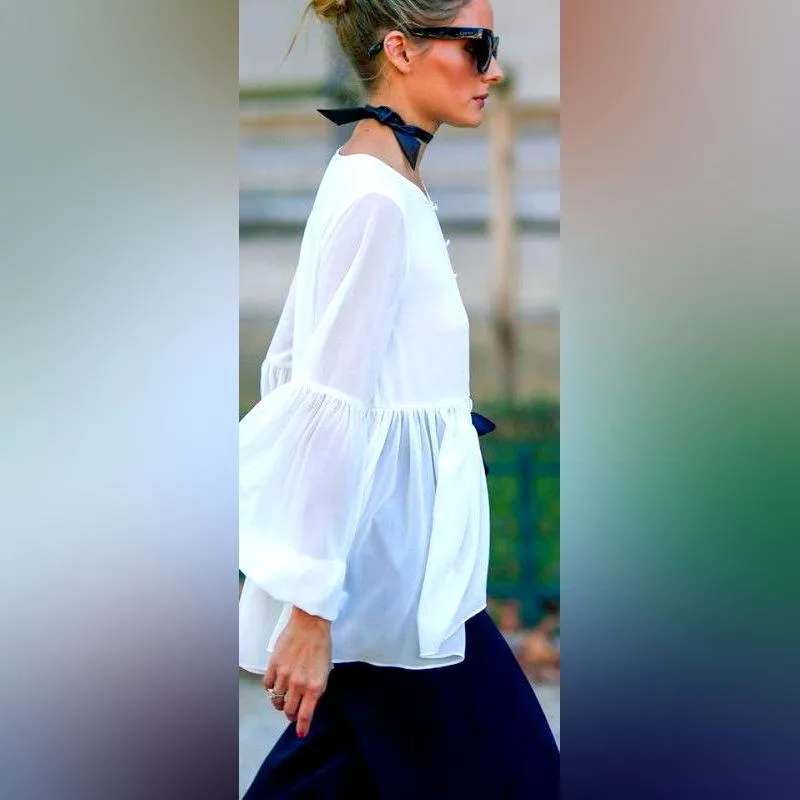 Buy Similar Here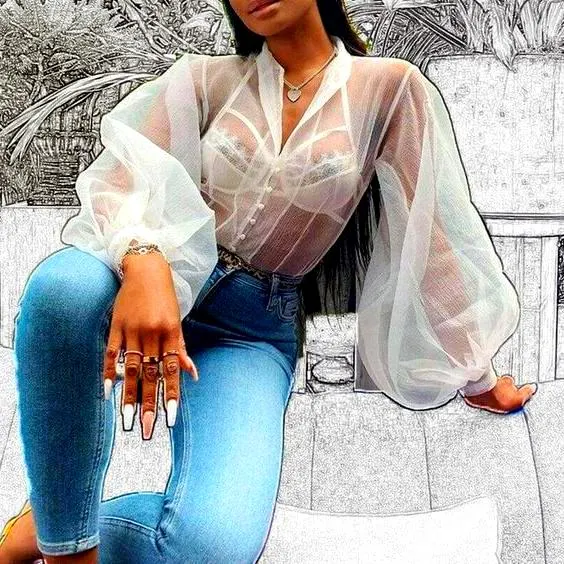 Buy Similar Here
With Black Cropped Skinnies
A white long sleeve blouse can also be worn with a black bra-top and black skinny jeans:
Buy Similar Here
With White Shorts
The white lace blouse looks pretty chic with a pair of white linen shorts: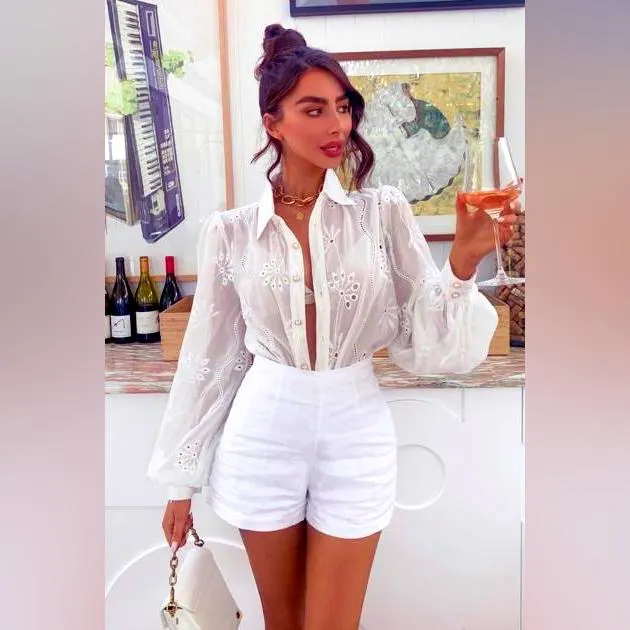 Buy Similar Here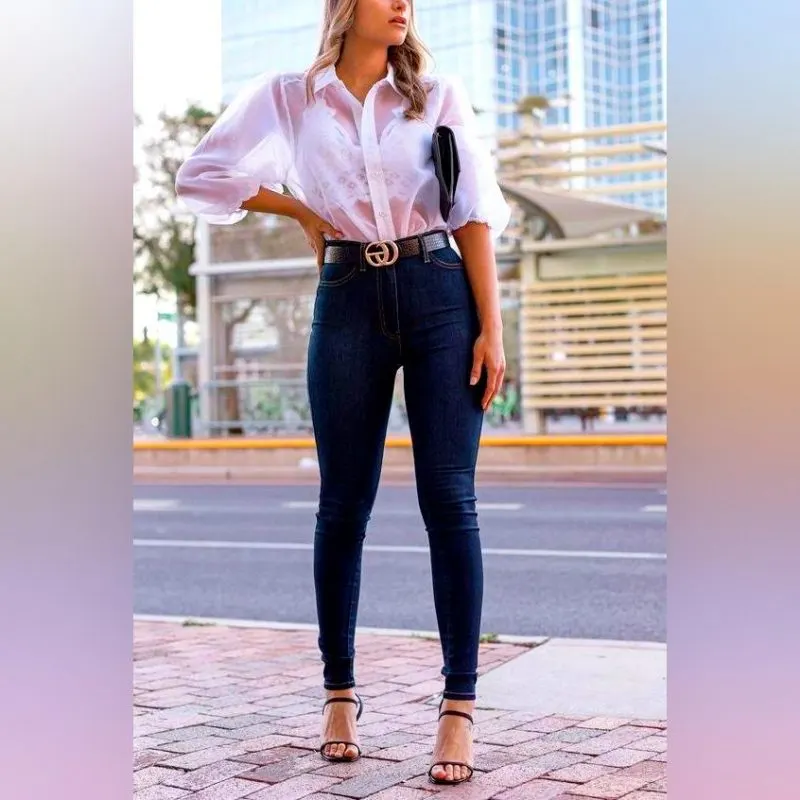 Buy Similar Here
Keep it safe with a white silk blouse, just tuck it inside pleated midi skirt in white color and you will create a fabulous all-white look: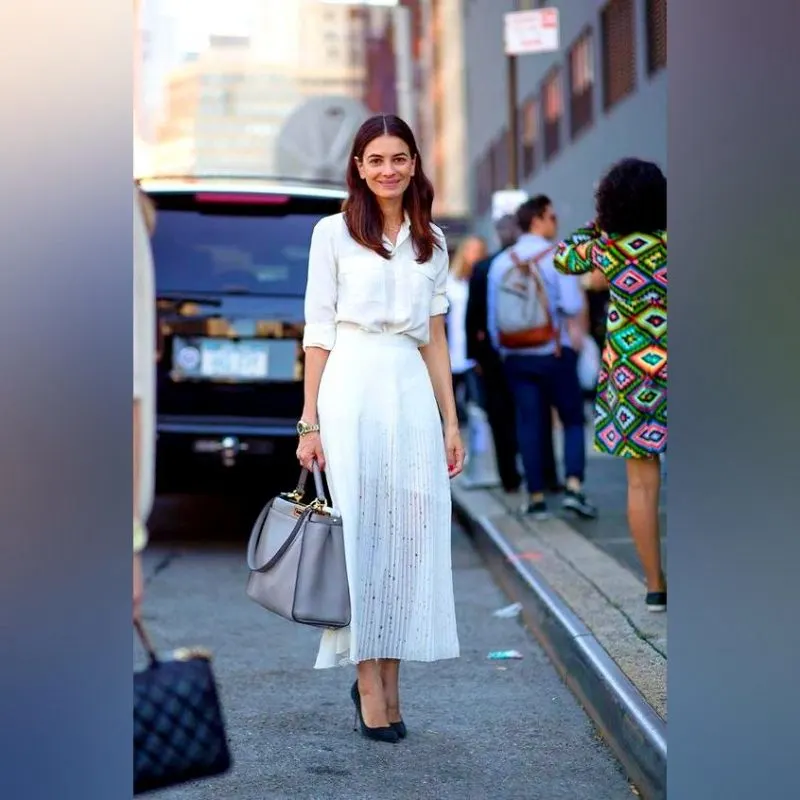 Buy Similar Here
With Orange Skirt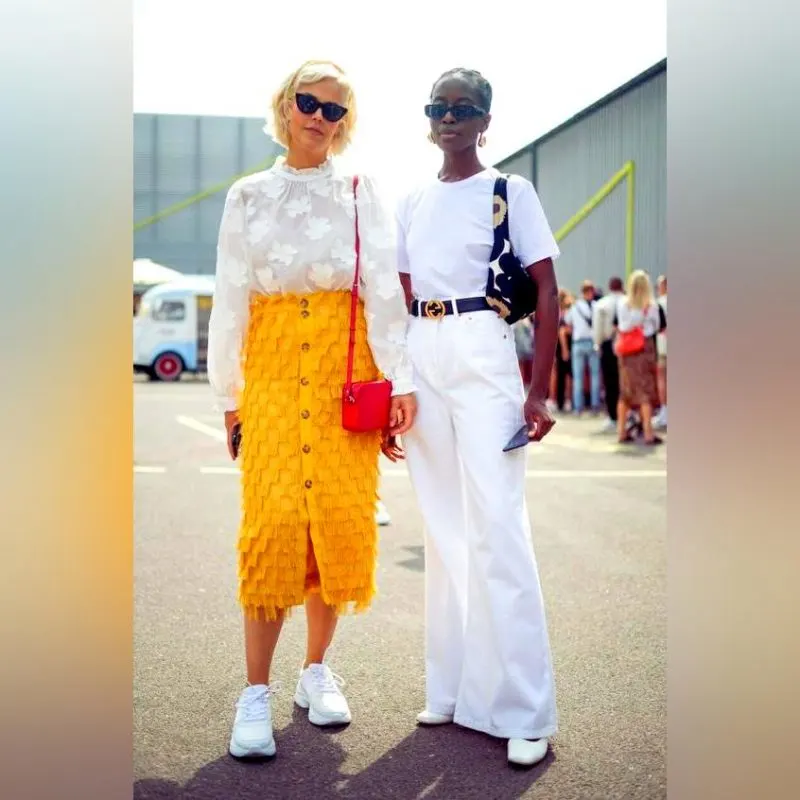 Buy Similar Here
With Floral Pants
Look for more floral pants outfit ideas, I am pretty sure you gonna find your favorite look!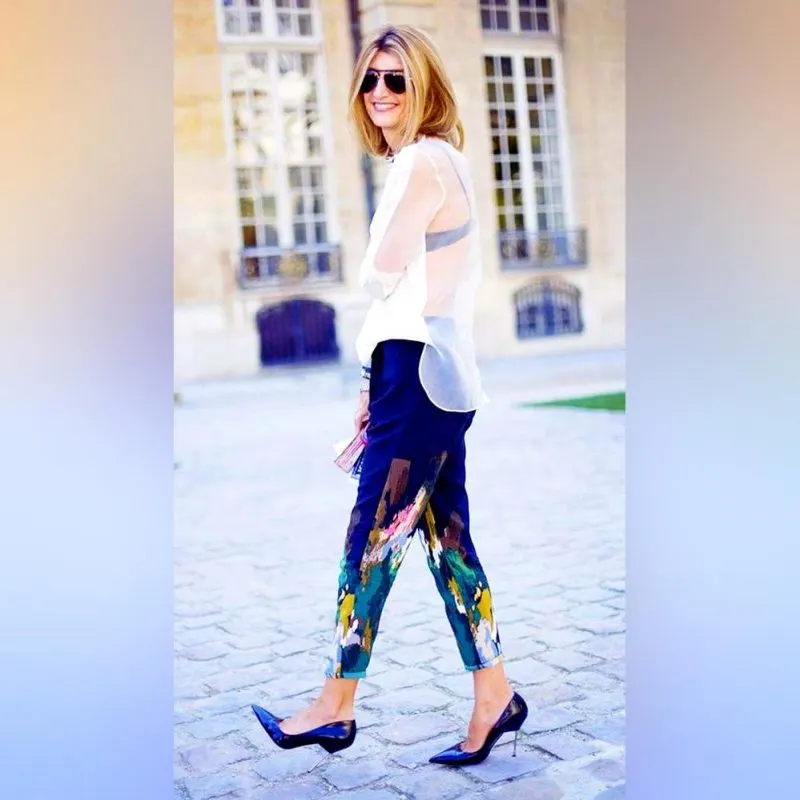 Buy Similar Here
With Black Leather Pants
A white peasant blouse looks just perfect with black leather pants: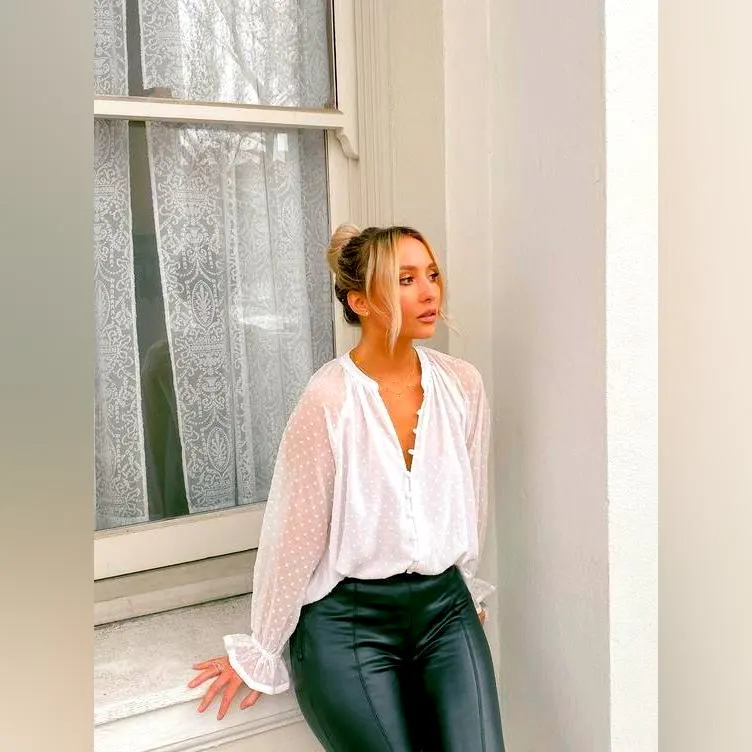 Buy Similar Here
All White Look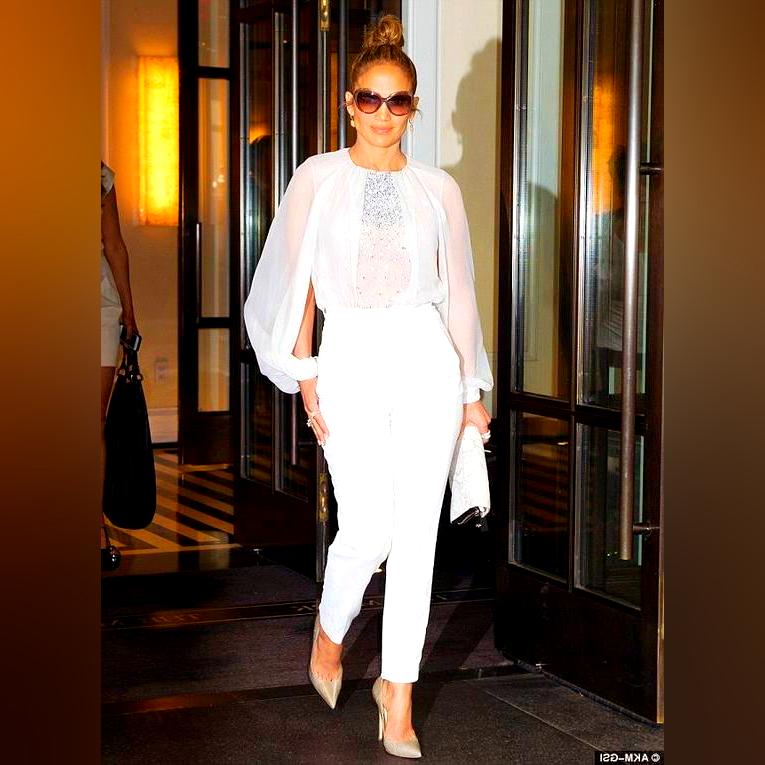 Buy Similar Here
With Wrap Midi Skirt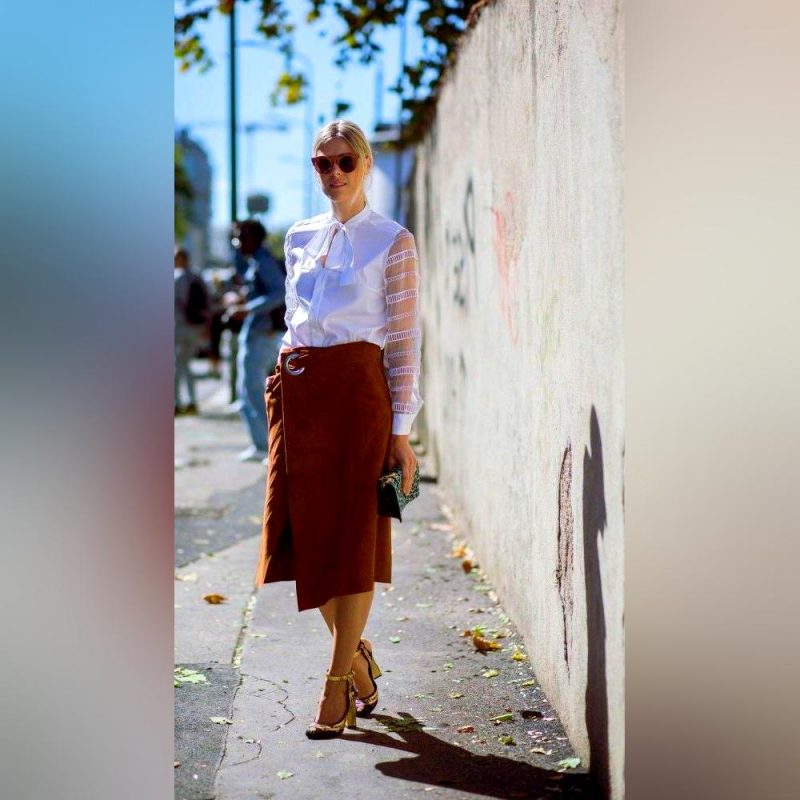 Buy Similar Here
Conclusion
While wearing semi-sheer top, it's super important to remember to use your head and stay covered up! Too much skin and you could become the object of sexual attention. Sometimes dressing up can be tough, but you don't have to go overboard with the clothes you wear. All you need is a nice semi-sheer white blouse and beautiful bottoms to keep it safe, chic, and comfortable. Whether you are going for a casual look or an elegant one, this combination of clothes will help make your appearance something to be envied. Choose a semi-sheer blouse and pants with the color of your choice and have fun wearing them!