Today's blog post is dedicated to brown pants outfit ideas and what to wear them with this year. Why do women choose exactly this type of pants? Brown color gives your outfit a perfect dose of versatility and practicality. That's why I want to show you some easy tips and tricks on how to wear brown pants in real life.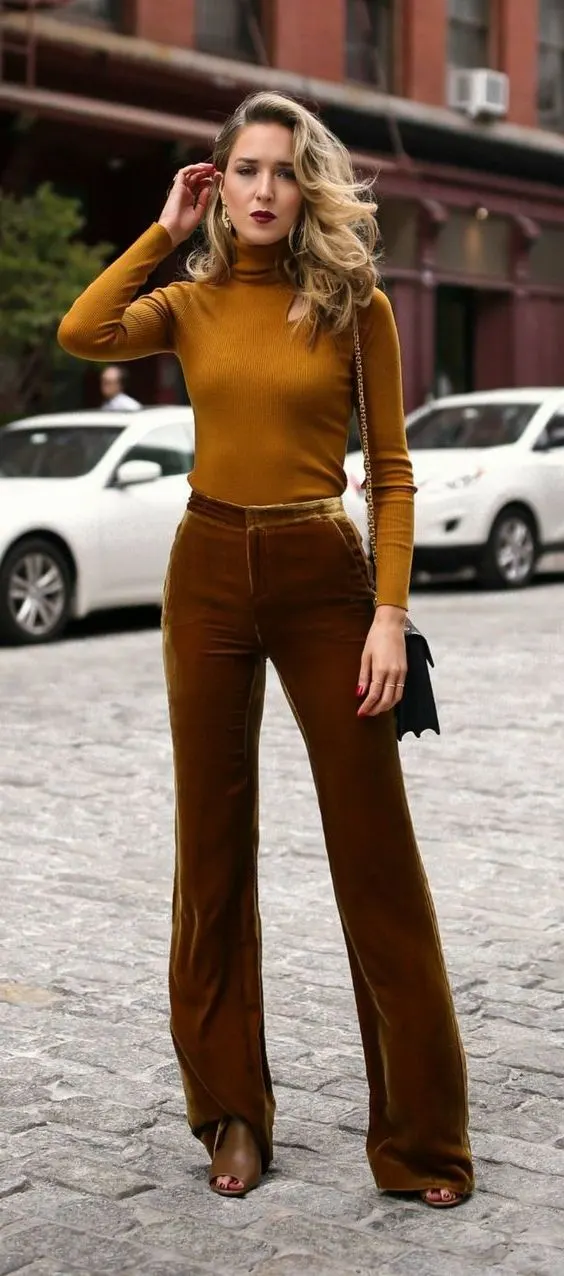 Buy Similar Here
Brown Pants Outfit Ideas
The good news about these pants is that they are here to stay in fashion for a long time. This color can be easily combined with lots of trendy tops. Plus, you can wear them to the business meetings, during office hours, as well as to romantic dating and casual street walks.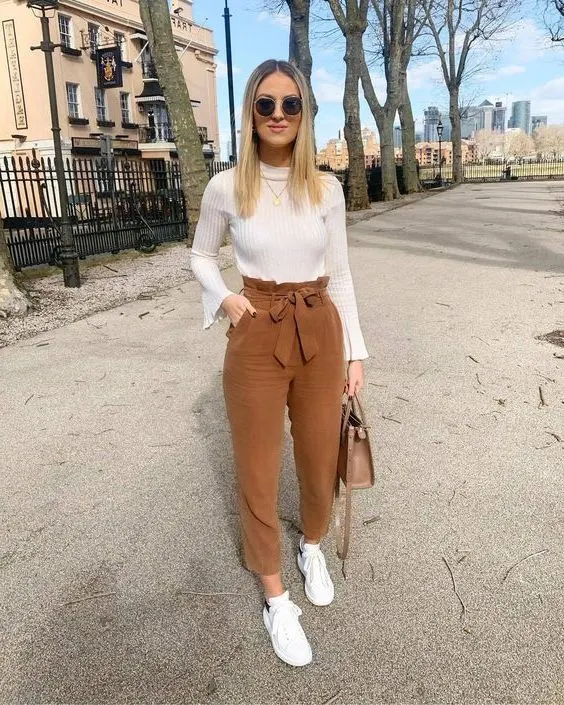 Buy Similar Here
If you have a model-look body, then you are free to wear any style you want, but petite ladies should choose the style wisely. I mean, avoid baggy brown trousers, as they will visually shorten your legs. Curvy ladies should pay attention to the color. Go for dark shades of brown, which will hide the big shape, or you can go for light brown pants and style them with a long tunic. I definitely recommend for curvy women choose these pants with no embroidery or prints.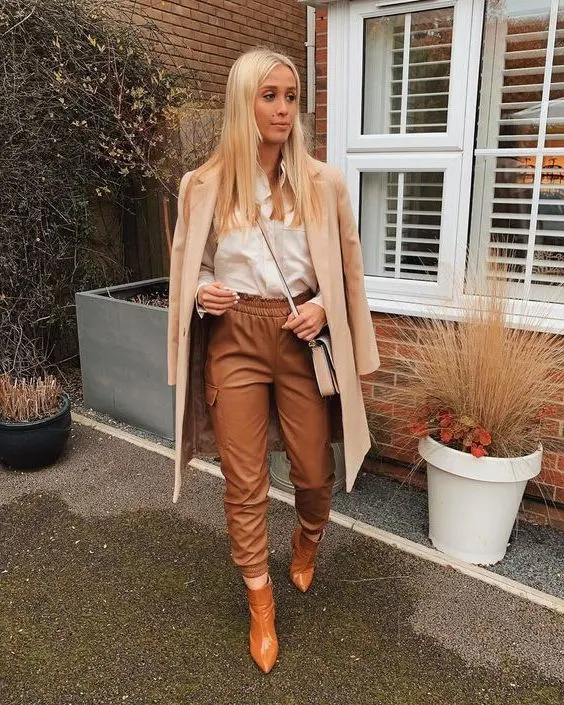 Buy Similar Here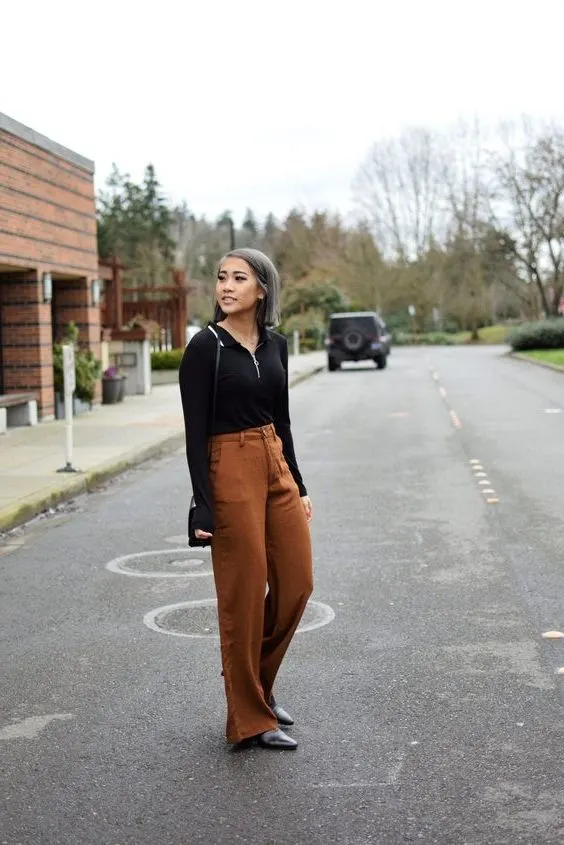 Buy Similar Here
Don't forget that the brown color has different shades, which may differ significantly from each other. That's why for the summer season I recommend choosing pants in lighter shades of brown, but for winter and autumn, you better go for dark ones.
When creating a harmonious outfit with these pants, then lots of things will depend on what kind of tops you are about to combine with your bottoms. That's why I will show you some easy tips and tricks on how to choose an appropriate top to wear with these pants.
White top
This might be one of my favorite choices, this is a classic combination. The result can work for various occasions. The white makes the whole outfit look more elegant and dressy. Go for a white classic shirt or blouse and pair it with brown straight trousers, either with flared, or skinnies. Complete this look by adding a bright accessory, like a leopard-print purse or a printed scarf (the print should also include brown hue).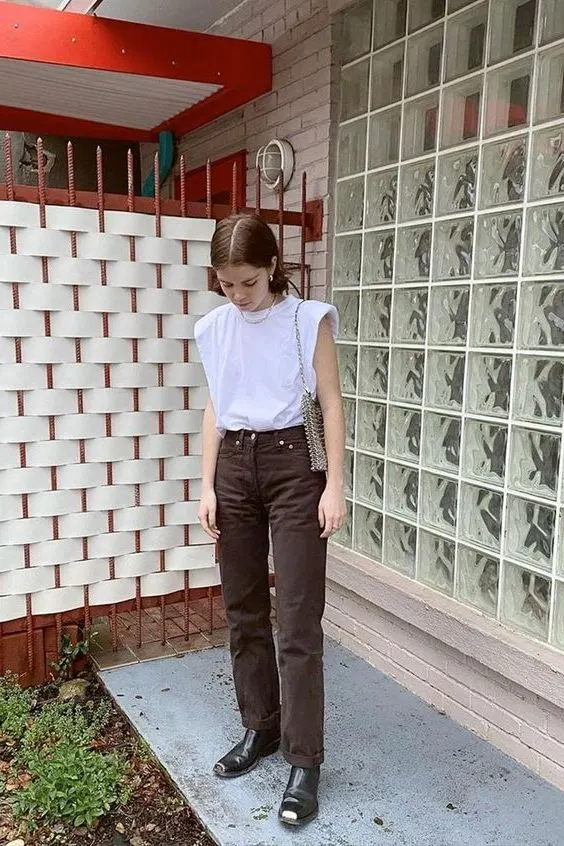 Buy Similar Here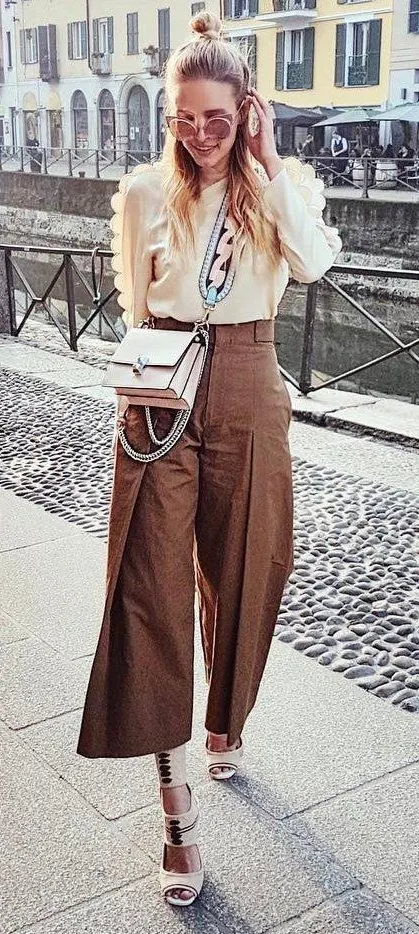 Buy Similar Here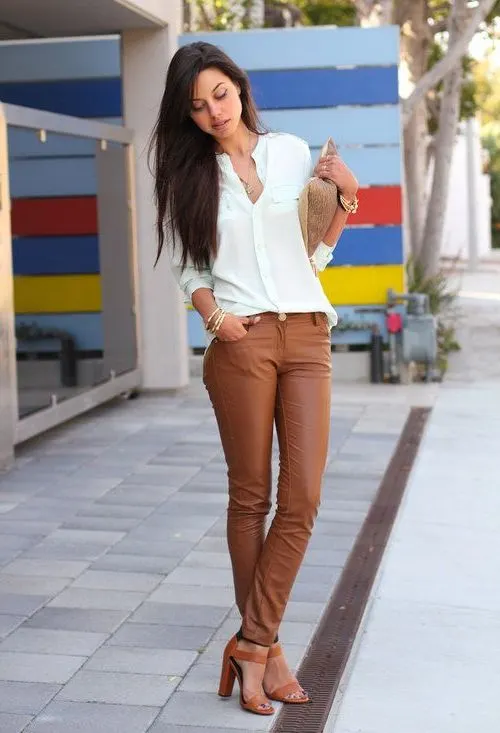 Buy Similar Here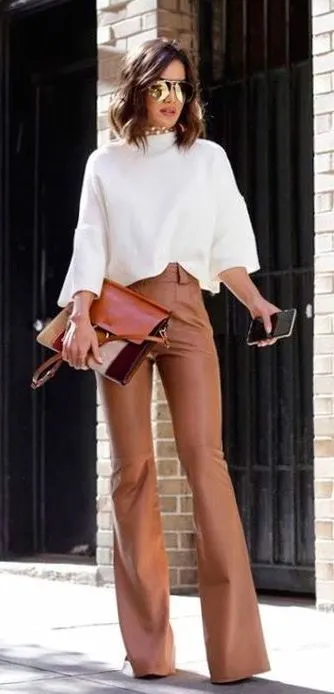 Buy Similar Here
Black top
Another option for those who are into classics is a combo of a black top and brown pants. You can either go for a black turtleneck, blouse, t-shirt or jacket. If you feel like your outfit looks boring, then you can add some bright items, like a white bag and whit pumps, or red shoes and a matching color purse.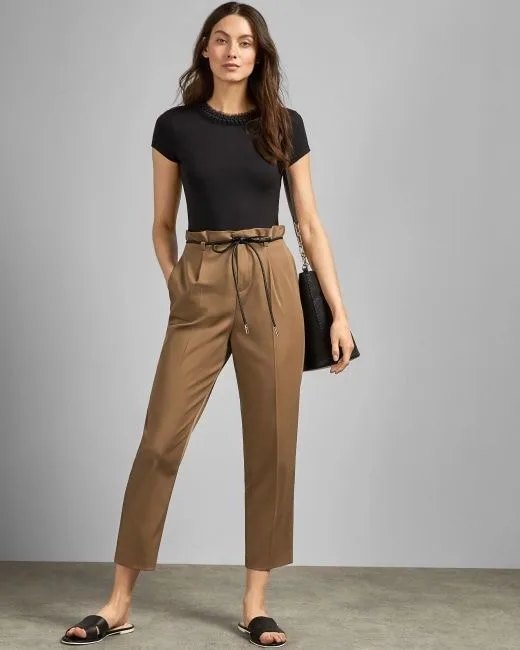 Buy Similar Here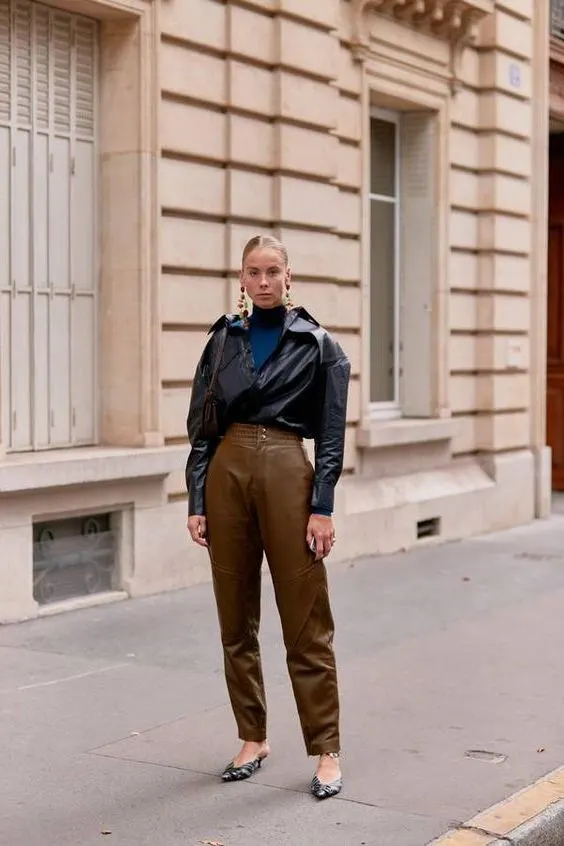 Buy Similar Here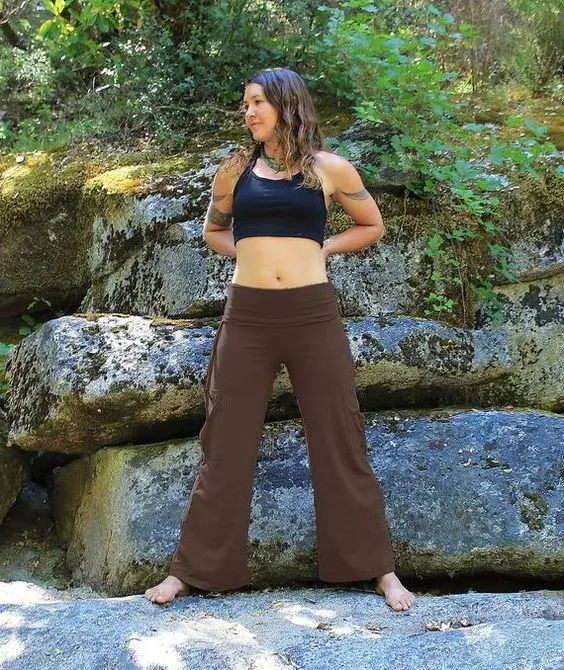 Buy Similar Here
Black-White top
This is a fresh idea for those who like experiments. It can be either a black-white printed top or a white shirt with a black blazer, either vice versa. The result looks pretty chic. This is the simplest option to update your style. I personally keep things fun by teaming brown pants with a black-white polka dot blouse. Such a combo should feature footwear in black, white, brown, or beige color.
Buy Similar Here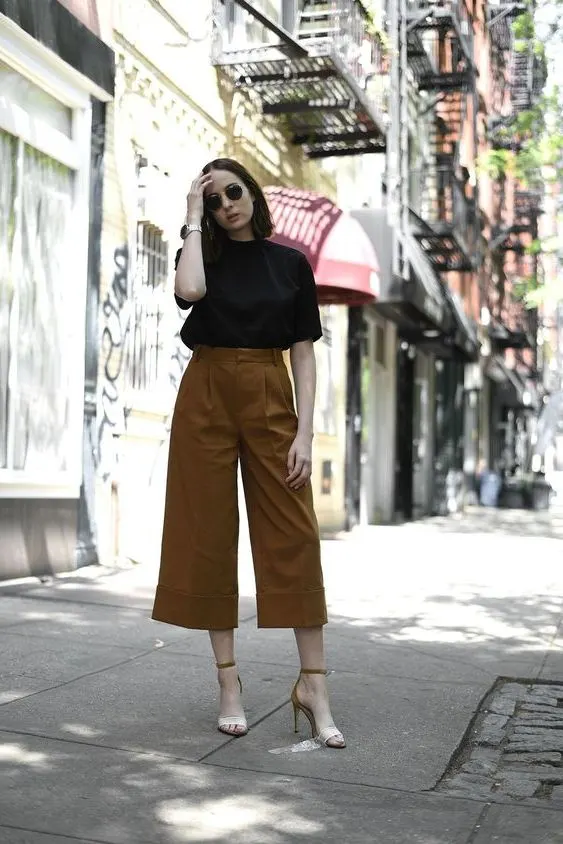 Buy Similar Here
Grey top
The combination of brown and grey is a good combo for office hours and business meetings. Plus, this pairing is pretty versatile and can work for dressy events, just make sure to choose the right shades, so each piece compliments each other.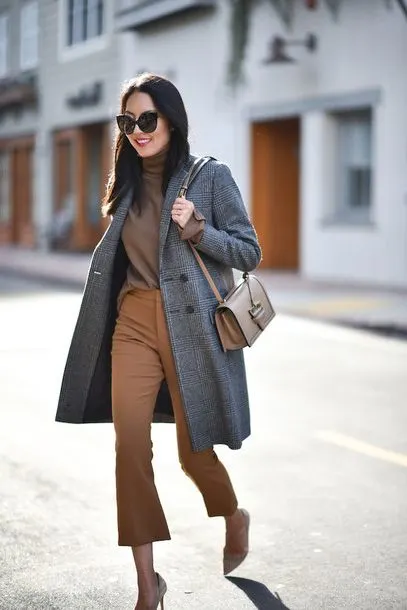 Buy Similar Here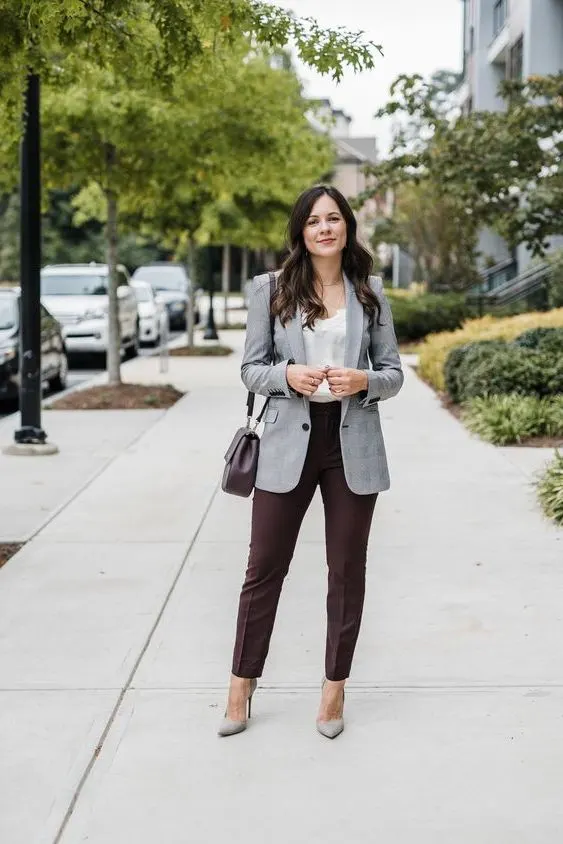 Buy Similar Here
Blue Top
What else should we wear brown trousers or jeans with? With a denim top! Different models of denim shirts are a great option for all occasions and with our trousers, this thing is combined perfectly. Of course, this is more of an everyday free image, it is not quite suitable for work.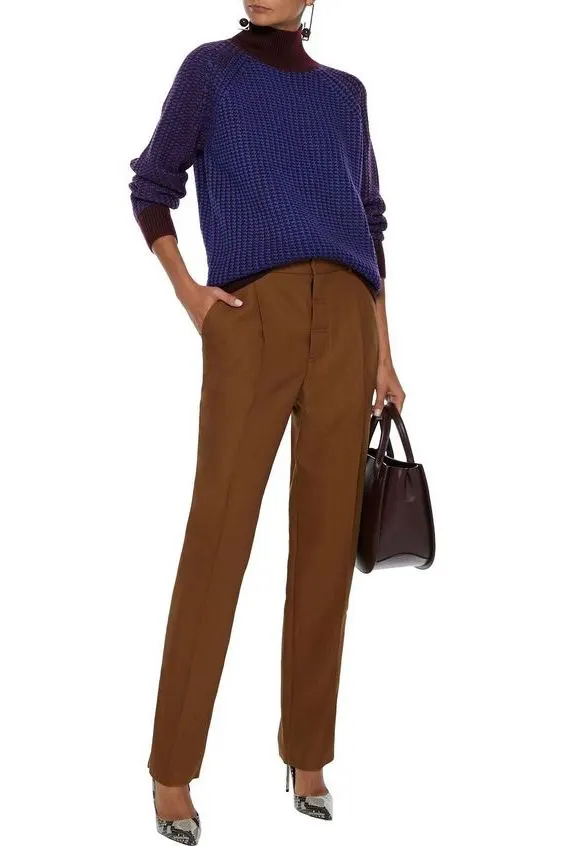 Buy Similar Here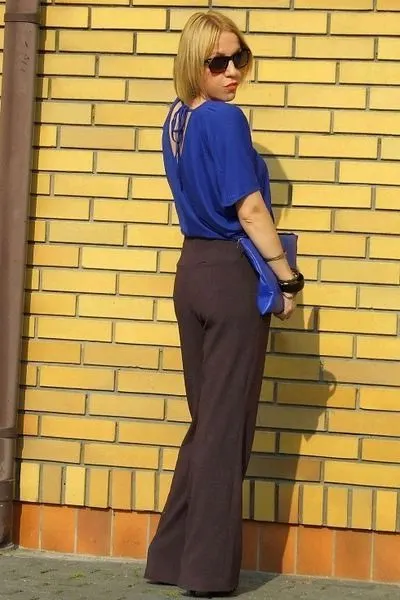 Buy Similar Here
Different shades of blue will also allow you to create an interesting, attention-grabbing outfit. The combination with blue for brown is complimentary (contrasting), which means that both colors will look bright and enhance each other.
Brown (Beige) Top
The monochrome version (when clothes of the same color are combined with each other) look advantageous and stylish. The shade of the pants and top may completely match and then you can add some accent to dilute the monotony, for example, a golden belt or a stylish necklace of the same color, a purse with a brown print. A beige blouse or t-shirt will also look great with brown pants.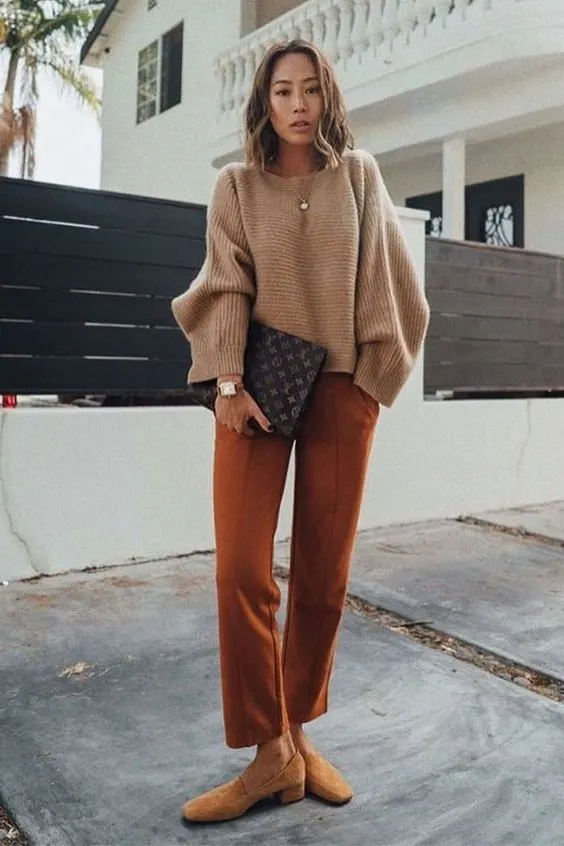 Buy Similar Here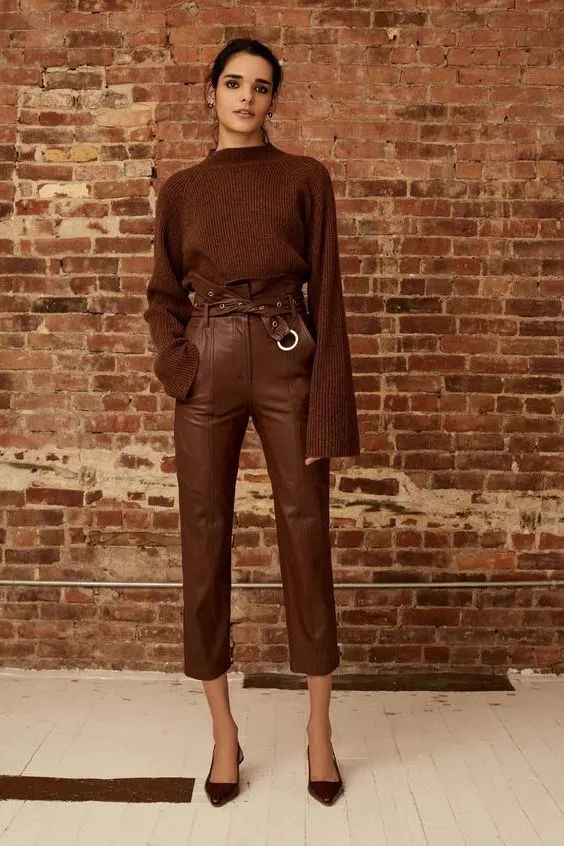 Buy Similar Here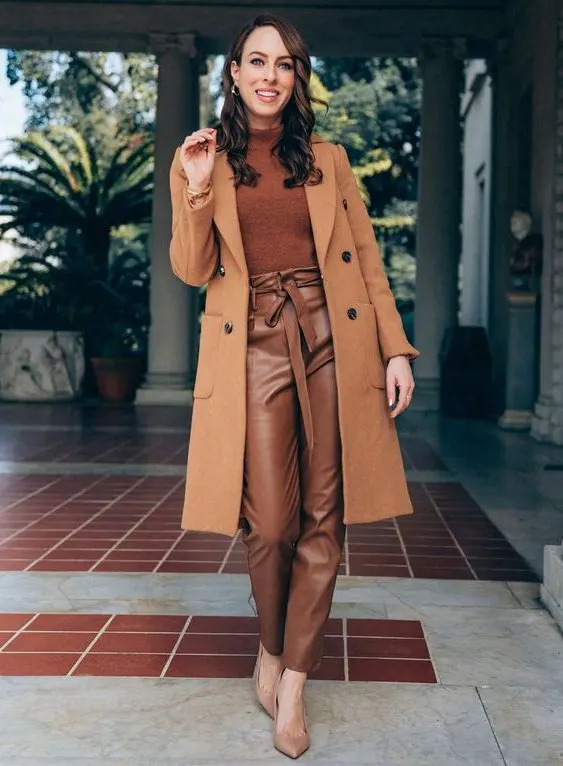 Buy Similar Here
Green top
In nature, you can often find a combination of green and brown and that is why it looks very harmonious. A blouse or jacket in green, emerald, or olive colors will go well with brown trousers or jeans. You can add beige items to your outfit, such as a beige jacket or purse.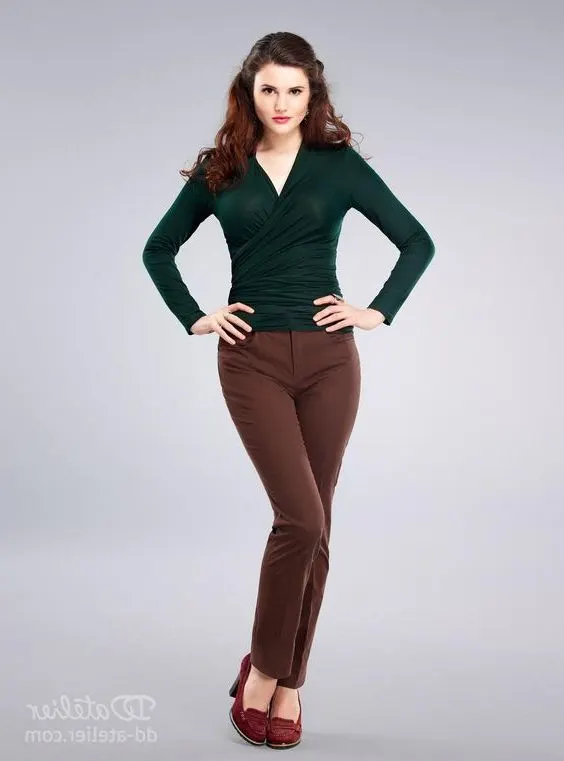 Buy Similar Here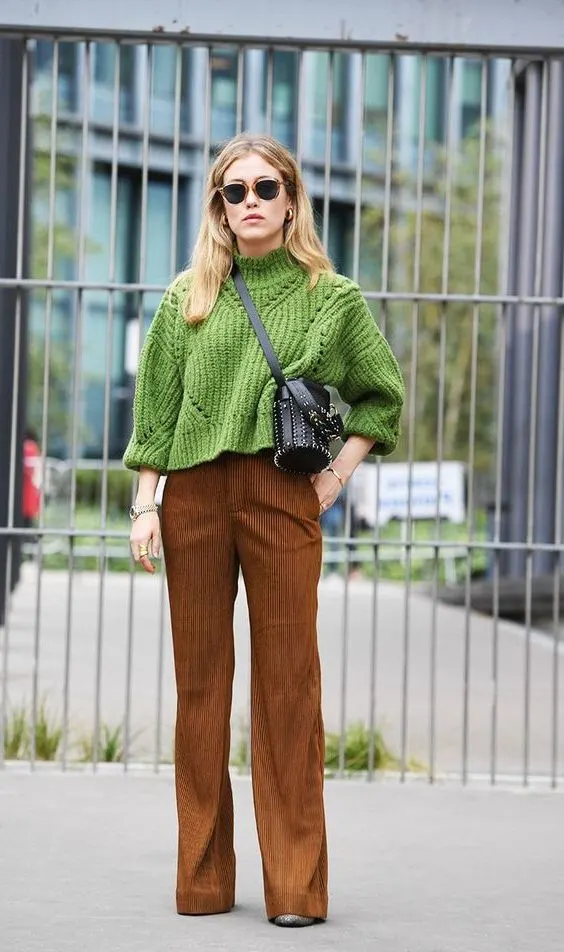 Buy Similar Here
Bright color Top
A win-win look is the one that combines brown trousers with a top in bright color: yellow, orange, coral, peach, or red. They will add brightness and instantly transform the entire outfit.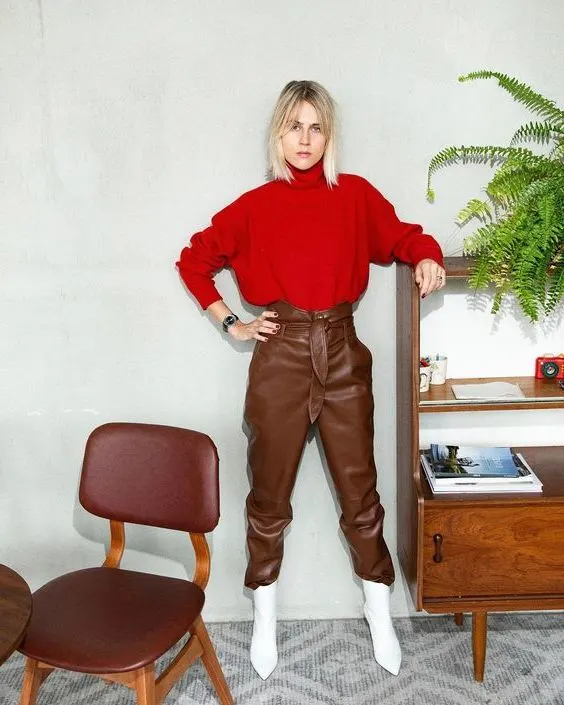 Buy Similar Here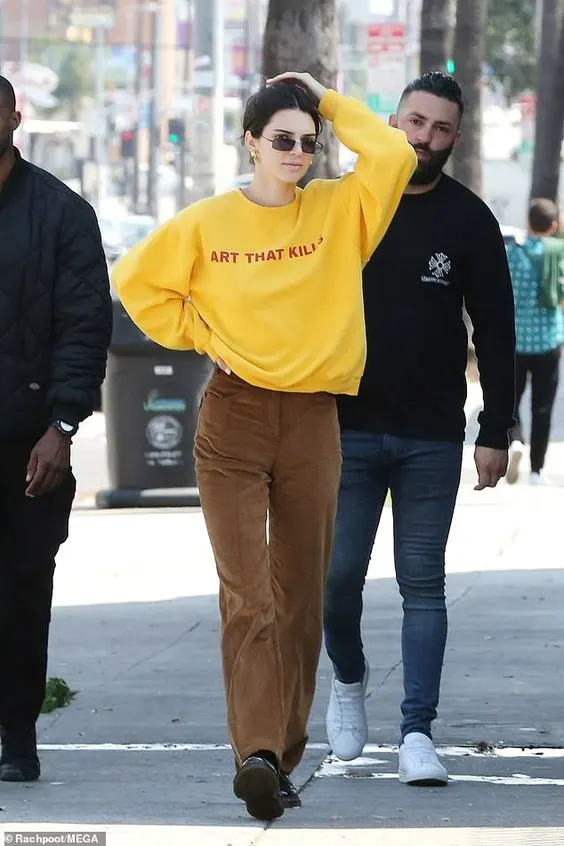 Buy Similar Here
The print can easily make or ruin the whole outfit. Today's options for prints are so diverse that everyone is able to find one that will appeal to them. The easiest way is to choose a print for our brown pants, is to find a printed top that includes brown color.
Printed top
I love to see these pants styled with printed tops, as you can see, here is a young lady wearing cropped suede bottoms with a striped shirt. If you want to know more about this type of print, then be sure to check out my post on how to wear stripes.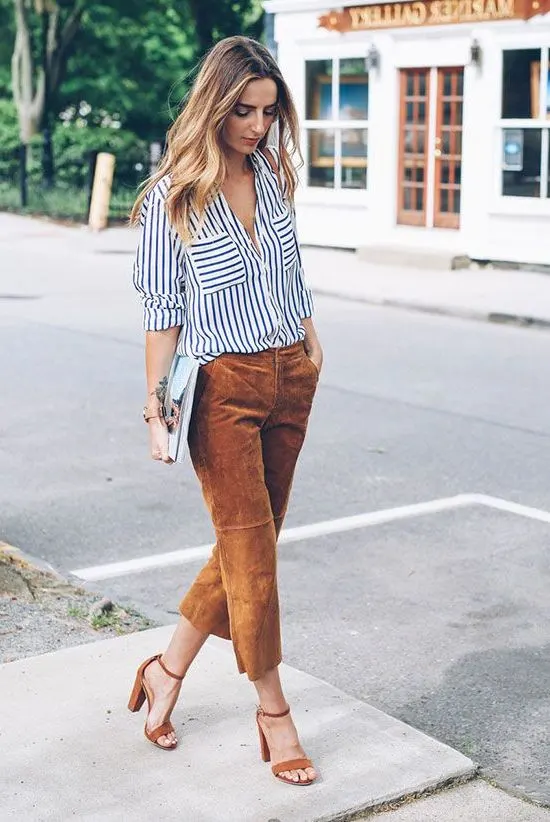 Buy Similar Here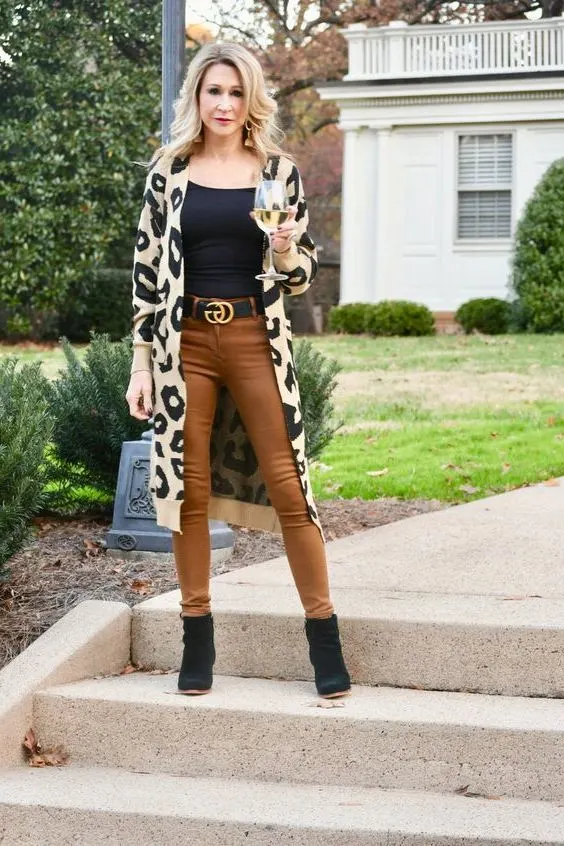 Buy Similar Here
A blouse or t-shirt with a lovely print in combination with brown trousers will help you create a versatile style that can both work for office hours and leisure. Just keep in mind that it is better not to use too bright and rich prints for work. A relevant print is a leopard, which can be perfectly combined with the brown color.
Bonus Tips:
How To Wear Dark brown trousers
These trousers can make your legs visually look more slender and hide some of the shortcomings of your body. They can be worn with a white top or bright shades of yellow, orange, or red (they will help to enliven the outfit). You can also combine it with a darker top: dark blue, dark green, or sea color.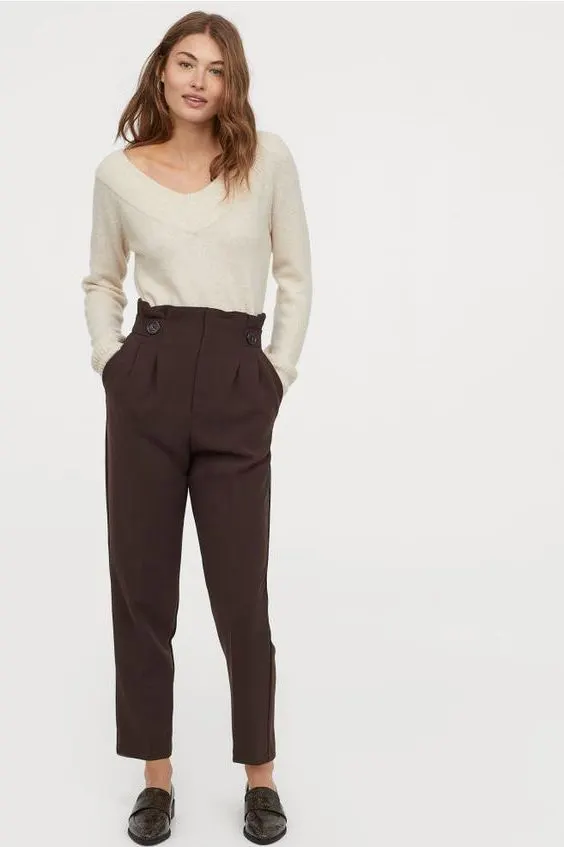 Buy Similar Here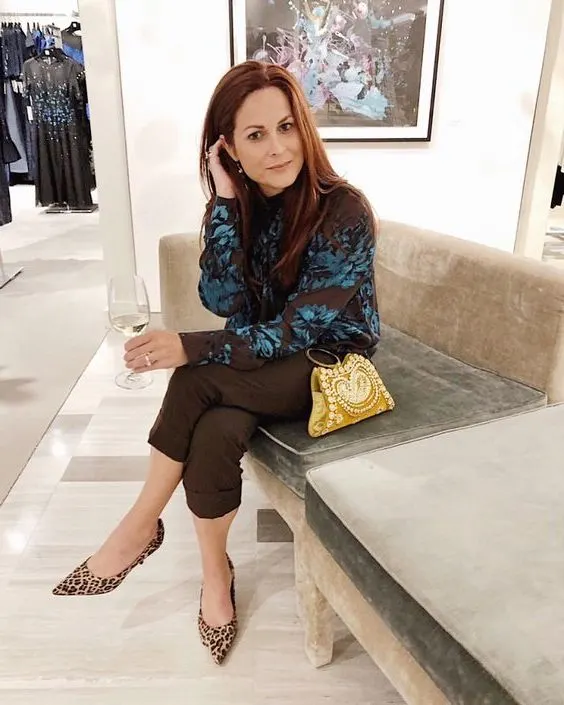 Buy Similar Here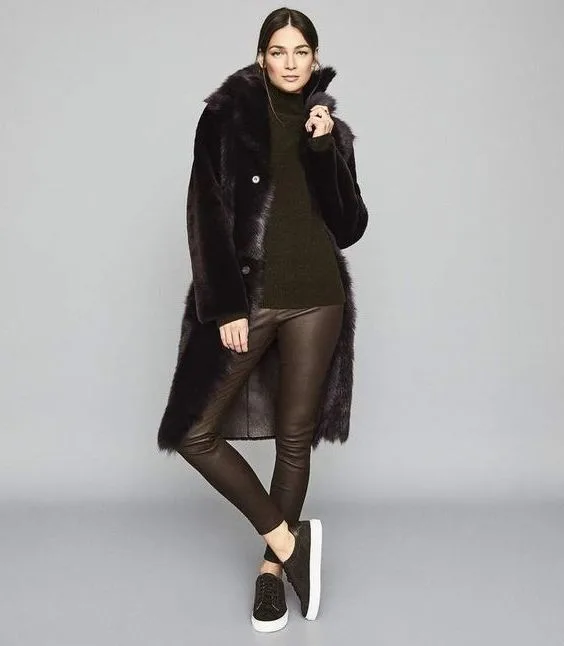 Buy Similar Here
How To Wear Light brown trousers
Light shades of brown are ideal for summer, although do not forget that they can visually increase the volume of your hips. They look especially good with a top in light colors, such as blue, beige, light yellow, etc.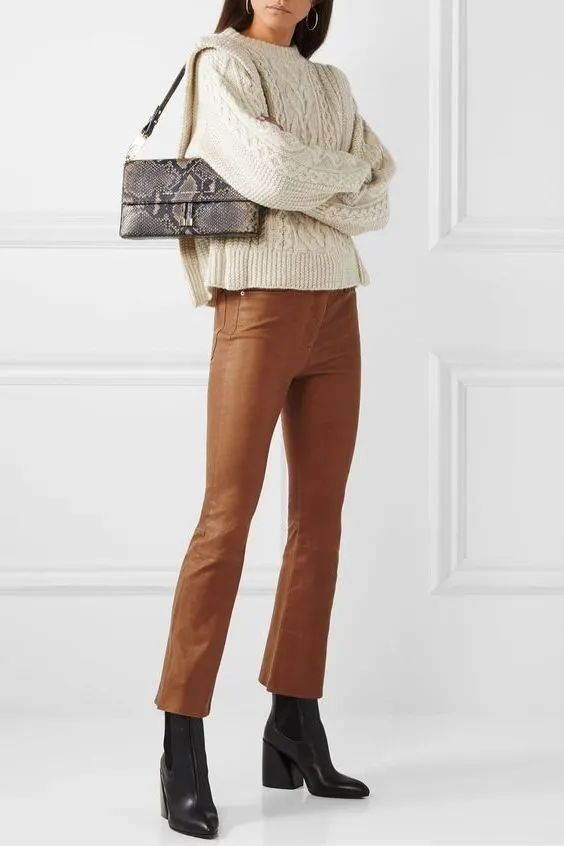 Buy Similar Here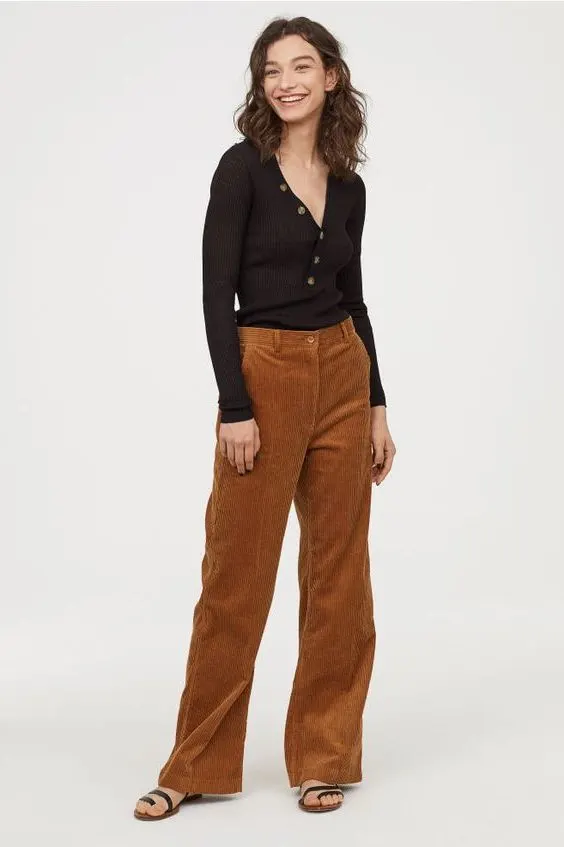 Buy Similar Here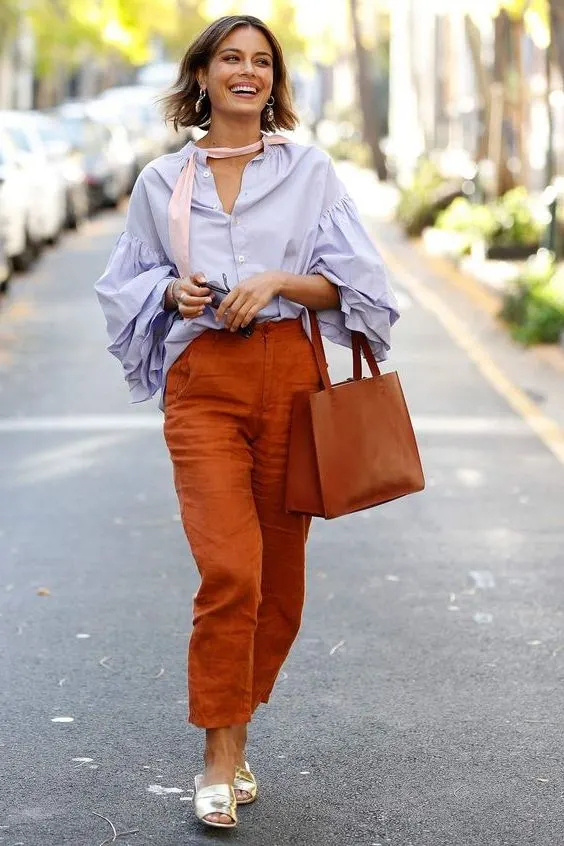 Buy Similar Here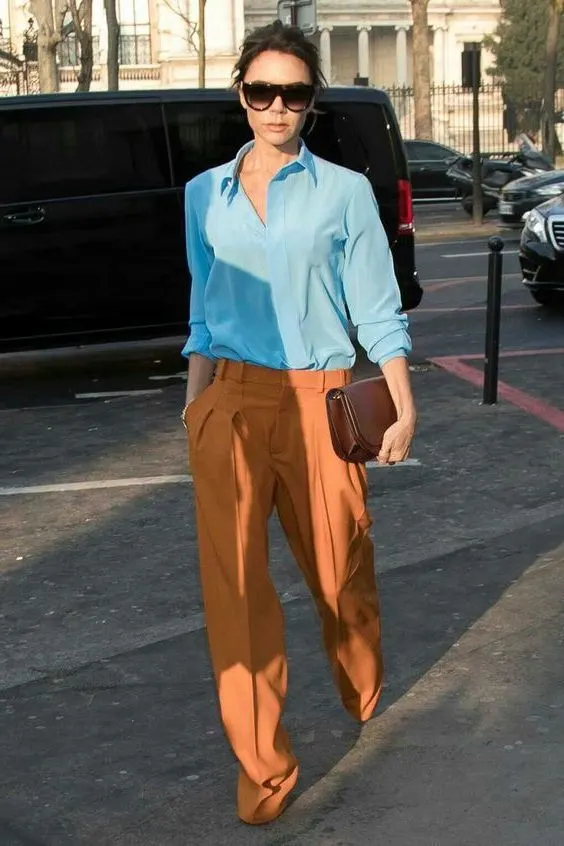 Buy Similar Here
What Color Shoes To Wear With Brown Pants Ladies
I decided to create a separate paragraph describing what shoes you can try on with brown pants. I don't need to repeat that your shoes should always be clean and well-groomed. Now, petite ladies should go for heels, especially when your pants are shortened or cropped.
For tall girls, I recommend wearing Oxfords, brogues, and low heel pumps. This spring you are free to complete your outfit with ballet flats or sandals.
It's not easy to find the perfect outfit for you to wear on a daily basis with these pants. The key to wearing them is making sure that you are wearing shoes that are ideally harmonized with these pants. For the most part, shoes can be black or in the same color as your top but just like that old saying goes, it sometimes takes more than one foot to dance.
A lot of young women and even some that aren't young, would stay away from wearing brown pants for fear of looking frumpy. This is the main reason why it is very important to have a few good options in the wardrobe ready to go when you've been faced with these tough decisions on what to wear with these pants.
Final Thoughts: 3 Key Tips to Create Fabulous Brown Pants Outfit
1. Find a good quality belt in an accent color for pants that compliments both your top and the shoes you have on your feet. It can be tricky to balance both pairs of shoes and tops with pants but not impossible when using a good quality belt as part of the outfit equation.
2. It is always nice to have a scarf that will help to balance the look while you are wearing these pants. A scarf is also key in providing you with versatility when it comes to wear brown pants as well as being able to add a pop of color and pattern to your outfit.
3. Use a few accessories such as pretty earrings and necklaces that will help to keep the bottom of your outfit looking neat and tidy at all times.