Today we are here to see the best leopard boots outfit ideas you can easily wear now. These boots provide structure, which is great to subtly elongate your legs. Leopard print shoes are also great because they can be paired with just about anything. I usually pair them with black pants and dresses; you can pair them with denim, leather, even shorts, or a skirt.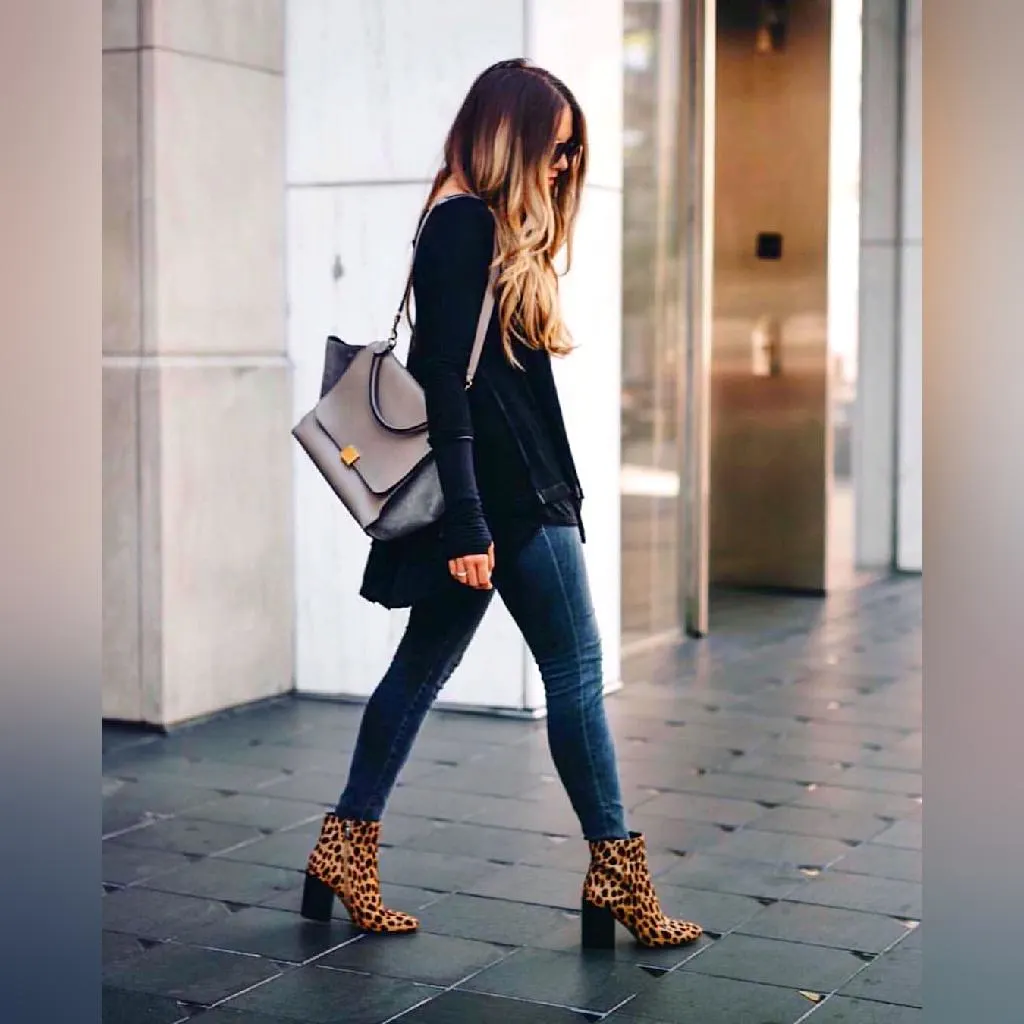 Buy Similar Here
Leopard Boots Outfit
Perhaps a pair of these boots will help pave the way to a debut at Thanksgiving dinner. Just kidding! Finally, we get down to what really matters: how to wear leopard print boots this fall. The best way to wear leopard boots is with a pair of skinny jeans. I actually think they look great with a pair of leggings, too.
If you're searching for something to pair with your leopard print boots, we would recommend going for a classic tan trench coat. It's a timeless wardrobe staple that can be worn with almost any piece of clothing. Since these boots are so trendy this fall, people will definitely be complimenting you on your daring fashion sense and unique style.
You may also pair your leopard boots with skirts, especially the A-line or pencil skirts. These look so cool and sexy especially when paired together with the boots. The boots can be worn in jeans too. In fact, this is probably one of the most favorite ways of wearing them as seen on many celebrities like Kim Kardashian, Paris Hilton, and others this past year.
Anyway, I've got some great street style outfit ideas you can easily recreate with leopard boots this year, check them out:
With Wool Long Skirt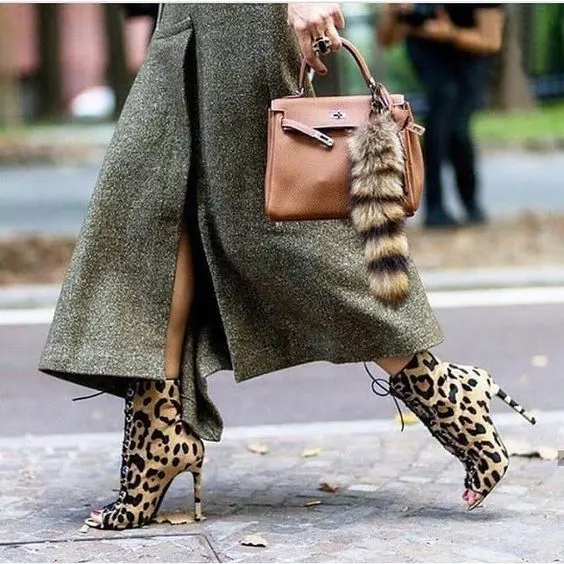 Buy Similar Here
With Ripped Jeans And Black Coat
Try them on with ripped jeans, a basic sweatshirt and a black coat: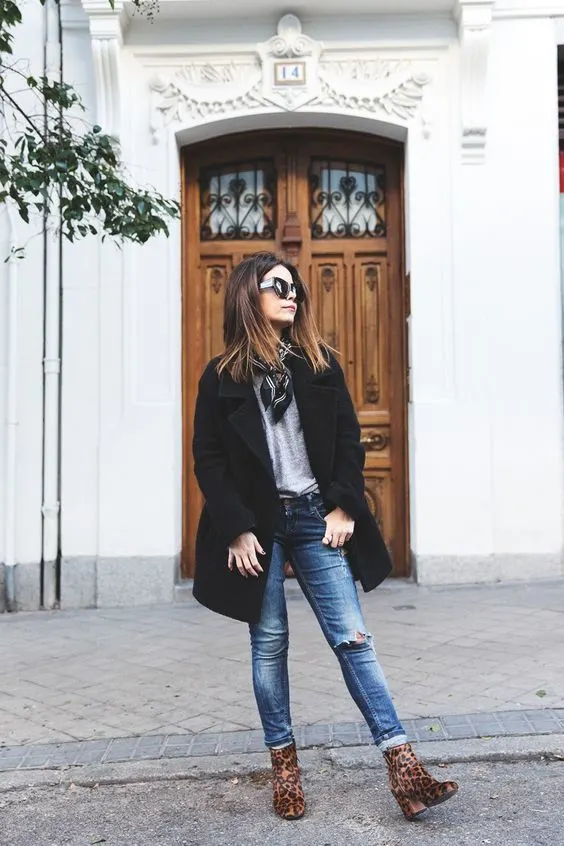 Buy Similar Here
Black Dress And Black Leather Jacket
If you want to make these boots the focal point, then try them on with a black dress and a black leather jacket: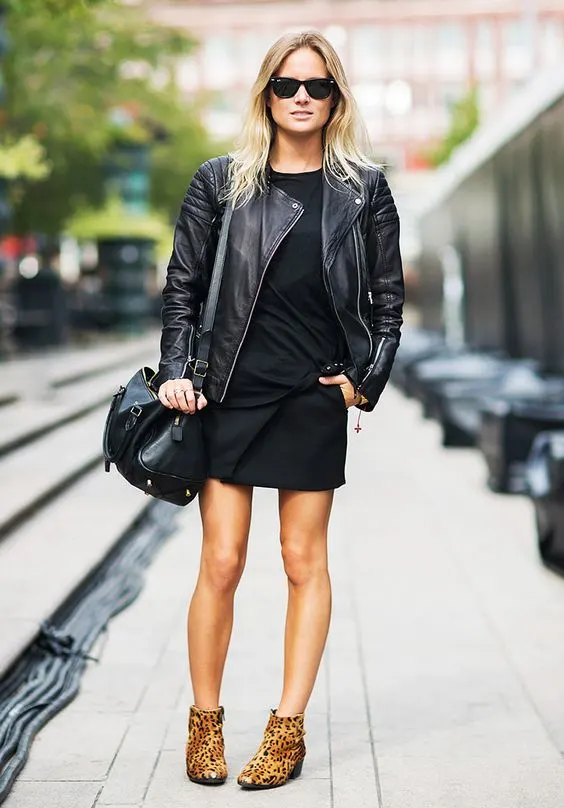 Buy Similar Here
With Jeans And Navy Coat
You can have so much eyes on you by wearing this long navy coat with a white top and wash-blue jeans: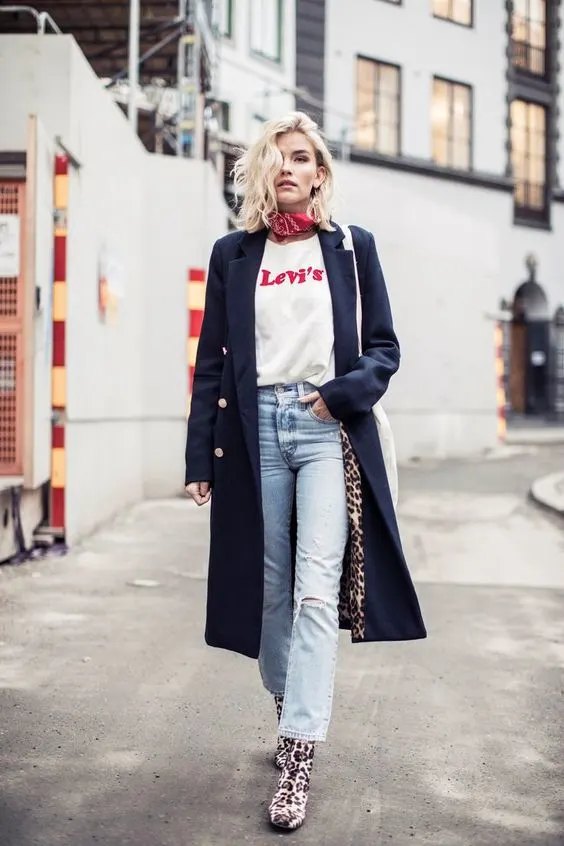 Buy Similar Here
With All White And Black Trench Coat
An all-white look can be updated with a black trench coat and our favorite animal print shoes:
Buy Similar Here
Love this long leather jacket in lack with skinny black jeans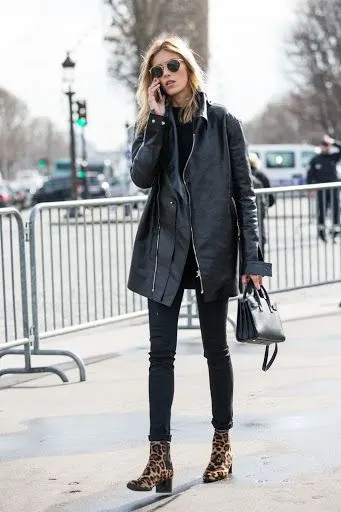 Buy Similar Here
If you're feeling showy, though, then you can pair them with a maxi dress. This may sound like an odd combo, but let me assure you it looks fabulous!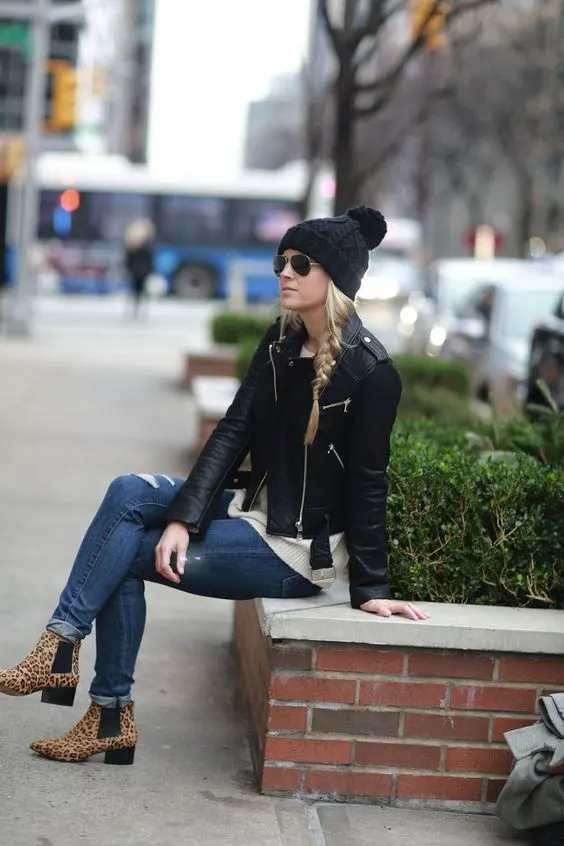 Buy Similar Here
All Black Outfit For Fall
They do look great with opaque tights, black leather skirt and a slouchy sweater in grey color: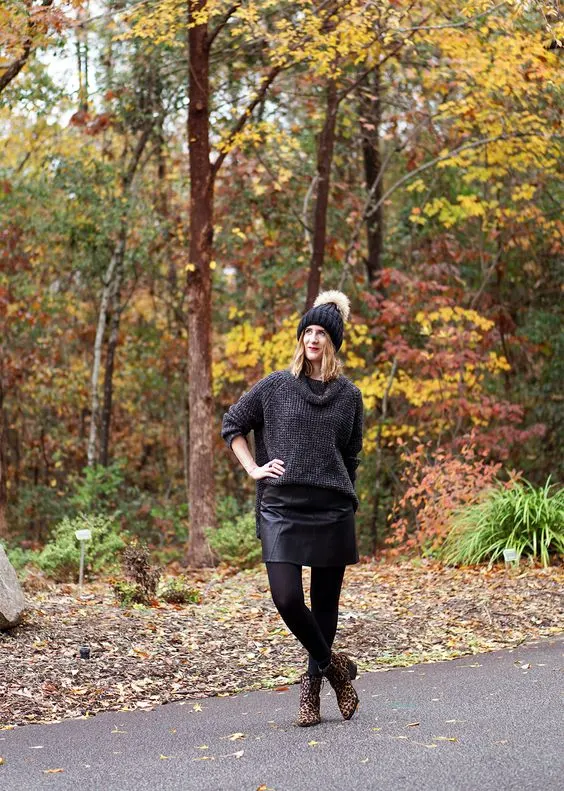 Buy Similar Here
With Black Blazer And Indigo Jeans
Love this black blazer teamed with a sheer black top and black coated slim jeans: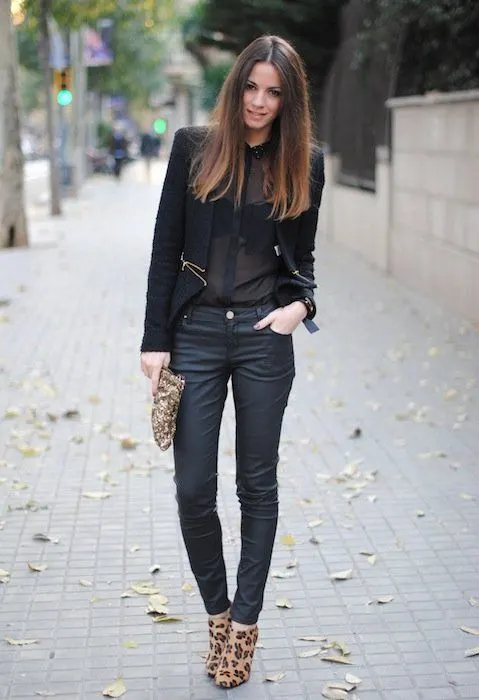 Buy Similar Here
The fur coat makes these skinnies looks sassy, complete it with animal print ankle boots: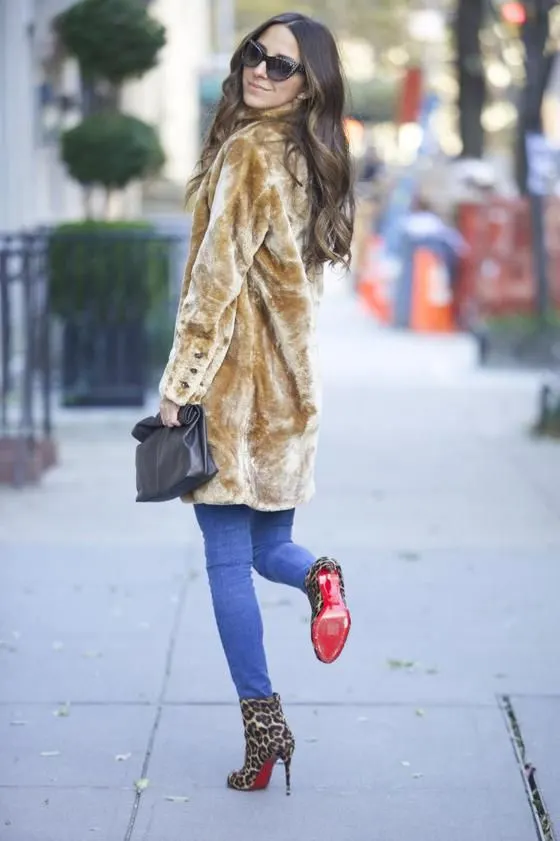 Buy Similar Here
Go for a black cardigan, chic slip-tank top and grey skinny jeans: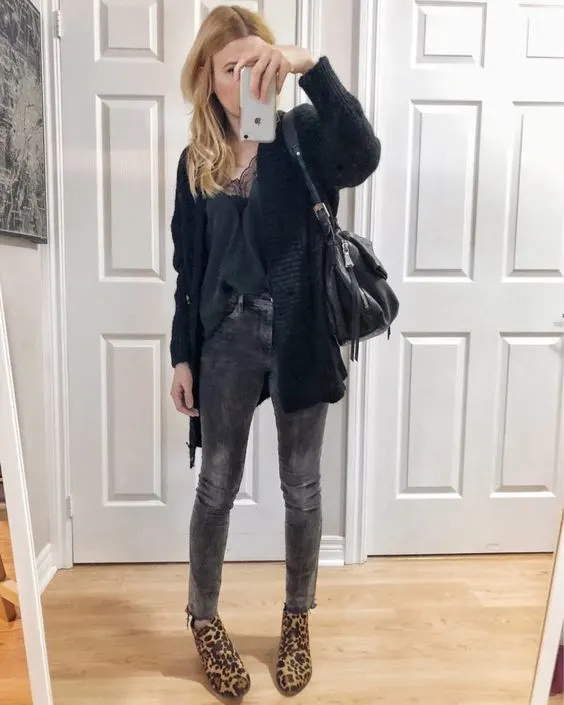 Buy Similar Here
A pleated black skirt looks fantastic with a red sweater and these animal print boots: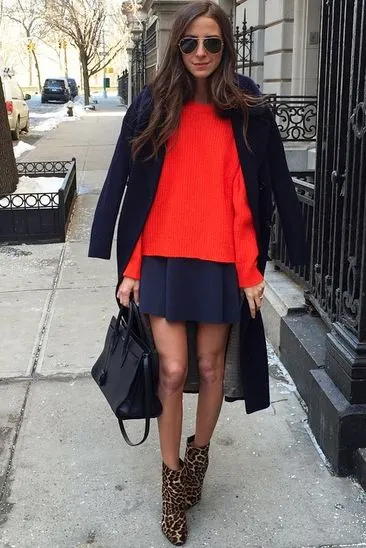 Buy Similar Here
Conclusion
Leopard print is now becoming a staple in women's fashion because it's timeless and looks great on any woman. These boots are not only popular right now but are also a perfect match for those who love to be stylish.
Leopard boots are a fashion must-have for any girl who is looking to upgrade her look for the fall and winter months. They're timeless, fabulous, and fun. The boots are not just limited to those who love wearing them alone or in combination with outfits but can also be worn together with some leather outfits that complete your chic look for this fall season.