Double denim outfits are back in style and are considered to be worn with different looks. We thought to help you out we would look at how to make double denim look sexy.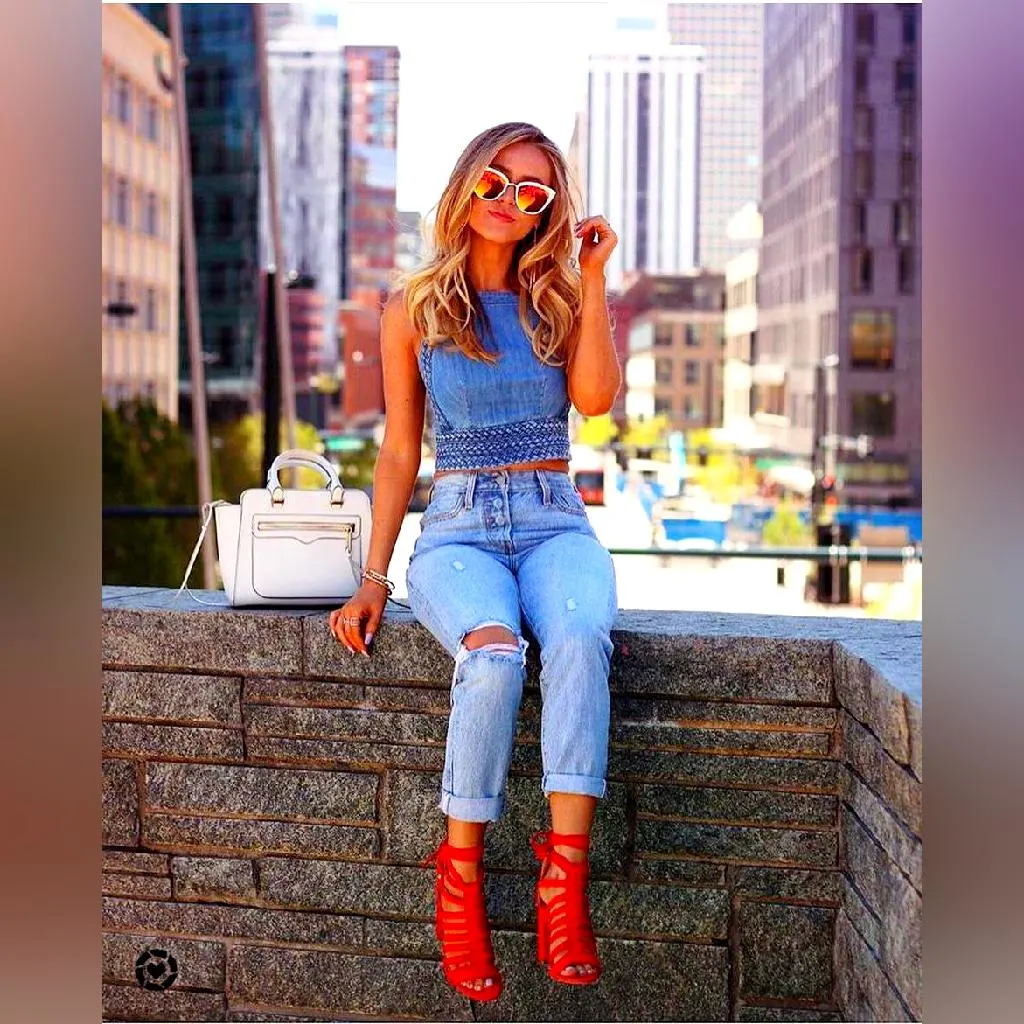 Buy Similar Here
A cropped sleeveless top in denim is teamed with ripped jeans and completed with fancy red strappy sandals, complete this look with mirrored shades.
Double Denim Outfits
The double denim look is straight-up chic, but it's not an easy style to pull off. Make sure you have the right shoes and accessories to make your outfit amazing!
This outfit usually consists of a jean jacket and pants/skirt or a dress, with the rule being to make sure both pieces are an equal shade — light to dark — if they do not match perfectly. You also want them to be cut from the same material: 100% cotton for classic, stiff jeans; stretchy cotton for super-comfortable jeans; or mixed fabrics for rugged appeal.
Tops are going to be the easiest to pull off with a double denim outfit. A simple, loose T-shirt is best. If you want to add a top layer, try a button-down shirt or sweater and keep it neutral so it won't compete with your bottoms. Visually balance the light and dark in your look by matching the color of your shoes and purse with one of your pieces of denim.
Make sure your top is long enough that the bottoms don't peek out!
Accessories are a must to complete your denim look. The most important is a leather belt that matches your shoes. If you want to be extra fierce, choose a belt with studs.
Classic Shirt + Cuffed Jeans
We see a chambray shirt worn over a black turtleneck top both tucked in high-rise jeans updated with suede black boots: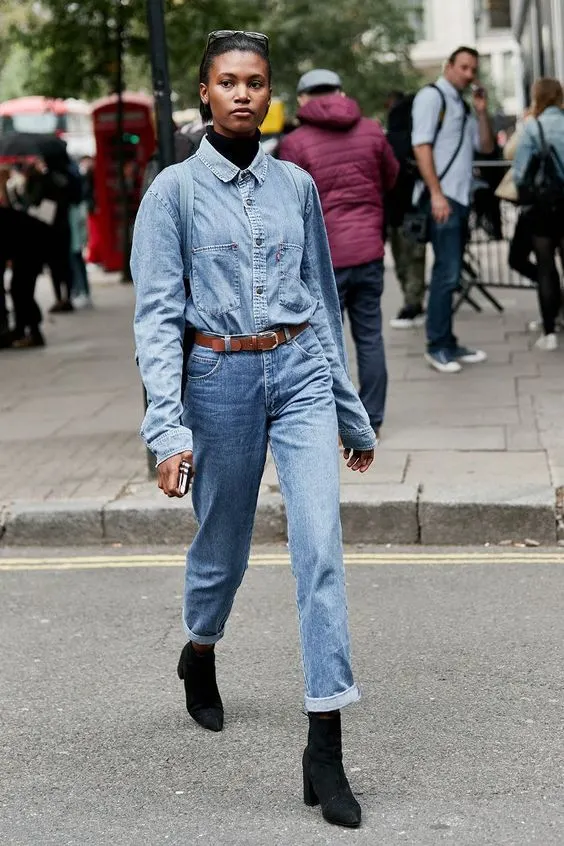 Buy Similar Here
Oversized Double Denim With Printed Boots
Cow-printed boots look fancy with that biker style oversized denim jacket teamed up with boyfriend jeans: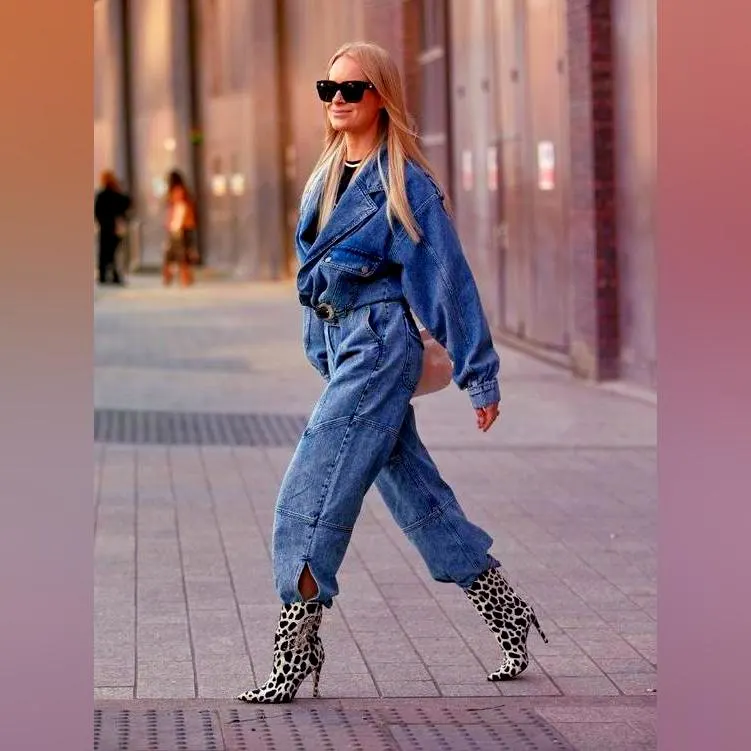 Buy Similar Here
With Polka Dot Scarf And White Boots
We see a polka dot scarf in black worn with a denim jacket, slim jeans and white boots: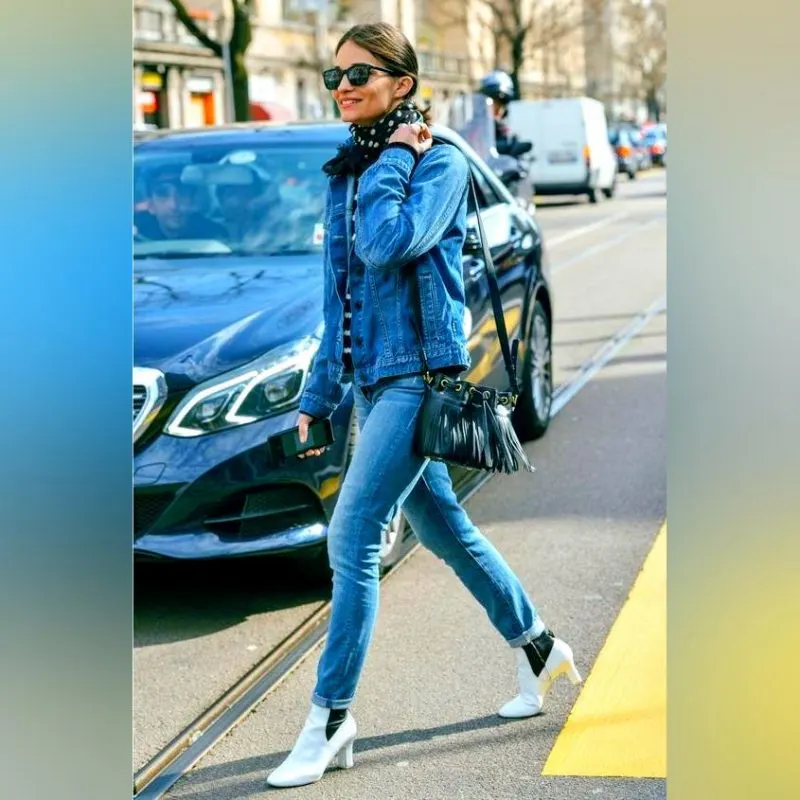 Buy Similar Here
Boyfriend Style
A perfect boyfriend style, we see a loose-fit denim shirt paired with boyfriend jeans and chunky sneakers in white: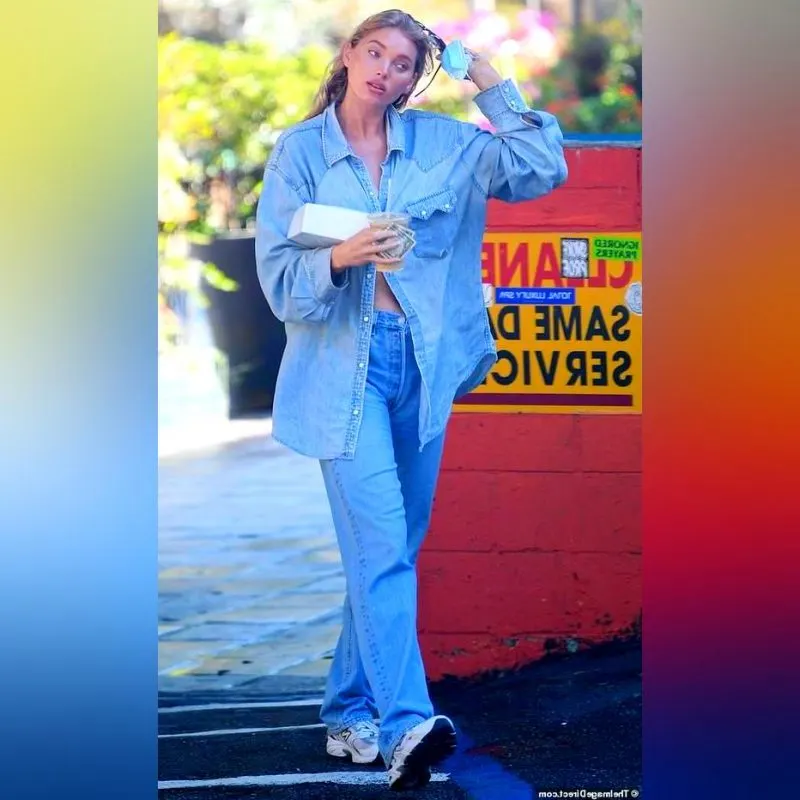 Buy Similar Here
Different Shades Of Blue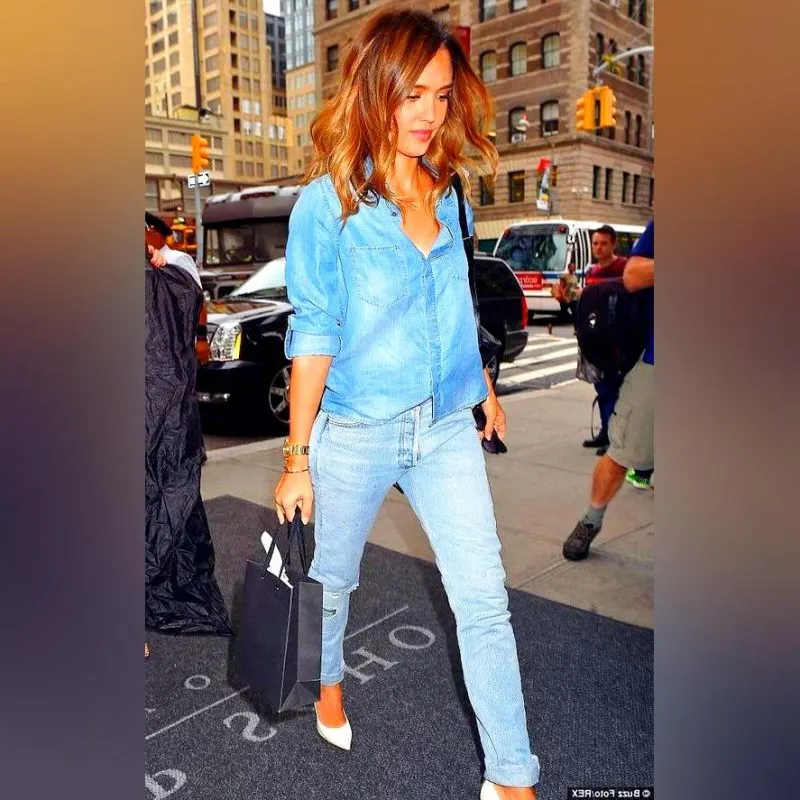 Buy Similar Here
Workwear Inspired With Chunky Boots
Chunky black leather boots look great with these regular jeans and blue denim jacket: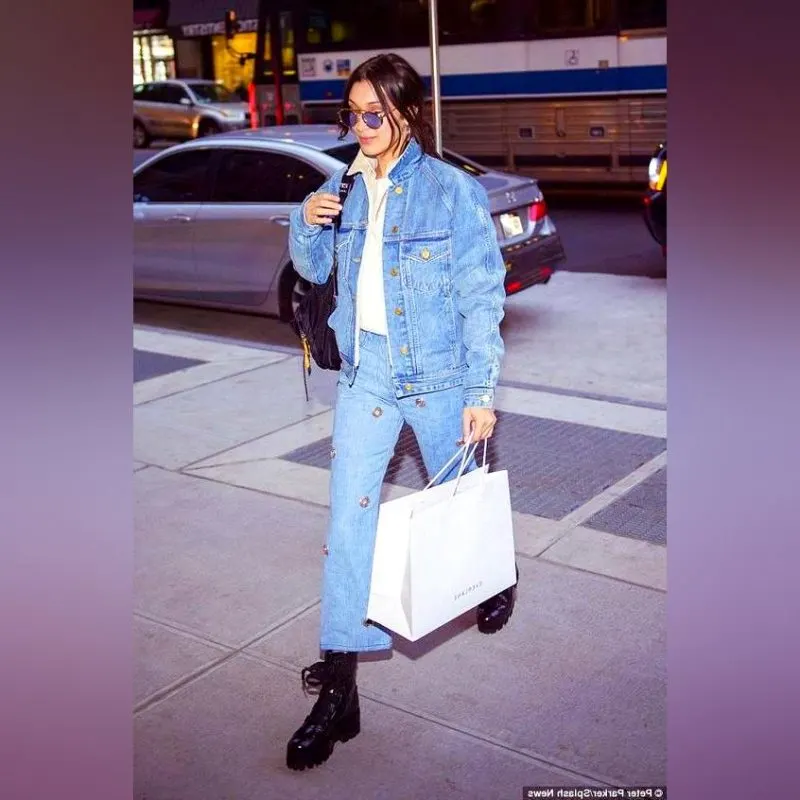 Buy Similar Here
Make sure both pieces match in style and material. Keep it simple and minimal – denim can be a great style for dressing up one's entire body. But if you're going to combine it with other fashion trends, opt for the more conservative option and keep your accessories to a bare minimum. Don't try to emulate fashion divas by wearing multiple layers of blouses; these types of looks are best reserved for magazines.
Some of my favorite style tips on how To Look Awesome In Double Denim Look
If you're like me, you've spent countless hours clicking through Tumblr, Pinterest, and Instagram wondering how to do double denim the right way. Naturally, I'm here to tell you that there is no "right" or "wrong" way to wear it. The important thing is that it fits your style and enhances your body shape. With that being said, here are my top 5 tips for looking good in this denim trend.
1. Pick fabrics that flatter your body shape. If you have a small waist, avoid fabrics that are too stretchy, like relaxed jeans and tunics. Instead, opt for slimmer and more form-fitting styles on top (like boyfriend jeans) or double denim bottoms with a high-rise or skinny leg.
2. Invest in a good denim jacket. Denim jackets are the best way to make double denim work for you. It's always a good idea to invest in quality denim, so you don't have to worry about it fraying or fading over time.
3. If in doubt, keep it simple. If it takes you more than five minutes to figure out how to style your outfit, you're probably doing it wrong. Avoid overwhelming your body by keeping the rest of your outfit clean and simple—a solid top or dress with simple accessories will do just fine!
4. Never overdo it. Think of double denim as a solid foundation for your outfit, not the main attraction. This means that you should always avoid patches or crazy embroideries to keep from looking too much like a jean jacket.
5. If you really want to take it up a notch, layer with denim on denim. Double denim is best when it's layered. It's also important to make sure that you're wearing either the same color or a complimentary color underneath your bottom layer of denim (so if you're wearing white jeans, wear a light shirt underneath). This ensures that your outfit isn't too matchy-matchy and keeps it from looking like an effort to overdo the trend.
1970 Inspired Denim
A kind of 1970 inspired touch in this canadian tuxedo look featuring a cozy jean shirt tucked in straight jeans:
Buy Similar Here
DD with Floral Boots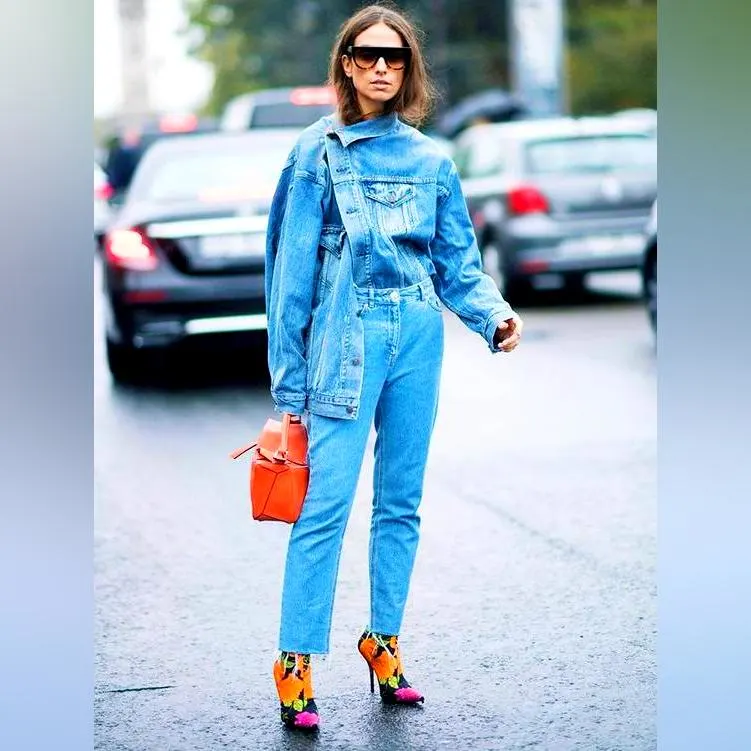 Buy Similar Here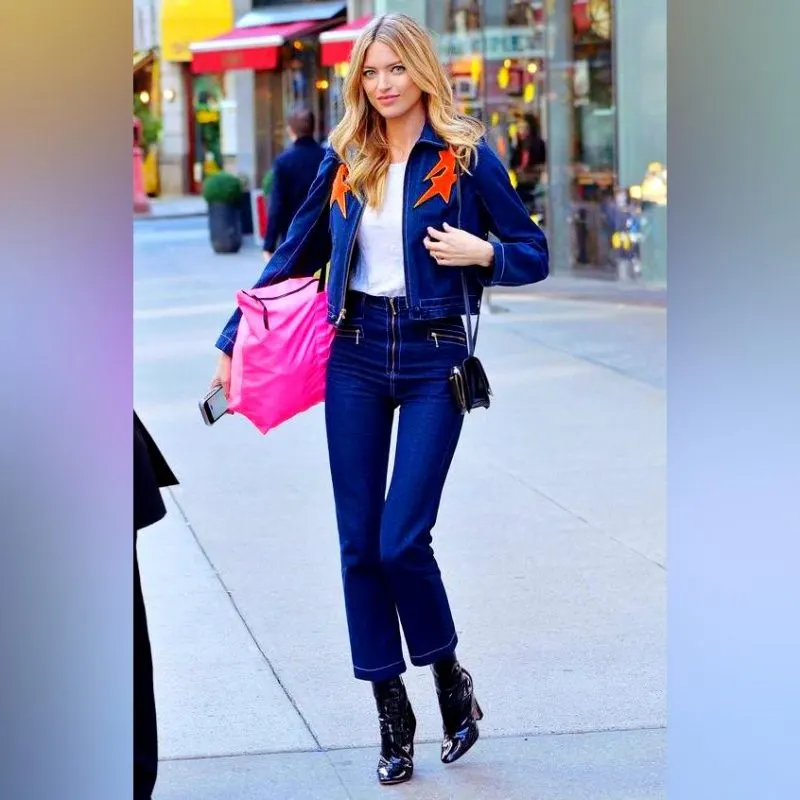 Buy Similar Here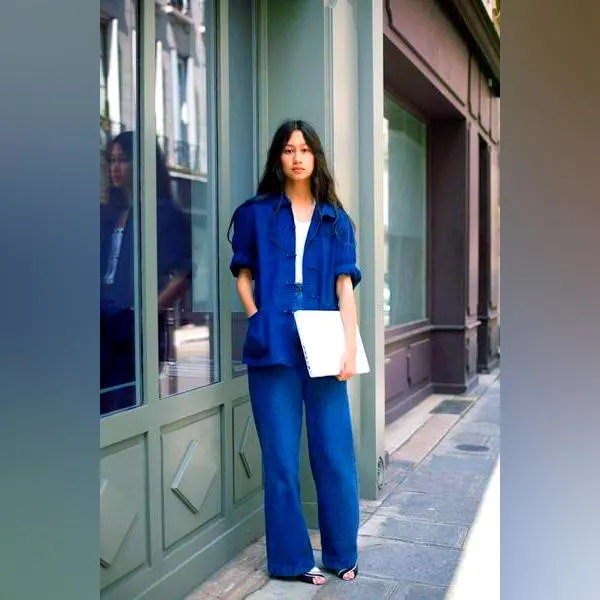 Buy Similar Here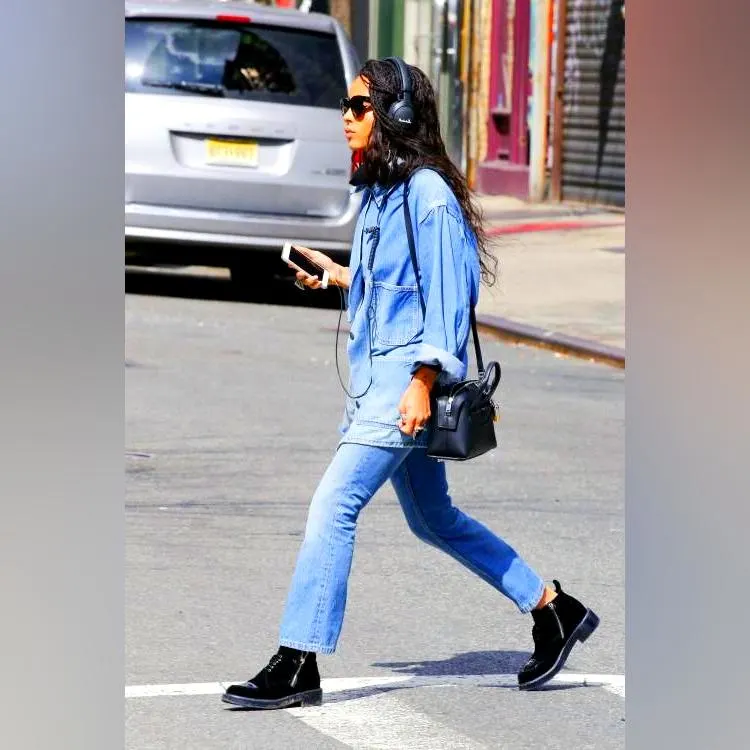 Buy Similar Here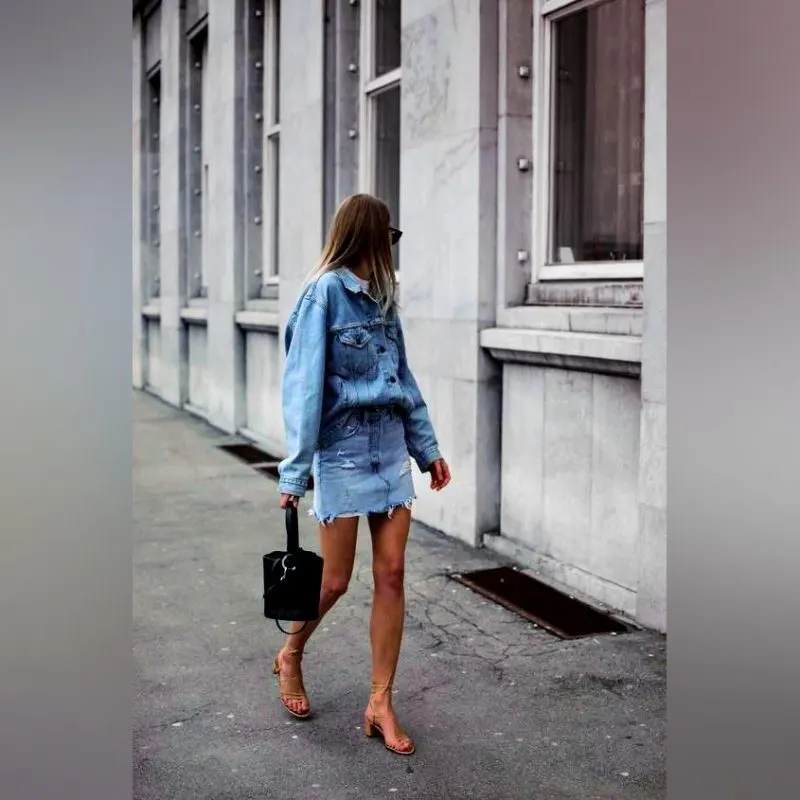 Buy Similar Here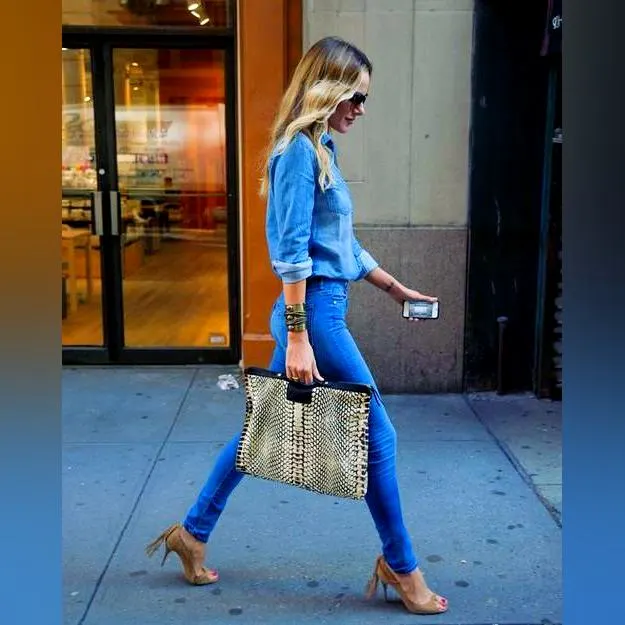 Buy Similar Here
Buy Similar Here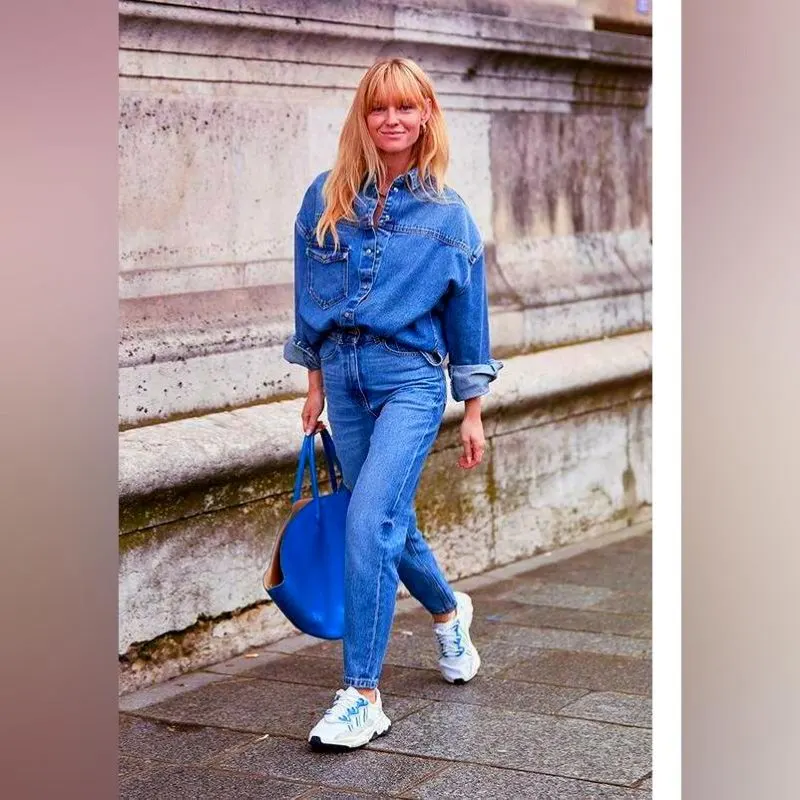 Buy Similar Here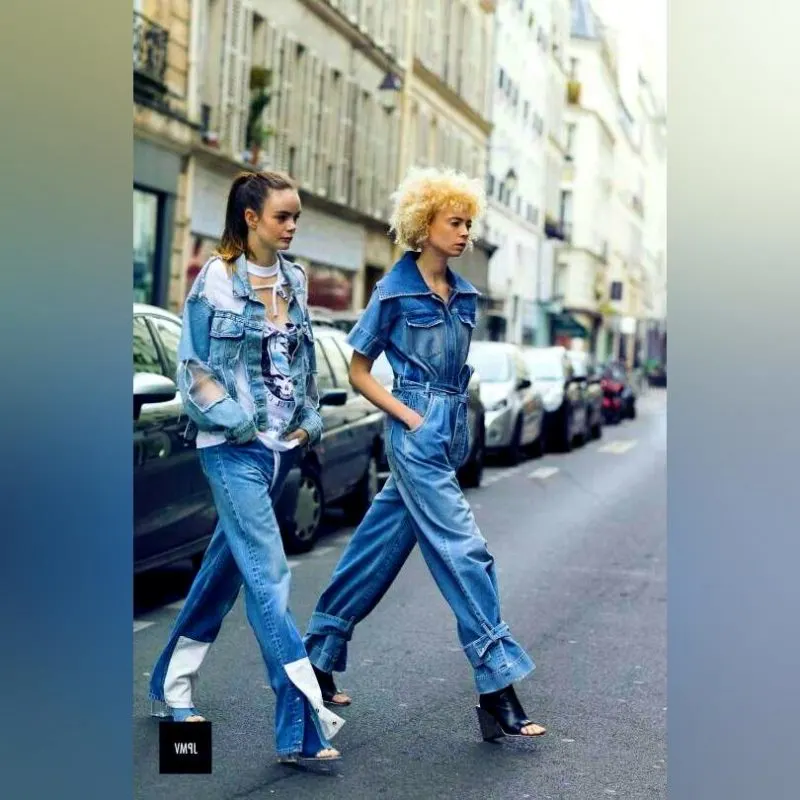 Buy Similar Here
Buy Similar Here
With A Long Denim Jacket
A pair of slouchy black leather boots look awesome with BF jean jacket and jeans: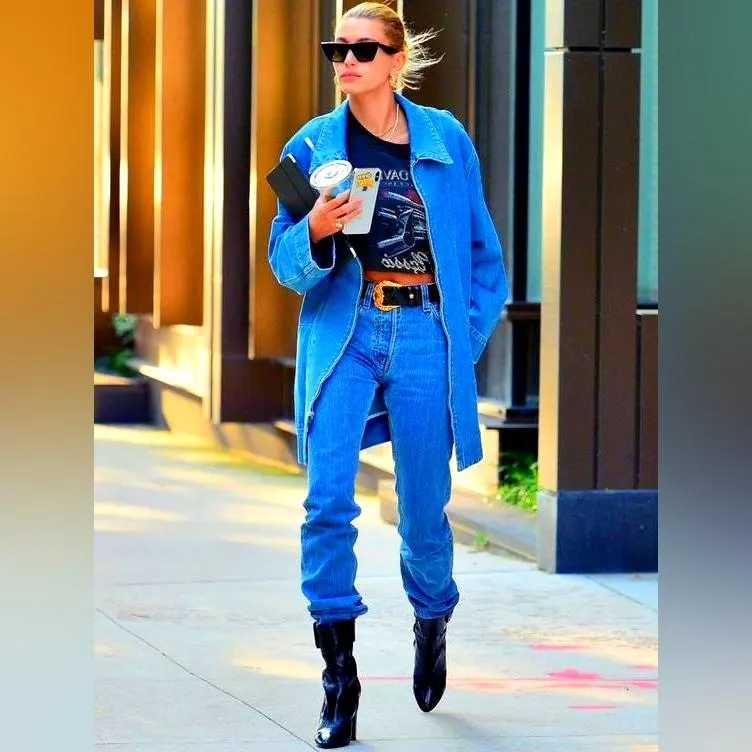 Buy Similar Here
Cool Denim Bra & BF Jeans
A denim bra top looks absolutely sexy with these BF jeans and white sneakers: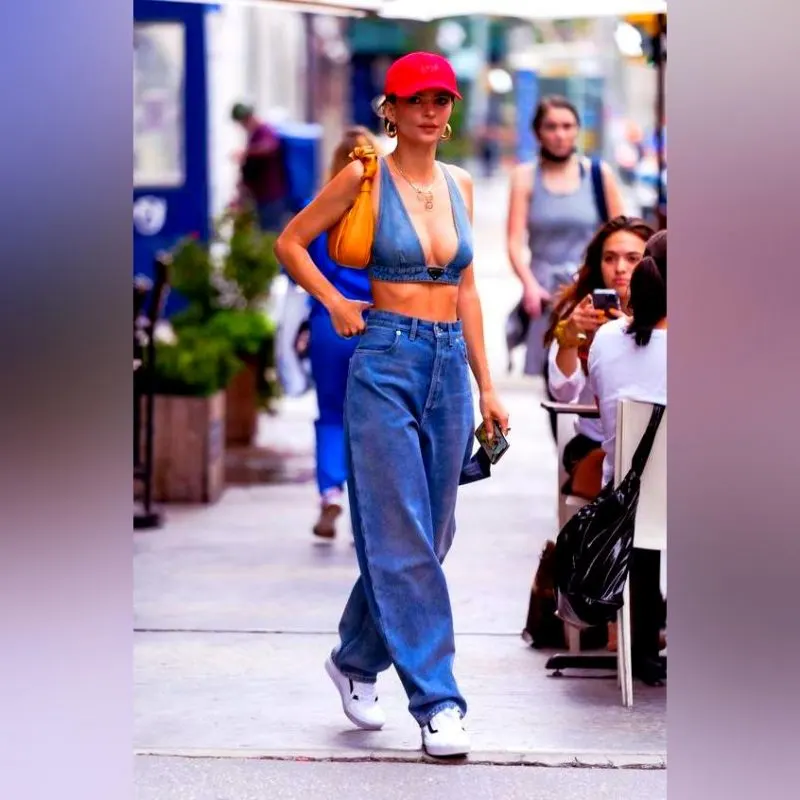 Buy Similar Here
With Wide leg Jeans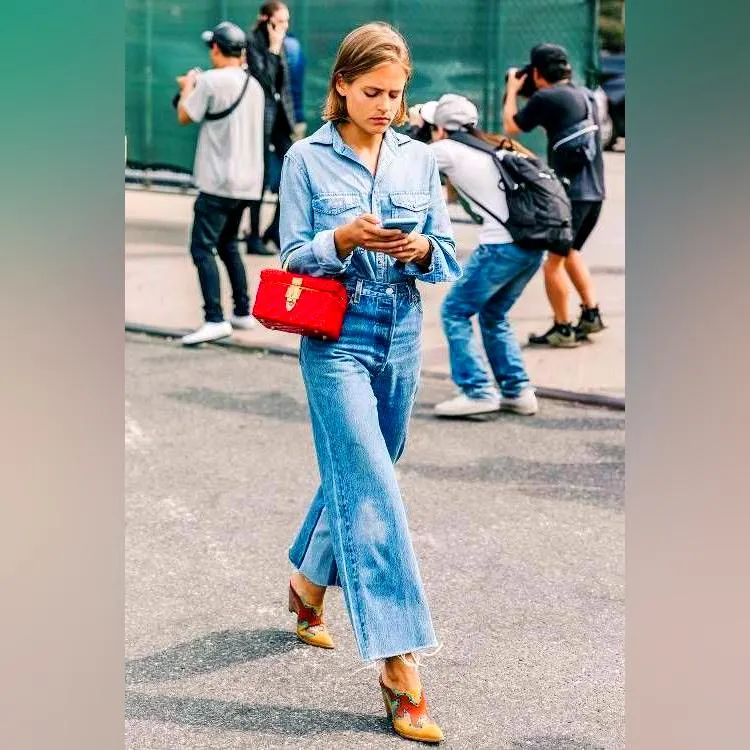 Buy Similar Here
With Knee Ripped Boyfriend Jeans
Black patent heeled pumps look fantastic with this chambray shirt paired with knee-ripped blue jeans. Love this slouchy leather clutch bag: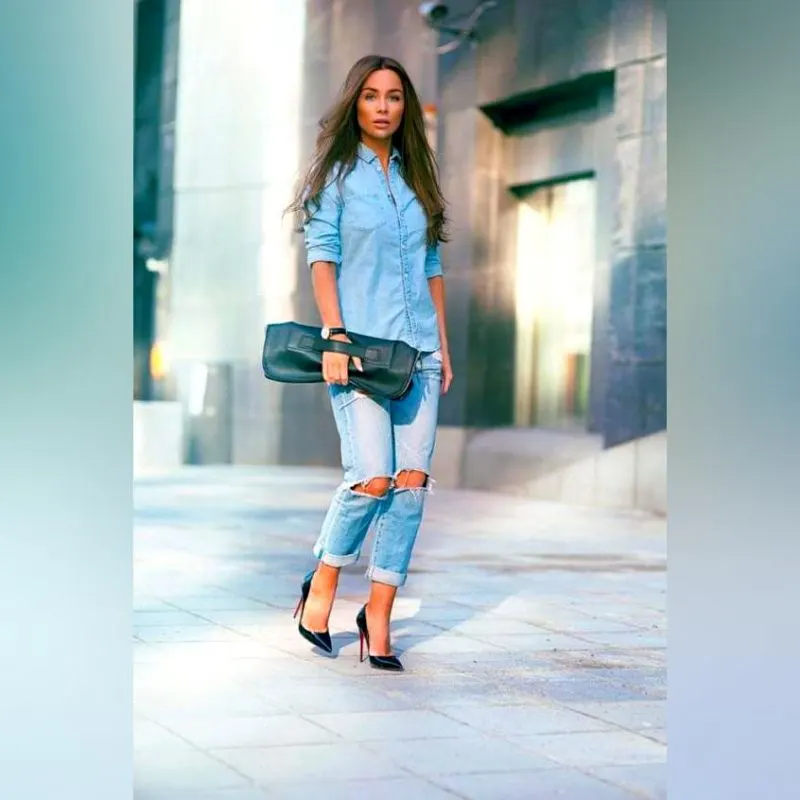 Buy Similar Here
Conclusion
Remember when wearing double denim whether it be two different styles or one style make sure that there is continuity in your outfit and that the tops compliment each other as well as your overall style. Double denim is back and will soon be everywhere so you should know what to wear with them when they become popular again.