Don't be afraid of your own style, it's time to break the fashion rules and show off your uniqueness. In today's article, we are about to see some of the best ways how to wear sneakers with jeans. You will see ways how to make your sneakers look fabulous teamed with denim. Stay tuned to find out more.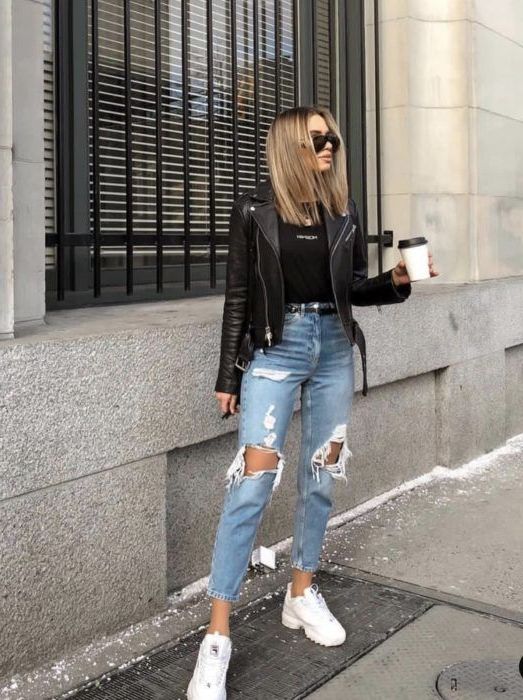 We see a simple day look consisting of a black leather jacket, basic black tee, ripped jeans and white chunky sneakers.
Sneakers And Jeans Easy Outfit Ideas
Before we move on, I wanted to make it clear for once and for all. Gym sneakers are meant only for the gym and there are streetwear sneakers that can be used to style with all your everyday clothes. I am not saying runners are meant only for the gym, as you can easily wear them to the countryside, but wearing running shoes with your casual style clothes might look stupid.
Black Leather Jacket With Knee Ripped Jeans And Vans
Check out this stunning combo of a black leather jacket, white tee, and knee-ripped jeans completed with black Vans. Love these rounded sunglasses: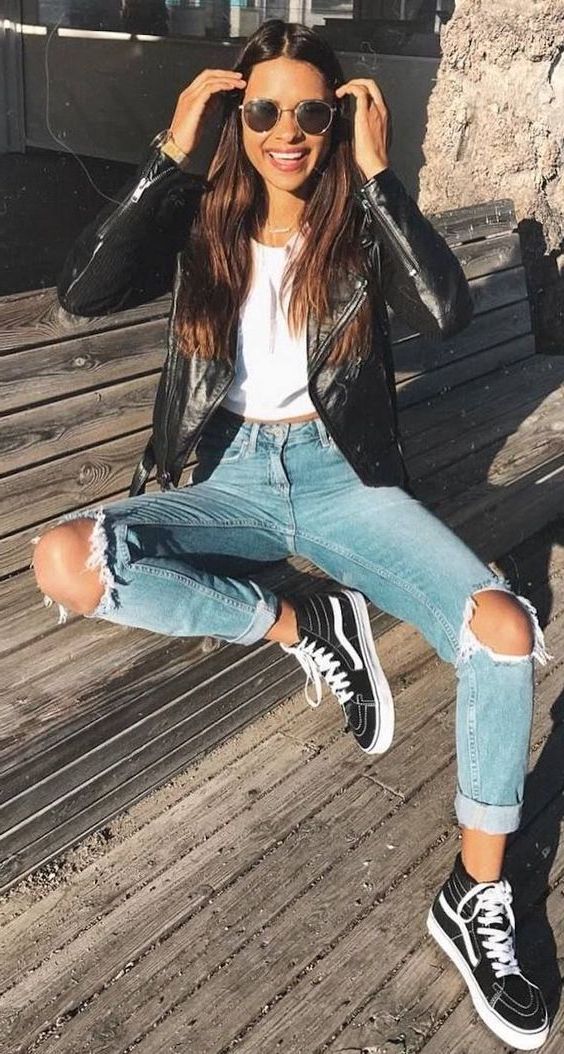 Check out other cool ideas on how to wear sneakers, I've got some cool ideas to share with you.
Black Sweater With Mom Jeans And White Kicks
Check out this simple day look consisting of a ribbed knit sweater in black teamed with knee ripped mom jeans and white sneakers. Complete the look by adding leopard print headband: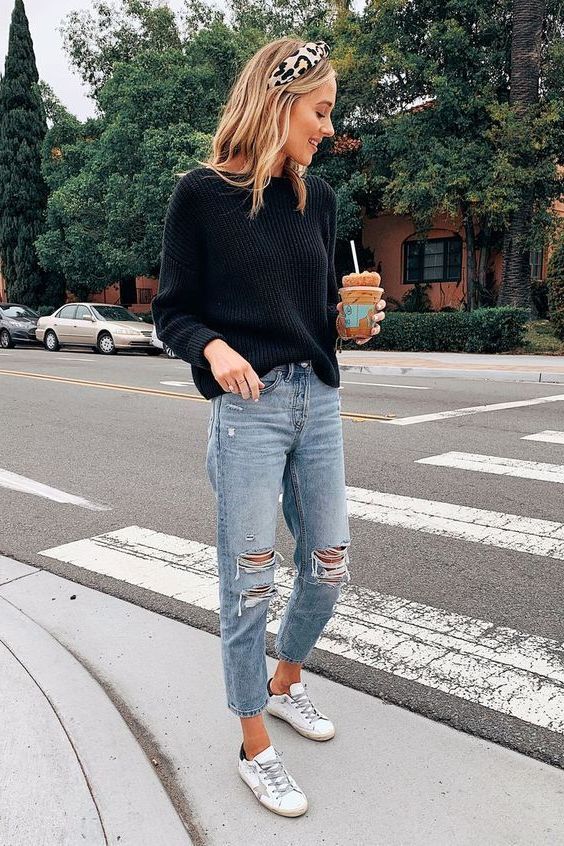 When wearing sneakers, make them a statement. They should show-off your individuality. I love to see girls who wear sneakers with cropped jeans, that's a perfect way to make your favorite kicks to stand out.
White Fur Coat With Star Print Jeans And White Runners
If you want to feel like a real superstar, then go for this white fur coat, white tee and a star-printed jeans completed with white kicks: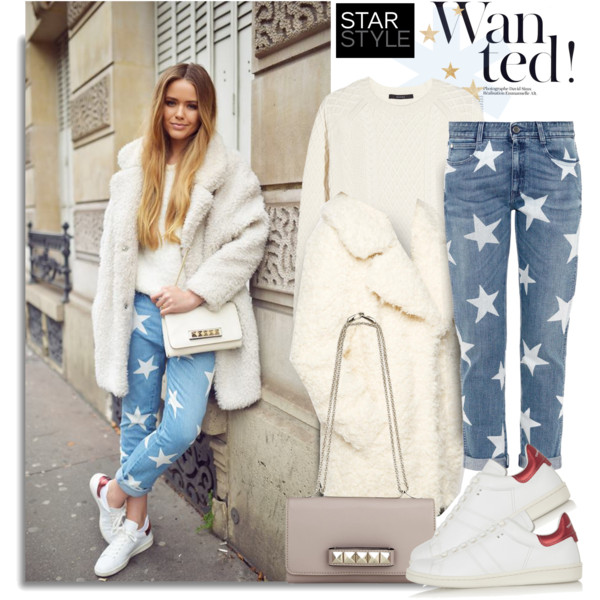 Grey Muscle Tee Ripped Jeans And Grey Sneakers
Keep it simple and basic. Go for a grey sleeveless top and pair it with ripped jeans and grey sneakers: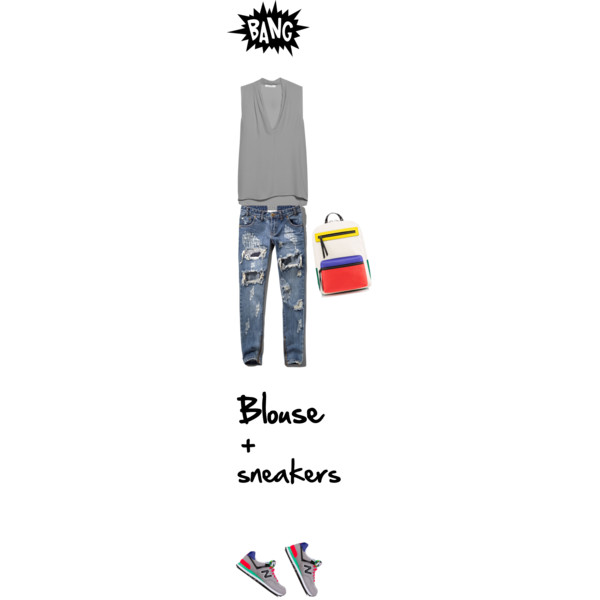 Black Bomber With Skinny Jeans And Black Runners
A super fabulous look for streetwear. Go for this baseball cap, black bomber jacket and skinny jeans updated with black sneakers: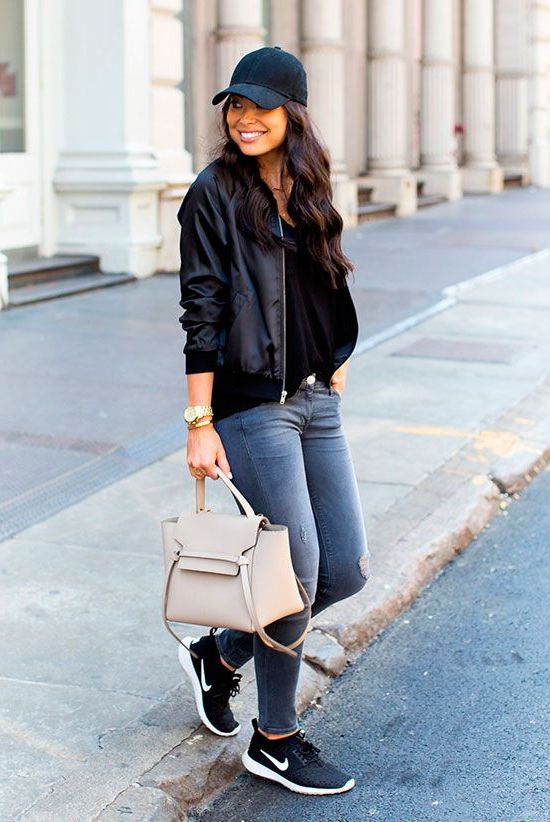 Speaking of socks, well, you should wear them, but make sure to buy low-rider socks. I hate when my socks are peeking out from my kicks.
Sleeveless Coat With Knee Ripped Jeans And White High Tops
A sleeveless coat in cream-camel is updated with a white tee, skinny knee-ripped jeans and white high top kicks:
If you can't get enough of these looks, then I highly recommend checking out my post on how to wear black jeans with white sneakers. You gonna see some easy ways how to wear this monochrome combination.
Double Denim And High Top Trainers In White
A perfect denim jacket looks stunning with wash blue skinny jeans and white high-top sneakers. Add a red-white striped tee to complete this day look: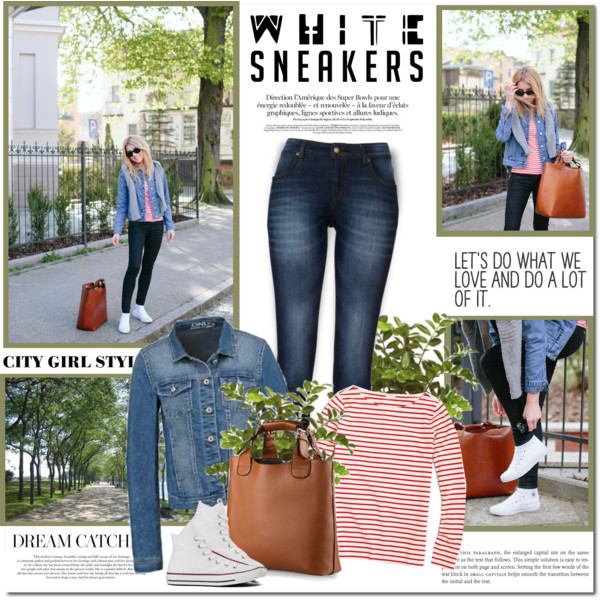 Embroidered Sneakers With Jeans And Striped Top
Embroidered black sneakers can be styled with wash blue jeans and striped tee: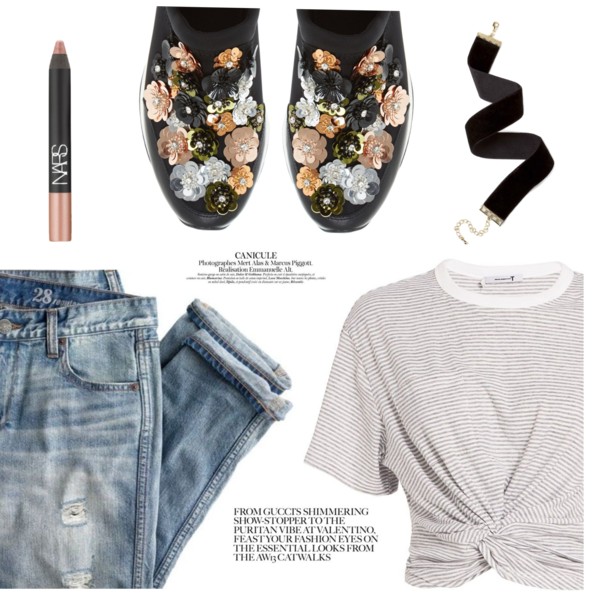 I prefer wearing solid color sneakers. I might sound like an old granny, but solid, neutral color kicks are versatile, as you can wear them with anything and anywhere.
Black Crop Top With Flared Jeans And White Platform Sneakers
A black crop top looks cool and glamour with flared jeans and white chunky platform sneakers: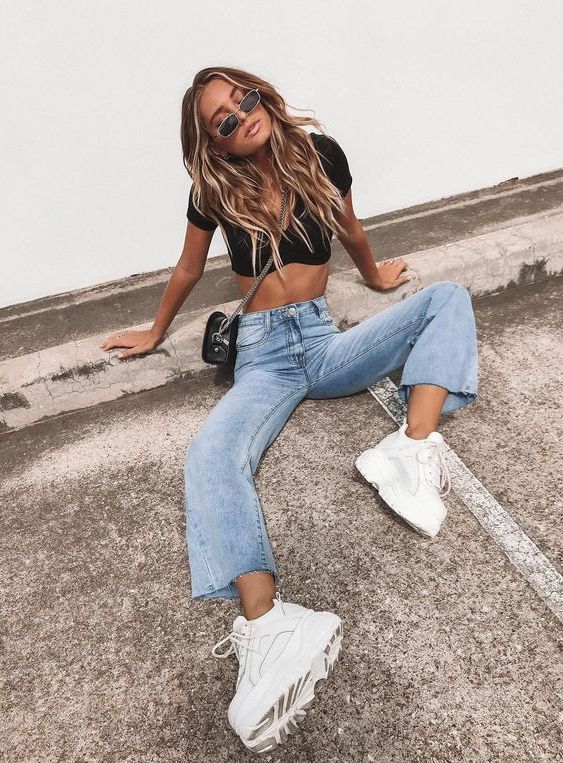 Black Crop Top With High Waist Jeans And Red Sneakers
A black crop top looks fab with high-rise cuffed jeans and red sneakers: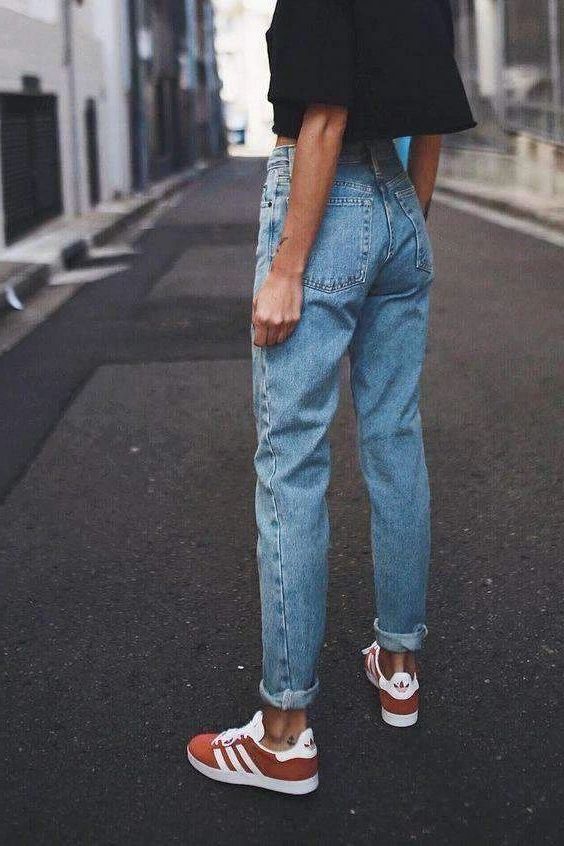 White Pullover With Black Skinnies And Black Sneakers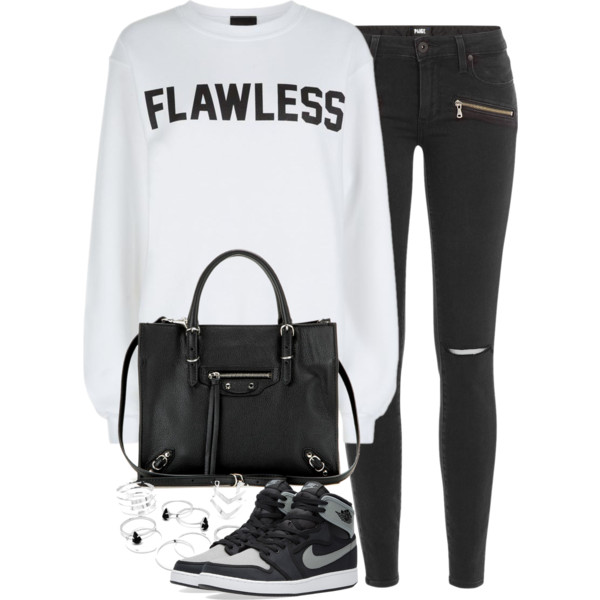 Pink Tee With Jeans And White Kicks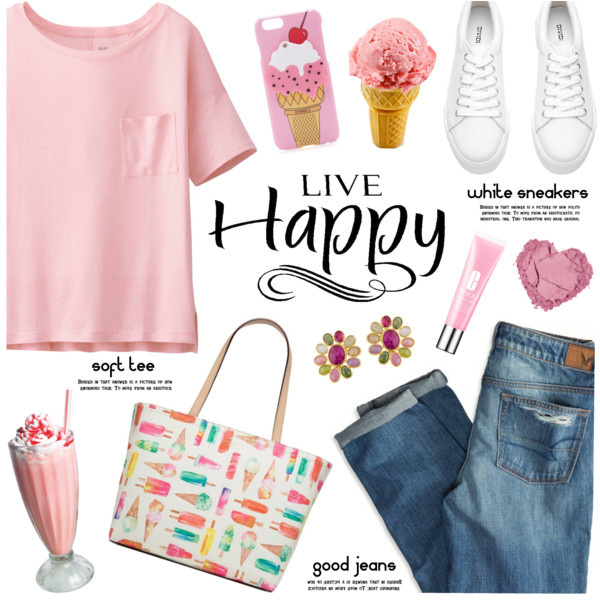 Spaghetti Strap Top Blue Skinnies And White Kicks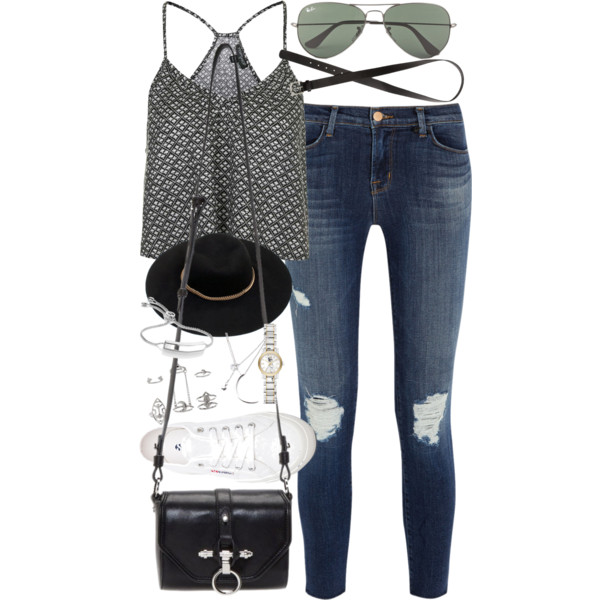 Red Hoodie, Plaid Shirt With Blue Jeans And Red Trainers
So, how to make sneakers look perfect teamed with jeans? If you are the average gal like me, then you definitely know that pairing denim with sneakers doesn't always come so easily. If I do things wrong, the result can look daggy. How to avoid such outfit? You simply need to stick to these simple rules described in every image.
Camel Hoodie With Striped Tee, Blue Jeans And White Kicks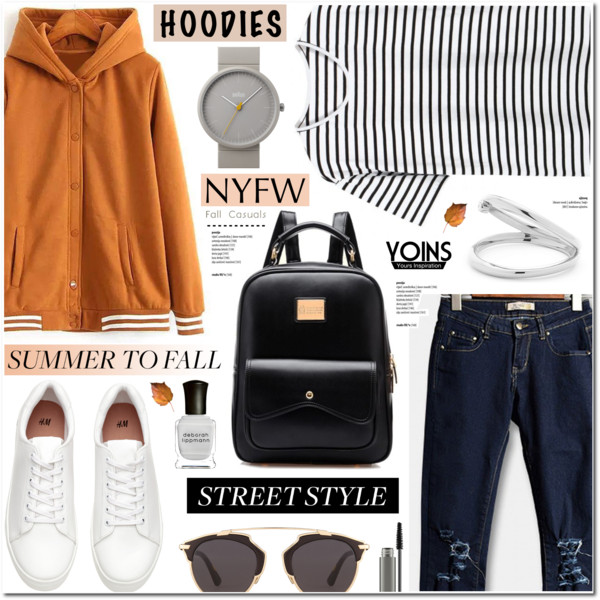 Multi striped Pullover With Knee Ripped Jeans And Grey Sneakers
A mutlistriped sweater ideally matches knee ripped skinnies udpated with grey sneakers: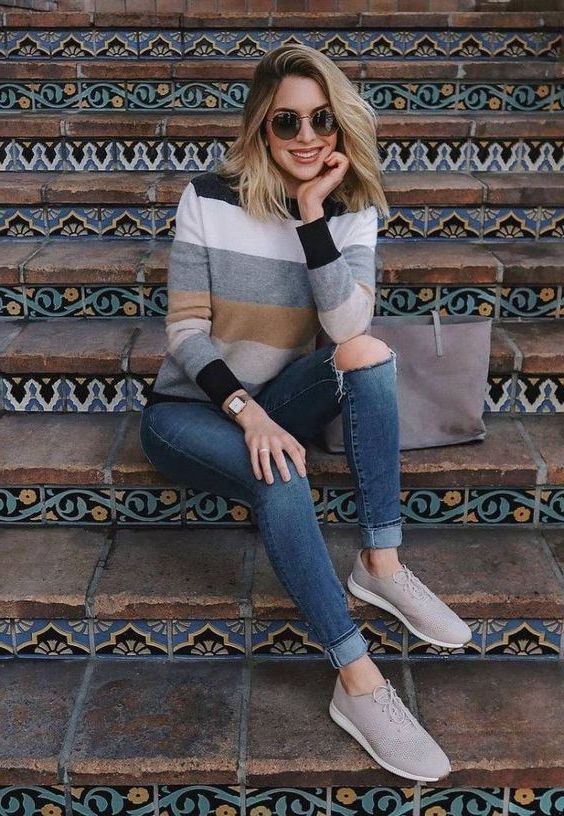 Striped Pullover With Blue Jeans And White Sneakers
A simple black-white striped top ideally suits wash blue slim jeans and white kicks. Complete this style by adding oversized sunglasses: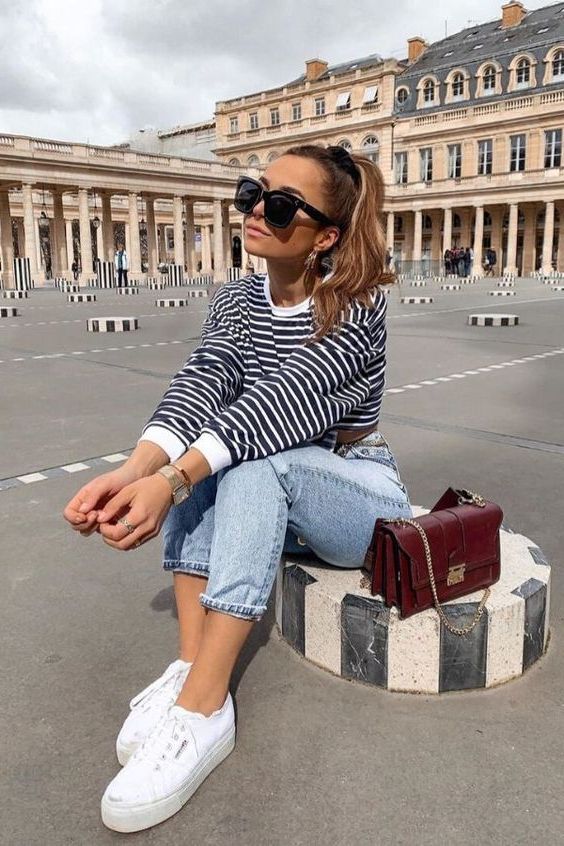 Yellow Sweater With Denim Culottes And White Sneakers
A pastel-yellow sweater can be tucked in blue denim culottes. Update this look by adding white runners: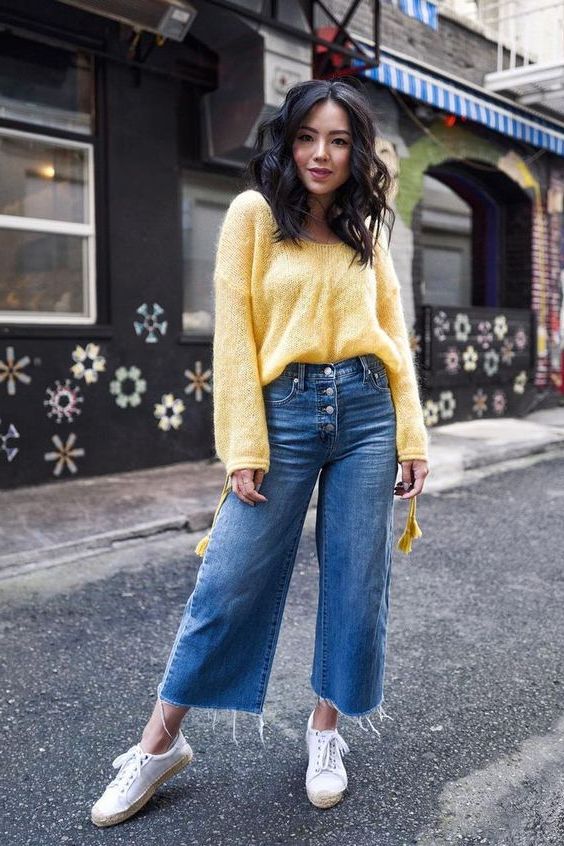 Black Tee White Jeans And White Kicks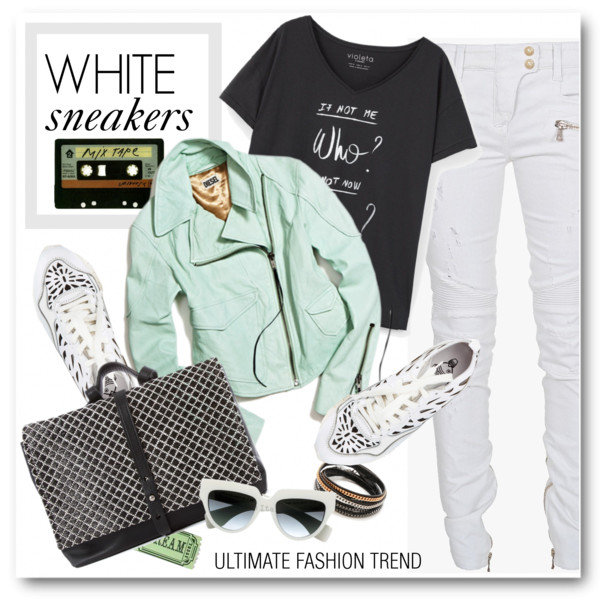 Denim Culottes With White Sleeveless Sweater And Embroidered White Kicks
Denim culottes are updated with a white sleeveless sweater and white plaform sneakers embellished with pins: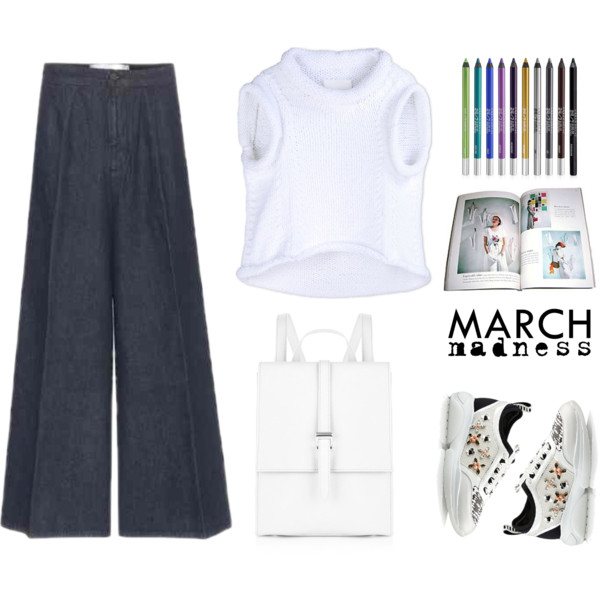 White Blazer Blue Jeans And White Kicks
Have fun with a white blazer and wash blue jeans updated with classic kicks: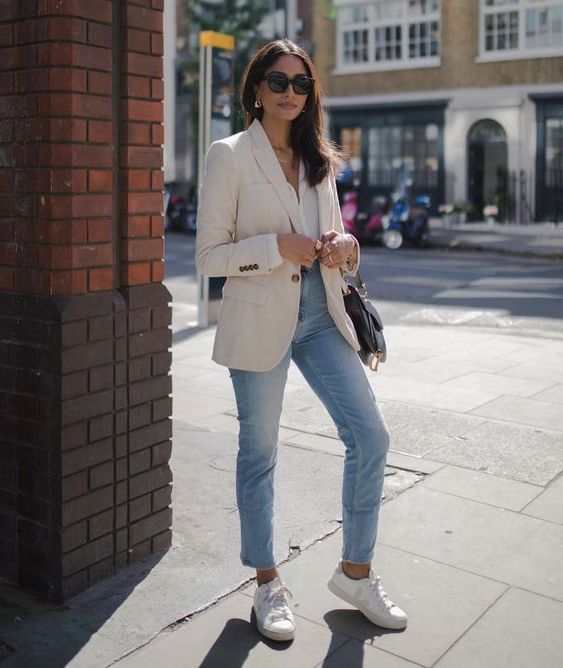 Jeans and sneakers are a fail-safe combo, and yet, for some reason, it can be tricky to find the perfect pairing. With a vast assortment of denim cuts and sneaks on the market, who's to say which two styles are best suited to each other? To us, it's all about proportion and striking a perfect harmony between opposing styles. Say, for example, you're wearing a cropped straight-leg jean. A slim high-top like Converse All Stars will hug your ankle and tuck under the hem nicely sans bulk or bunching. Alternatively, heftier high-tops sit better with skinny jeans that are fitted over your calves and ankles, and meet at the top of the shoe (almost as if you're tucking your jeans into your sneakers). If you go for a cropped jean that hits just above the ankle, your tried-and-true white leather low-tops are an ideal companion.
Source: Popsugar