If you are in love with ladylike prints, then you gonna love this post. In today's article, I decided to share with you my favorite street style looks of ladies who appear in trendy floral pants.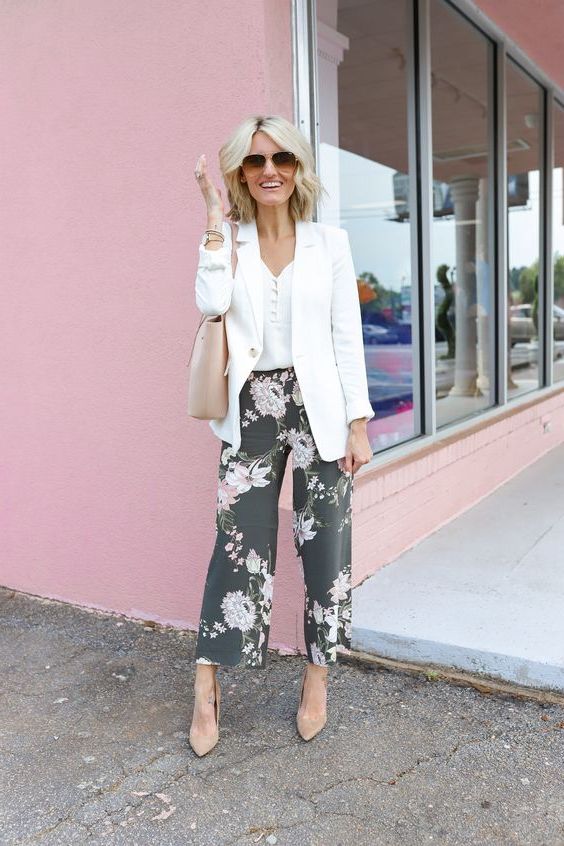 A lovely style for spring office wear. We see a white blazer paired with a white blouse and cropped floral pants in khaki green completed with nude pumps.
With What To Wear Floral Pants
This print is ideal for sunny spring and summer days. I highly recommend trying on floral pants this year. Why? It's an ideal choice to underline your femininity. So, you should definitely add them to your closet.
If you have already bought a fresh and stylish floral pair of trousers, but you still don't know how to make them look awesome on you, then I am here to help you out. First of all, you need to decide what kind of look you want to create: casual or semi-formal. Then you should combine these bottoms with appropriate tops and jackets. The best way to know what tops you better to use, then it's to look through trendy outfit ideas. Keep on scrolling to find your favorite look.
Here are shown my favorite ways on how to make floral pants look great on you. If you are a beginner to this trend, then you better start from simple looks. Before creating your day outfit, you have to see, if these bottoms suit your top.
For instance, you can wear these trousers with neutral tops, denim or leather jackets. Personally, I love to pair them with simple lightweight blouses in classic colors. Sure, you can make things look bold and glamour by adding colorful or printed jackets.
All those creative looks are ideal for self-confident women. Anyway, keep on scrolling to see my favorite street style looks that feature floral bottoms.
With White Peasant Blouse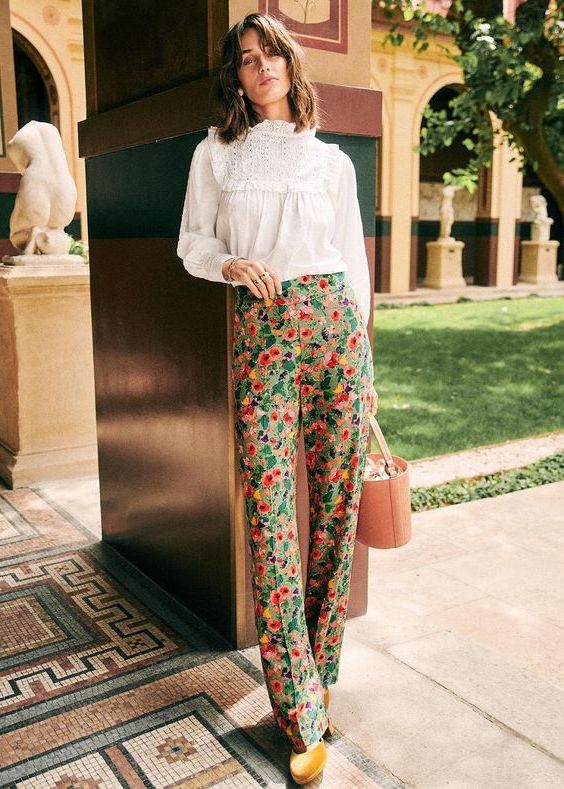 With Bulky Green Sweater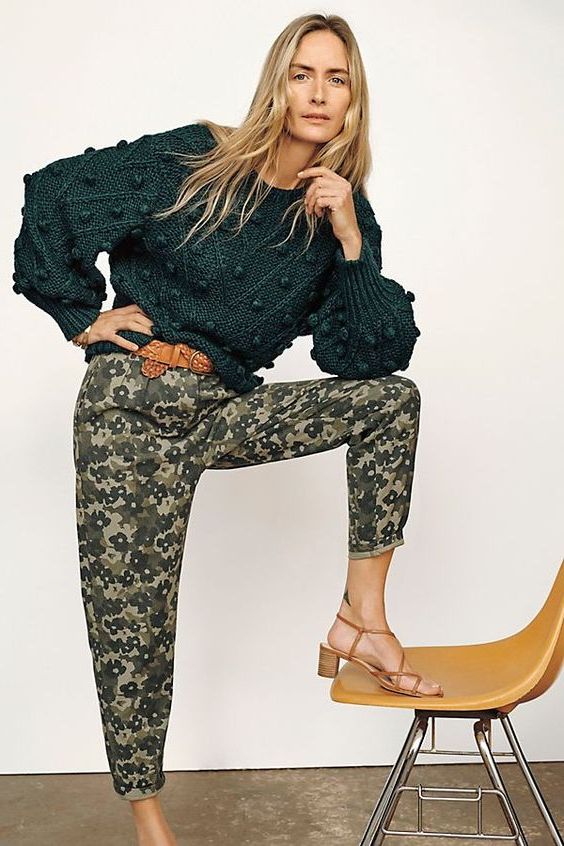 With Matching Print Blazer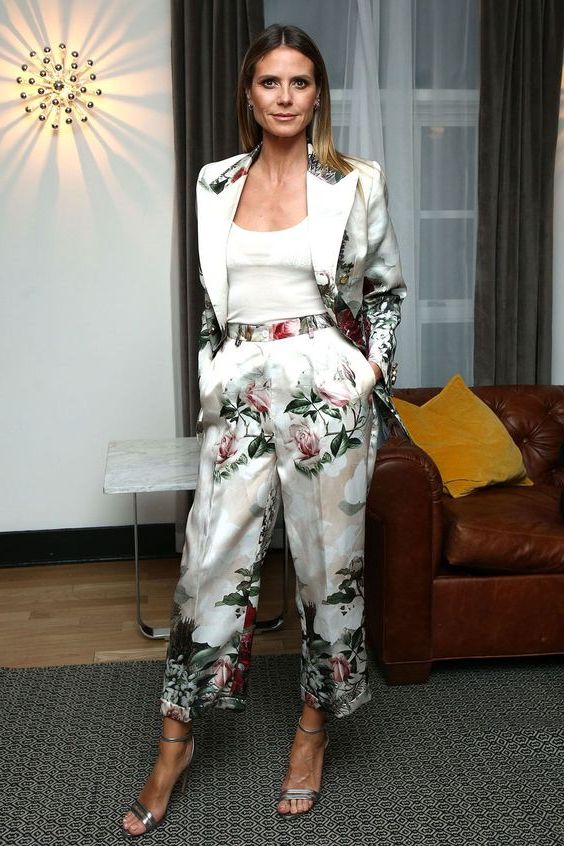 With Red Crop Top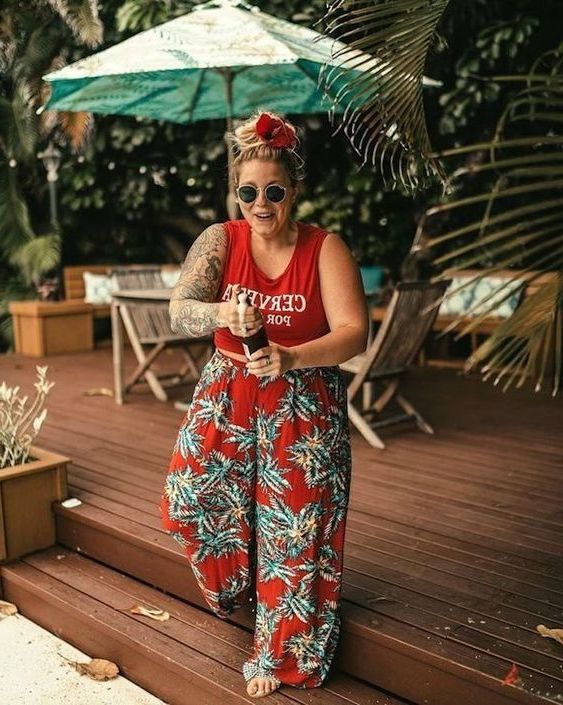 With One Sleeve White Blouse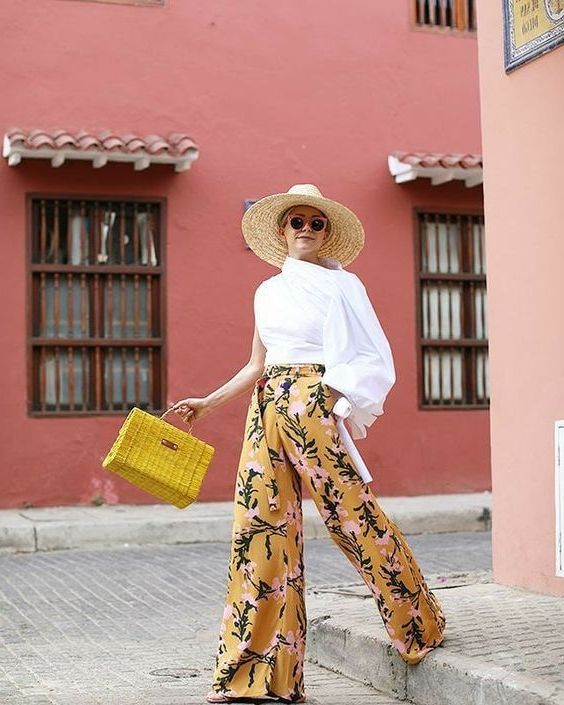 With Mustard Yellow Blouse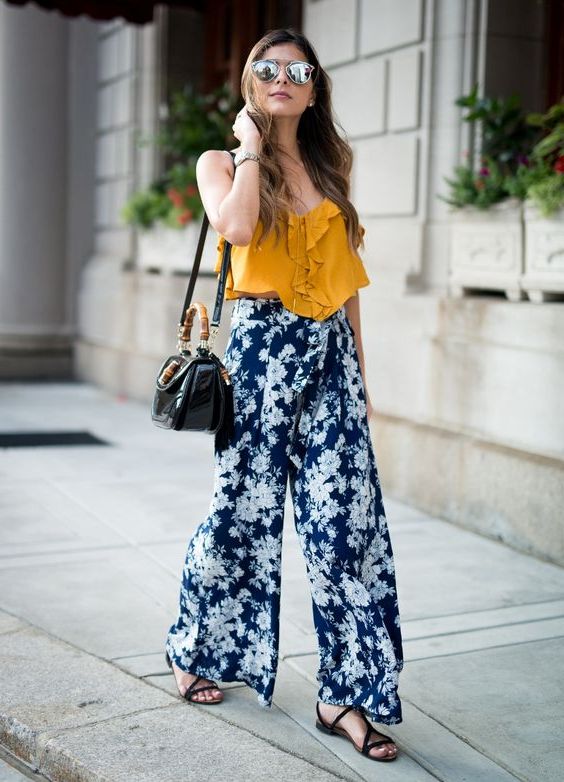 With White T-shirt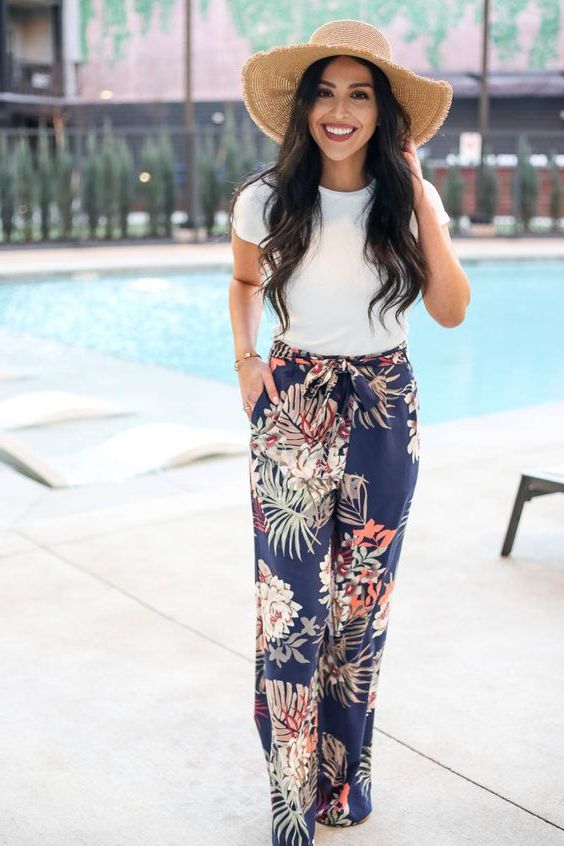 With Mustard-Yellow Sweater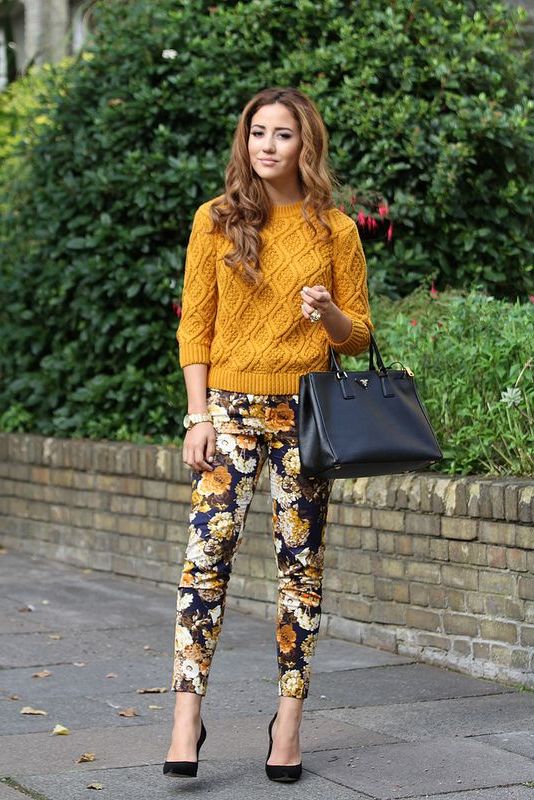 With Beige Blouse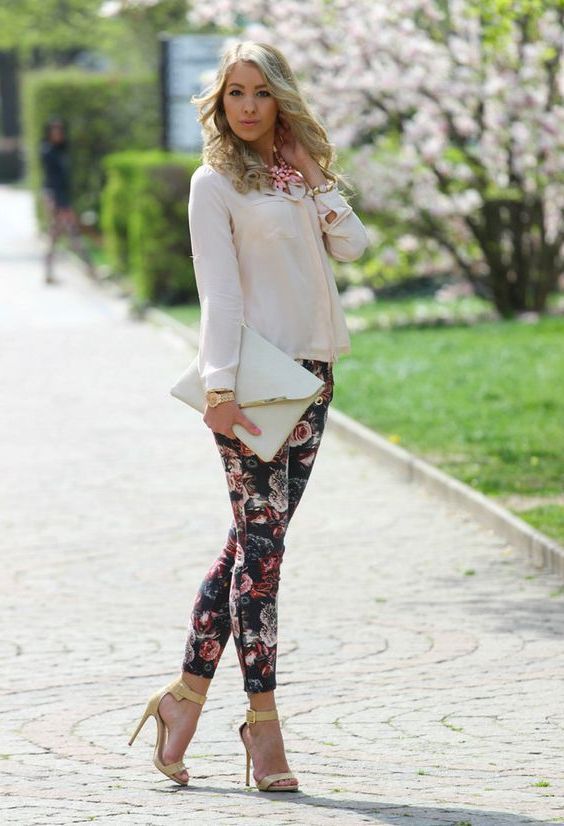 With Black-White Striped Top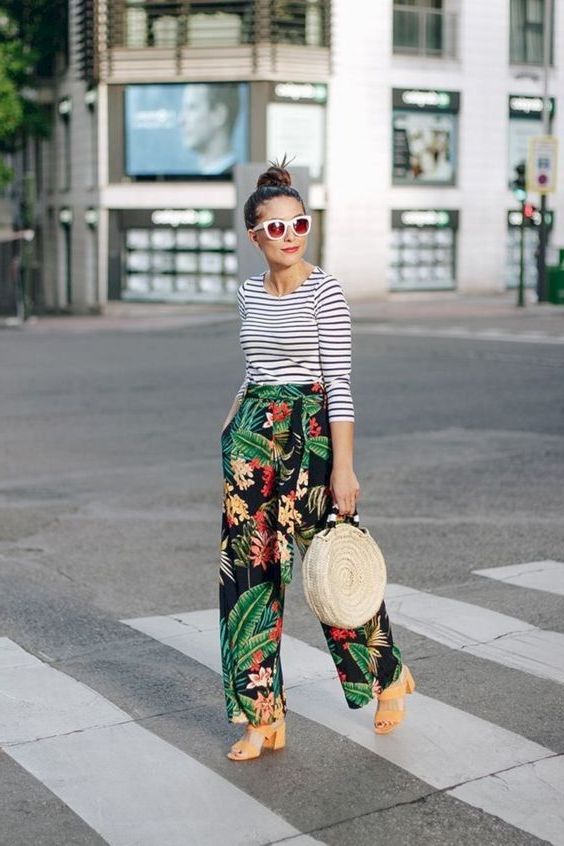 With Blue Denim Jacket
Another lovely look for spring street walks. We see a blue denim jacket styled with a white tee paired with navy floral print pants completed with beige sandals. If you are looking for more spring jackets that are so must-try this spring, then check out my post on spring jackets, I've got chic ideas that can make any lady look trendy: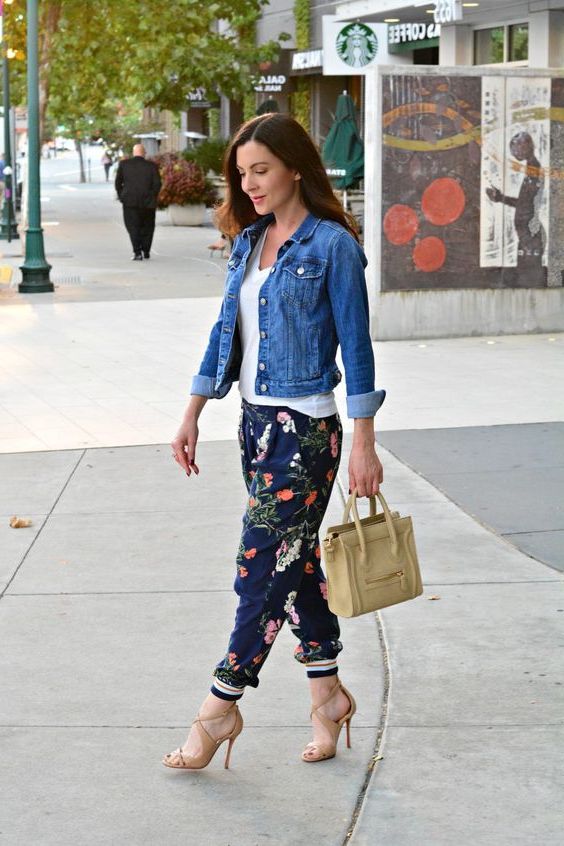 With Black Leather Jacket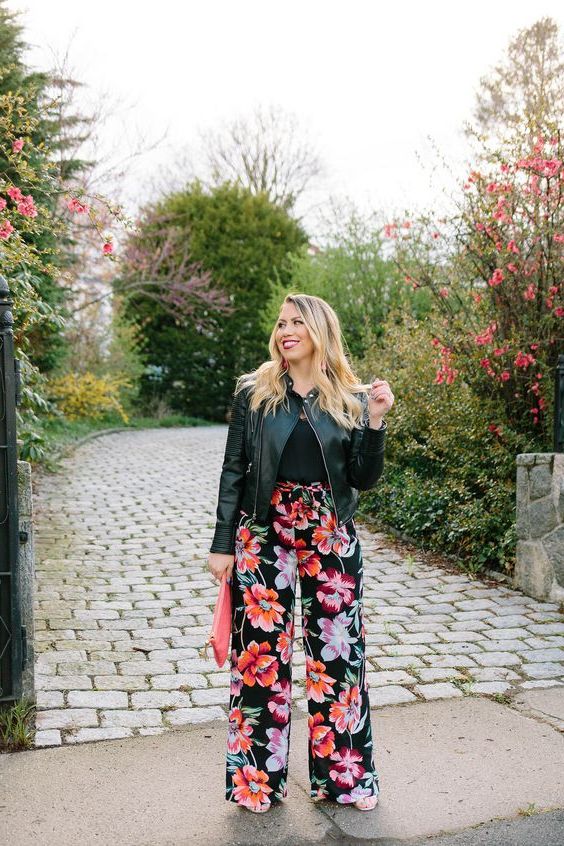 With Black Slip Tank Top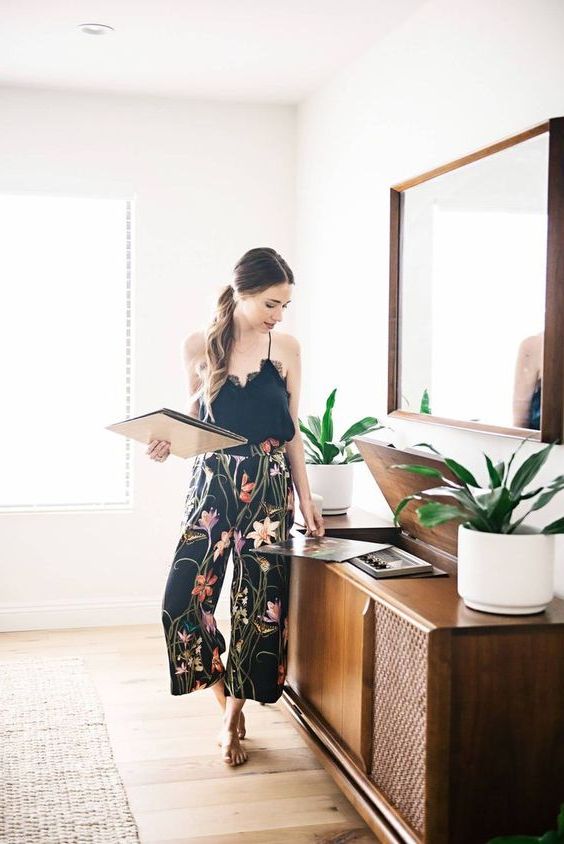 With Polka Dot Blouse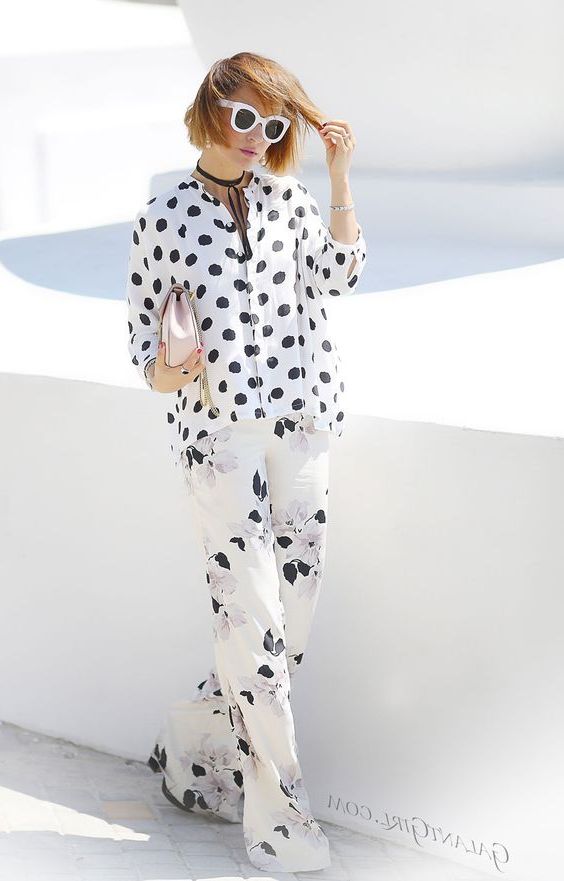 Floral is the hottest trend for spring and summer, and we'd like to give some tips for you to get a great combination. Once you've put on a pair of floral pants, you need to keep your tops as simple as you can and avoid other prints. Monochromatic tops in pastel colors will work well for a feminine look. You can also put on a denim shirt for a casual-chic look. If the day is a bit chilly, then put on a denim jacket which is great for any spring outfit. Wearing a sleeveless peplum top will make women flirty and fabulous as well. Now, tell me, which one of these street looks is your favorite?
Source: PrettyDesigns