If you wondering how to warm yourself up in these cold days, then you should definitely check this awesome compilation of women's fur vests. The vest is a perfect layering piece that ideally suits your favorite sweaters, jackets, and coats.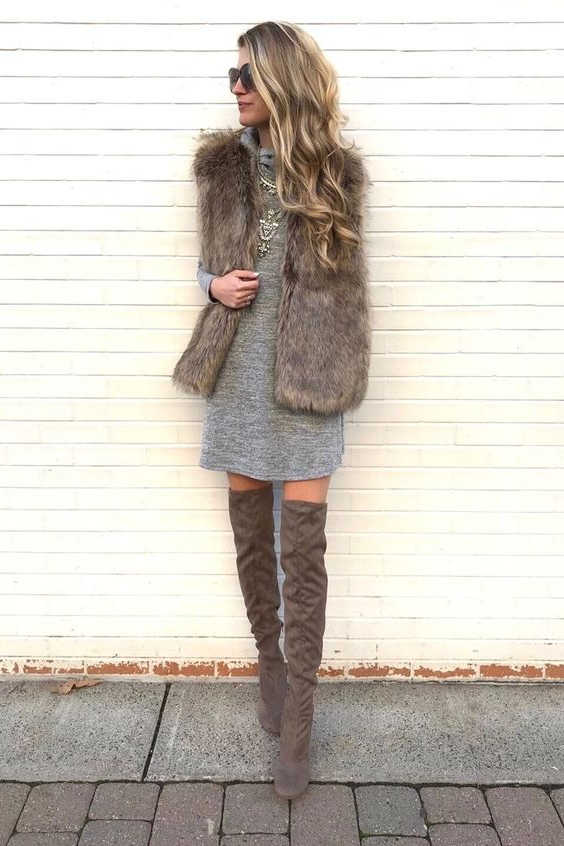 We see a grey fur vest is styled with a long-sleeve grey sweater dress and slouchy OTK boots in grey suede.
How To Wear Fur Vests
In today's post, I am about to show you fifteen cool and trendy fur vests that are not only comfy and cozy but also extremely stylish. Each one of these furry pieces looks stylish and very sweet. I am absolutely obsessed with these beautiful vests. Read on to find some tips and tricks on how to make fur vest s look awesome on you.
Can I Wear Fur Vest To Work
A camel coat is worn with a bulky fur vest, black leather skirt and tights tucked in black suede boots. Update this style with a brown leather belt: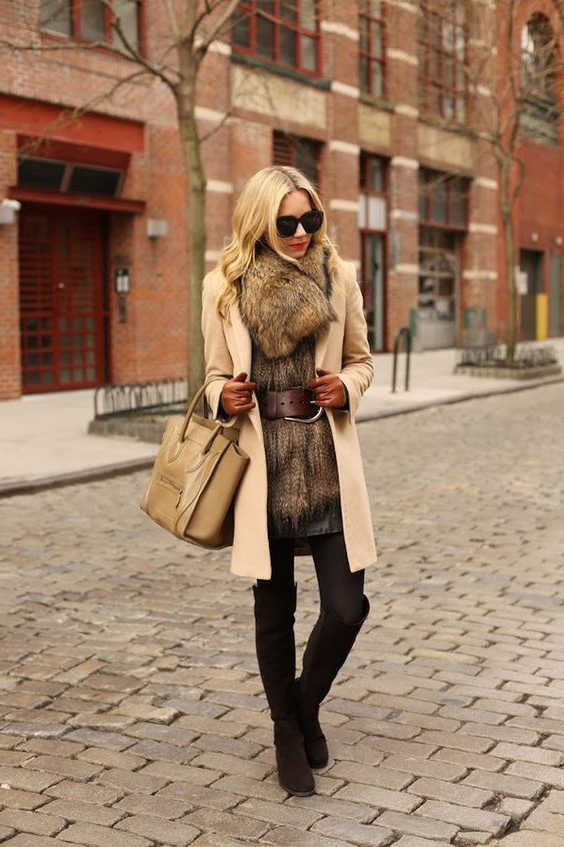 Winter vests are one of my absolute favorites for cold weather wear. The fur is a perfect fabric that makes any outfit look awesome. This outerwear garment can be worn with work outfits, cocktail attire, and casual essentials.
Fur Vest And Black Leather Pants
A grey long fur vest ideally suits that  long-sleeve black top tucked in black leather pants:
You can find real fur or faux fur vests. It all depends on your personal taste and choice. If it's not so cold outside, you can layer a great fur vest over your lovely pullover or oversized sweater.
Fur Vest And Denim Shirt
A brown fur vest ideally fits that denim shirt paired with black leather leggings. Love the statement black shades: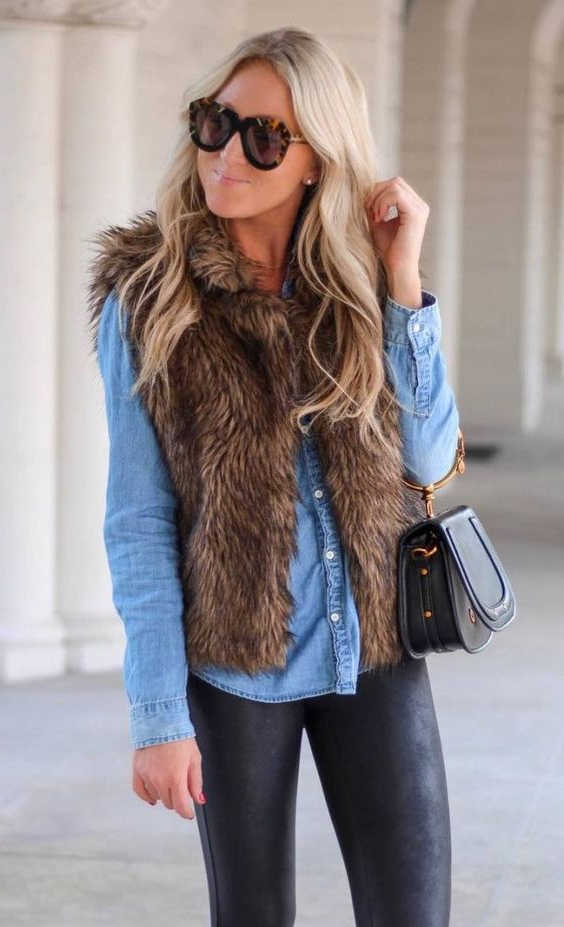 Keep in mind one simple thing: no matter how warm is your vest, but it won't replace your coat or cozy jacket on really frigid days. That's why I recommend to wear it atop your favorite leather jackets or camel coats. Believe me, you gonna create a trendy look!
Fur Vest And Dress
If you want to create a feminine outfit, then how about teaming a white sweater dress with a fur vest completed with black tall boots: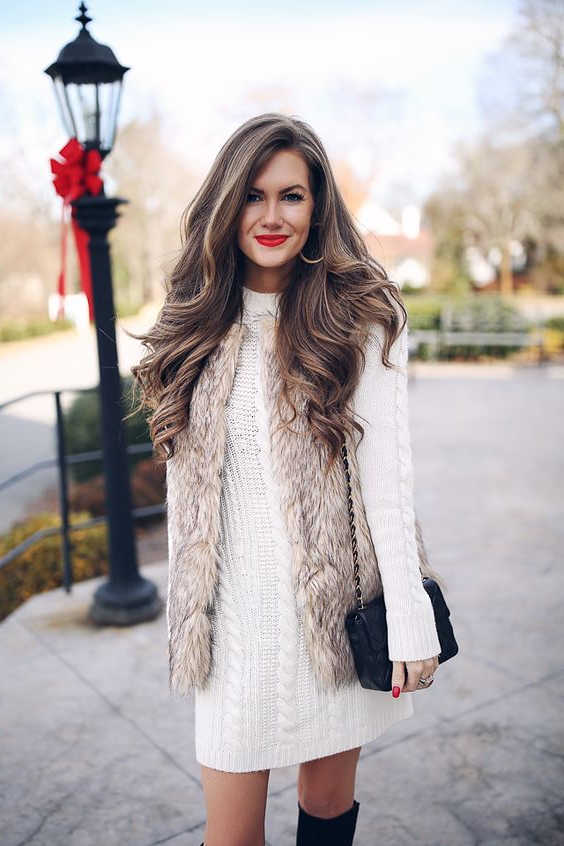 We see two stunning combos! One outfit comes with a fur vest styled with a roll-neck black sweater-dress completed with black OTK boots. Another look consists of a fur vest is styled with a V-neck black sweater-dress completed with OTK black boots: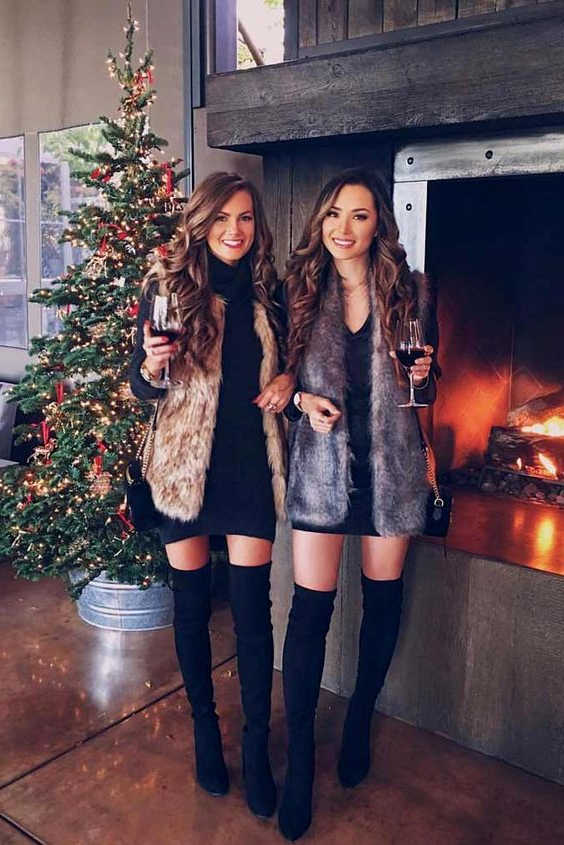 Fur Vest And Red Pants
A classic fur vest is paired with a white sweater and red skinny pants completed with lace-up leopard print booties: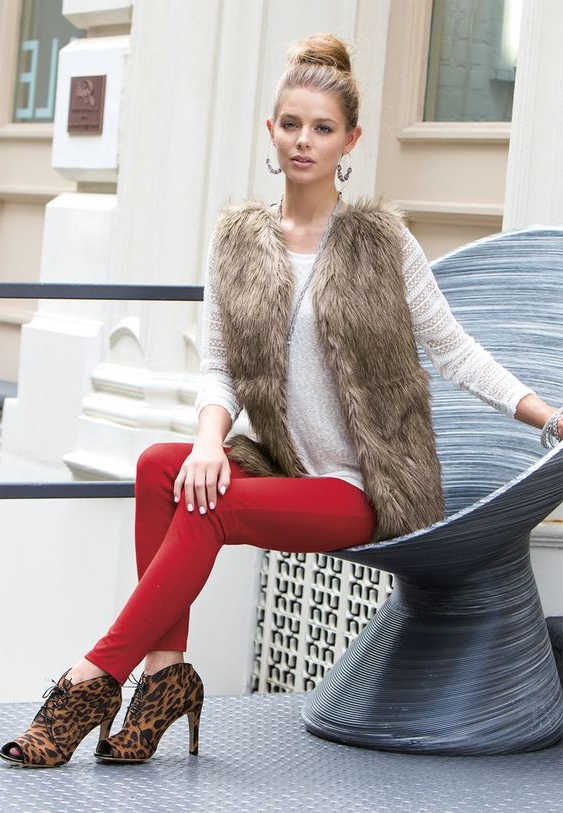 Fur Vest And Thigh High Boots
A belted fur vest is worn with a black long-sleeve black knitted dress paired with slouchy OTK boots in black color: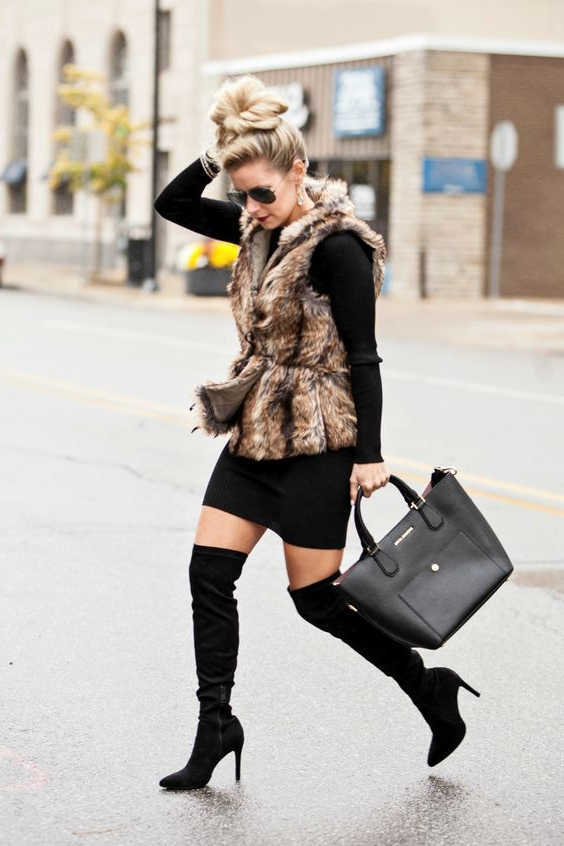 Fur Vest And White Pants
A classic fur vest is layered over a white sweater paired with a plaid shirt and white skinny jeans updated with beige suede ankle-boots: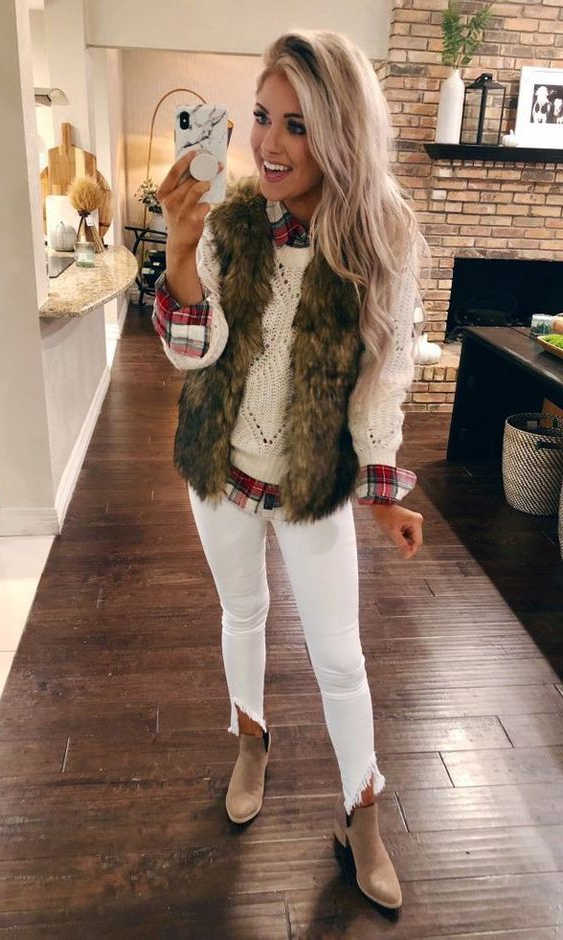 Fur Ves And Black Dress
Fur vest ideally matches that cozy black sweater-dress completed with black leggings tucked in black suede wedge ankle-boots: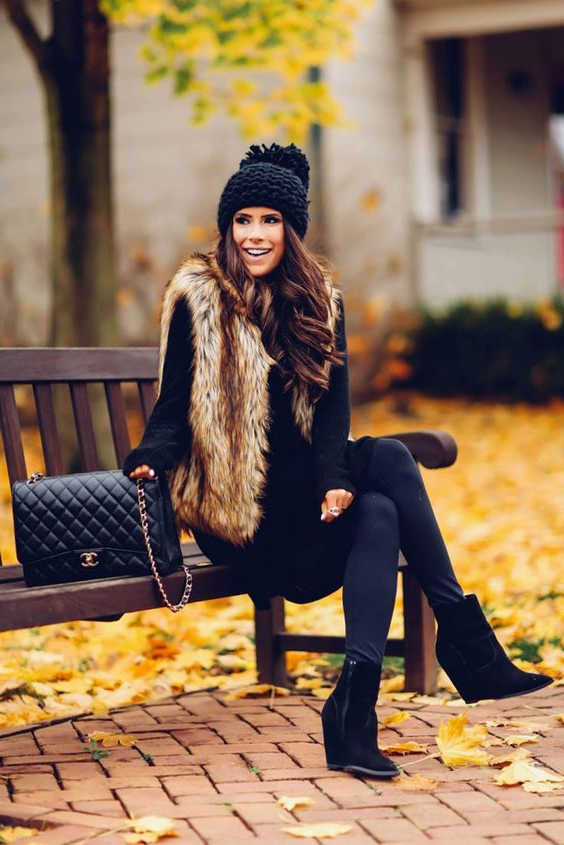 Fur Vest With Hood
An oversized fur vest wth hood ideally matches that roll-neck ribbed-knit sweater in grey. Update this look with black leather skinny pants and oversized sunglasses: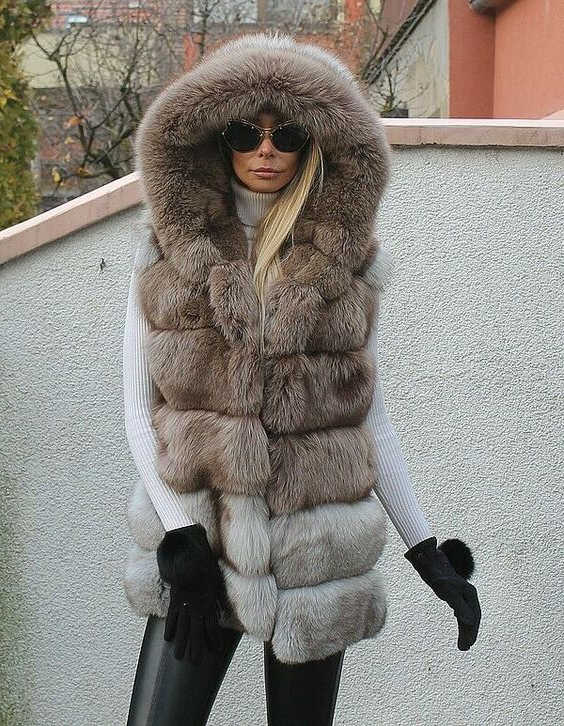 Fur Vest And Jumpsuit
A grey fur long vest can be a nice choice to team with khaki-green cargo jumpsuit completed with green leather heeled sandals: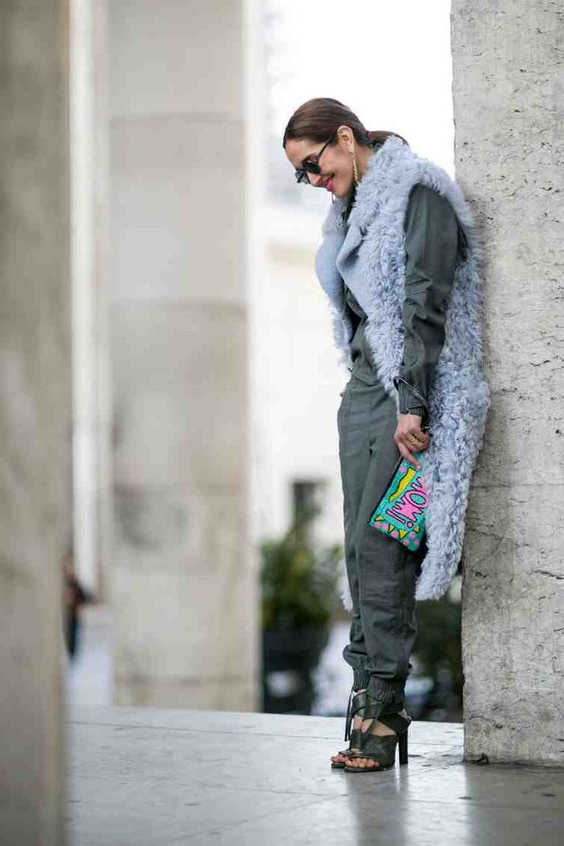 Fur Vest With Leather Jacket
A long fur vest can be a nice addition to wear with a black leather jacket. Update this combo with an orange silk cami top tucked in blue jeans. Update this outfit with rounded sunglasses:
Fur Vest With Leather Leggings
We see a fur vest with a beige sweater teamed with black leather leggings and OTK suede boots. Update it with a black fedora hat: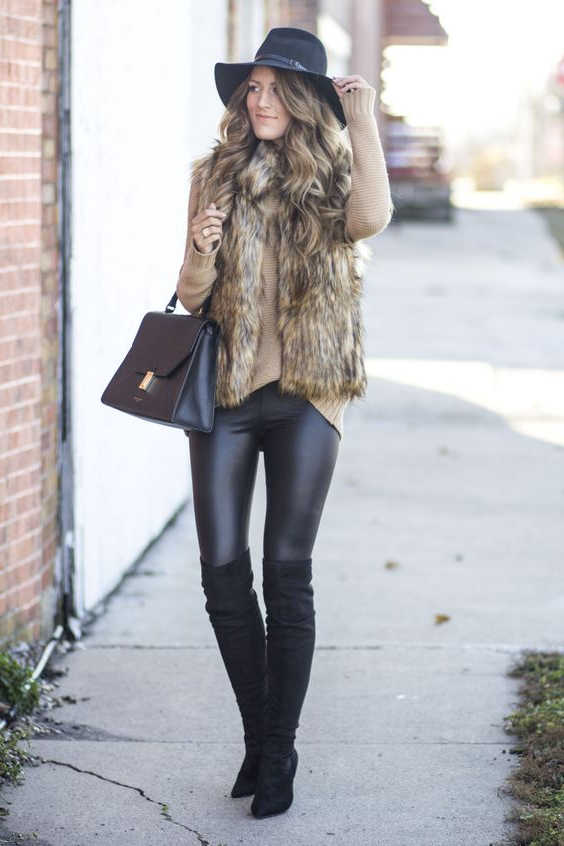 Fur Vest And Sweater
A fur vest can be styled with a grey sweater and white skinny jeans. Update this look with a red leather shoulder bag with a chain shoulder strap: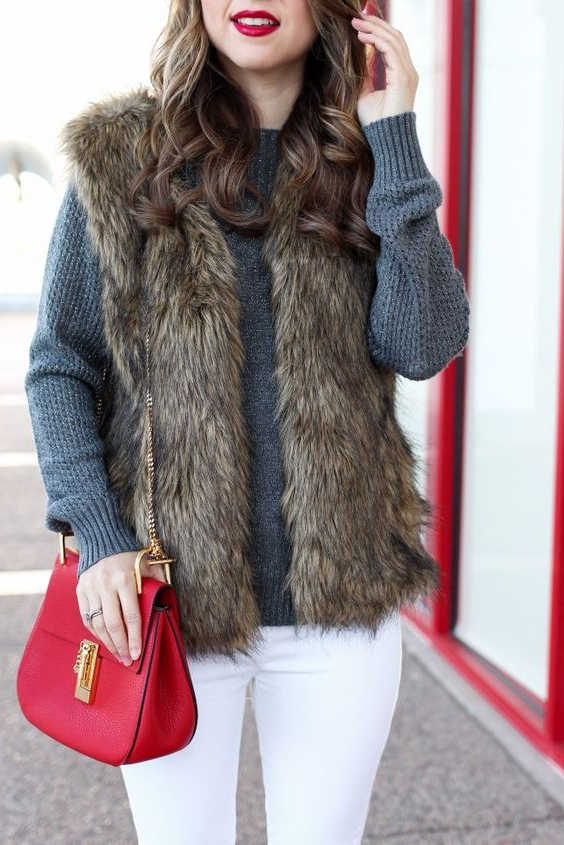 Black Fur Vest With White Shirtdress
We see a black fur vest styled with a white shirtdress and tall lace-up black leather combat boots. If you do like shirtdresses, then check out my post on how to wear shirtdresses this year, I will show you my favorite looks you can use in your everyday life: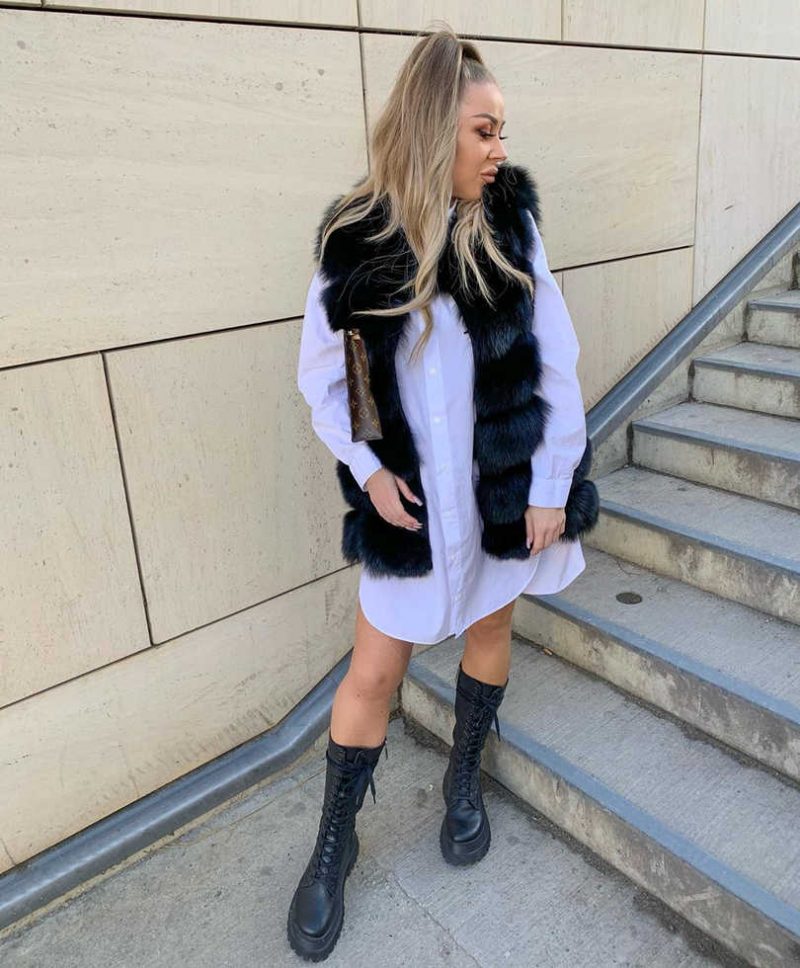 Fur Vest With Biker Jacket
A grey fur vest ideally suits that beige biker jacket teamed with blue skinny jeans. Love the oversized sunglasses and that miniature shoulder clutch bag: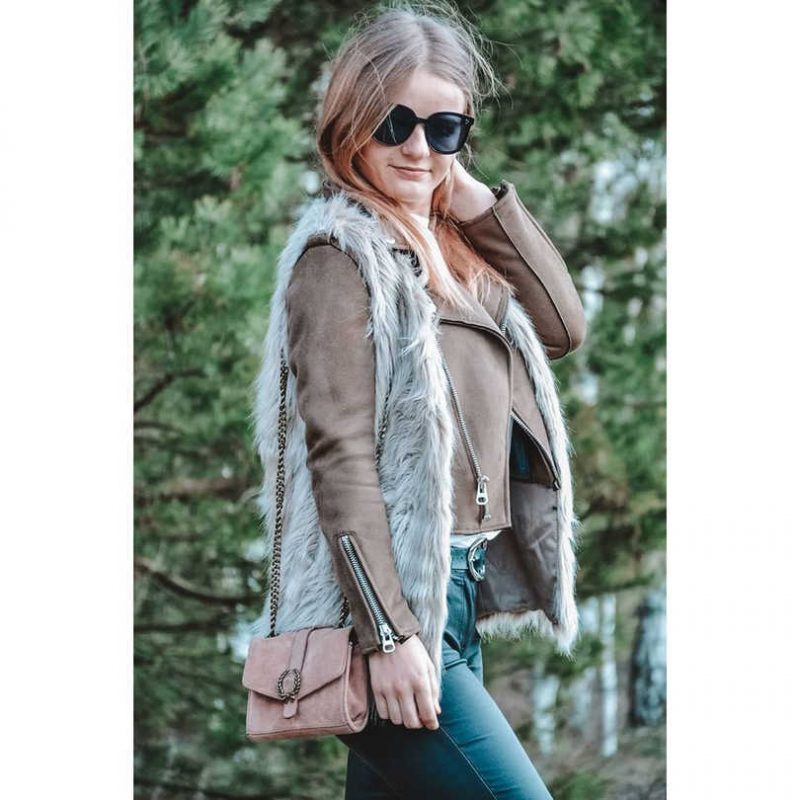 The great thing about a fur vest is you can literally throw it on over sweatpants and suddenly be transformed into a glamorous, vaguely intimidating version of yourself. Make it a faux-fur vest and now you're kind to animals, too! It's really a winning situation.
If you have one sitting in your closet and are wondering how to wear it—or you're thinking of picking one up now that the weather is getting chilly, then you definitely should check out this style guide, as I 've put together perfect winter outfits to get you started. Layer it over a chambray shirt and jeans for the weekend, or toss it over a dress on your way to work—or, when it gets really cold, put it on under your coat for some seriously luxurious-feeling warmth.
Source: StyleCaster, WhoWhatWear