Let's face it, a perfect balance is what makes you look chic. That's why belted blouses can make you look thinner and keep the whole look balanced. In this article, I am about to show you some trendy looking blouses that make you look thinner.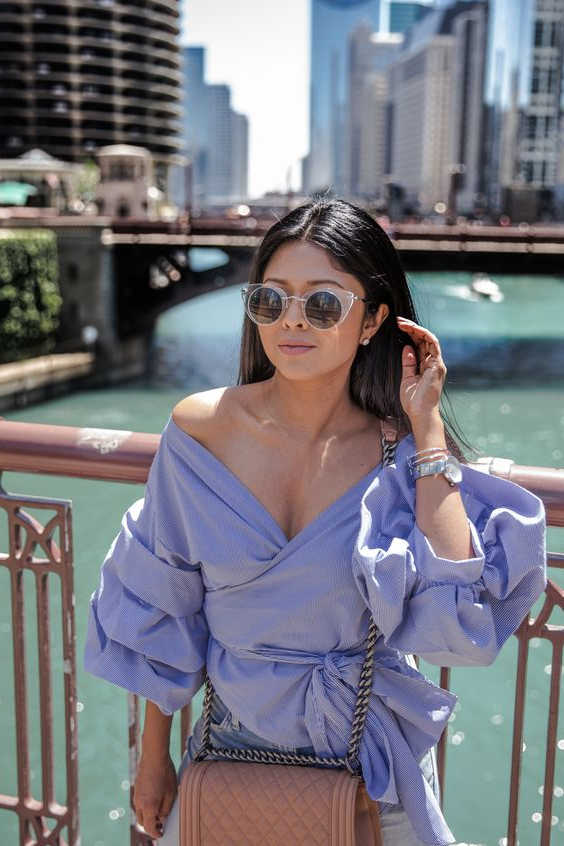 In love with this oversized blue blouse with a deep V-neckline, puffy sleeves and a belt. Team it with wash blue skinny jeans and a chain strap quilted bag.
Belted Blouses Outfit Ideas
How do I dress to look thinner in a blouse? First of all, you need is to choose an appropriate silhouette, color, and material. Once you find your favorite design, it's time to think of ways how to wear it.
Just think of what other clothes make you look skinnier? Or maybe, you need a belted blouse that will accentuate feminine silhouette and that's it?
I personally, love wearing only one slim item, that's the best way to dress thinner and not looking fat. In this collection are gathered amazing wrap and belted blouses designs in beautiful colors that make you look skinnier.
I love to see ladies who choose bright color blouses in relaxed-fit completed with belts. They freely sit on the bodies, not restricting the lady's movement. It gives a feeling of lightness and confidence. Complete them with neutral color pants or skirts. The blouse will accent the whole outfit.
All Black Pajama Look With Wrap Blouse
Keep it all in black! Go for this pajama-style outfit consisting of a belted satin blouse and matching fabric pajama pants: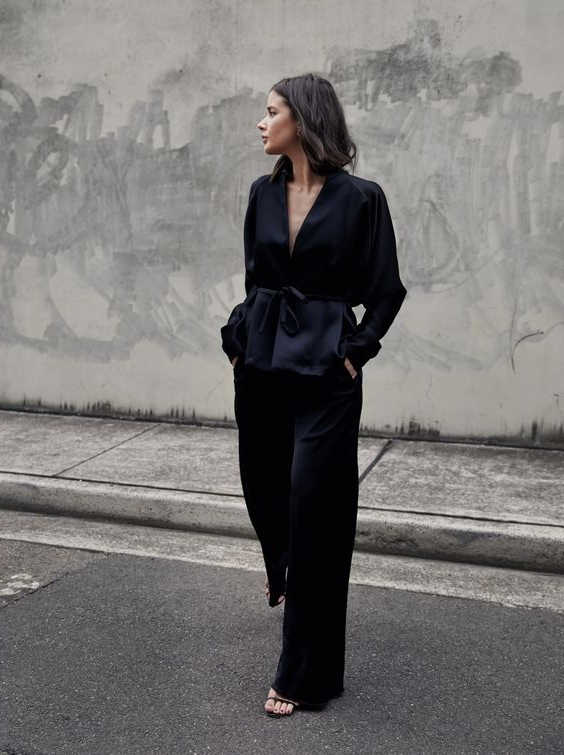 Belted Blouse And Cropped Slim Pants In Black
A pastel pink belted blouse ideally suits these black cropped slim pants. Complete the look by adding strappy heeled black pumps: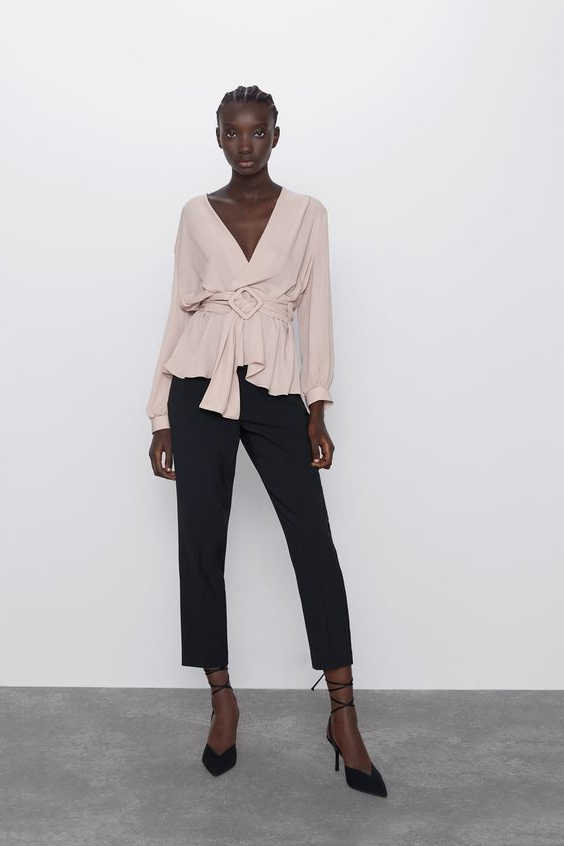 Belted Wrap White Blouse And Jeans
A belted wrap white blouse can easily make you look fresh and modern, style it with knee-ripped slim jeans and nude heeled sandals: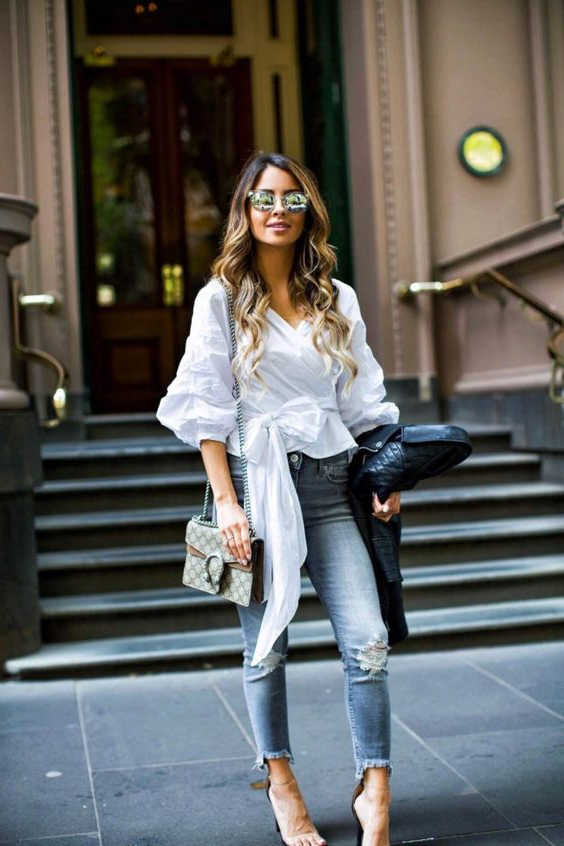 Belted Black Blouse And White Pants
A belted black blouse ideally suits these white skinny pants. Add aviator sunglasses and nude heeled sandals to upgrade this warm season look: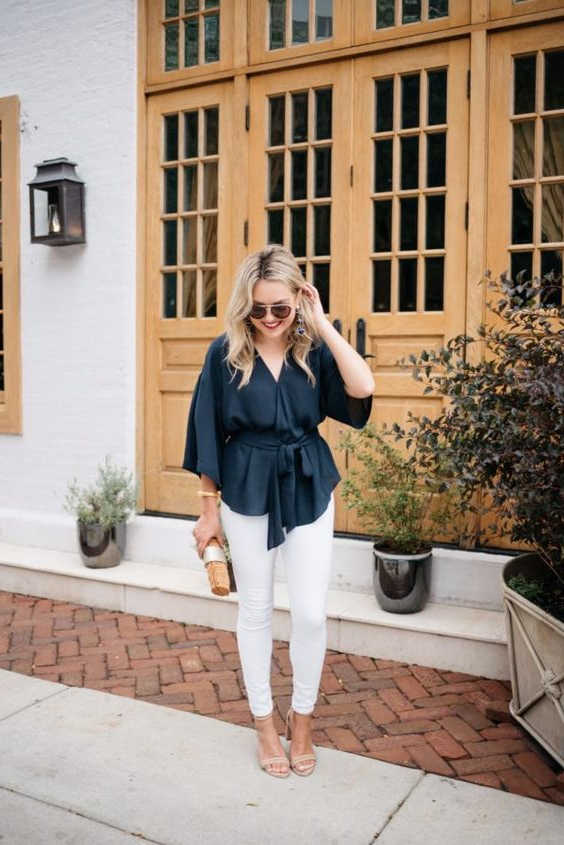 Wrap Blue Blouse And Black Skirt
A wrap belted light blue blouse with ruffled sleeves is teamed with a black pencil skirt. Complete it with cute heeled sandals in black and a leather black clutch bag: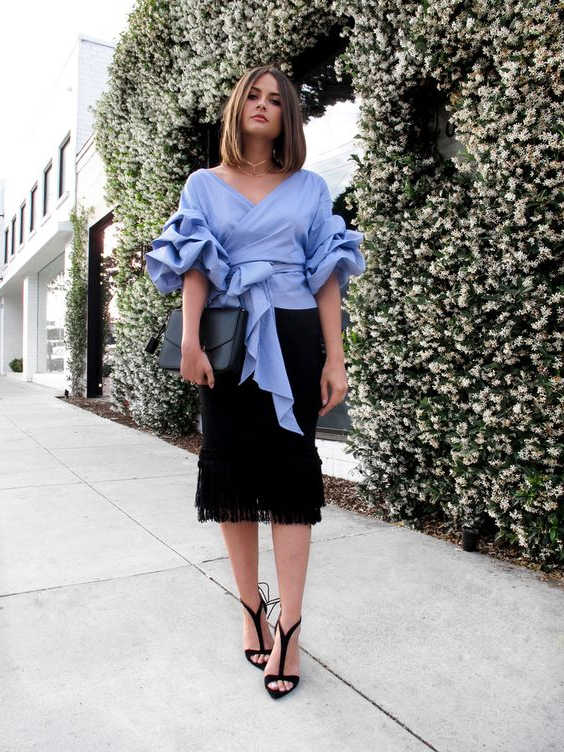 Belted Floral Blouse AndDenim
A belted floral white blouse looks like a cropped kimono. Pair it with ripped jeans and gladiator sandals: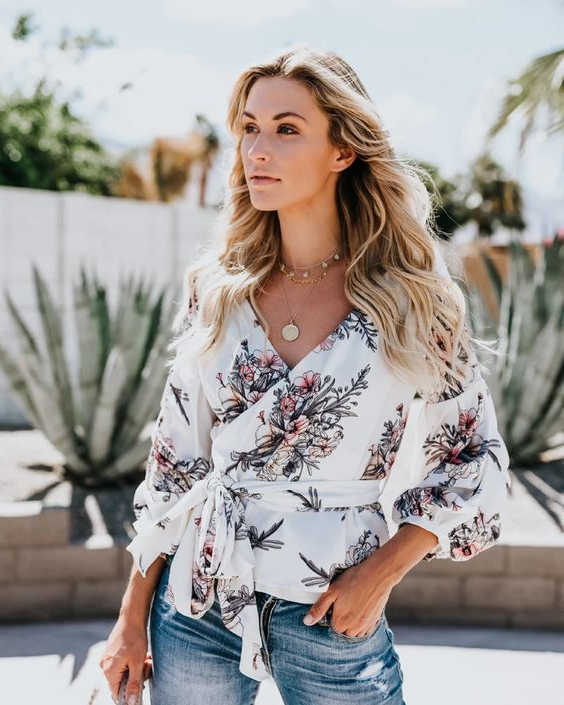 Mesh Dotted Belted Blouse And Black Pants
If you are looking for seduction, then my personal advice is to try on a see-through belted blouse. It will be an ideal addition for everyday walks. The dots, wrap design and V-neck will make your waistline slimmer and the neck taller, whilst the figure will appear proportional. You are free to wear them with anything you like. I can show you many other mesh tops you can try on this year, check out my post and let me know your thoughts. We see a dotted blouse with a black belt and ruffled details. Style it with a black bra, black pants and drop earrings: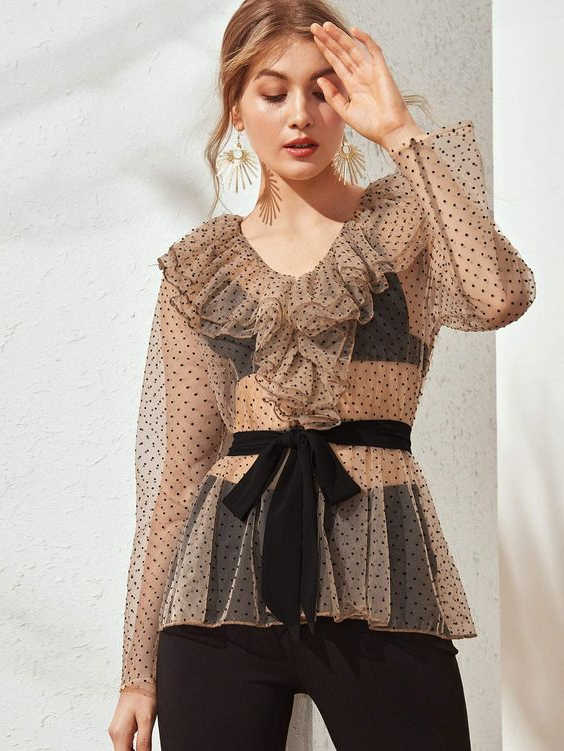 Off Shoulder Wide-Neck Wrap Blouse In White
An off-shoulder wide-neck wrap white blouse looks pretty ladylike and sweet combined with black skinny jeans. Complete this monochrome style by adding oversized sunglasses, drop earrings and a wooden clutch bag: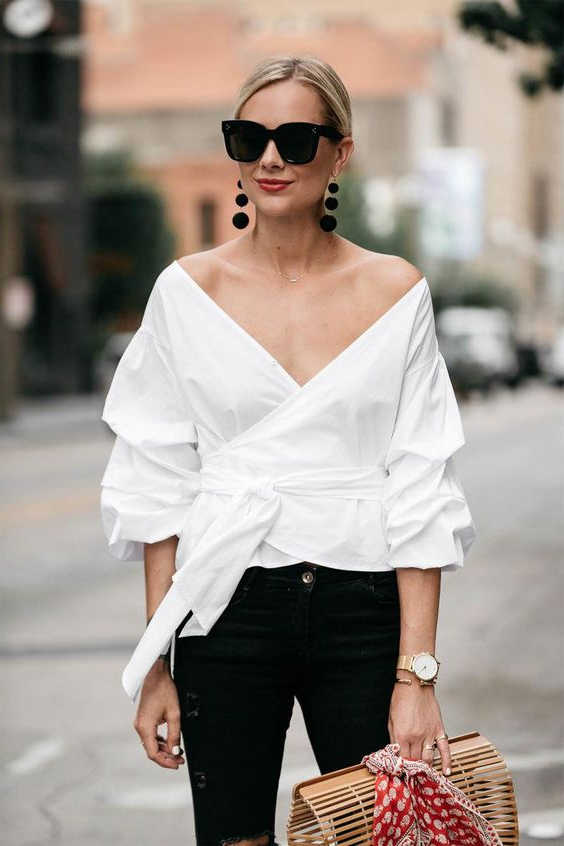 Wrap Pastel Blue Blouse And White Skinny Pants
Another magnificent and summery chic OOTD. Go for a wrap pastel blue blouse with ruffled sleeves and team it with skinny white jeans, update this combo by adding straw tote bag and some fancy jewelry: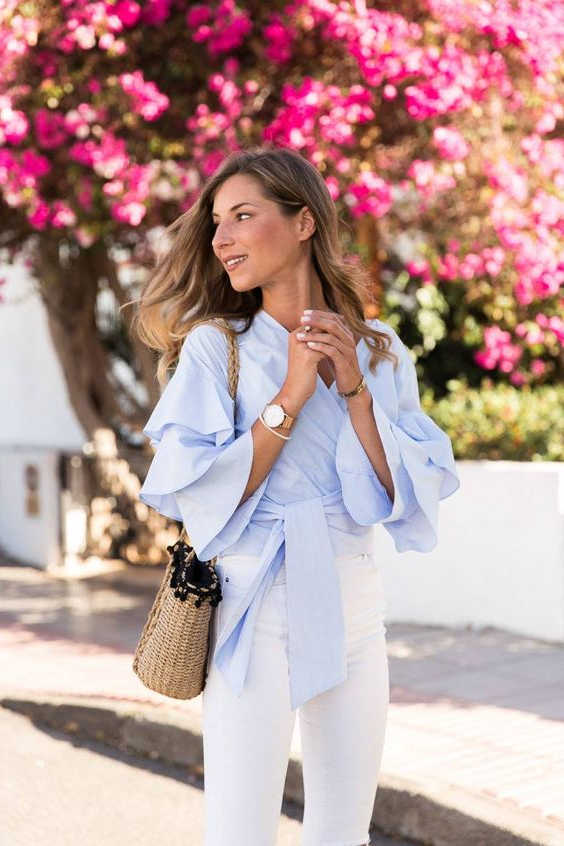 Satin Belted Blouse And Jeans
A satin belted dark turquoise blouse with a belt looks fancy and feminine paired with high-rise skinny jeans: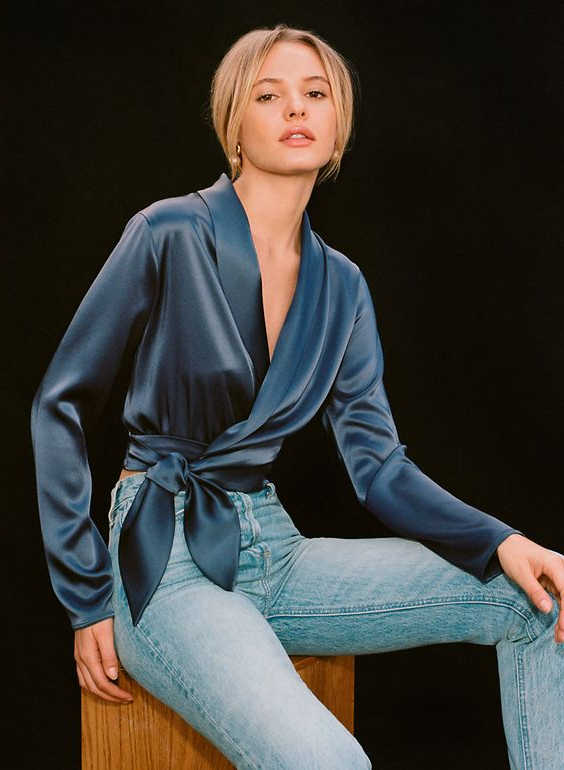 Belted White Blouse And Black Palazzo Pants
We see a beautiful, monochrome OOTD. A blazer-style belted white blouse is paired with black palazzo pants. A lovely combination for cocktail events. If you want to see more ideas how to wear palazzo pants, check out my blog post, I will show you some easy and trendy styles to wear this year: