Sweater with a belt is another great way to improve your everyday style. In today's article, I want you to take a look through these awesome ideas and find your favorite combinations you might give a try this year. If you ever thought of wearing your sweater in a kind of different way, then this is an ideal option for all those who want to look individual.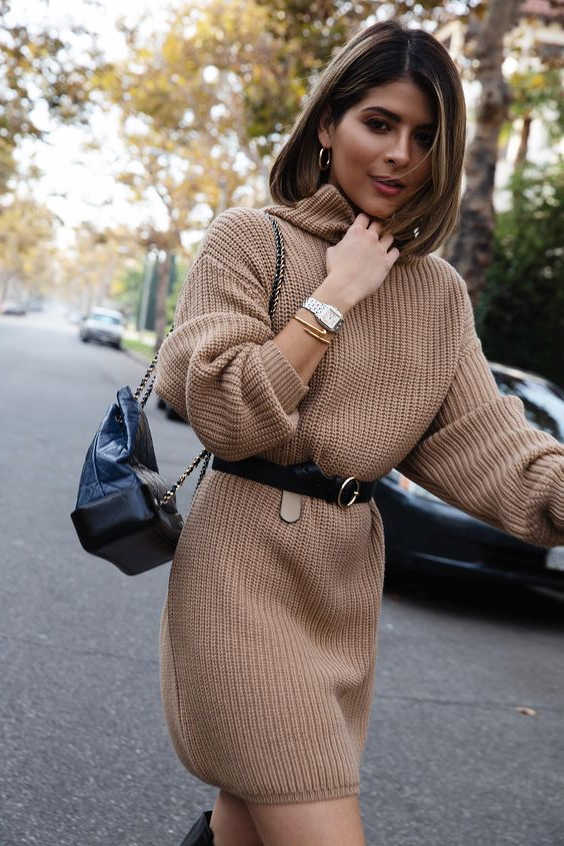 We see a beige sweater dress with a high neck completed with a black leather belt. I love the simplicity of this style.
As we all know, a belt is a simple accessory that can easily transform anyone's look and I highly recommend pairing it with knitwear. Trust me, you don't lose much, all you need is a cozy sweater, a belt (skinny or wide, doesn't matter) and a mirror. That's it, one, two, three. Now, if you want to know some easy tips on how to wear belts with sweaters, cardigans and sweater dresses, then I am more than happy to help you out.
Why did I call this article sweaters with belts? Well, a sweater is a common option for winter days, that's why it can be called a classic piece that can be belted. I personally love throwing on a sweater and pairing it with jeans. The result doesn't look unique, that's why I update it with a belt, which makes it instantly look fresh and stylish.
A cardigan is another option that can be updated, by wearing a belt with an unbuttoned design completed with a plain top or a shirt underneath. The result looks unique and layered. Another cool update is a sweater dress with a belt, this is another stand-out look that can make you look amazing. Anyway, scroll down and find your favorites.
A black V-neck sweater is styled with a brown leather belt and updated with black skinny jeans tucked in slouchy tall leather boots: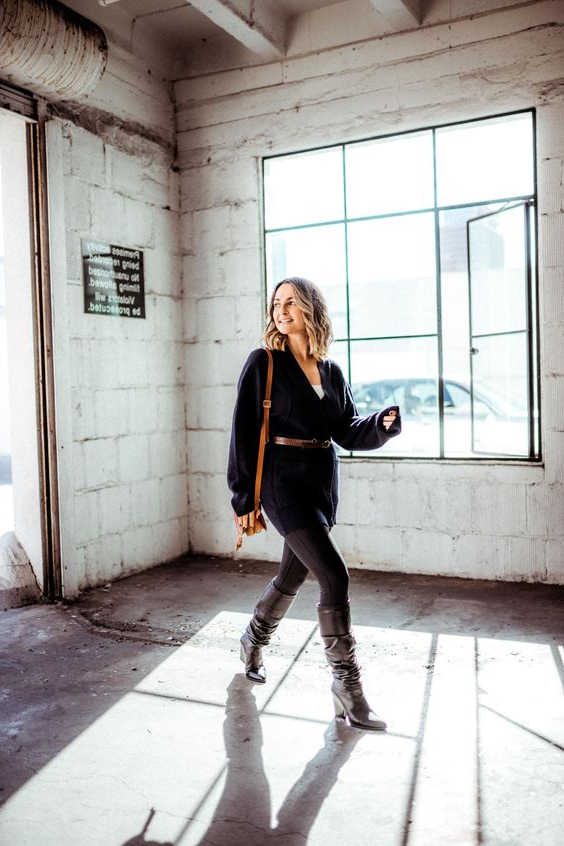 A cable-knit brown sweater is cinched at the waist with a skinny belt and teamed with a ribbed knit brown pencil skirt. Complete this monochrome combo by adding a pair of blue ankle boots: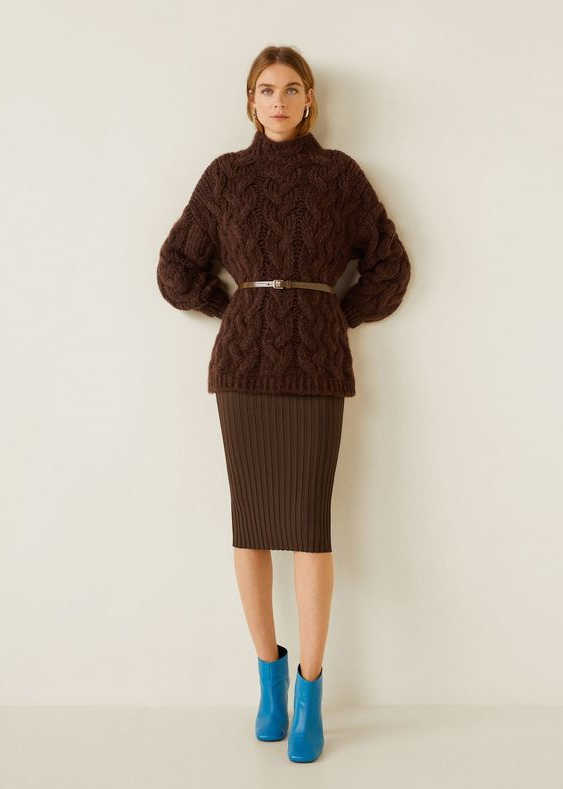 We see a cable knit sweater in white updated with a black belt and completed with cream white jersey flared pants, love it: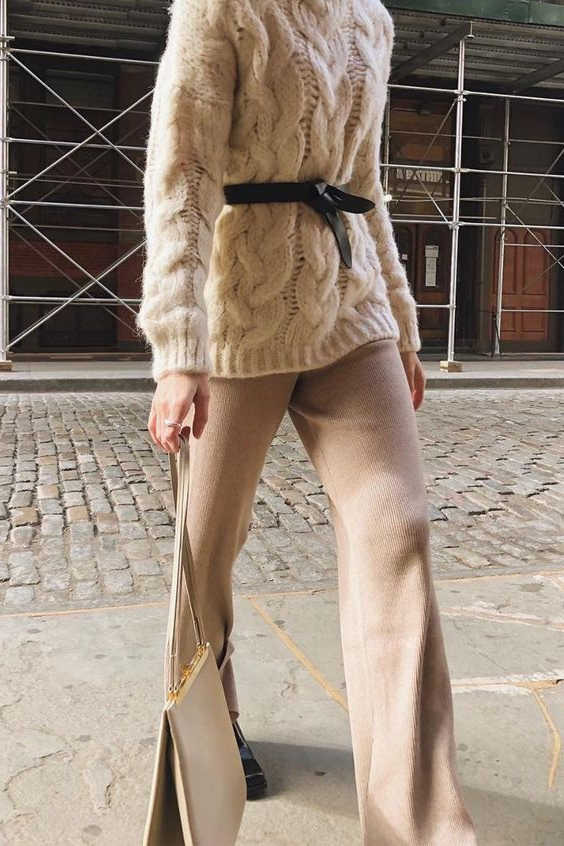 A bulky white V-neck cardigan is worn with a black leather belt and black coated skinny pants: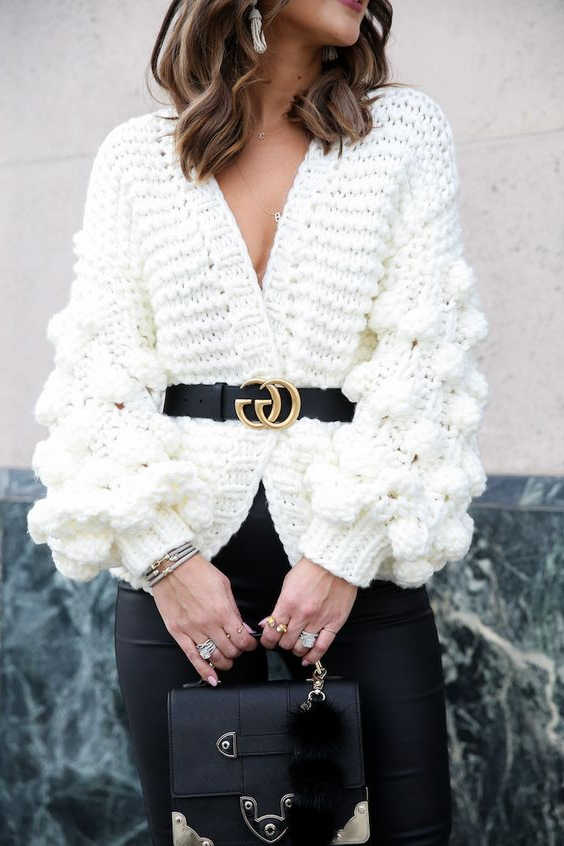 A military green roll-neck sweater looks stunning with an edgy black leather belt, silver metallic knife-pleated midi skirt and shiny silver metallic tall boots. Update this look by adding a silver metallic leather jacket and aviator shades: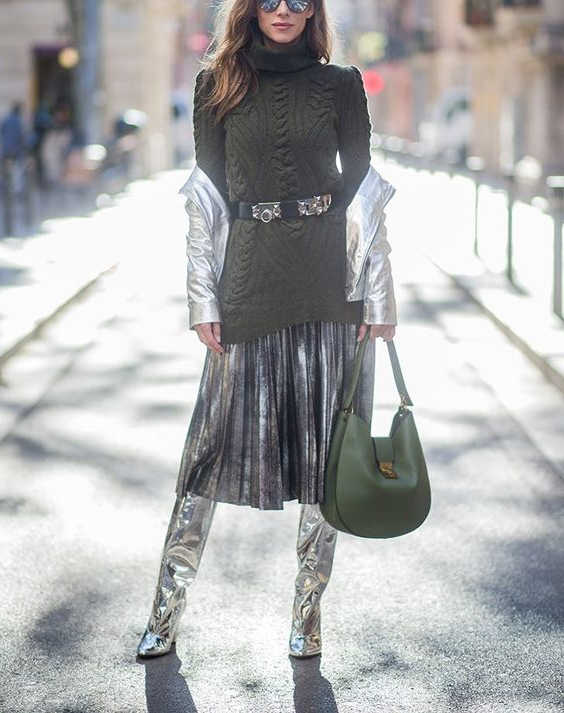 A grey ribbed-knit cardigan is worn with a grey-green leather belt. Style it with a high-neck top and a printed long dress. Complete this look by adding dark maroon leather tall boots:
A cream-grey sweater-dress is improved with a black leather belt. Add rounded sunglasses and black suede OTK boots: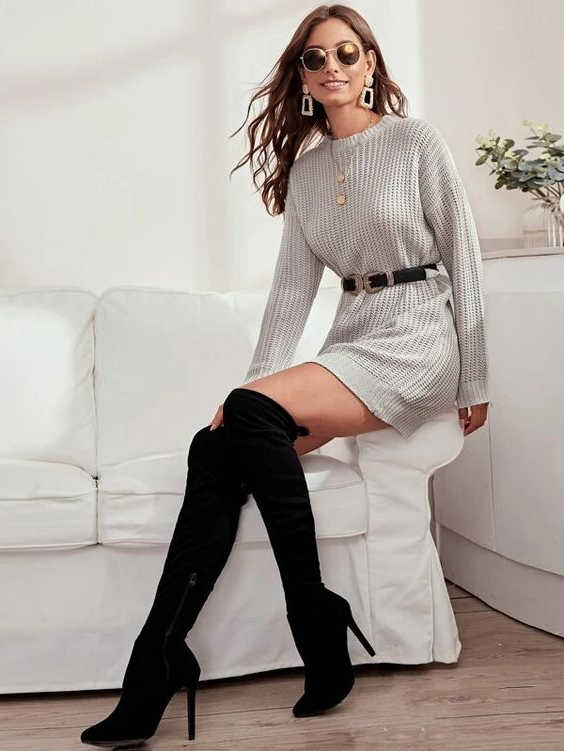 A cream-grey cardigan will be a perfect choice to team with a brown leather belt and slim jeans in blue. Complete this outfit by adding snakeskin heeled pumps: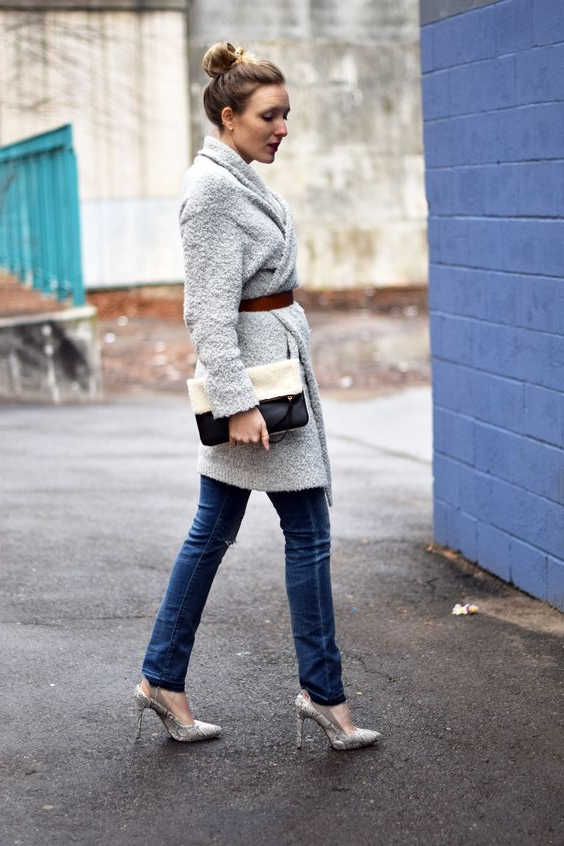 A red sweater dress looks fabulous with a black leather belt, black heeled pumps, and modern aviator sunglasses:

We see a white cable-knit sweater dress worn with a thin black leather belt. Update this combo by adding a plaid shawl scarf and suede OTK black boots: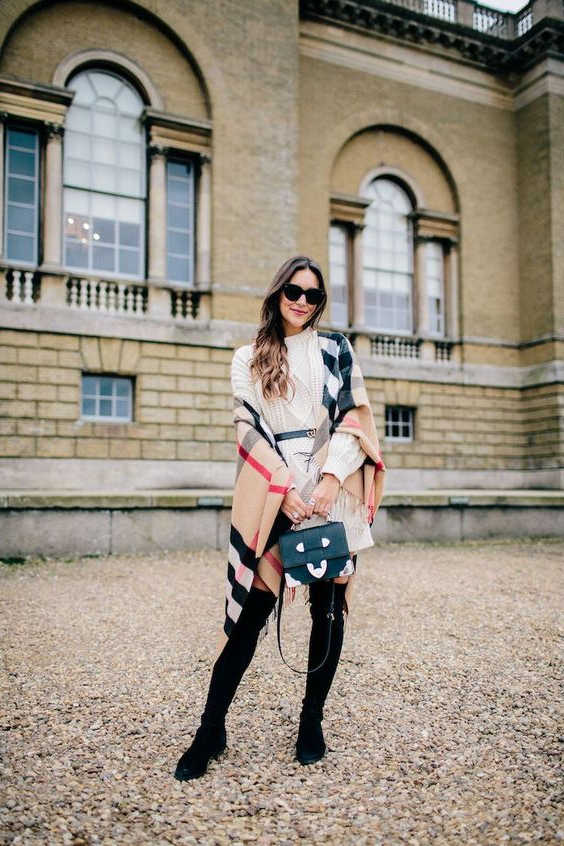 A classic grey-white sweater is cinched at the waist with a grey leather belt. Add bootcut jeans in wash-blue and aviator shades: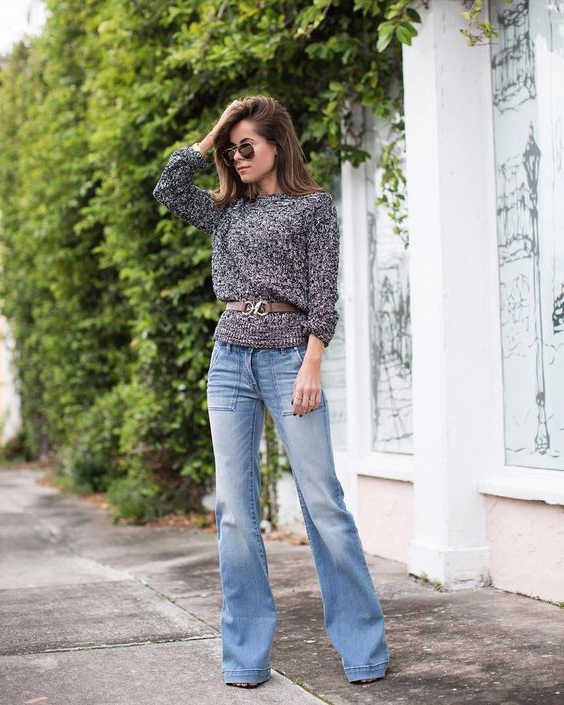 Another beige-brown sweater dress with long sleeves updated with a black leather belt and black leather cowboy boots, in love with that navy leather bucket bag: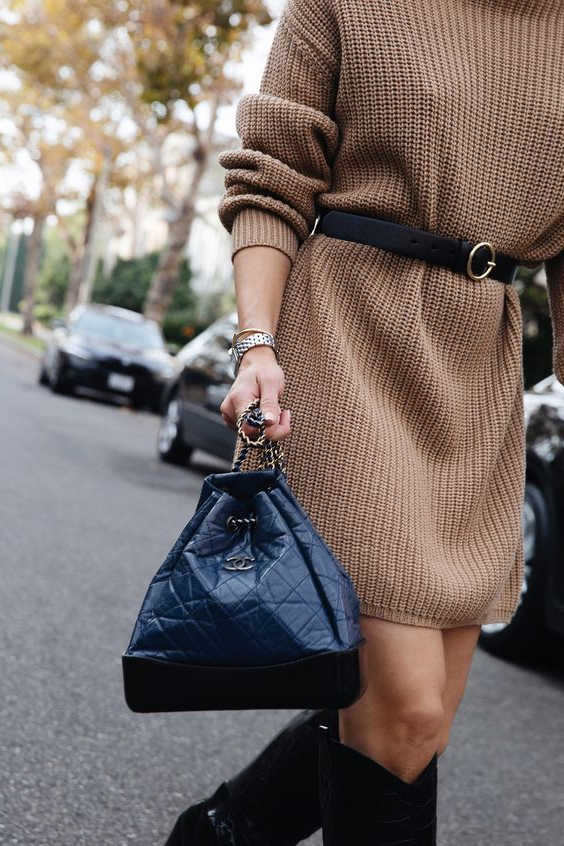 Despite preaching their powers for years and years, I have to admit, I'm not a fan of belts. Really anything that cinches my waist or feels tight or at all restricting is not my thing. I'd probably wear a big bag all the time if I could, but the thing is, it's impossible to ignore what belt can do for your outfit. And seeing layers look so insanely polished when cinched by a belt makes me wish I was one of those Olivia Palermo-polished types who could jump on the belt band wagon and not fidget and immediately regret the decision ten minutes into work. The thing is, I may never be that person, but if there's one piece I could see myself doing the belt thing with, it's sweaters. Belting loose, boxy styles is not only figure flattering, creating that all admired hourglass shape and proving yes, you have a body under there, but it also instantly makes what would typically be relegated to a weekend apartment-only sweater to a polished office-appropriate piece with a midi skirt or tailored trousers, or even a going-out top with the right fitted pants or mini. Plus, a sweater is so cozy, it feels so much less confining than any other belted outfit that even someone like me could maybe pull it off without fussing with it all day.
Source: ClosetFulOfClothes