I know many ladies who want to show off their sexy side by wearing something sultry, sophisticated and hot. In today's article, I want to draw your attention to this year's must-haves called mesh tops.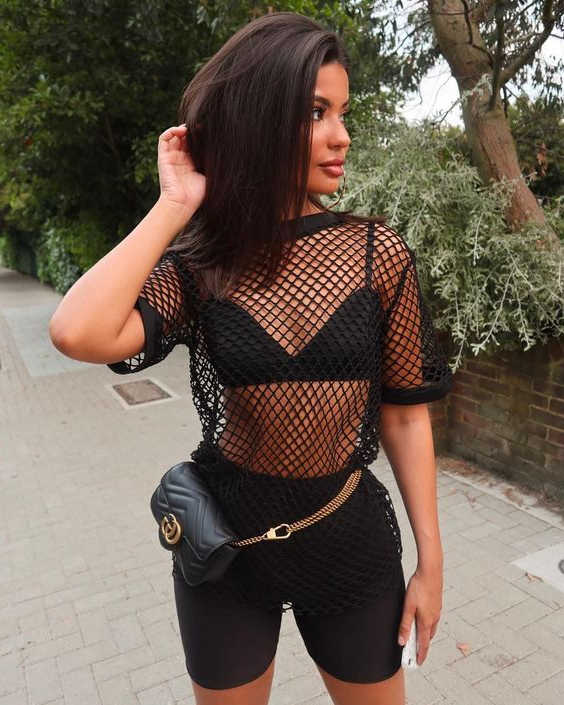 A fishnet black T-shirt is paired with black bicycle shorts. Complete this combo by adding a chain strap black leather clutch bag worn as a belt.
The upcoming season features stunning and trendy looks. Anyway, I want to draw your attention to these sexy see-through garments.
We see a black sheer top styled with a bandeau top and a high-waisted black mini skirt with feather hem: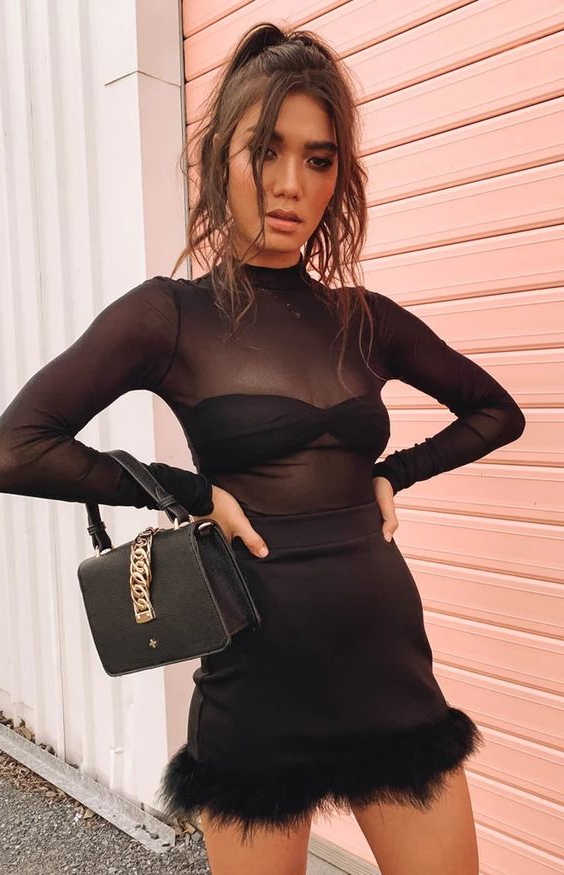 They are must-haves for those who want to make things look chic, ladylike and trendy.
The transparent blouses will for sure give you a feminine look. All you need is to find the one that will underline your uniqueness and originality.
Why do I love this top? It makes you show a little extra skin and still feel covered. Sure, if you don't want to show your boobs, then the best way is to wear bra in the same color as your sheer top.
If you want make things look contrasting, then I advise you to choose bras in contrasting colors, so you can draw everyone's attention on your sheer top.
I gathered my favorite street style images that will inspire you to buy a stunning sheer blouse or shirt this year. Look through these styles and don't forget to tell me what is your favorite look. Enjoy and stay up with me, as I've got plenty of other trends to share with you.
What To Wear With Mesh Tops
It's important to understand what clothes you can team with a sheer top. I have gathered my favorite easy to wear outfit ideas you might give a try this year. Scroll to find what drives you crazy.
Blouse With Mesh Sleeves
We see a marvelous white bow-tie blouse with sheer dotted sleeves tucked in black leather slim pants: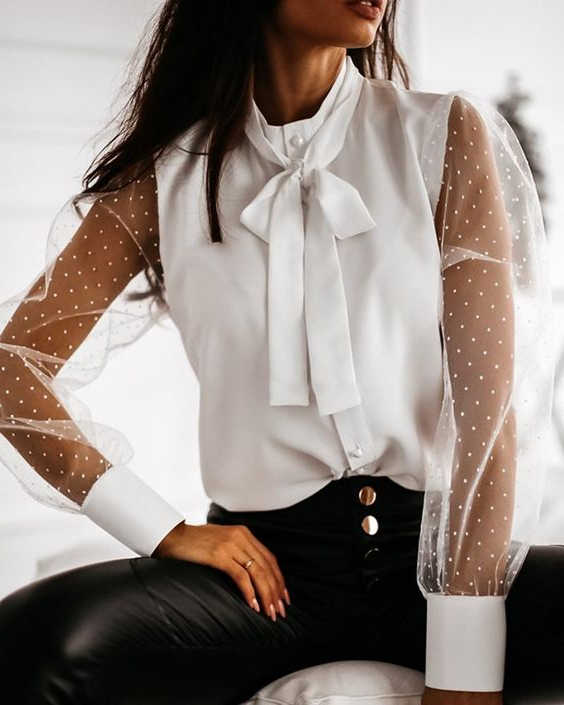 Mesh Top And Bralette
A sheer black top is layered over a lace bralette with spaghetti straps. Update this look by adding blue denim shorts: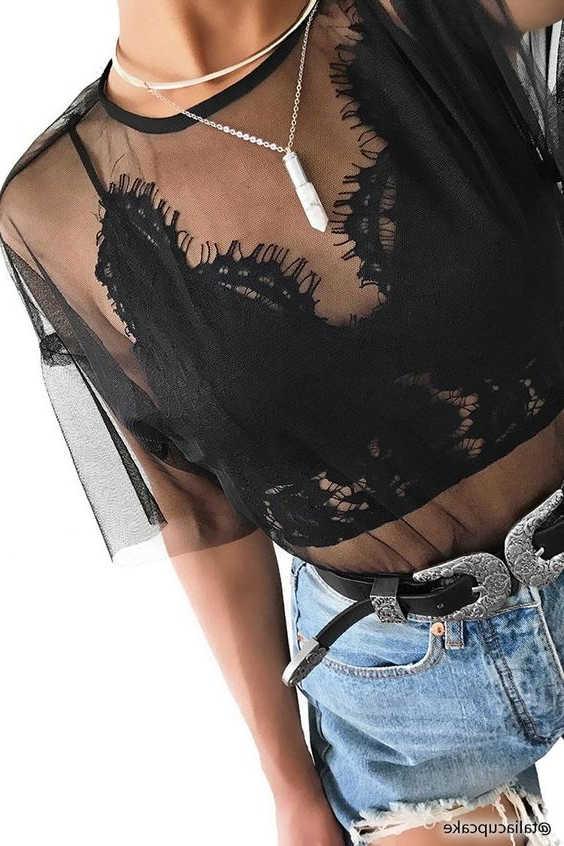 Mesh Top And Dress
A sheer black top with star print is layered under a metallic-beige camisole dress with spaghetti straps. Complete the look by adding a boy hat with chain detail and a belt bag: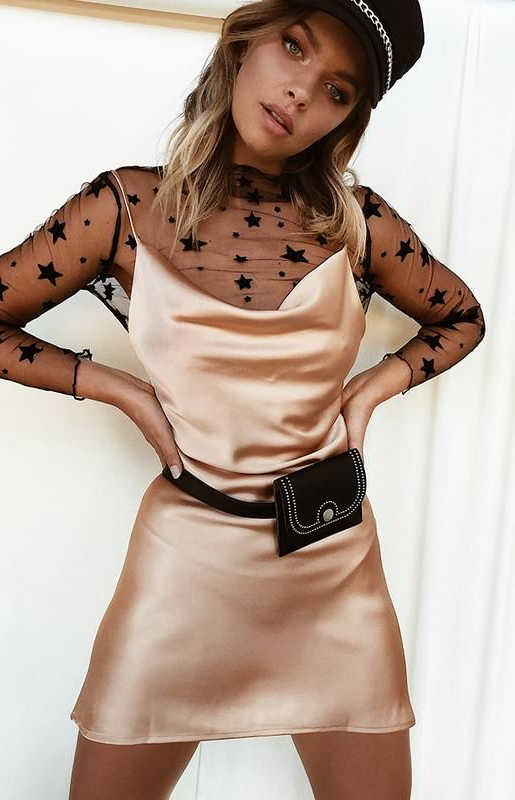 Mesh Top And Jeans
Another chic sheer black top with striped cuffs and neck is worn with a black bra and regular jeans with ripped knees completed with black heeled pumps: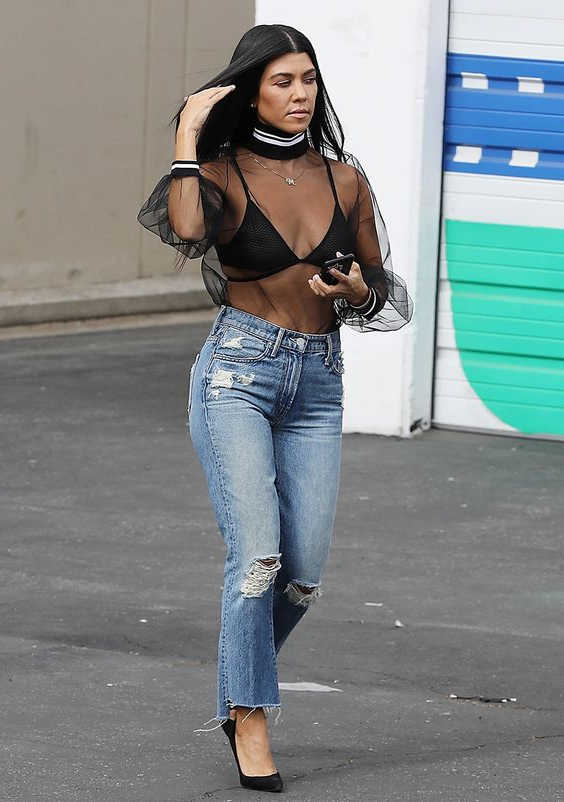 Mesh Top And Leather Skirt
A mesh white blouse is tucked in a black leather skirt, a lovely combination for making a wow statement when you are in Paris: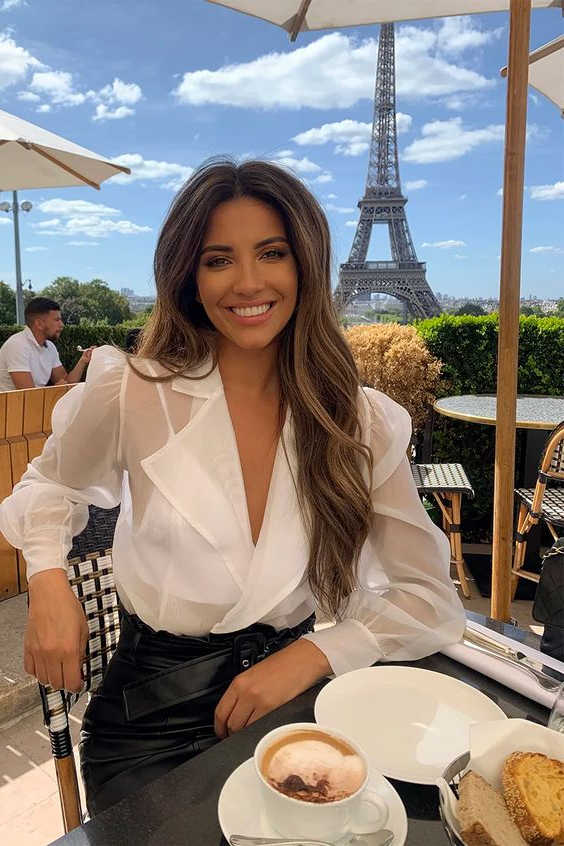 Mesh Top And Pants
A monochrome outfit is what you really need! Go for this sheer white crop top with puffy sleeves and layer it over a white bra top teamed with high-waisted white slim pants with front slides completed with nude heeled pumps: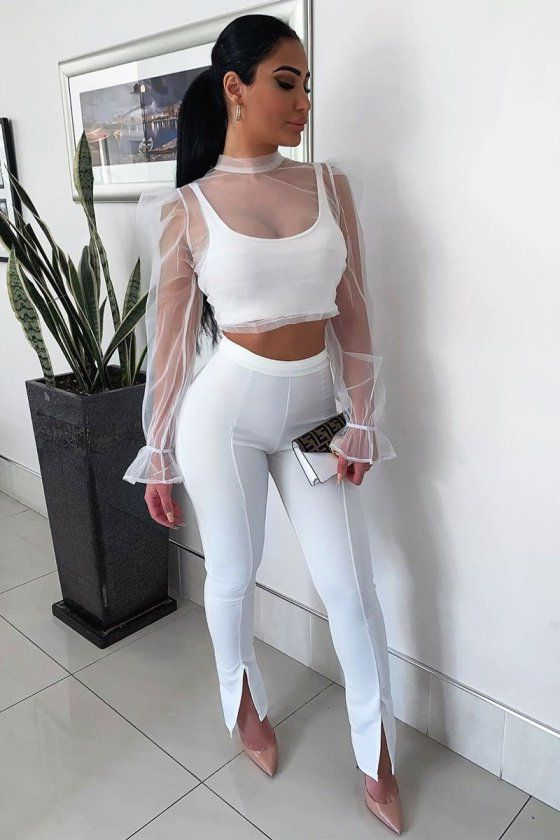 Mesh Top And Shorts
A leopard print mesh top is layered over a black bra and tucked inside white leather high-waisted shorts: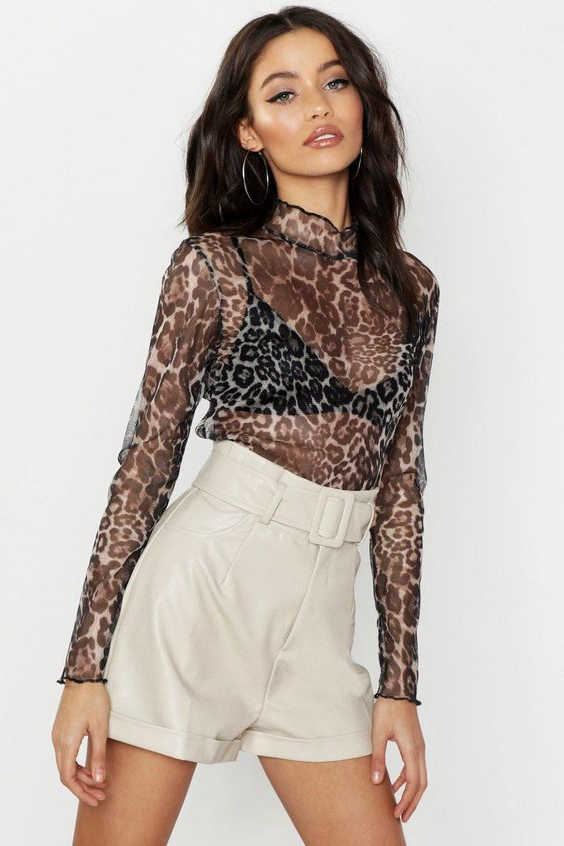 Mesh Top And Skirt
All in a black combo! We see a black mesh top worn with a black bra and a biker style mini skirt with side zip and pocket: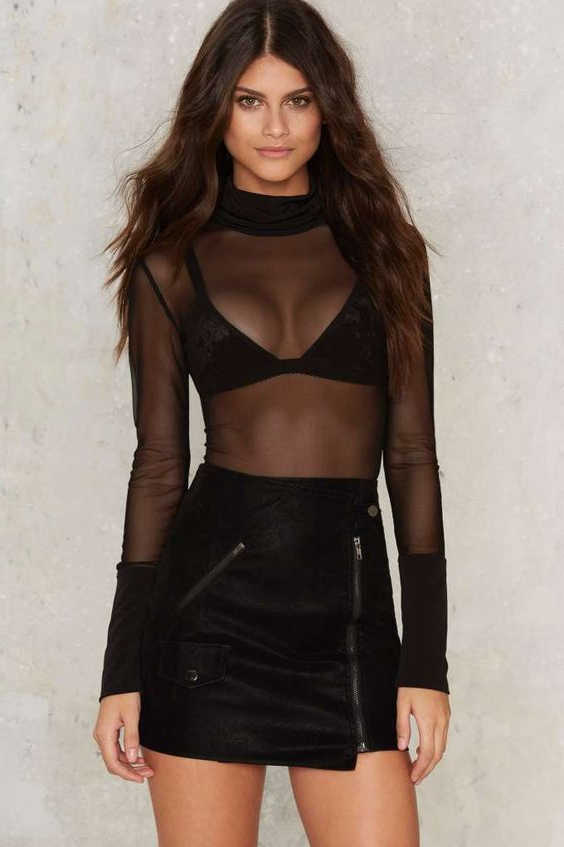 Top With Mesh Sleeves
If you are not ready to wear sheer top, then go for this black top with sheer sleeves, tuck the blouse inside black leather cargo pants and complete them with white chunky sneakers. Love these oversized sunglasses: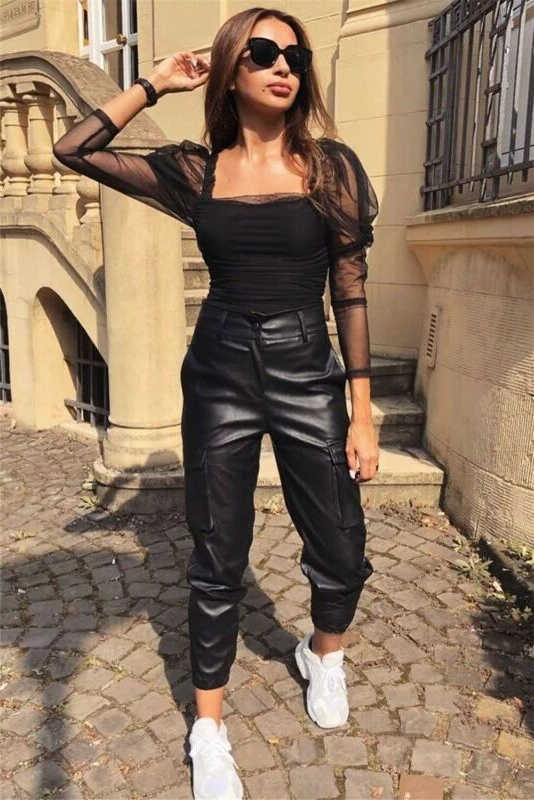 Another cute choice for young ladies. We see a high-neck black top with dotted sheer sleeves, update this look by adding high-waisted blue skinny jeans: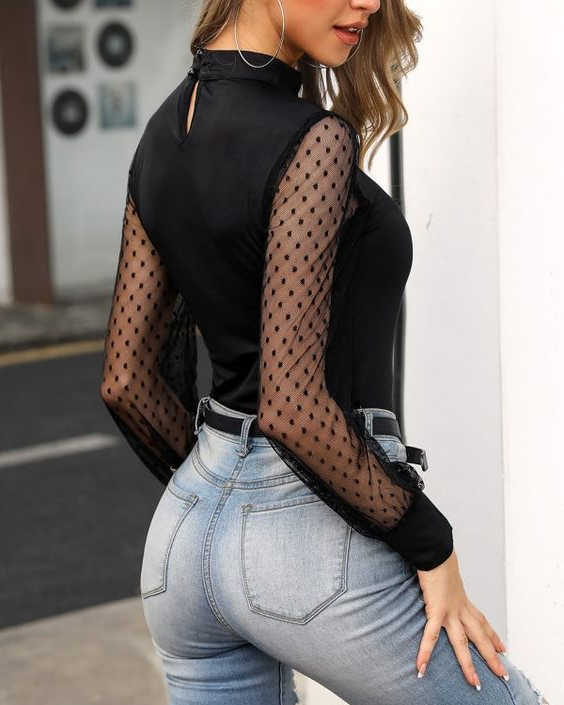 Mesh Top Designs
Every mesh comes with a unique design. You are about to see amazing styles completed with various prints, embellishments that can make any lady look special.
Mesh Top For Plus Size Ladies
In love with this all-in-black outfit idea. We see a black top with sheer sleeves tucked in black leather high-waisted maxi skirt completed with heeled sandals: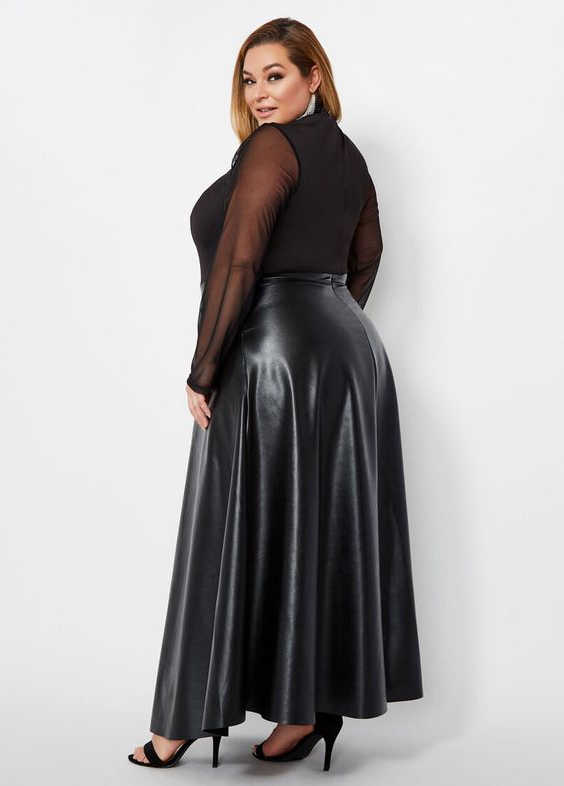 An oversized black sheer button-down shirt is layered over a black bandeau top paired with black pants, simple and easy to wear all-black plus-sized look: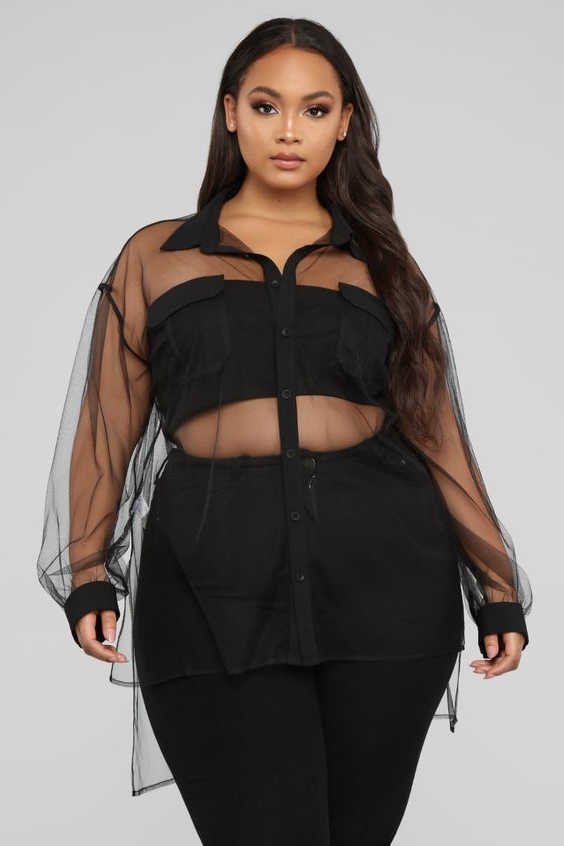 Mesh Top With Flowers
Another stunning combination. We see a black sheer top embellished with white florals and tucked in blue jeans, simple and easy to wear combo: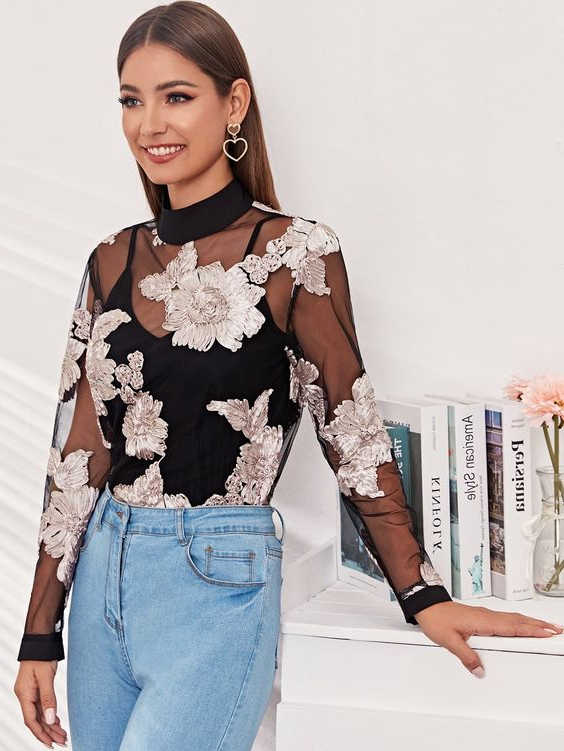 Mesh Top With Fur Cuffs
A cropped black sheer top with fur cuffs looks stunning with a black bra and high-waisted blue jeans: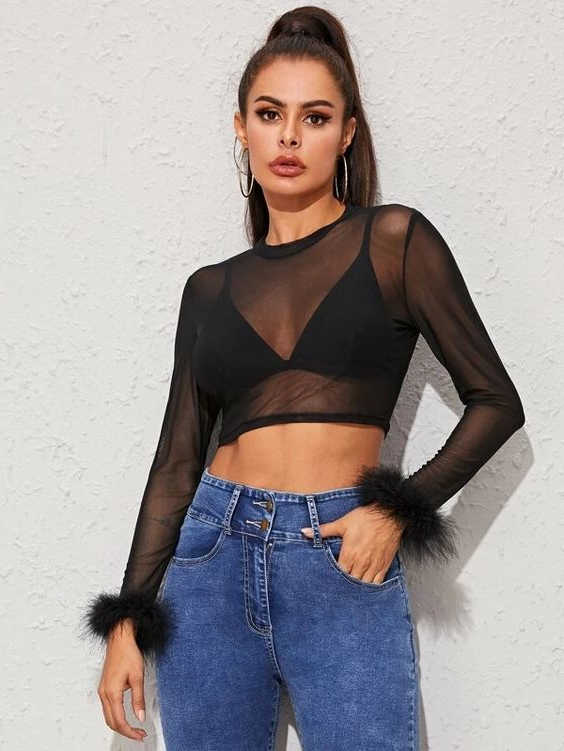 Mesh Top With Hearts
Keep it all in black! Go for a black sheer top with hearts print and tuck it inside black jeans. Update this look by adding a black bra top: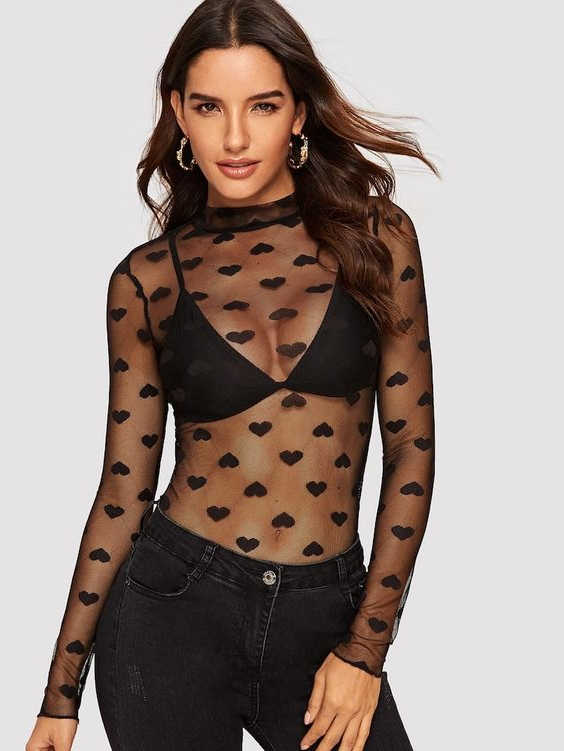 Mesh Top With Pearls
A black sheer blouse in white pearls is worn over a black bra with spaghetti straps completed with a high-waisted black leather mini skirt. Complete the look by adding black sock boots. If you do like black leather skirts, then you should check out my articles on ways how to wear black skirts, you definitely gonna find some cool styles to try out this year: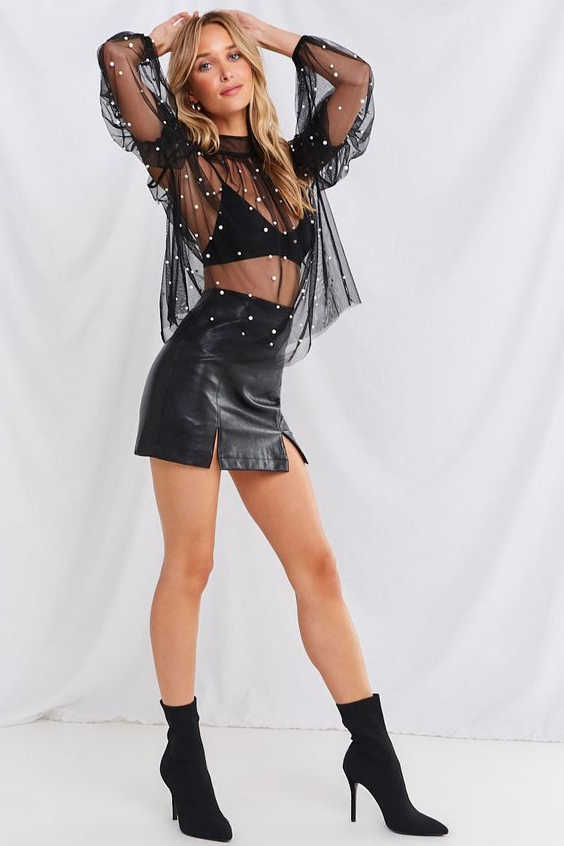 Mesh Top With Puff Sleeves
Black sheer blouse with puff sleeves and dots is styled with a black bra top and white tailored shorts. Complete the look by adding rounded sunglasses, black leather belt bag, and white flat sandals: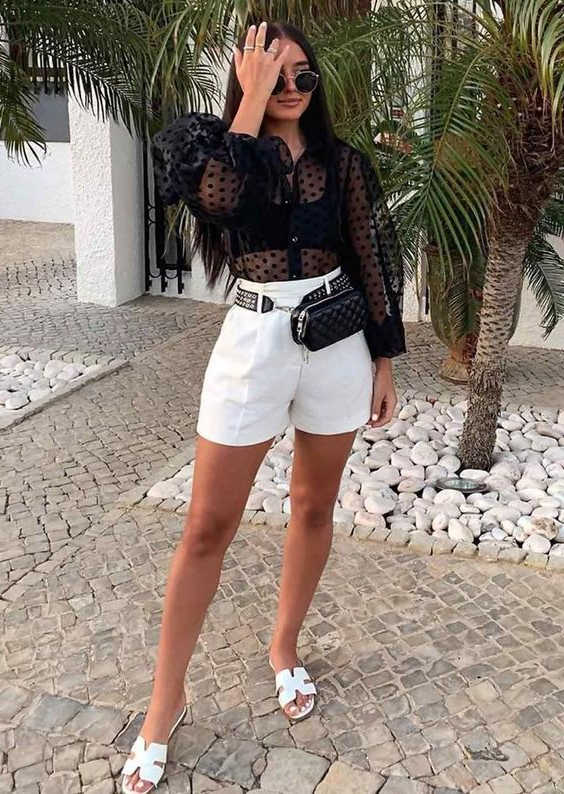 Mesh Top With Stars
A black mesh top in star print is layered over black bra top with spaghetti straps and tucked in high-waisted black leather skirt: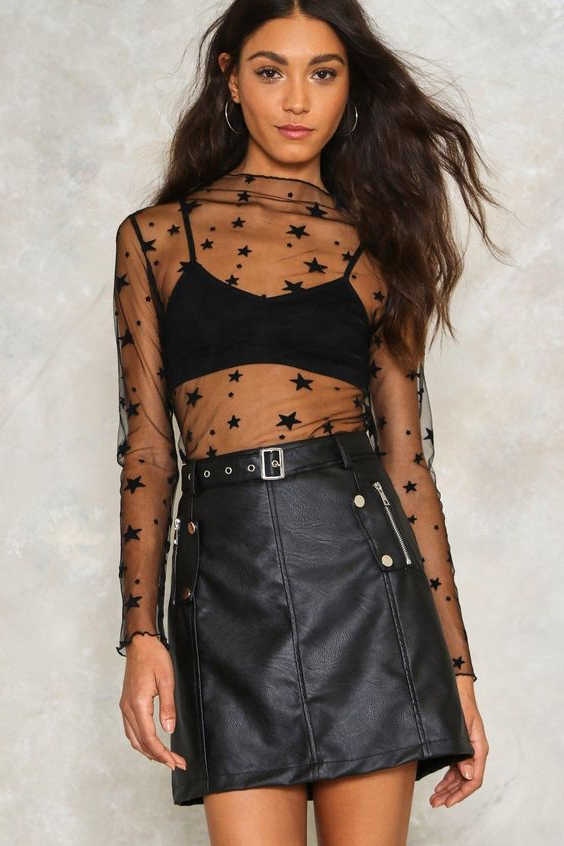 Mesh Top With Bow
A white mesh blouse with a bow and white polka dots is worn over a white sleeveless top tucked in tailored black slim pants completed with shiny silver metallic heeled sandals: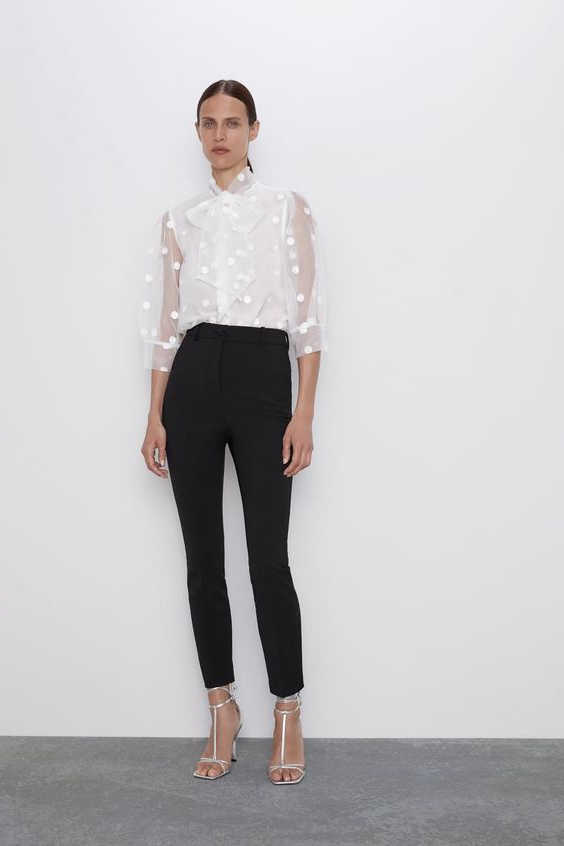 Sheer Top With Rhinestones
If you do like glamour and sexy style, then go for this high-neck black sheer top embellished with rhinestones and layer it over a black bra. Complete the look by adding black patent leather skirt and drop pear earrings: