Another day, another Victory! Hello, my dear fashion readers. I want you to have a look through my next compilation. This time I gathered beautiful street style outfit ideas completed with white jeans.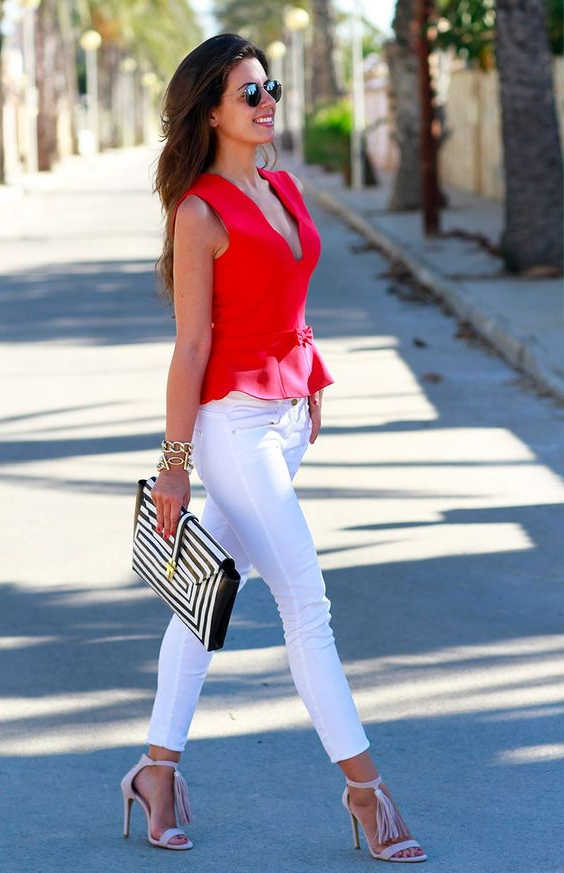 A lovely outfit for Summer business days. We see a sleeveless V-neck peplum top in red paired with white skinny jeans completed with tasseled pink heeled sandals. Complete this style by adding rounded sunglasses, and black-white printed clutch bag.
White Jeans Outfit Ideas
If you think that bright colors are meant only for summer, then you better think twice, as I see lots of ladies who use bright shades during everyday lives, no matter what is the season outside.
White Jeans And Black Ankle Boots
An oversized grey sweater ideally suits white jeans in slim-fit completed with pointed-toe black sock boots. Complete this fall season look by adding tortoise Wayfarer sunglasses: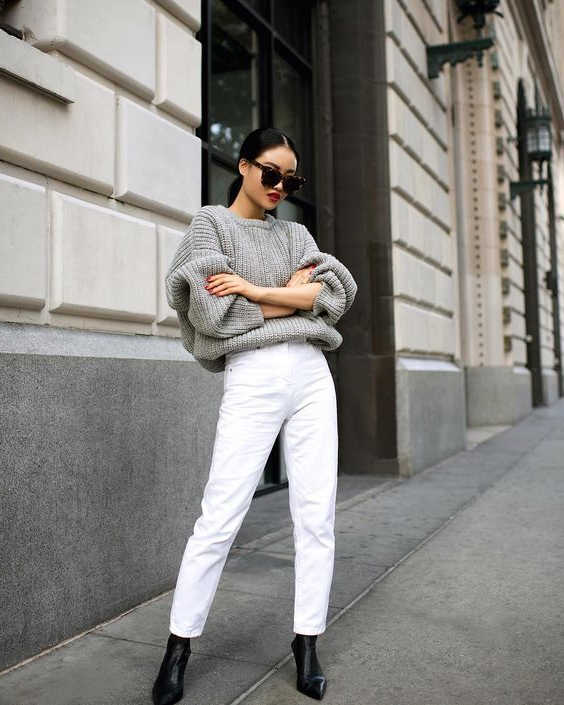 I want to share with you a marvelous compilation of street style images where ladies appear on the streets wearing incredible outfits completed with white jeans.
White Jeans And Black Boots
Black & White. We see a black fedora with a black mannish blazer draped over a white top tucked in white slim jeans completed with black leather ankle boots. Update this outfit with a pair of Clubmaster shades: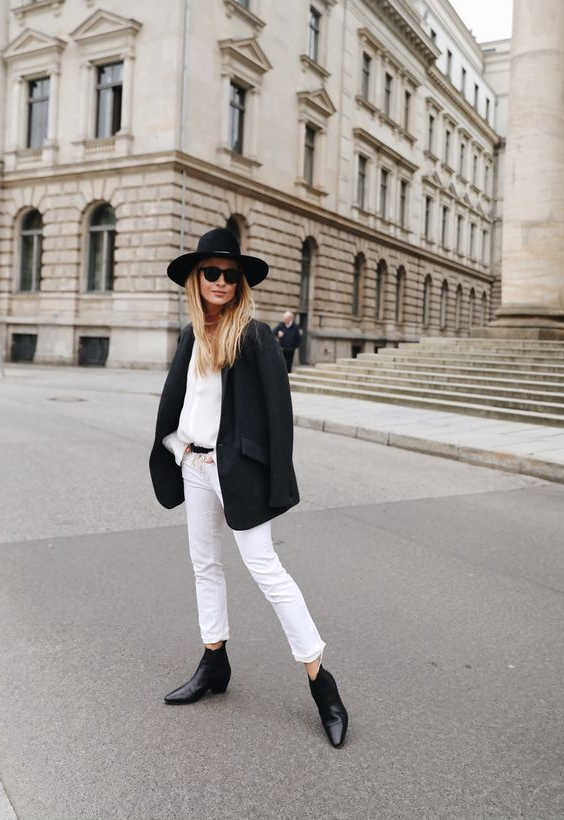 You are about to see amazing outfit ideas featuring tailored coats, furry jackets, relaxed-fit sweaters and other outerwear garments styled with white jeans. Read on to find out more.
White Jeans And Black Top
A basic black T-shirt can be tucked in white skinny jeans. Update this simple monochrome outfit idea by adding black heeled pumps, black leather bucket bag and Wayfarer sunglasses: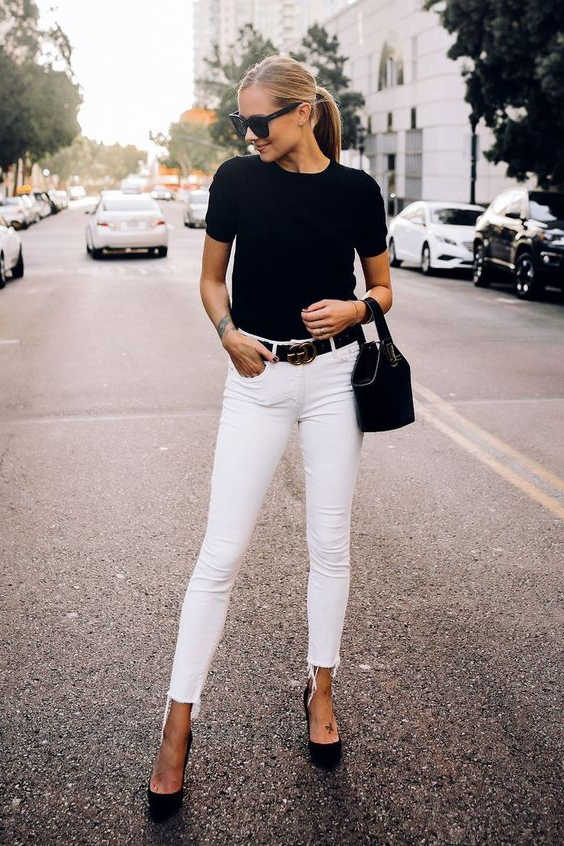 Believe me, white jeans gonna look awesome during days and nights. This is an extremely versatile bottom garment that looks ideal styled with everything, starting from basic tees and sweaters to dark color outerwear garments.
White Jeans And Green Top
In love with this light green (almost turquoise) sleeveless top half-tucked in white pinstripe slim jeans completed with snakeskin print pumps. Complete this combo by adding a statement neckpiece: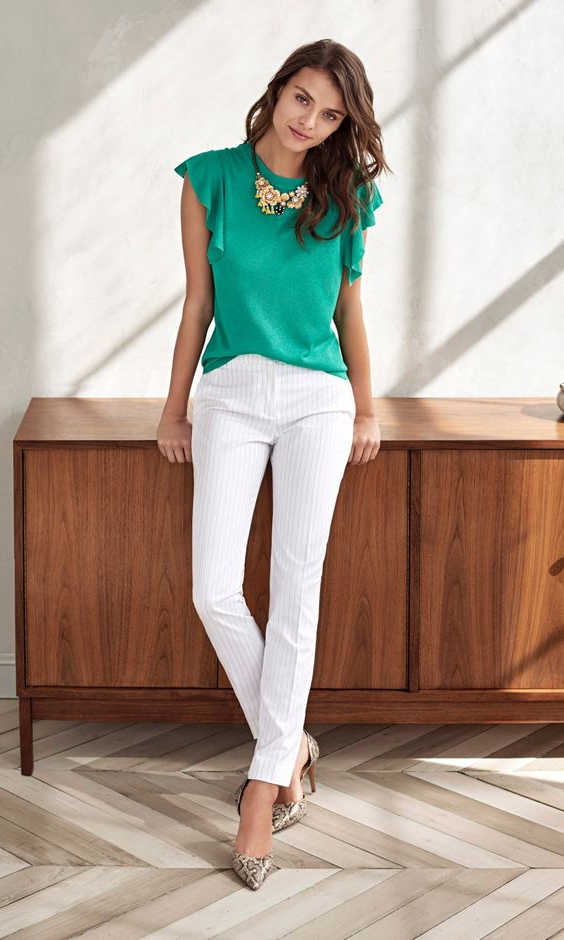 Personally, I think white jeans look great with various textured layers, including suede, leather wool, knits, and fur. I suggest you take out your white jeans from your closet and see how they gonna look styled with your everyday essentials. If you do not know how to combine them, then you better take a close up look through these images and let me know your thoughts in the comments below.
We see a green shirt in white-green stripes styled with knee-ripped skinny jeans in white completed with nude heeled sandals and a white tote bag:
White Jeans And Jean Jacket
Another great way to wear your favorite white jeans is by teaming them with a classic blue denim jacket. Update it with a light grey camisole, mirrored aviator sunglasses and lovely peep-toe sandals:
A blue denim jacket is styled with a white-black striped top and white skinny jeans completed with beige mules: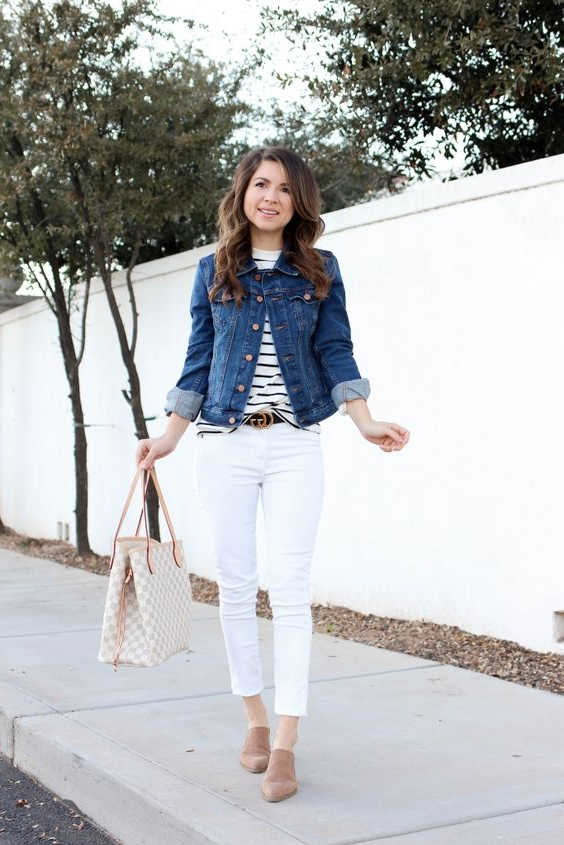 White Jeans And Khaki Shirt
Love white and khaki combination. We see a cargo khaki-olive shirt paired with white skinny jeans and golden heeled ankle boots, complete this look by adding oversized sunglasses and: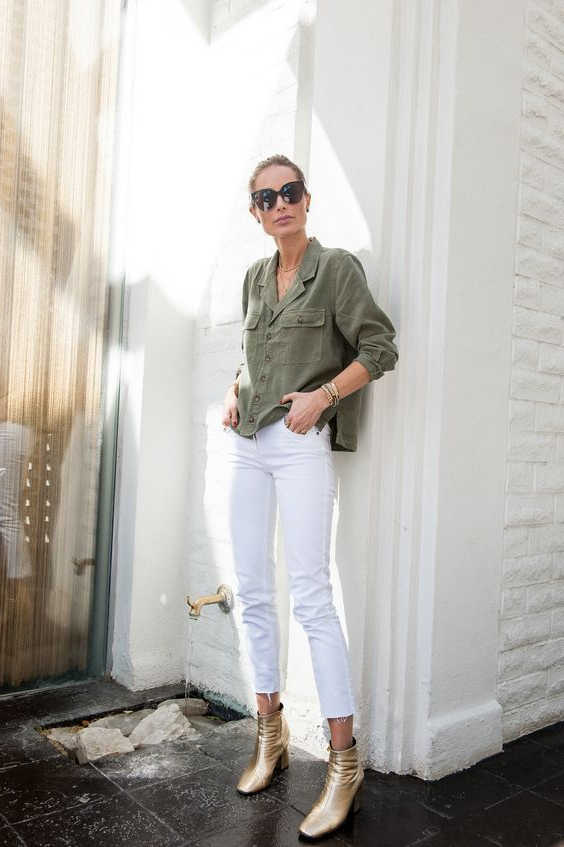 White Jeans And Lace Up Black Combat Boots
A plaid blazer ideally suits that classic black tee tucked in white regular jeans completed with lace-up black leather combat boots. Update this combo with classic shades and a white shopper bag: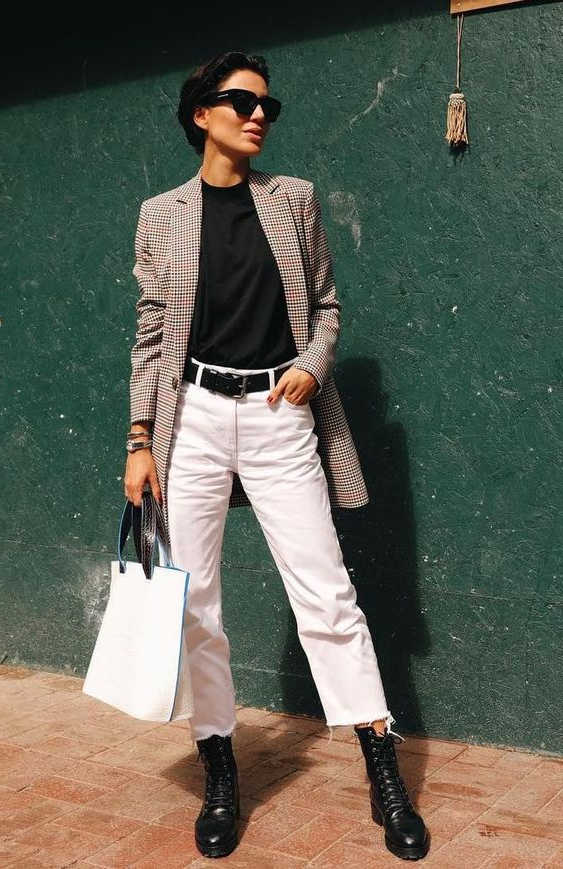 White Jeans And OTK Boots
A pair of white skinny jeans can be tucked in black leather OTK boots. Add a black sweater, cozy blazer and your favorite handbag to complete this combo: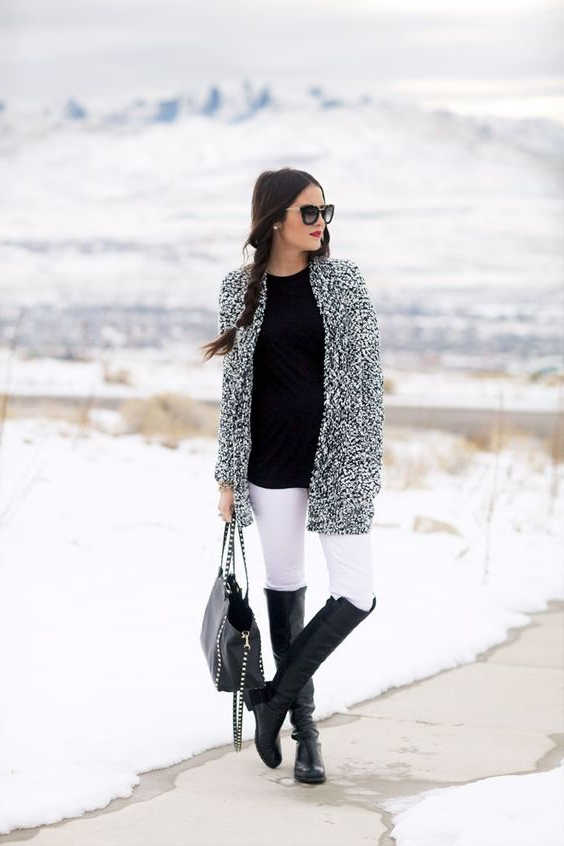 White Jeans And Pink Shirt
Love teaming pink with white. Here we see a gingham white-pink shirt tucked in white skinny jeans completed with heeled sandals, brown leather belt and a quilted beige leather bag with a chain strap: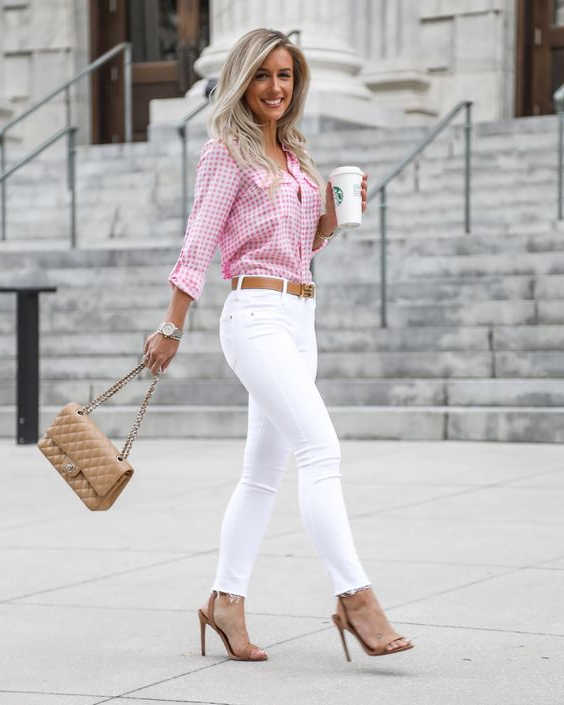 An oversized pink shirt with short sleeves is half-tucked in white skinny jeans completed with ankle-cuff heeled sandals. Love these aviator sunglasses: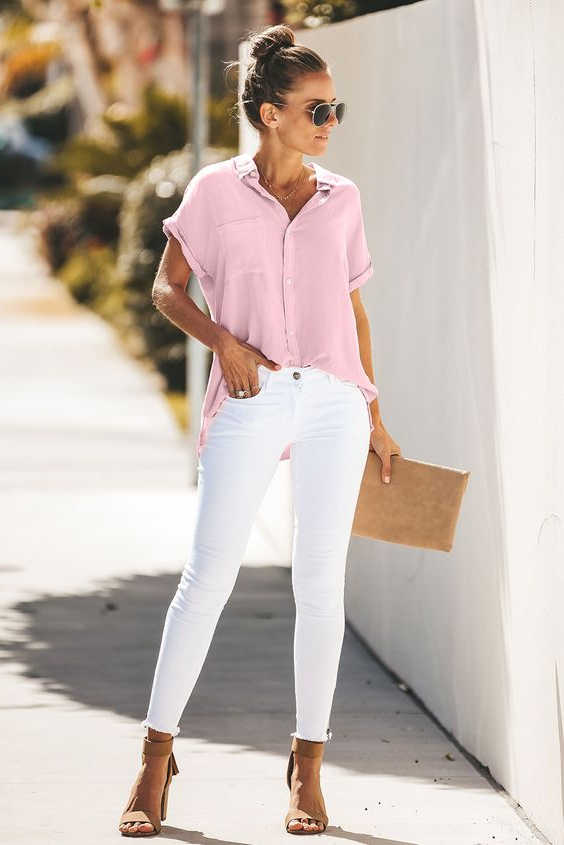 White Jeans And Red Top
A sleeveless top with front tie detail in red ideally matches white skinny jeans completed with wedge sandals. Update this look by adding stunning drop earrings: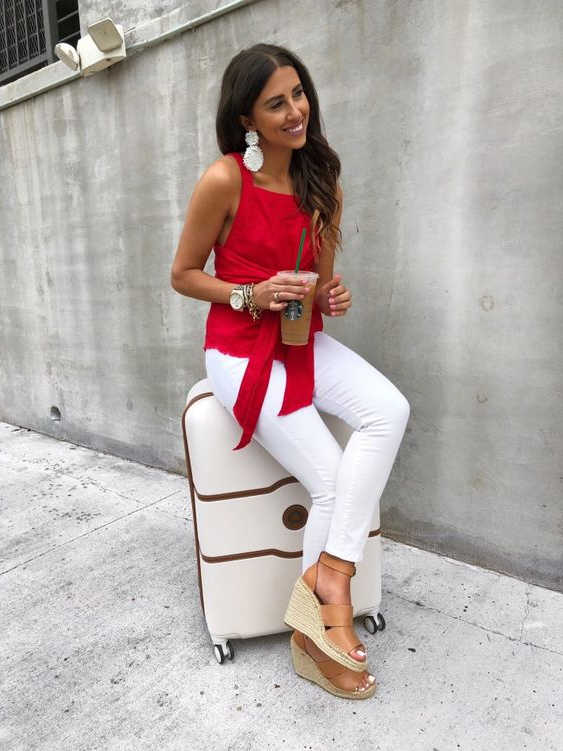 A red sweater will be a perfect match to wear with white skinny jeans completed with light-brown heeled ankle-strap sandals. Update this look by adding a miniature saddle bag with a chain strap: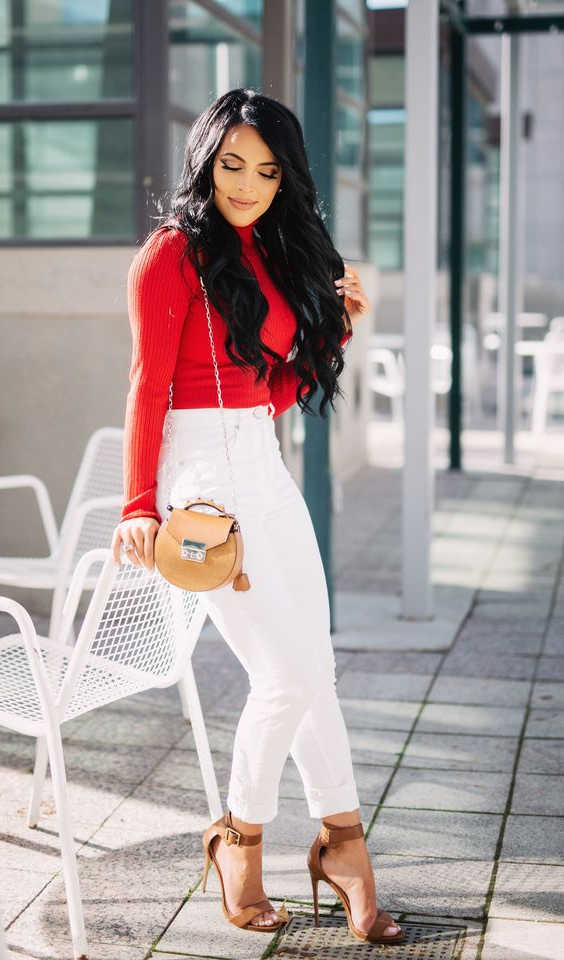 An off-shoulder red top with slouchy bell sleeves is paired with white skinny jeans and leopard print heeled pumps. Update this outfit by adding oversized cat-eye sunglasses: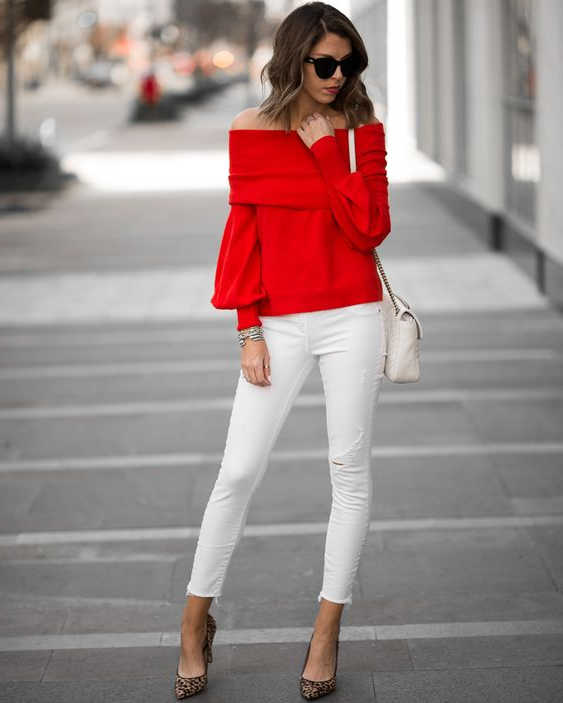 White Jeans And Striped Sweater
A turtleneck sweater in white with black stripes ideally matches white skinny jeans completed with white sneakers. See other cool ways how to wear the striped outfits trend this year: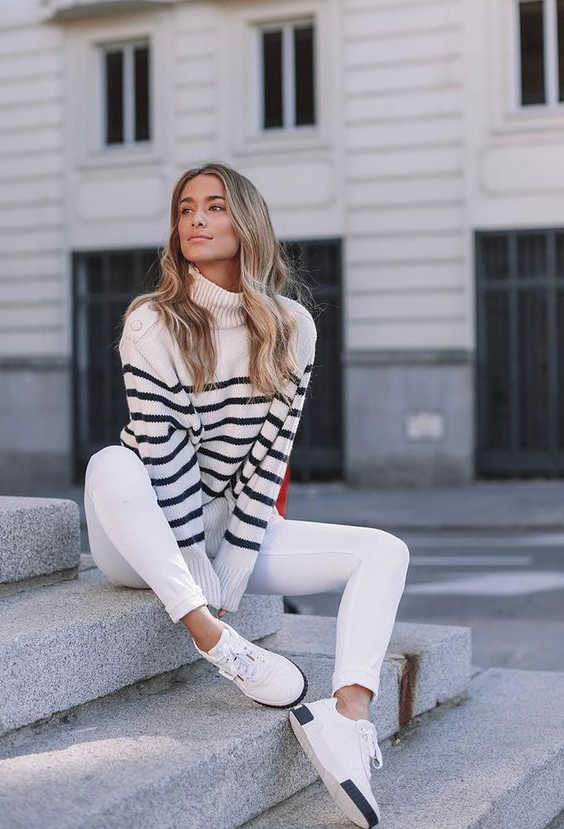 White Jeans And White Shoes
A baggy sweater in grey-beige is styled with ripped regular-fit jeans completed with white sneakers. Update it with rounded shades and a straw rounded bag:
White Jeans And Blue Blazer
In love with a structured look? Go for a dark blue blazer and layer it over a cream-grey pullover teamed with white skinny jeans and leopard print flat pumps:
White Jeans And Brown Boots
If you want to upgrade your smart-casual style then I recommend trying on the following pieces. We see a white sweater paired with white skinny jeans tucked in tall brown suede boots. Complete it with rounded sunglasses, add a cream-blush scarf and a beige shoulder bag: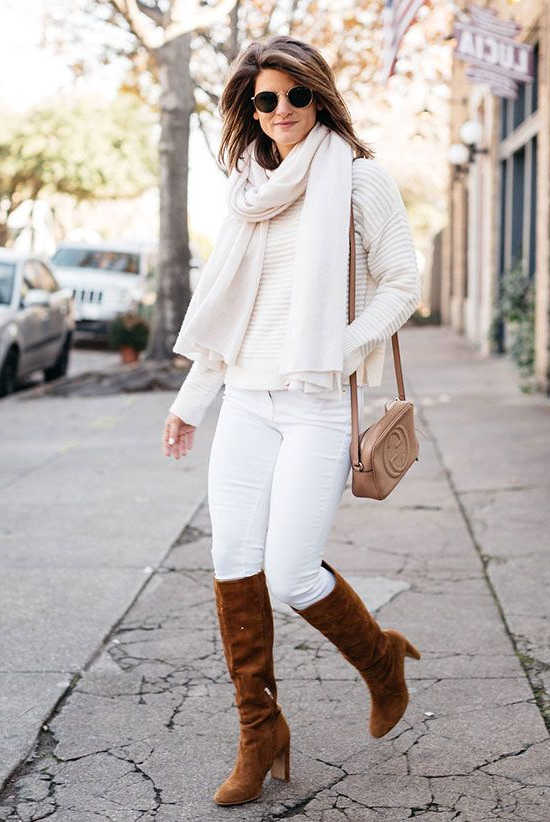 White Jeans With Yellow Shoes
If you are into bright style, then go for that spaghetti-strap peplum top in white teamed with ripped skinny jeans and white heeled pumps. Love these modern sunglasses: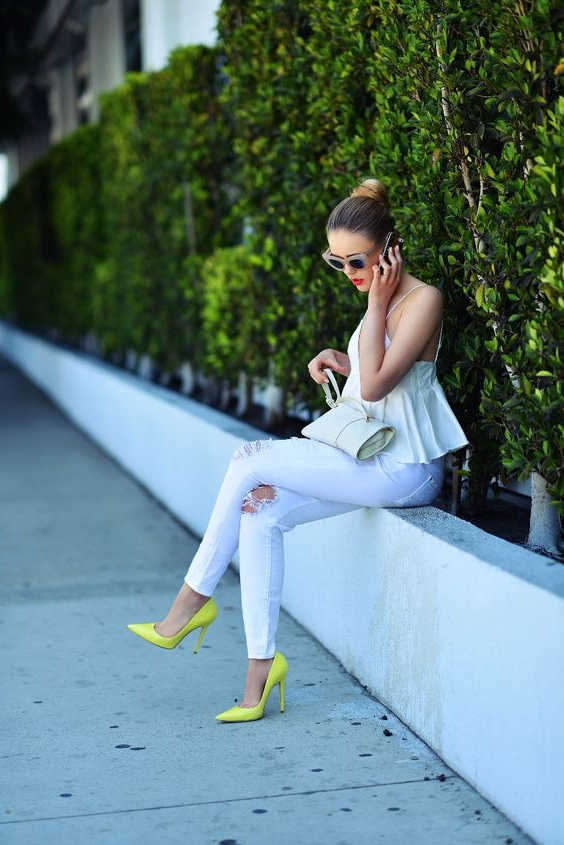 White Jeans And Blue Shirt
A blue dress shirt is tucked in cropped flared white jeans completed with heeled sandals. Easy, simple and everyday look: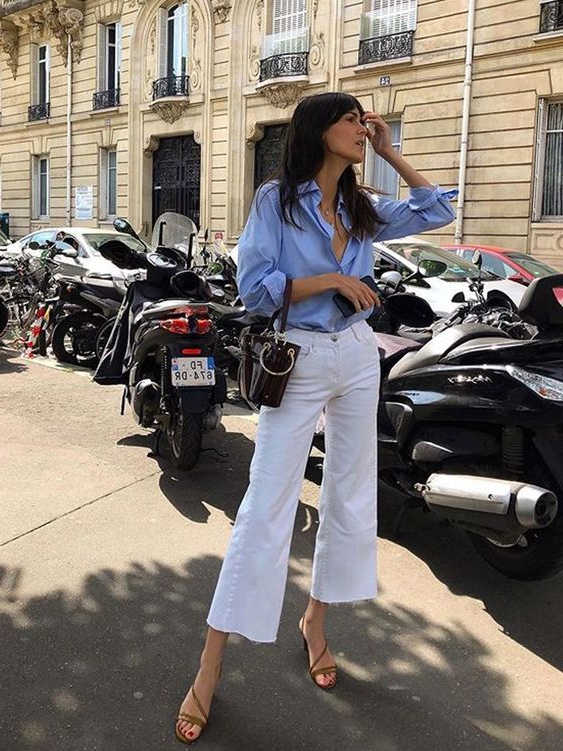 White Jeans And Coat
A cream-beige fur cuffed long coat is styled with a white roll-neck cropped sweater and high-waisted flared jeans in white. Update it with pastel-blue sneaker-loafers and stylish sunglasses: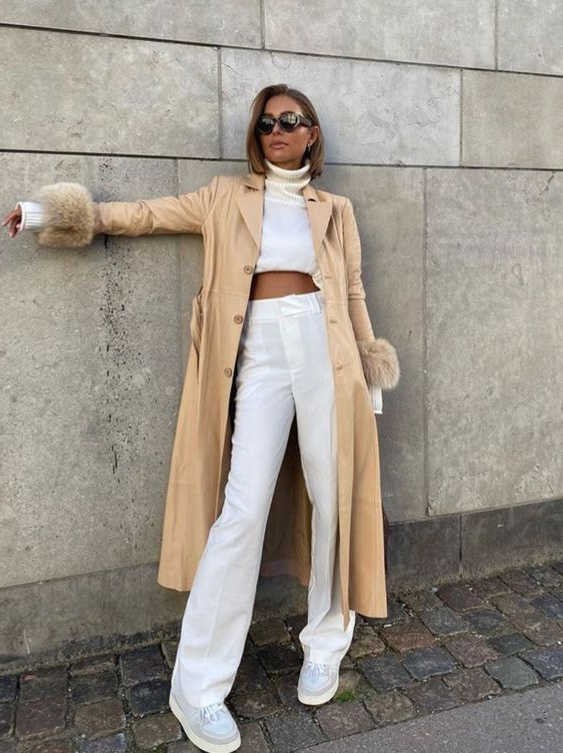 A white fur coat is teamed with a white roll-neck sweater teamed with cropped white skinny jeans and stylish sneakers: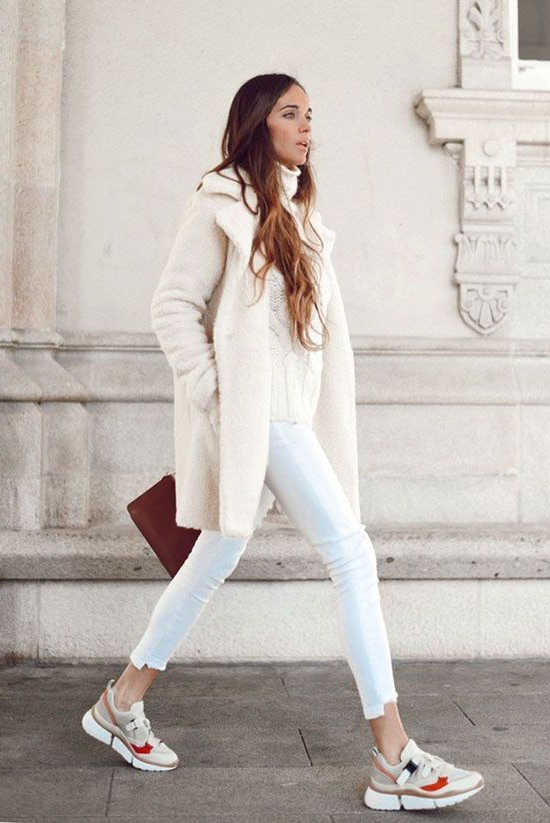 White Jeans And Denim Shirt
Another oversized fashion must-try! We see an exaggerated denim shirt paired with white skinny jeans and grey leather ankle boots: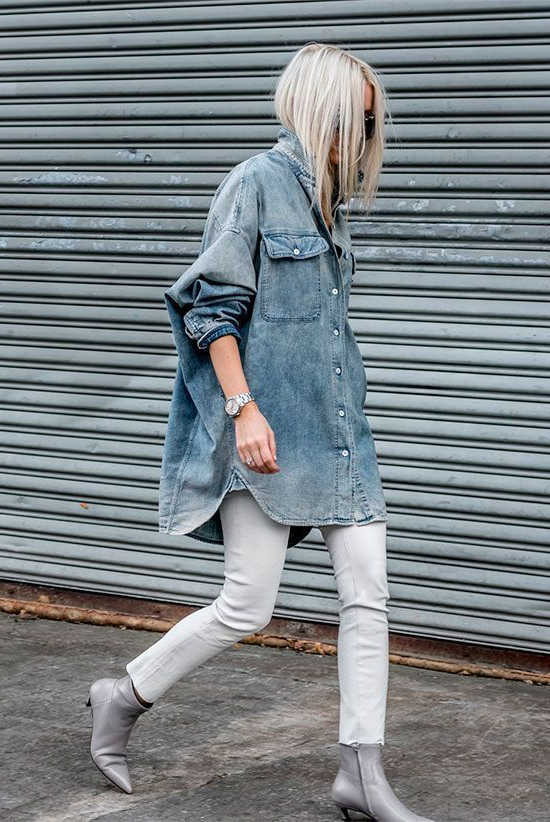 White Jeans And Leather Jacket
An oversized black leather biker jacket is layered over a green hoodie teamed with frayed white jeans and black trainers. A kind of grunge rock chic combination: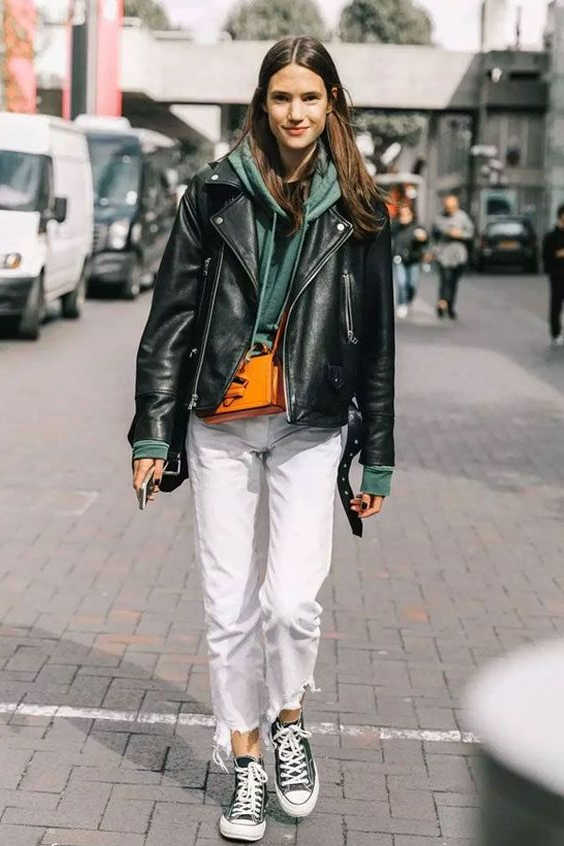 A black leather biker jacket ideally suits a white jumper tucked in white cropped slim jeans. Complete this outfit by adding beige heeled pumps, cream beige handbag, and oversized sunglasses: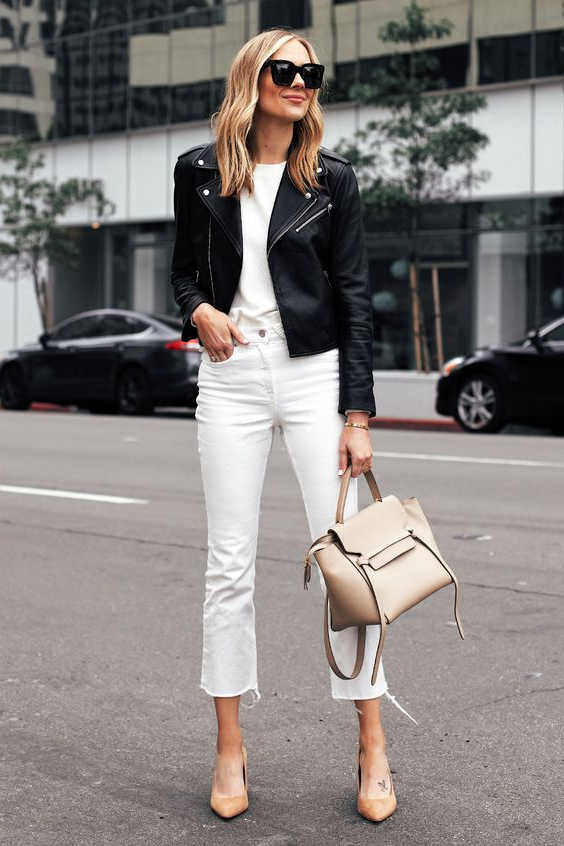 White Jeans And White Shirt
All in white! Go for a basic white T-shirt and tuck it inside white regular fit jeans completed with black heeled pumps: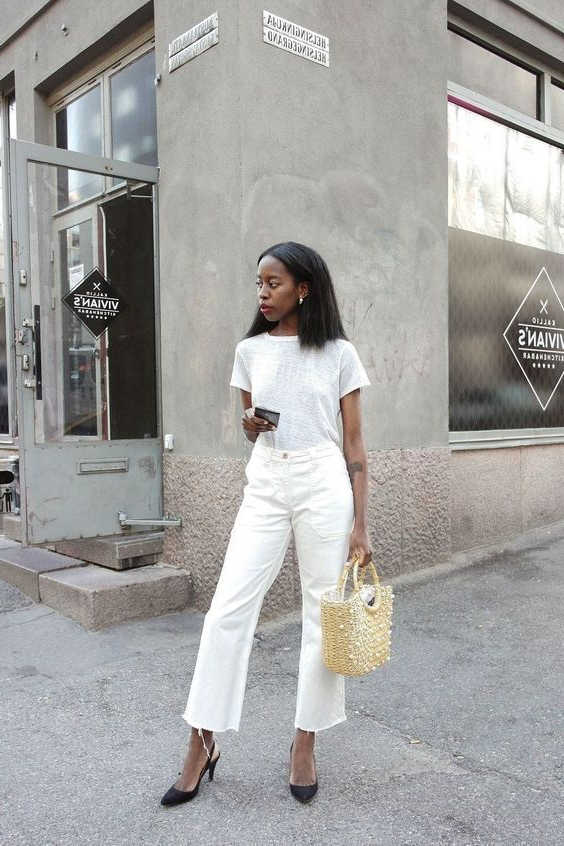 White Jeans For Winter
We see easy ways how to style white jeans teamed worn in winter season months. How about wearing a plaid beige blazer with a matching shirt tucked in white regular jeans updated with black leather combat boots: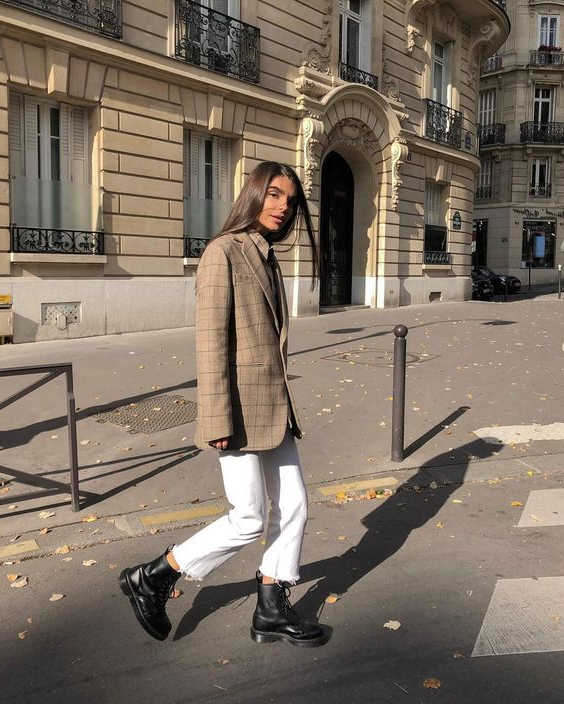 A long cream-grey sweater will be a perfect choice to style with a grey sweater tucked in white skinny jeans completed with cream-grey leather sneakers. A perfect monochrome outfit idea for casual weekends: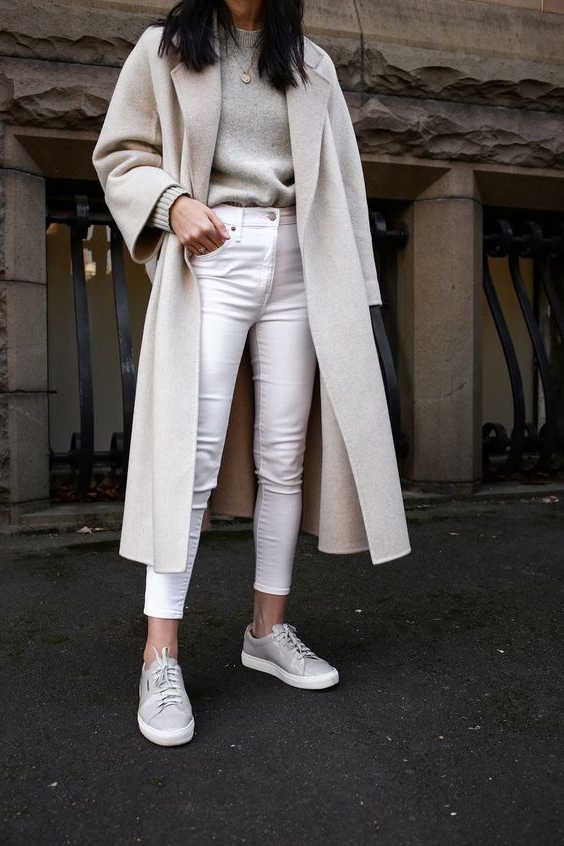 Another stunning look for winter months. We see a long tailored wool coat in grey color styled with a grey sweater tucked in white jeans in flares completed with snakeskin print boots. Update it with stylish rounded sunglasses and a white quilted clutch bag: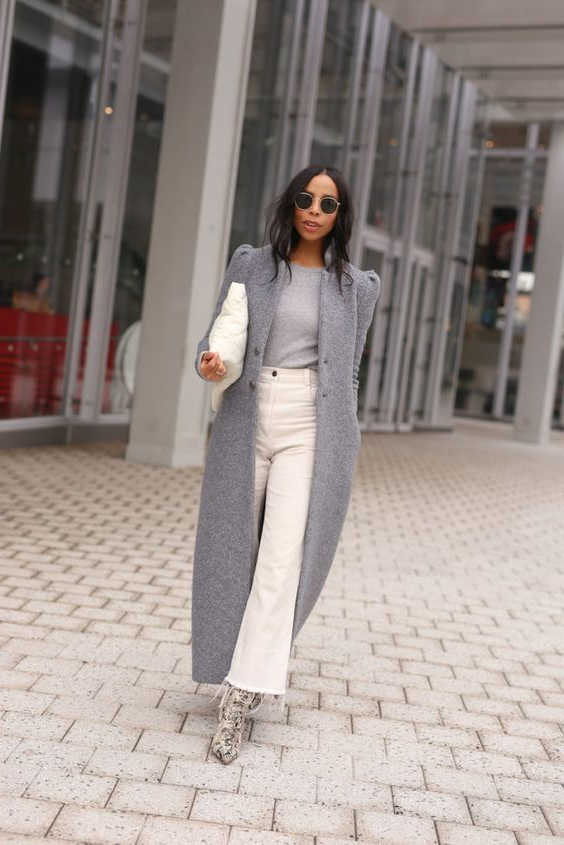 A heavy long teddy bear coat in cream-white looks trendy and glamour. Style it with a white sweater, cream-white joggers and chunky sneakers. I highly recommend giving this outfit a try: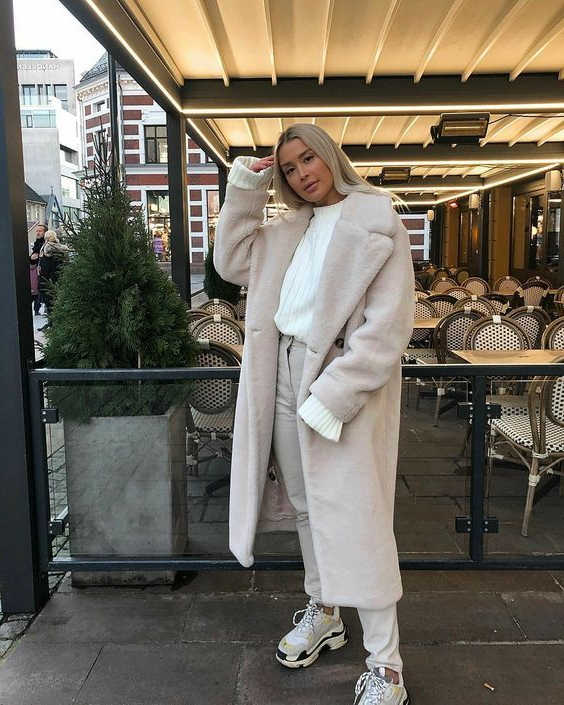 White Jeans With Black Shirt
White regular cuffed jeans are teamed with a black shirt, update this monochrome combination by adding a black leather biker jacket and white trainers. Love that trip bag in black leather: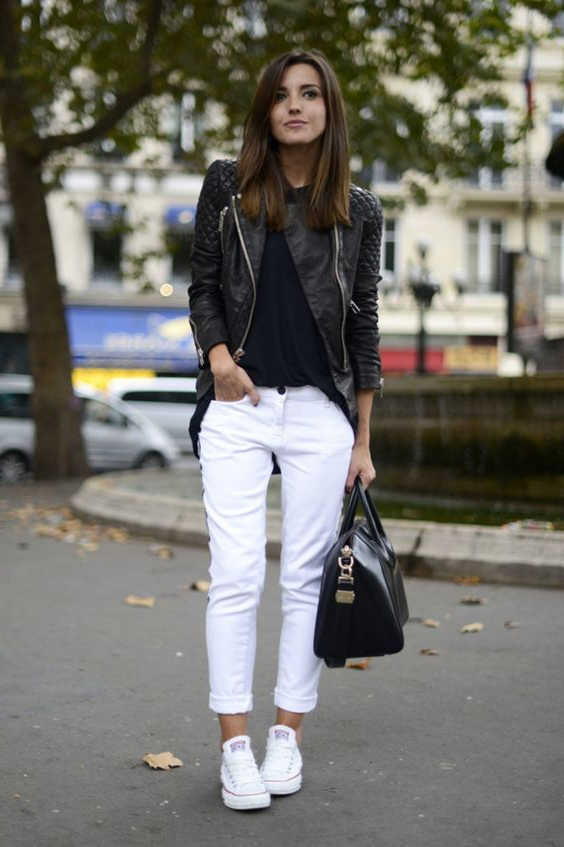 White Jeans With Blazer
A khaki beige blazer in a relaxed fit looks stunning with white skinny jeans and black leather cowboy ankle boots. Update it with cool aviator sunglasses and a black leather belt bag: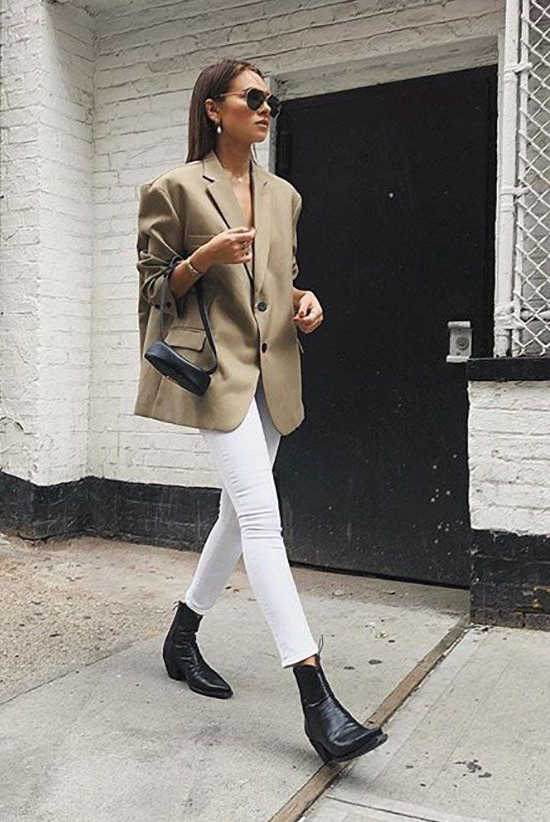 A black blazer in relaxed fit is worn with a black top tucked in white slim jeans completed with brown slides. Update it with cat-eye sunglasses and a straw bag: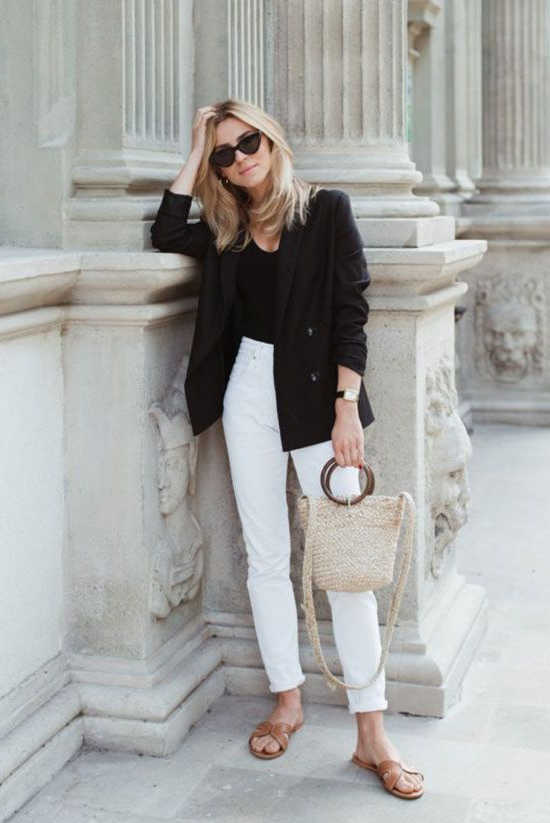 A grey colored blazer looks stunning teamed with a white tank top tucked in white skinny jeans completed with silver metallic heeled pumps. Update it with oversized sunglasses, drop earrings and a tote bag: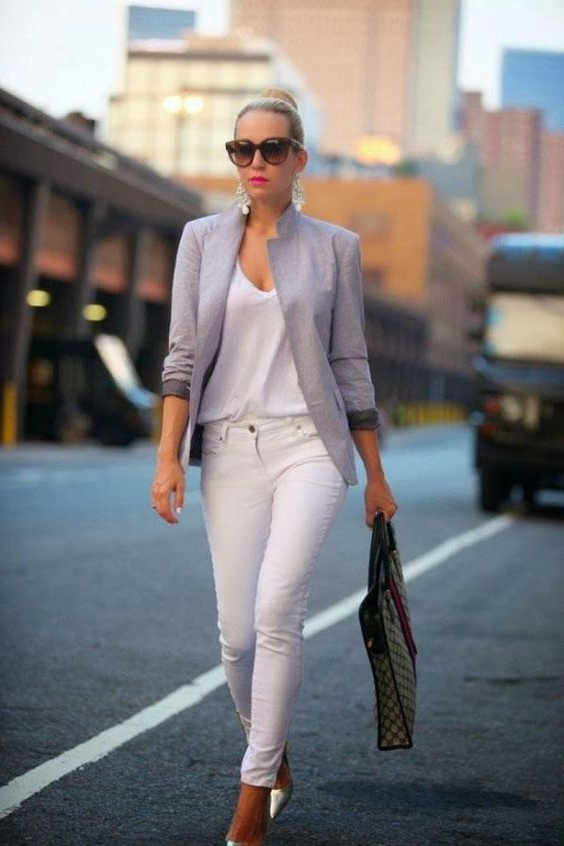 White Jeans With Holes
Knee-ripped skinny jeans in white are styled with a navy suede jacket and white lace top. Update it with tortoise shades, cream-blush spacious bag and strappy wedge sandals: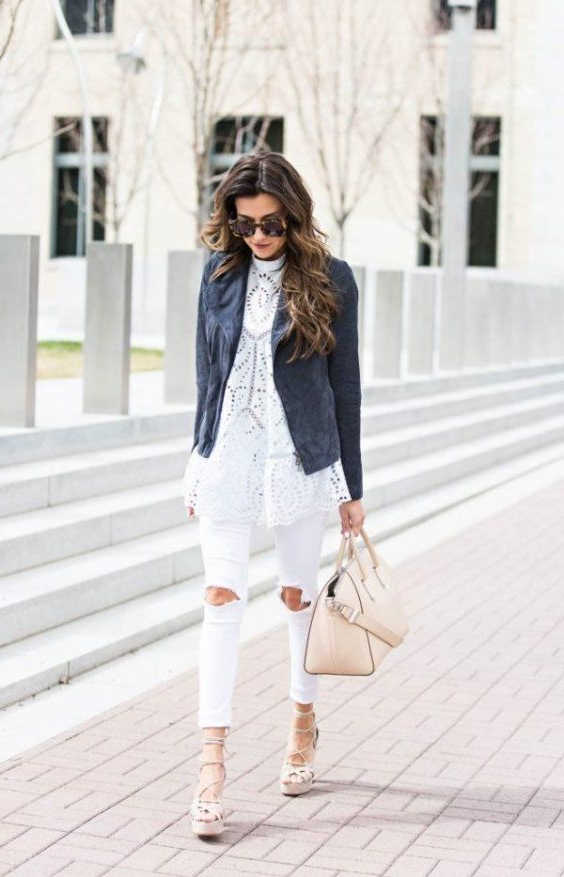 White Jeans With Rips
White knee-ripped skinny jeans are updated with an off-shoulder flared blouse in cream-blue color. Complete it with a white shoulder bag and white heeled pumps. Love the tortoise sunglasses: