You can never get enough of wearing black trench coats. In today's article, I will show you some easy tips and ideas on how to style this outerwear piece and underline your pure femininity and uniqueness while wearing this beautiful trench coat.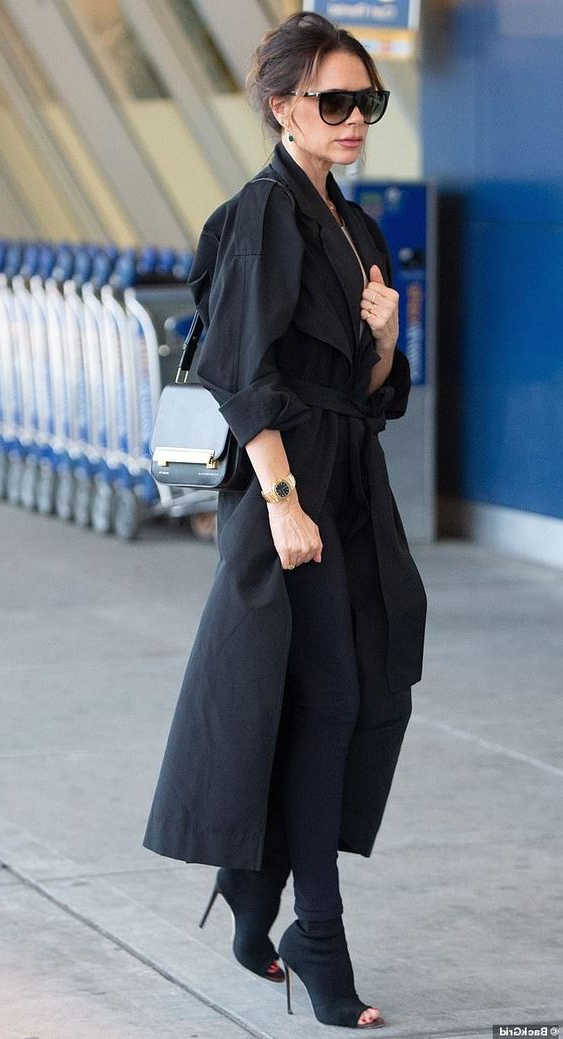 Make a wow statement wearing an all in a black outfit. We see Victoria wearing a belted long black trench coat with black skinny jeans and peep-toe stiletto-heeled sock boots. A nice combination for street walks.
Black Trench Coat Outfit Ideas
Why am I so into this outerwear piece anyway? First of all, it's a classic jacket that can be mixed and matched with whatever style you love. Secondly, it can be worn during snow, rain and sunny days, making it an ideal transitional choice.
In other words saying, a black trench coat can be rightfully considered to be an ideal bargain for spring, fall and winter season. I personally love this jacket for functionality and stylish appearance. If you are looking for inspiration before you buy a one, then you are on the right page, darling. I will show you some fancy and trendy designs, as well as classic versions and how to wear them in the correct way.
Once it's warm outside you can replace your fur coat with some lighter jacket, like a trench coat. Of course, there are lots of other colors to choose from, like camel, khaki, white, pastel, grey, etc. But those of you who have never tried trench coats before, I highly recommend starting from the black one.
This outerwear piece can be teamed with anything you want, starting from jeans, suits to skirts and sport style track pants. It does look cool with tall boots, Chelsea boots, combat boots, as well as with heels or sneakers.
Go for a relaxed style trench coat, I do recommend to buy one size bigger. Why? This will make your overall appearance look a bit relaxed, as well as create layered looks if the weather is chilly outside.
If you have big hips and you wish to balance the look, then I suggest buying a trench coat decorated with epaulets, this will create a perfectly balanced silhouette. The same effect can be done thanks to double-breasted trench coats that will visually broaden the upper area of your body.
Another great styling trick is the belt of a trench. It will underline your waistline and make your silhouette more feminine. But you should not tie too tight, this will make you feel discomfort and create a bulky effect. Speaking of trench coat's length, everything depends on your height, taller ladies can go for maxi trench coats, whilst petite girls should go for shorter designs.
Belted Black Trench Coat And Jeans
A belted black trench looks fabulous styled with a black turtleneck and dark blue pants. A lovely combination for the office hours. Complete this idea with oversized sunglasses: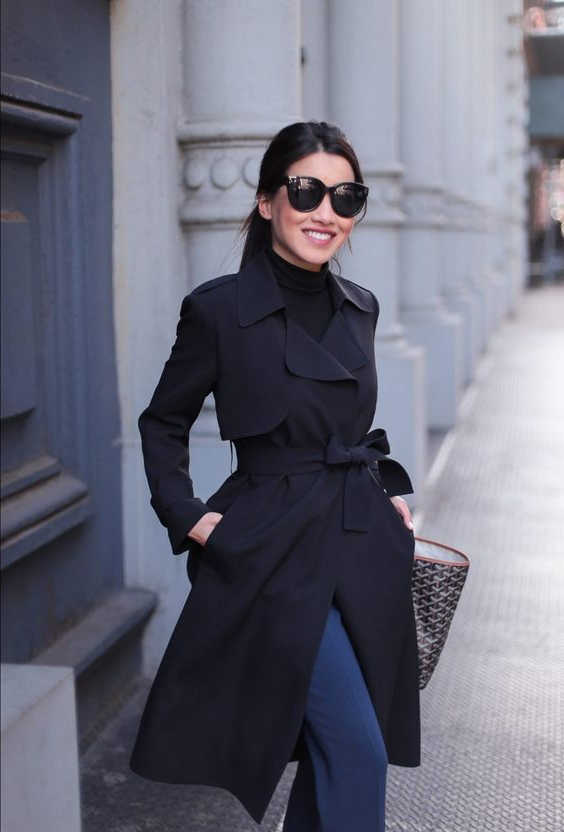 Black Trench Coat And Boyfriend Jeans
A long tailored black trench coat is draped over a black high-neck top tucked in high-waisted boyfriend jeans. Complete this combo by adding classic heeled pointed-toe pumps in black color: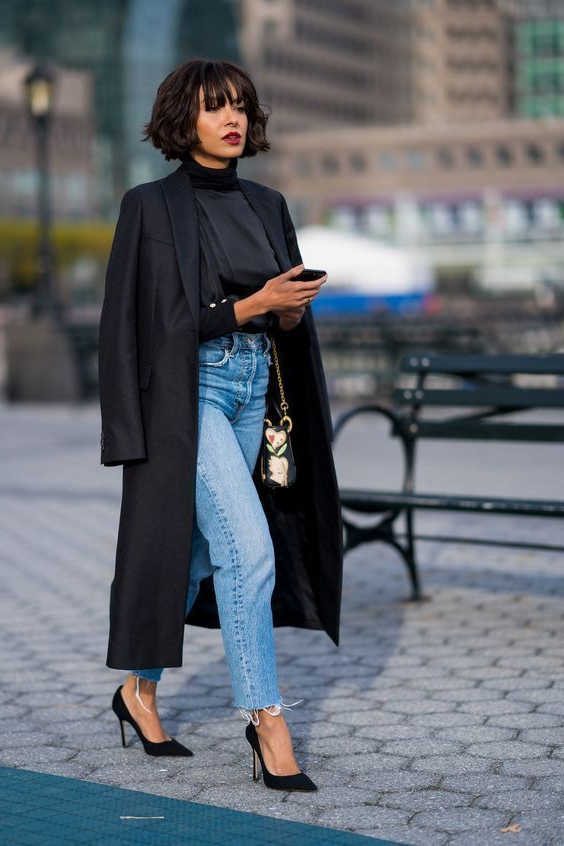 Black Trench Coat And Skinny Jeans
A tailored classic fit long black trench is teamed with a white wrap blouse tucked in blue skinny jeans completed with black leather ankle boots: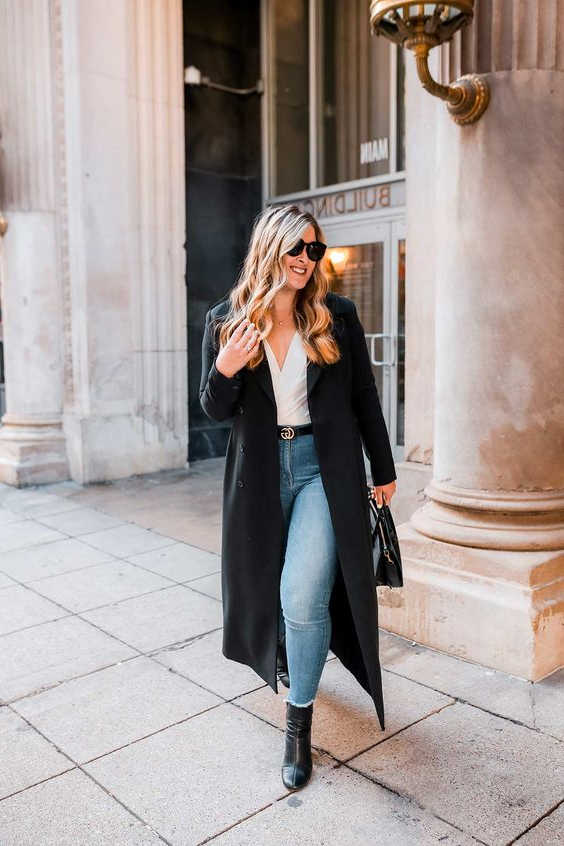 Another magnificent classic fit black trench coat is styled with a black turtleneck tucked in ripped skinny jeans updated with flat pumps: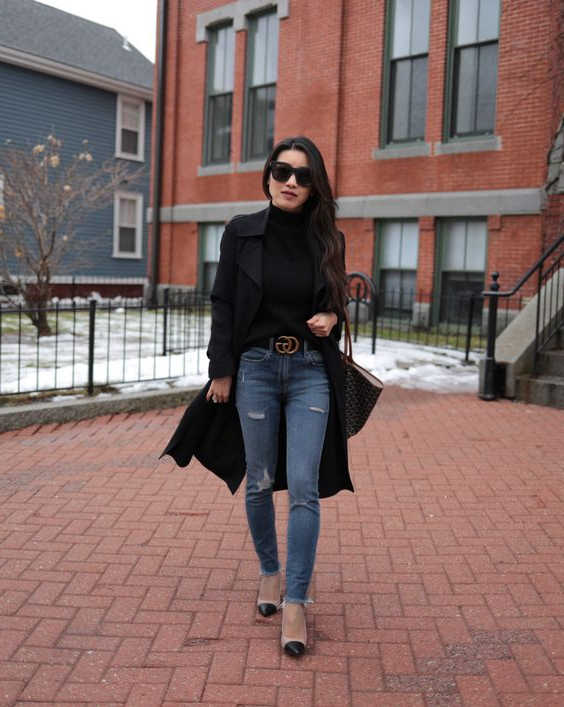 Black Trench Coat And Sneakers
A draped black trench coat looks fascinating styled with a black top tucked in black skinny jeans completed with black sneakers. Update this spring all-in-black look by adding mirrored rounded sunglasses and silk printed neck-scarf. Are you into sneakers? If you want to see the best sneakers outfit ideas, then check out this easy style guide and let me know your thoughts: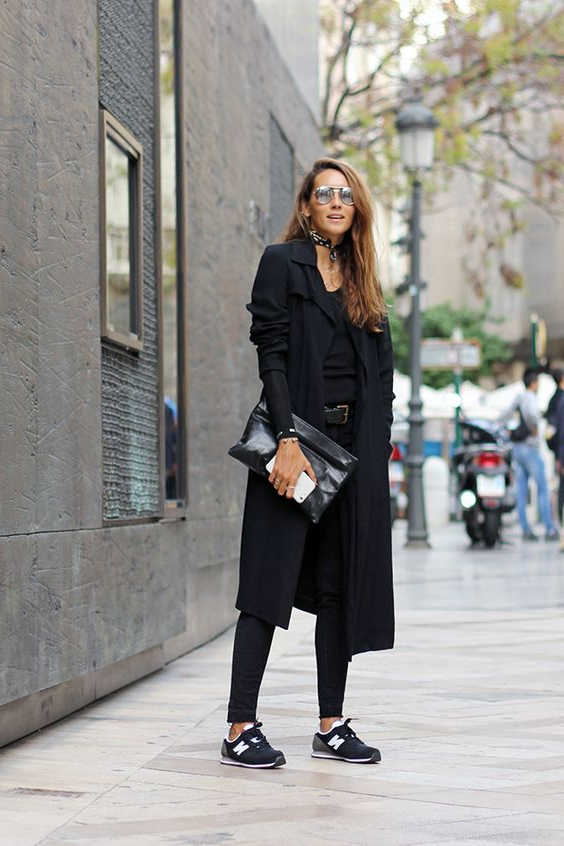 Black Trench Coat With Hoodie
How about this pitch-black trench coat paired with a cropped black hoodie and cuffed mom jeans. Update this combo with mirrored rounded sunglasses and lace-up pastel blue heeled boots. If you want to see more ideas on how to wear mom jeans, check out my other post, there are lots of inspiring street style looks to copy this year: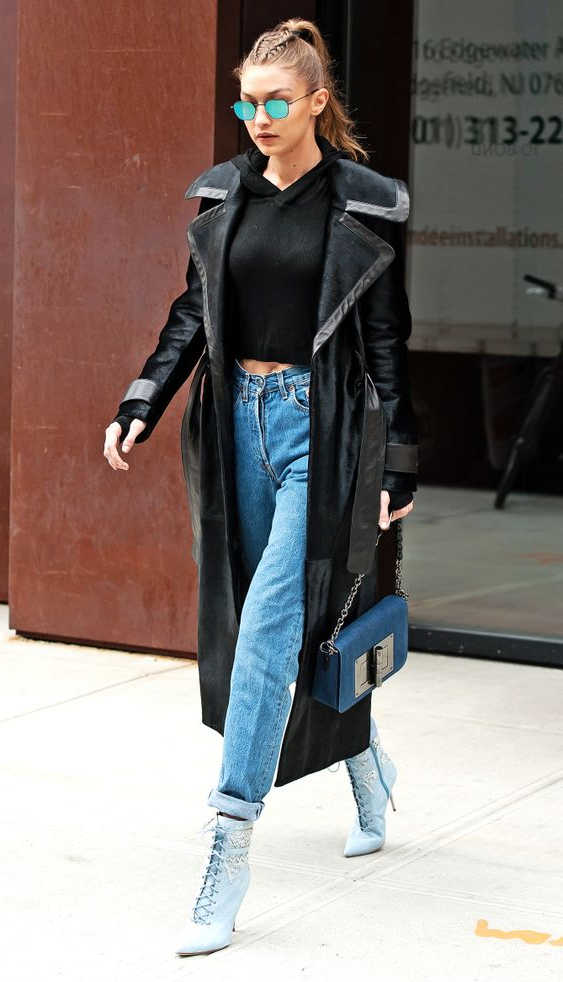 Black Trench Coat And Beige Pants
A black leather trench can be a good choice to wear with a roll-neck jumper in white color. Complete this monochrome combo by adding beige pants and suede black booties: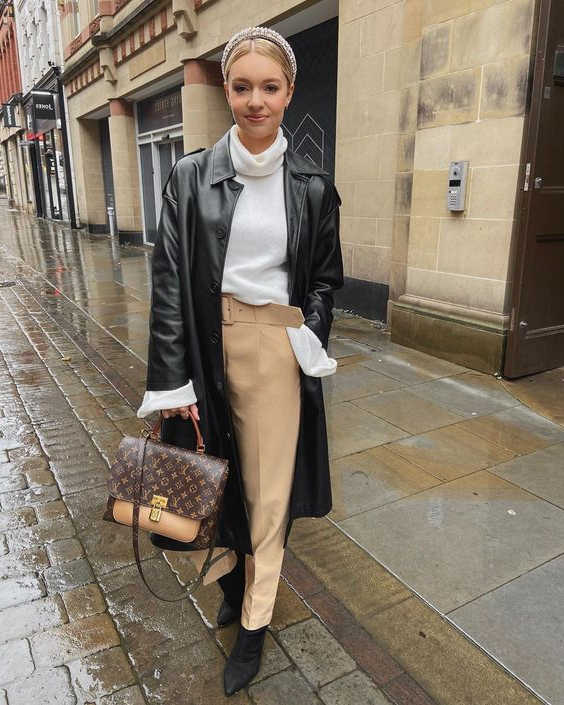 Black Trench Coat And White Pants
We see another black leather trench with epaulets worn atop black crop top teamed with white pants and black boots: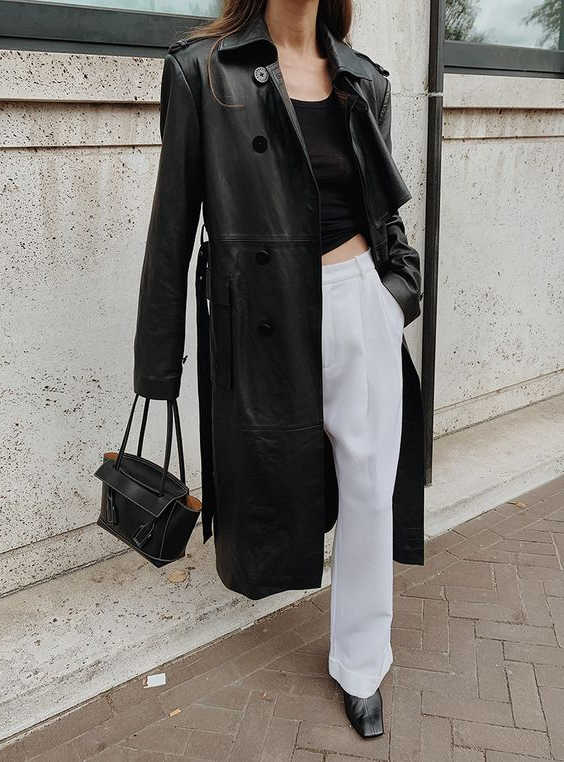 Black Trench Coat With Hoodie And White Trainers
Another cool urban style OOTD. Go for a black leather trench coat and layer it over a black hoodie teamed with black slim jeans and white trainers: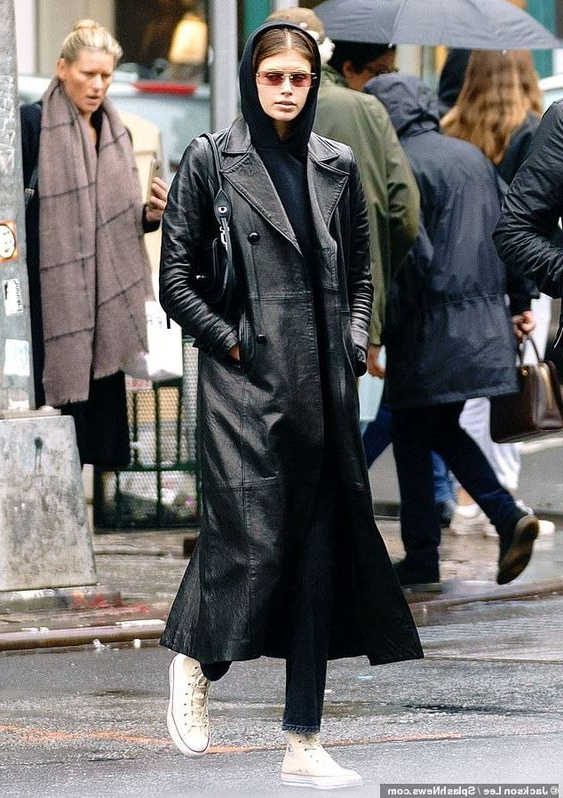 Long Black Trench Coat And Jeans
An ideal smart-casual OOTD. Go for this long black trench coat and style it with a blue shirt, slim blue jeans and patent black ankle boots. Complete this combo by adding cat-eye sunglasses and a black shoulder bag: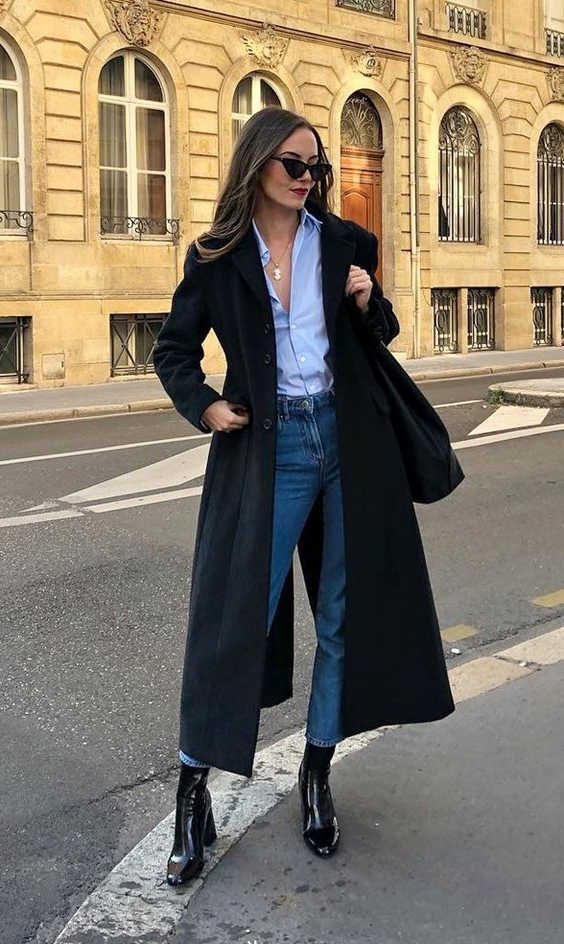 Vinyl Black Trench Coat And Black Pants
Love this relaxed-fit vinyl black trench coat paired with a beige loose-fit sweater and black pants completed with pointed-toe leather boots in black color: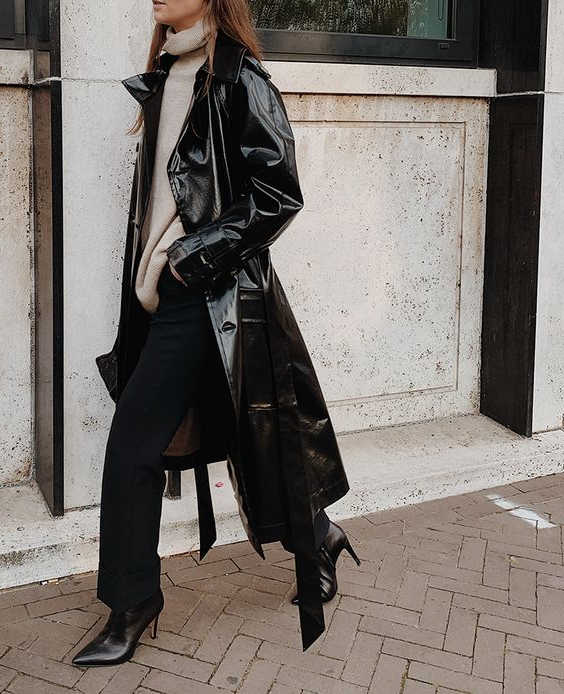 Vinyl Black Trench Coat And Platform Chelsea Boots
If you want to create a fabulous grunge-hipster inspired outfit, then go for this all in black combo consisting of an oversized vinyl black leather trench coat worn over a long black blazer styled with black bicycle shorts and chunky platform Chelsea boots. Update this layered outfit with oversized sunglasses and a black leather bag: