Summer has arrived, and now that the sun is shining bright, I think it is time to stock up on summer fashion choices. A good bodysuit is a must-have in every girls' wardrobe. Add it to a pair of ripped shorts that are distressed or ripped anywhere, wear with a pair of high heels or wedge sandals and you're ready to go! The bodysuit can come with a deep v-neck that is super flattering on any body type.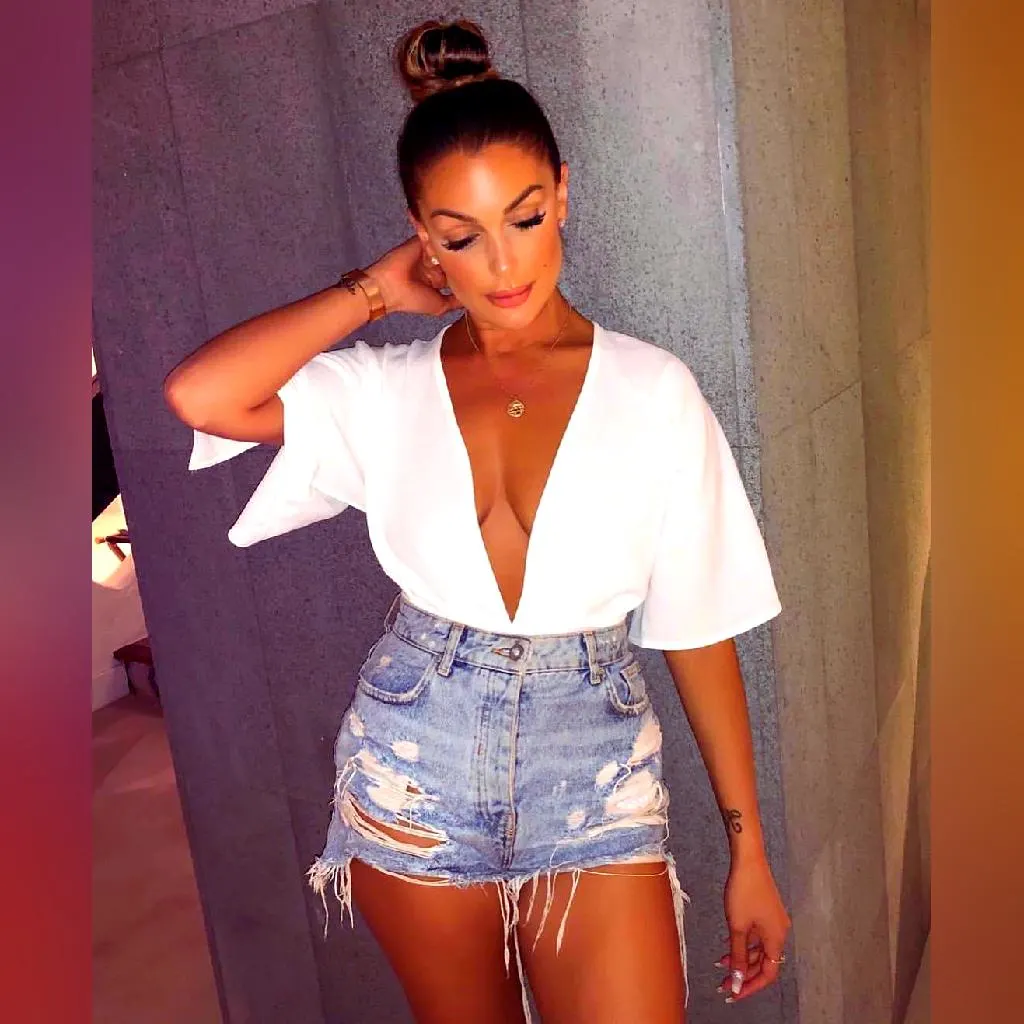 Buy Similar Here
V-neck Bodysuit And Denim Shorts
What bodysuit you need?
A deep V-neck bodysuit is the hottest summer trend for women. We love the combination of a tight bodysuit with relaxed denim shorts, but you are free to team it with whatever you like. This outfit makes a perfect combination for going out on the town during these hot summer days. This beautiful outfit can be very versatile and would look great on any one of these ladies.
The deep V-neck bodysuit should be made of stretchy material that hugs your body in all of the right places. Elastic-free banded edges give the tight bodysuit an alluring perfect fit.
What denim shorts do you need?
When the heat turns up in summer, what's a girl to wear? It's no secret that denim shorts are in, and the most recent look that has been trending is pairing a white bodysuit or tank top with them. It's a great way to show off your curves, while still looking feminine and elegant. With the right outfit, you will be able to attain that effortless look everyone tries so hard to achieve during the warm weather months.
The denim shorts can either be ripped, or you can wear your favorite pair that already has holes in them. Try to get something with a high waist, because it will help lengthen your legs and make you look taller. You can also roll them up once or twice and secure them with a belt. You could update this look by using a leather jacket with it instead of the white shirt. Just make sure you're comfortable while pulling off the look. Do not wear heels or wedges, as they will make you feel uncomfortable.
With A Trench Coat
We see a light trench coat worn with a skin-color bodysuit teamed with ripped denim shorts and sexy gold heeled gladiator sandals: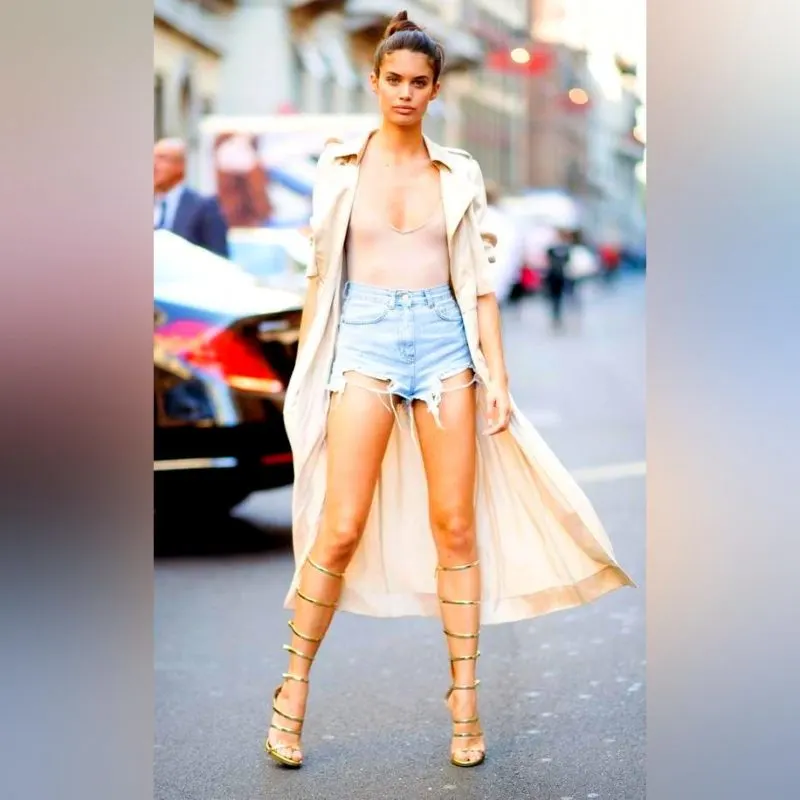 Buy Similar Here
With A Neck Scarf
A lace-up white V-neck bodysuit looks cool with that neck scarf and denim shorts completed with suede sandals: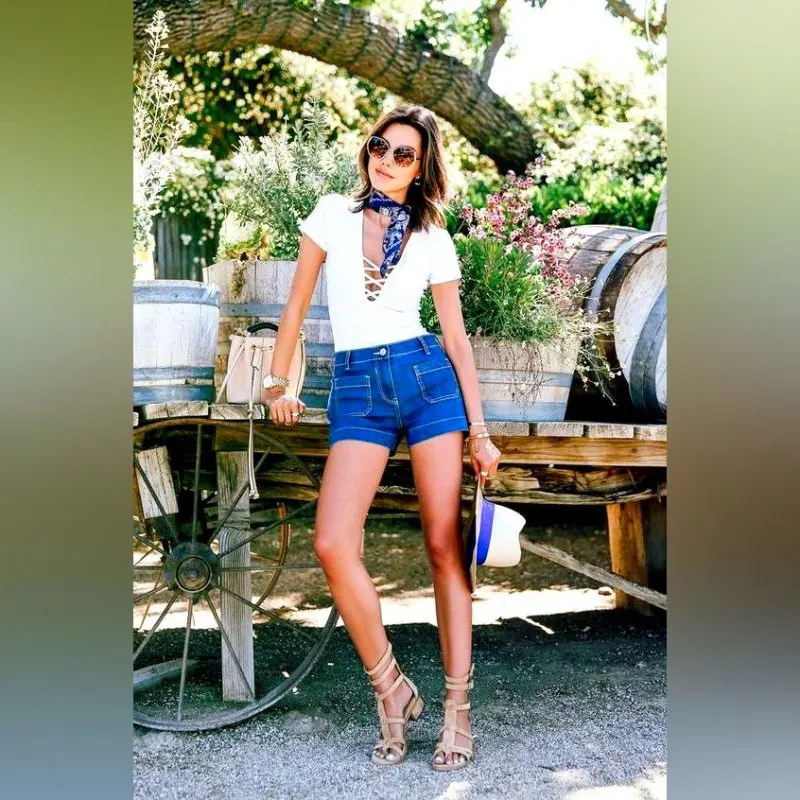 Buy Similar Here
With Necklaces
Love this summer beach party OOTD, we see a v-neck bodysuit and light blue denim shorts:
Buy Similar Here
This look is quite simple to pull off. Pair it with your go-to denim shorts for that casual summer feel. You should also accessorize this outfit with a pair of Vans high tops or Nike Cortez. Lastly, finish up the look with your favorite sunnies or eyeglasses.
Conclusion
This is a great outfit for just lounging around on a warm day if you live in an area that gets hot during the summer months. It will allow you to stay cool as you go about your day. You can also wear this outfit to an outdoor concert or picnic. You can even wear it to the beach if you want, just remember to take it off before going in the water because denim does not dry fast and could lead to a fungal infection.